How can I sell on KLEKT?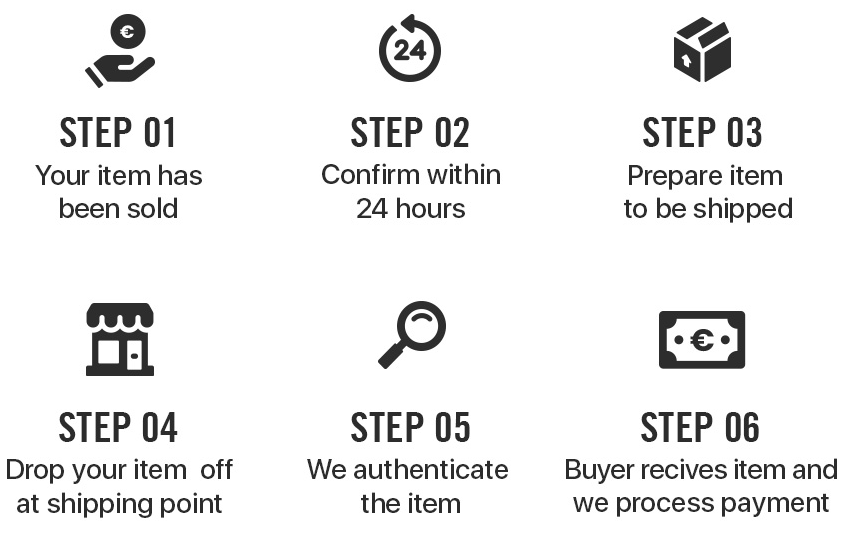 What items can I sell?
Currently sellers can list "deadstock" sneakers, streetwear and accessories. In order for your item to be sold it must:
Be in a brand new, unworn and deadstock condition
Include any extras that came with it e.g laces, lace tips, additional manufacturer tags, special packaging
Have the original and undamaged shoebox and packaging
Check out our Condition Guide in the Products section on the Help & Support page to learn more.
Am I eligible to sell an item on KLEKT?
As long as you live and located in the EU then you will be able to sell on KLEKT. Any countries outside of the EU are unelligible to sell on KLEKT.
What condition does the item need to be in in order to sell?
Any sneakers, streetwear or accessories that are in brand new, deadstock condition can be bought and sold on KLEKT. We do not accept items that are worn or in second-hand condition.
How long will it take for my item to be authenticated?
The Authentication process takes between 1 - 2 business days. Rarer items may take longer to authenticate due to their limited nature. Buyers and Sellers are notified when items are received and the authentication process is underway. Both parties will be notified again when items have been shipped out to Buyers after the authentication of an item has been successful.
Should items not successfully pass the authentication process the order is cancelled and the Buyer is refunded.
Please note processing times may slightly be longer during holiday periods and special release dates.
How long do I have to accept a sale?
Once you have confirmed the sale of your item within 24 hours, you will have 48 hours to ship the item to KLEKT using the free shipping and tracking label provided. If you sell on the weekend, then you as long as the label is generated within 48 hours of receipt, you will still be able to send the parcel to us on Monday or Tuesday.
How do I ship my item to you?
All orders MUST be shipped to KLEKT within 48 hours of accepting the order.
There are two shipping methods when you sell an item on KLEKT:
Pick-up by DHL Express or UPS at your preferred location, day and time (FREE)
With this shipping method, Sellers can organise a special pick-up for their sold item. Sellers will have to:
Select one out of two days
A specific time range that they are available and
The location DHL Express or UPS should come to for the pick-up
The pick-up location does not only have to be the home address, it can be your work address or an address of your choice.
Personal drop off at a DHL Express or UPS Service Point (FREE)
This shipping method allows Sellers to visit a local DHL Express Service Point and drop-off the package. This is completely free and MUST be done within 48 hours after accepting the order.
A guide for how items must to be prepared and shipped can be found within the "Ship your item to us" notification email which clearly states the shipping instructions and how to pack the item/s.
What should I do I if I can't ship my item within 48 hours?
Sellers are responsible for ensuring all accepted orders are shipped in a timely manner, however, should you not be able to ship an item within this time period, and to avoid the order being cancelled and or penalised as a Seller, contact Support.
If your item has been sold over the weekend then we would recommend printing or downloading your shipping label as soon as possible.
How will I receive my payout funds?
In order to sell on KLEKT, you must use a PayPal account. You will need to connect your PayPal account with your KLEKT profile.
When will I receive my payout?
Sellers receive their payoutonce the item has been successfully fulfilled. Proceeds of the order are directly transferred to Seller PayPal accounts. We take care of the PayPal fees for you as part of the service, so there are no additional costs afterwards.
Please note that due to PayPal processing, payments can take between 2-5 business days for the proceeds to appear in PayPal accounts.
Note: Please ensure that you have the correct PayPal account linked to your KLEKT account.
Will I be required to pay any import duties and tax?
If you are in the EU, then you do not need to worry about paying any import duties or tax. If you are located outside of the EU we would recommend checking with your local postal service and jurisdiction for any additional charges.
My item has sold on a weekend, will I still be able to send it to you?
Yes! As long as the label is generated within 48 hours of receipt, you can still send the parcel to us on Monday or Tuesday.
My shipping label has expired, what should I do?
If for whatever reason you are having trouble accessing your Shipping Label, please contact Customer Support who will advise you on the next steps.