Over the past 19 weeks, we have seen one of the most memorable Supreme seasons on record. Since the Supreme SS20 lookbook was revealed back in February, the brand has had to tackle the season in a new way. After COVID-19 forced Supreme to release the majority of SS20 online, queues became a thing of the past. However, despite the obvious challenges, this Supreme season has been one of our favourites so far.
Collaborations with unlikely names, as well as a number of great own label items, have ensured that Supreme SS20 was a success. As ever, Supreme kept a few tricks up its sleeve. Charity T-shirts, weird Supreme accessories and brand new designs gave us all something to look forward to. Of course, with hundreds of items to choose from, Supreme ensured that there was something for everyone for spring-summer.
With that in mind, we've decided to take a look at the top 10 items from Supreme SS20. We'll be delving back into the archives and choosing a selection of our favourites. Now, without further delay, let's take a look at the best Supreme items from this season.
Disclaimer: this list is in no particular order!
Supreme Oreo (Week Five)
As with any new Supreme season, the first thing that people want to look at is the accessories. Known for its weird collaborations, Supreme has always liked to surprise people when it comes to collaborations. From keyrings to bicycles, and everything in between, SS20 was going to be a great season for Supreme's accessories. However, there was one in particular that caught the attention of the whole world: the Supreme Oreo.
Arguably the most unexpected collaboration for Supreme this year, the Supreme x Oreo collab was a stroke of genius. Taking the familiar biscuits, Supreme replaced the traditional black biscuits with an eye-catching red set instead. A small Supreme box logo was placed on the front and back, bringing this edible piece of Supreme to a close. Selling out in the same amount of time it takes to eat an Oreo, this was one of Supreme SS20s best items.
Supreme Motion Logo Hoodie (Week Seven)
All Supreme logos have a story behind them, that's a fact. From the box logo to the arc, every Supreme logo will always have a tale to tell. Though New York may have changed a little now, the influence that the Mafia had on the city is undeniable. When Martin Scorcese released Goodfellas in 1990, it was one of the most accurate depictions of "the life." Supreme referenced the aforementioned film back in 1995 when it created the Motion Logo. Fortunately for us, the motion logo hoodie made a return this season.
Dropping in seven colourways, the Supreme Motion Logo was one of SS20s most memorable items. The Motion Logo was adorned across the centre of the chest and even came complete with a matching hat to go with it. Whilst it may have been an absolute myth to try and cart one of these Supreme hoodies, a few people did, in fact, get lucky. Thankfully for us, that wasn't it for the Motion Logo. In Week 10 and 18, a deck and range of T-shirts launched respectively.
Supreme/Mac Tools T5025P Tech Series Workstation (Week 14)
Over the past five years, Supreme has really ramped up its accessory collaborations. Partnering with the likes of Rimowa, Honda and Stern, Supreme has been able to put its twist on some pretty crazy pieces. It also shows just how valued Supreme is to big businesses too. Of course, some of these collaborations have been fairly impractical, whilst others have been extremely useful. Supreme's collab with Mac Tools was definitely the latter.
After being revealed in the lookbook, the Supreme x Mac Tools T5025P Tech Series Work Station caught the attention of many in the community. The large red tool cabinet featured red metal with a large Supreme logo across the front. A subtle chrome Supreme logo was also used on the top, just in case you needed reminding who this was by. Unfortunately for EU residents, this was a US exclusive. Retailing for a cool $8800, this Supreme accessory wasn't cheap. That didn't stop it from selling out in 16.2 seconds, however.
Supreme x Takashi Murakami COVID-19 Relief Box Logo (Week Nine)
There is no denying the impact that COVID-19 has had on the world over the past seven months. It's effects have been felt by nearly every country on the planet, causing the globe to come to a standstill. However, staying true to human nature, people have come to together to help those most in need. From brands creating Personal Protective Equipment (PPE) to charity drives, everyone has been doing their part. Thankfully, Supreme was no different.
Unveiled in Week Nine of SS20, Supreme announced it would be launching a COVID-19 Relief Box Logo T-shirt. Designed in conjunction with Takashi Murakami, the COVID-19 Relief Box Logo was one of the most memorable moments of the season. Featuring Takashi Murakami's artwork as the basis for the design, Supreme produced over 17,000 T-shirts with 100% of the proceeds going to charity. In fact, Supreme helped to raise over $1 million for HELP USA, a great moment in a strange time.
Supreme x The North Face Cargo Jacket (Week 13)
Since the two started collaborating in 2007, Supreme and The North Face has become a regular drop each season. After launching the RTG Range back in March, many were left a little deflated. However, Supreme and The North Face knew that it wouldn't end there this season. Working together two times this season, Supreme x The North Face showcased how diverse the designs can be. Week 13 was a classic example.
Taking The North Face Cargo Jacket, Supreme adorned the outerwear piece in a tie-dye pattern. A number of pockets came attached, with Supreme adding minimal branding on the hood and sleeve. However, the large embroidered Supreme logo on the back was what got many people excited. Selling out within seconds on release day, Supreme and The North Face's Cargo Capsule was one of the best launches this season.
Supreme x S&M 1995 BMX Dirtbike (Week 11)
Over the years, Supreme has been making a number of forms of transport with its collaborations. Whether its friends and family exclusive bikes or collaborations with Coleman, Supreme has been offering an escape from just a regular skateboard. After the success of the Santa Cruz collab last year, many wanted to see more of Supreme's takes on a bike. Thankfully, SS20 Supreme gave us exactly that.
When the Supreme lookbook dropped, one of the most hyped accessories was the S&M BMX Dirtbike. Featuring a red gloss finish and a simple Supreme logo on the frame, the S&M BMX Dirtbike was an instant hit. Custom artwork on the frame as well as chrome accents rounded off this slick-looking set of wheels. It was also on the pricier side, retailing for €1,998. Of course, that didn't stop it from selling out in 11.5 seconds.
Supreme x Nike Air Force 1 (Week Two)
For nearly 20 years, Supreme and Nike have had one of the best relationships in sneakers. After giving Supreme a chance to collaborate on the Nike SB Dunk Low in 2002, the two have continued to roll out limited-edition sneakers. Some of those pairs now sell for thousands. As you would expect, the limited quantity, as well as the hype of each brand, causes this. But for Supreme's Spring Summer campaign, they took a different approach.
In February, Supreme announced that it would be launching a Nike Air Force 1 that would be regularly restocked throughout the seasons. This news was massive. It was the first time that Supreme would restock a product, something that the brand has rarely ever done. To top it off, it was also a much more affordable Supreme x Nike collaboration that wouldn't break the bank.
Dropping in two colourways, black and white, Supreme elevated Bruce Kilgore's iconic design with simple touches. A small Supreme box logo was placed on the heel, whilst a co-branded tongue was also used. Alternate laces came too, giving wearers the chance to add a touch of colour to this plain AF1 collab. Love it or hate it, this is one of the best Supreme SS20 sneakers. Period.
Supreme Tupac Holographic Tee (Week Zero/One)
It is hard to imagine what the world of hip-hop would look like without Tupac Shakur's influence. The Californian rapper continues to inspire musicians to this day, even decades after his death. Supreme looked to honour the late musician right at the start of the SS20 season by releasing a holographic T-shirt depicting Tupac.
Taken from Dr Dre and Snoop Dogg's Coachella set in 2012, the holographic image of Tupac was the focus of this piece. Tupac can be seen wearing a simple pair of Supreme Hanes Boxers, standing perfectly still. Dropping in seven colourways, this is one of the standout pieces to release in Supreme's SS20 season.
Supreme Ballpark Poncho (Week 11/Free Gift)
It has become a tradition for Supreme to include a free gift in the first few weeks of new season orders. Whether it's an army man with a parachute or a toothbrush, Supreme knows how to give the community a nice item for nothing. In recent years, the items have got weirder and a lot more random, but they're a talking point nonetheless. Fortunately, this year's free Supreme gift was something a little more useful.
Taking a simple white poncho, Supreme placed a box logo across the centre chest to create a slick piece of outerwear. Given to those lucky enough to cop online, the Supreme Ballpark Poncho was a big hit with fans of the brand. Thankfully, Supreme decided that it was time to release the Poncho in Week 11, giving those that missed out the chance to cop. It's hard to beat a free Supreme poncho and this is one of the best free gifts we've seen in recent years.
Supreme Waves Collection (Week 14)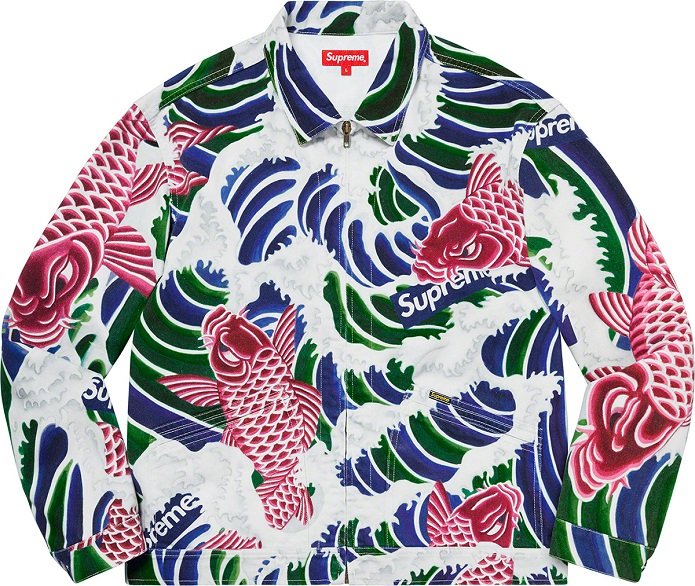 As Supreme has grown, so has its love of pushing itself further and further in its design process. Over the years, we have seen powerful patterns and prints adorn everything from jackets to trousers. Thankfully, the love of eye-catching graphics didn't seem to go anywhere for Supreme spring-summer. For SS20, Supreme created one of the boldest designs in its history.
Dubbed the "Waves" collection, Supreme dressed Work Jackets, Jeans, Jumpers, Bucket Hats and a Ceramic Bowl in a graphic print. Art features waves and koi fish, with a simple Supreme box logo weaved in throughout. An alternate the black and orange provided a safer option, but it was the blue, white and pink that caught everyone's eye. The bold design was one of the most coveted items of SS20, with many patiently waiting for it to drop. It sold out in seconds as expected.
Final Thoughts
So that concludes our list of the top 10 items to release in Supreme SS20! You can see just how diverse Supreme's offerings have been throughout spring and summer, making sure that there is something for everyone. After an eventful 19 weeks, Supreme is now set tom go on hiatus just before the FW20 campaign starts. If the coming season is anything like this season, we can't wait to see just what is in store. All we do know is that we should expect the unexpected.