If you don't know who designed the Nike Air Max 1 then are you even a sneakerhead? Tinker Hatfield probably didn't know it, but over three decades ago he would change the shape of sneaker history forever when he designed this shoe. 
In the world of sneakers, there aren't many more iconic trainers than the Air Max 1. Having first been released in 1987, the Air Max 1 has a deep history in sneaker culture. It's futuristic design, as well as it's visible air unit and eye-catching colours have stood the test of time. Over 30 years later, the humble Nike Air Max 1 has had thousands of colourways released, countless collaborations and millions of happy sneakerheads wear a pair.
At KLEKT, we are now going to try and pick some of the best Nike Air Max 1s of all time. These sneakers are in no particular order as trying to pick our favourites would have taken too long. We'll be taking a look at some of the best Nike Air Max 1 sneakers around and hope that you enjoy this article.
atmos x Nike Air Max 1 'Elephant'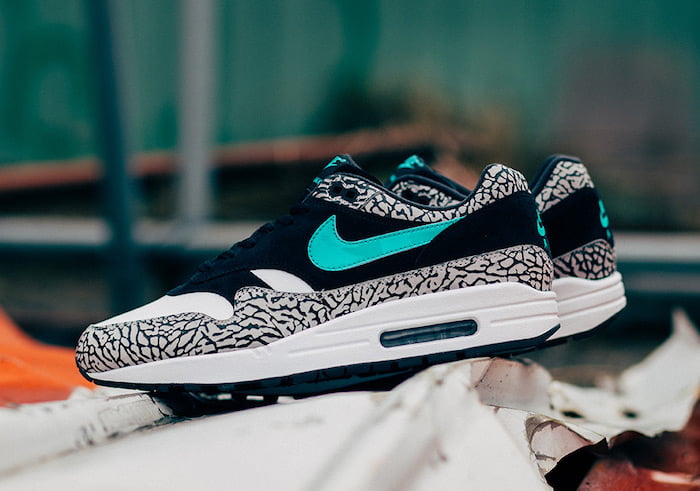 Originally released in 2007, and winning the Air Max Vote Back award in 2017, the Nike Air Max 1 atmos 'Elephant' is one of the Swooshes most recognisable colourways. Whilst the collaboration was not the first time that Nike had used the Jordan 3 Elephant print on another sneaker, it was certainly the most recognisable.
Featuring white tumbled leather, black leather and a beautiful jade Swoosh, the materials on the atmos Elephant are superb. Combined with a white midsole and simple grey sole, the print is able to be the star of the show in this shoe. This was, of course, not the first time that the Japanese retailer worked with Nike. The two came together in 2002 to create the Air Max 1 Safari, however, we think the Elephant just beats its predecessor.
Nike Air Max 1 Powerwall 'BRS'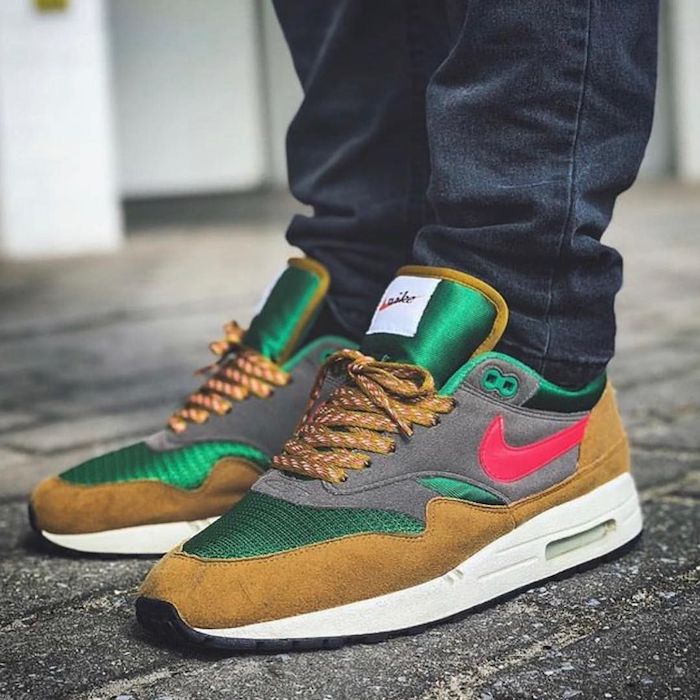 Coming as part of the "3 Decades of Cushioning" release, Nike went back to its roots and released 56 shoes which celebrated the fete of this technology. Mark Parker, then President of Nike, wanted to highlight the work the achievement the brand had made after developing air technology. 
One of Nike's Powerwall launches celebrated the brand's original name; Blue Ribbon Sports (BRS). The standout shoe quickly became a favourite of sneakerheads around the world and has since written itself into Air Max history.
The shoe itself pays homage to BRS original eight silhouettes and colours found on each shoe. Deep metallic green, tan brown suede and bright pink pops make the BRS Powerwall Air Max 1 such a great shoe. With only 144 pairs made, it's safe to say that these are a holy grail for Air Max 1 fans.
Ben Drury x Nike Air Max 1 'Hold Tight'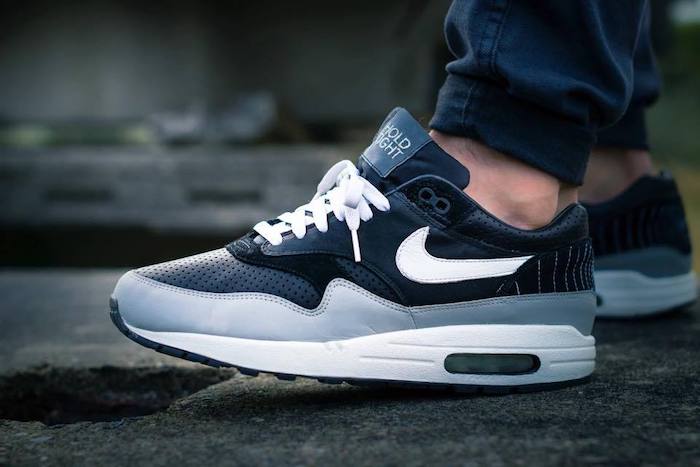 In 2006, Nike tapped up Mo' Wax art director and British artist Ben Drury to put his spin on these iconic Nike Air Max 1 trainers. One of the most understated, yet brilliant, collaborations of all time the 'Hold Tight' Air Max is a nod to British record culture.
The monochromatic colourway, made up of black, white and grey is not show stopper at first, but the details are what bring this shoe to life. A 3M reflective mudguard, perforated black leather and custom 'Hold Tight' tongue tag is what sets this shoe apart. Combine that with the white stitched circles found on the heel, which represent pirate radio culture, and Ben Drury and Nike's first foray into collaboration is a brilliant piece of Air history.
Patta x Nike Air Max 1 'Chlorophyll'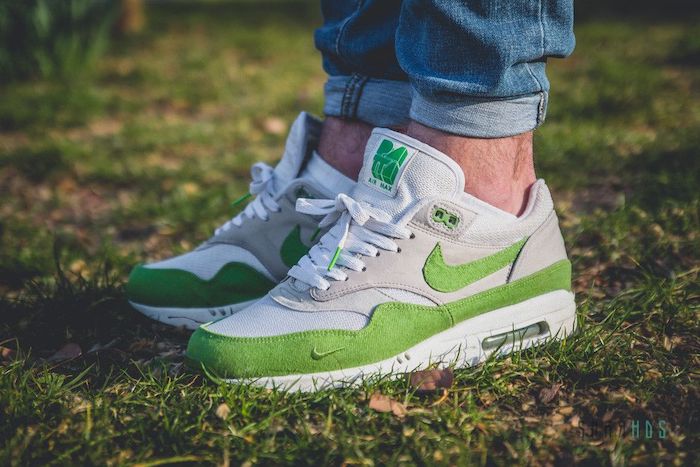 When it comes to collaborations with Nike, fewer brands do it better than Dutch retailer Patta. A fruitful relationship that has seen some of the greatest Air Max 1s ever made, Patta and Nike are now renowned for their work together.
Back in 2009, Patta was celebrating its fifth anniversary in style, dropping a number of Nike Air Max 1 collaborations in a number of different colours. Utilising a simple white and green colourway, the Chlorophyll Air Max 1 used rigid denim for the outer combined with a white mesh; an ode to OG Air Max 1s using one colour against the white mesh. Fast forward a decade and the Chlorophyll by Patta Nike Air Max is one of the most sought after Air Max on the market. 
Nike Air Max 1 'Urawa'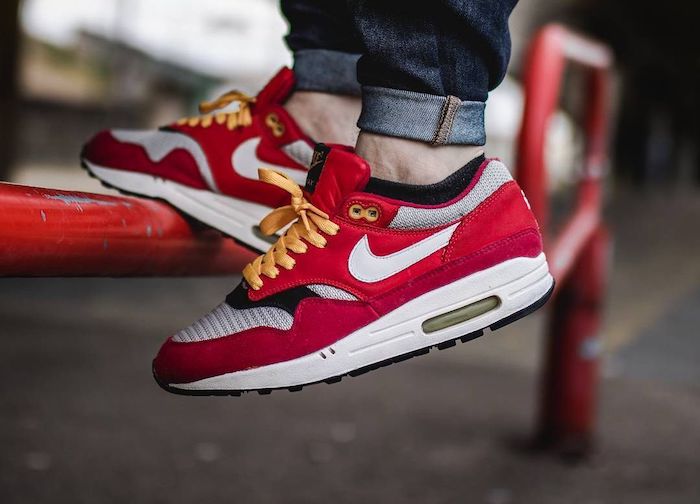 Football is a big part of Japanese culture. In 2004, Nike celebrated one of the J-League's football teams, Urawa Red Diamonds bringing with them an Air Max 1 that uses the team's home colours. Also known as the Urawa Dragons, this shoe is so desirable for a number of factors. 
Besides the great colour scheme and a much superior Air Max 1 shape is the finer details. Instead of having the traditional Nike Air on the heel, a delicately detailed Urawa Dragon was stitched; a rarity on almost all Air Max collabs. Combined with the limited release with very few numbers produced, the men's Nike Air Max 1 Urawa is a fantastic shoe for any serious Air Max fan to have in their arsenal.
Parra x Nike Air Max 1 'Albert Heijn'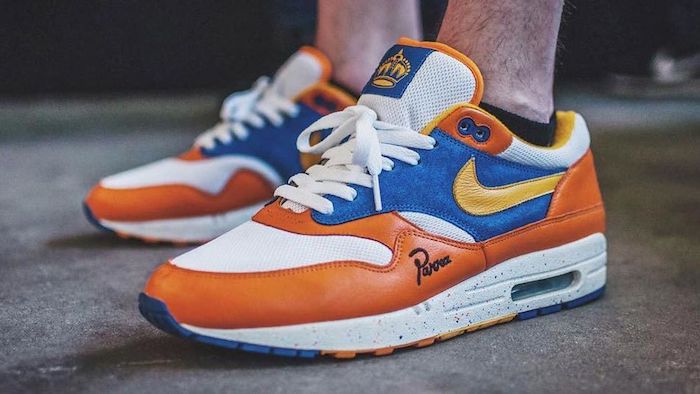 Fewer shoes have a more mythical status than the Albert Heijn Nike Air Max. The story goes that in 2005 Nike approached the Dutch artist Peter Janssen aka Piet Patta, to design a shoe that represented his home city of Amsterdam. Jansen came back with two designs and colourways; the Albert Heijn, taking inspiration from the Dutch supermarket of the same name, and the now well-known chocolate, fuschia and brown "Amsterdam" release pair.
Rumour has it that the Swoosh was going to release the Albert Heijn Nike Air Max 1 when the Dutch supermarket suddenly changed their branding. This meant that Nike subsequently pulled the Albert Heijn from production, leaving a mere 24 pairs for friends and family. Chances of owning a pair of these are probably not going to happen for almost all sneakerheads. If you're looking for a cheap pair of Air Max 1s then this certainly isn't the pair to go after. The last pair that came up for sale went for a cool £15,000 on eBay, making it one of the most expensive Nike Air Max 1s in existence. If you've got deep pockets and a love of the shoe, then, by all means, buy a pair (if you can find one).
Parra x Nike Air Max 1 'Amsterdam'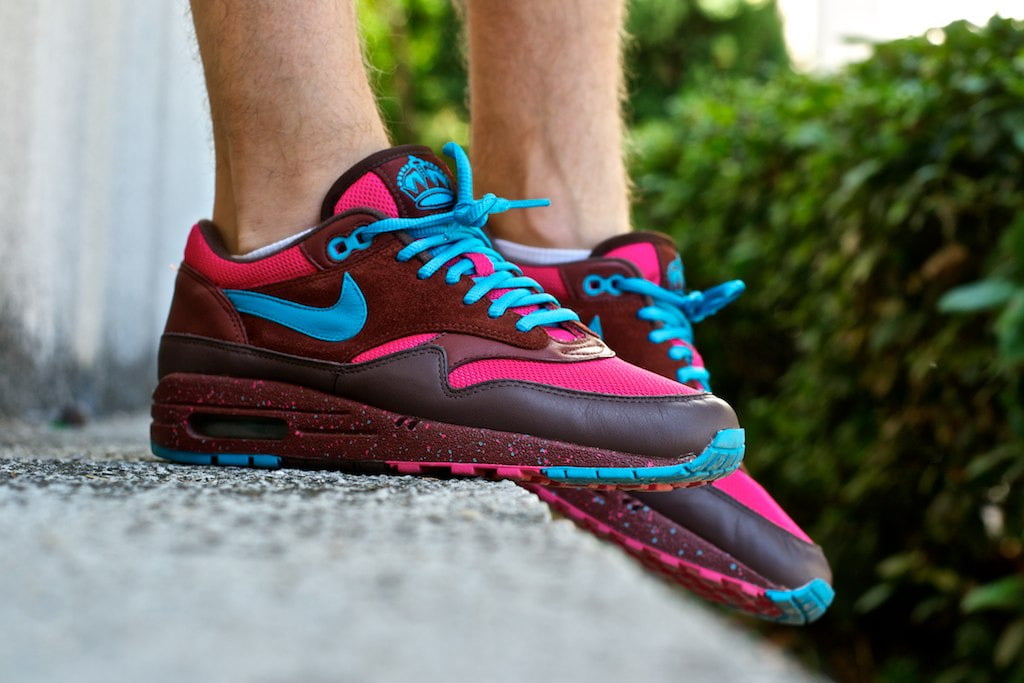 The Parra Nike Air Max is one of the best shoes to ever grace the world of sneakers. Having already mentioned the Albert Heijn's, we had to mention the shoe that went onto release instead. The 2005 Nike Air Max 1 "Amsterdam" by Parra is a shoe that has its fair share of history, hype and hunting by sneakerheads around the globe.
Using a leather of unparalleled quality, a bolder mesh pattern and suede of the highest degree, the Amsterdam Air Max 1 is one of the best to ever release. Staying true to his roots, Parra uses his signature brown, pink and turquoise to bring the shoe to life. With a rumoured 250 pairs to be in existence, and an even rarer friends and family pair with Parra's signature inscribed on the mudguard, this is a pair that is for true sneakerheads only.
Nike Air Max 1 Original Mesh 'USA'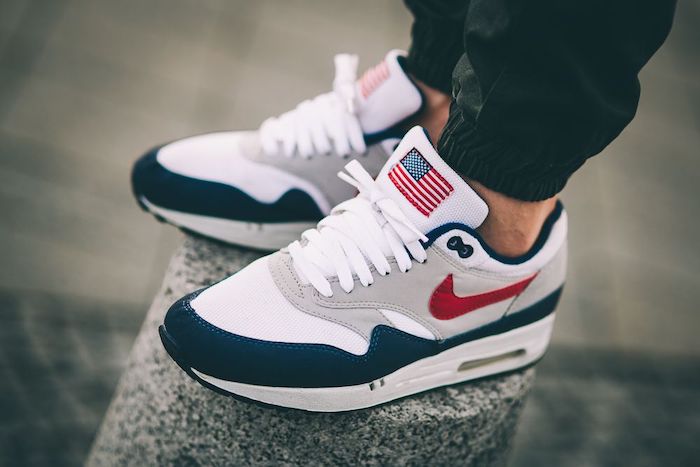 Whilst the recent Air Max 1 Quickstrike 'Fourth of July' might have been pulled before it was even released, thankfully it's 2002 predecessor didn't get the same treatment.
Its rarity and scarcity have only continued to grow over the past 17 years and now it's secured itself as one of the best Nike Air Max 1s to ever release. Using the red, white and blue of America's flag, this early 2000s Air Max 1 is one of the more patriotic Air Max to come to fruition. Replacing the famous Nike Air is the American flag, a rare thing to see back in 2002. The original mesh is also what sets this Air Max apart from others, making for one of the best-crafted sneakers in Nike's 55-year history.
Nike Air Max 1 'Kidrobot'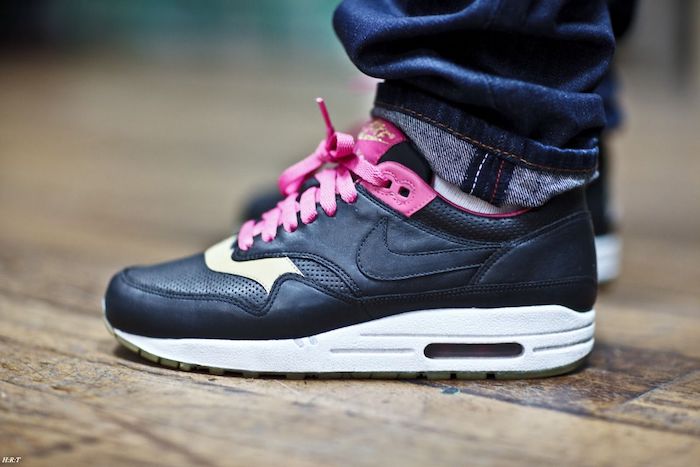 Nike has a history of creating unusual collabs based on kids interests; from the Paranorman Foamposites in 2012 to the more recent Missing Link Air Max Susan, the Swoosh knows no boundaries. One of the first Air Max to ever receive this treatment comes in the form of the 2005 Kidrobot collaboration.
The American cult toy-art manufacturer began working with Nike on this coveted Air Max 1. Releasing exclusively at Barney's, the iconic US department store, the shoe came with a whole host of accessories and pop art inspiration. Coming in a beautifully smooth perforated leather, the shoe featured the Kidrobot logo on the heel and featured a specially designed box made up of black, pink and striking gold. 
With only 250 pairs of these rare Air Max 1s ever made, and an even rarer 72 pairs coming in a hyperstrike version, this is undoubtedly one of the best Air Max to ever see the light of day.
Nike Air Max 1 'Master' F&F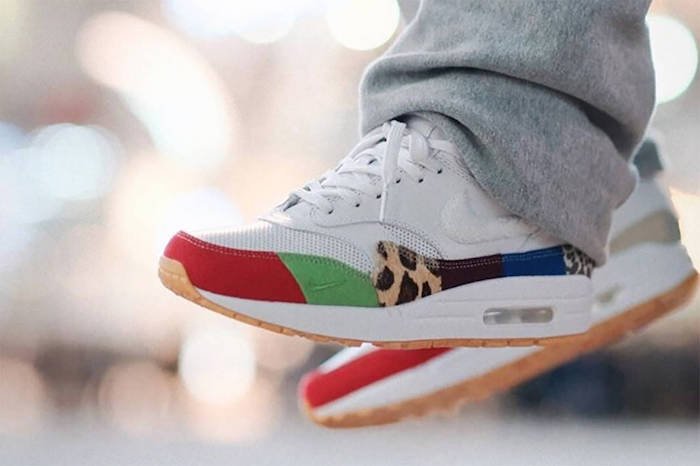 Nike is no stranger to a mash-up of fan favourites, with the "What The" Nike Dunk being one of the most famous. To celebrate 30 years of Nike's Air Max 1 revolution, the brand released a special "What The" pair which featured 10 of the best Air Max 1 shoes all mashed into one with a black perforated upper keeping the whole shoe together. 
However, the general release pair is not what we have come here to talk about. In 2016, Nike began documenting the History of Air by interviewing some of the biggest collectors of the Air Max line. Members were rewarded for their commitment to the Swoosh, going to Nike's headquarters in Oregon, meeting Tinker Hatfield, and, the icing on the cake, getting the chance to own a special friends and family pair of the Nike Air Max 1 Master.
With a rumoured 50 pairs in existence, chances of owning a pair of these are slim to none for almost every sneakerhead on the planet. Unfortunately, you'll just drool over the pictures.
Parra x Nike Air Max 1 'Cherrywood'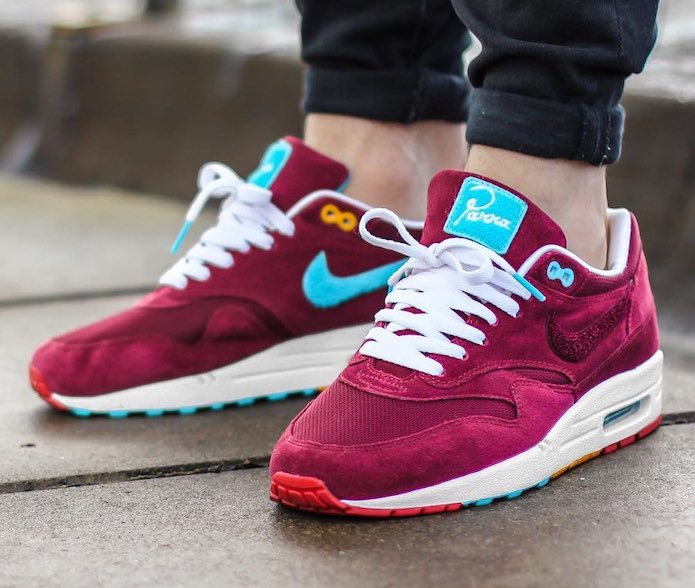 Parra and Patta's history of collaborating with Nike began with this very shoe. In 2009, the two Dutch powerhouses joined forces to create, in this writer's humble opinion, the greatest Air Max 1 of all time.
As we've already mentioned, Patta looked to celebrate its fifth anniversary with a slew of Air Max 1 releases. However, in 2010, Parra began to share images of the Cherrywood Nike Air Max 1. Many sneakerheads around the world began to get excited yet frustrated at the lack of details about the shoe release. 
Later on in the year, Patta x Parra finally revealed the details about their collaboration with Nike. Limited to just 258 pairs, this Air Max 1 is as limited as it is beautiful to look at. Combining Parra's signature colouring of maroon and turquoise and Patta's famous fun take on Nike collaborations, the result is this; the Nike Air Max 1 'Cherrywood' Patta x Parra collaboration. Coming as both a men's Air Max 1 and women's Air Max 1, this shoe is simply beautiful.
Nike Air Max 1 'OG'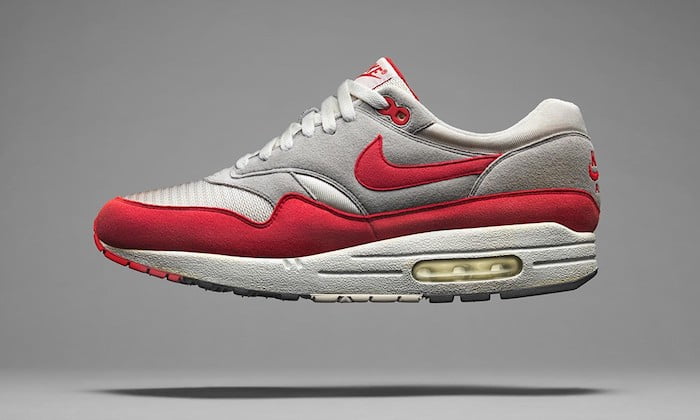 There was no way that we could go through the history of the Nike Air Max 1 and not mention the shoe that started it all.
On a trip to Paris, Hatfield saw the infamous Pompidou Centre, a building which is designed to show the construction on the inside placed on the outside. Very much a work of art or a scar on the face of Paris to whoever you ask, the Pompidou Centre inspired Hatfield to come back to Oregon and create the Nike Air Max 1; the first shoe where the Air unit was visible on a Nike shoe. Paying homage to the building that inspired him, Hatfield gave the shoe the now-iconic red, white and grey colouring comprised of suede and mesh materials. 
Originally, Hatfield's design was met with a lot of scepticism. Nike was failing in almost every athletic department besides basketball and the brand was reticent to gamble on Hatfield's crazy design. However, Hatfield convinced them that the shoe would be a success with runners due to the large Air unit that provided a soft cushion for their feet. The visible Air unit itself was created by aeronautical engineer M. Frank Rudy, the father of Nike's Air technology.
Over 30 years later and Nike's gamble on Hatfield's crazy design most certainly paid off and the OG Nike Air Max is still one of the best shoes. Nike's Air Max line now makes up a key cornerstone for the business, going on to create other iconic shoes such as the Nike Air Max 90, Nike Air Max 95 and Nike Air Max 97. When the brand went on to reveal that they would be making more Nike Air Max 1 anniversary pairs of OG colourways, sneakerheads around the world rejoiced. However, the red Nike Air Max 1 holding a special place in all sneaker fanatics' hearts. Even now, three decades later, it is safe to say that the Air Max 1 is the sneaker that gets sneaker fans excited. 
Final Thoughts
Without a doubt, the Air Max 1 is one of the greatest shoes in existence. Its story is the stuff of legend and Tinker Hatfield's design reshaped Nike forever. Having seen so many versions in its 30 years, from the classic Nike Air Max 1 vintage and Nike Air Max 1 Premium, to the Nike Air Max 1 and Nike Air Max 1 Ultra, it's relevance in sneaker culture is unparalleled. Here's to the next 30 years of one of the greatest silhouettes ever made.