In the long history of Supreme, the brand has had some of the most eye-catching logos seen in streetwear. For more than a quarter of a century, Supreme logos have graced streets all over the world. They've been spotted on T-shirts worn by skate rats and celebrities alike, with hundreds of variations occurring in between. Classic Supreme logos are truly timeless, so we thought it was about time we rounded up some of the best out there.
As you can imagine, compiling a list of every Supreme logo would take time. That's why we thought we'd give you a rundown of our top five Supreme logos. We'll be covering different kinds of Supreme logos throughout, picking out our top Supreme designs along the way. Without further delay, let's take a closer look at some of the best Supreme logos of all time.
Supreme Arc Logo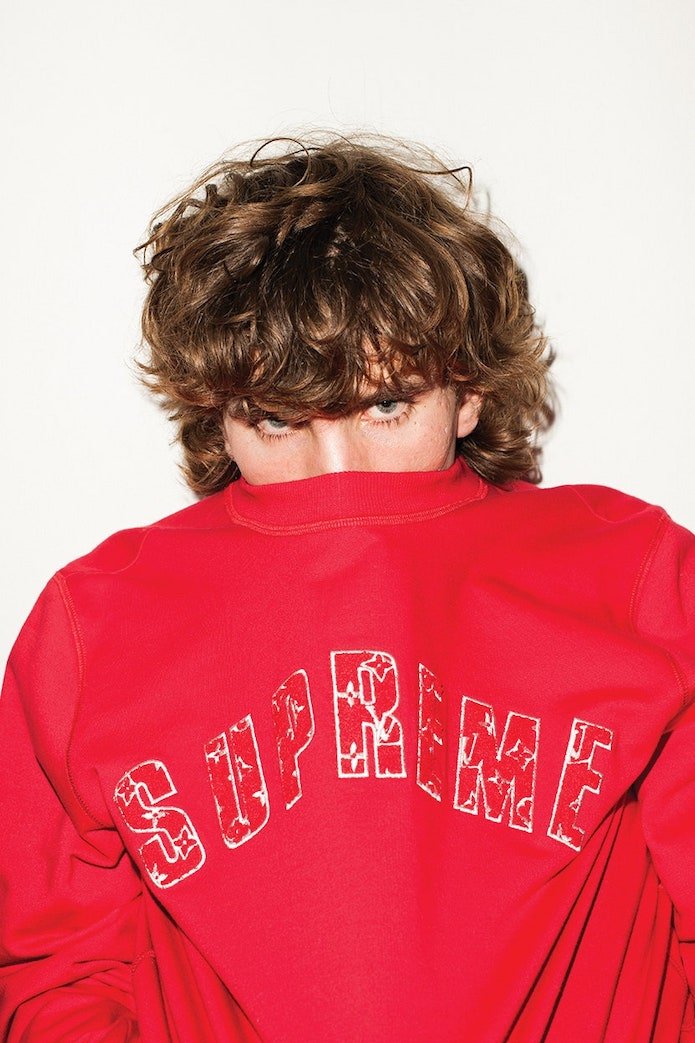 When it comes to logos, keeping things simple often has the best results. Supreme's Arc logo is a classic example of this. The Arc logo first appeared in 1995 and adorned T-shirts, hoodies and crewneck jumpers. Since then, the logo has remained a staple part of Supreme's logo design arsenal. Now, the Arc logo can be seen across a number of pieces, with it being a fan favourite for many streetwear fans. In fact, in the 2017 Supreme x Louis Vuitton collaboration featured a cobranded Arc logo design.
Supreme Motion Logo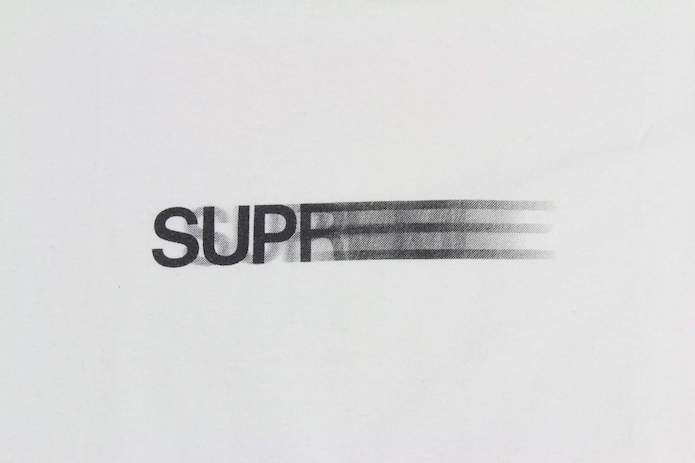 All Supreme logos have a story. For a brand synonymous with New York culture, Supreme has often looked to the city it calls home for inspiration. The Supreme Motion logo is a knowing nod to one the greatest films of all time; Goodfellas. The Martin Scorsese film is set in Queens, one of New York's Five Boroughs. Recognising the importance of the film on New York culture, Supreme created the Motion logo as a homage to the film. Since then, the Supreme logo design has featured on everything from Vans to hoodies.
Supreme Arabic Logo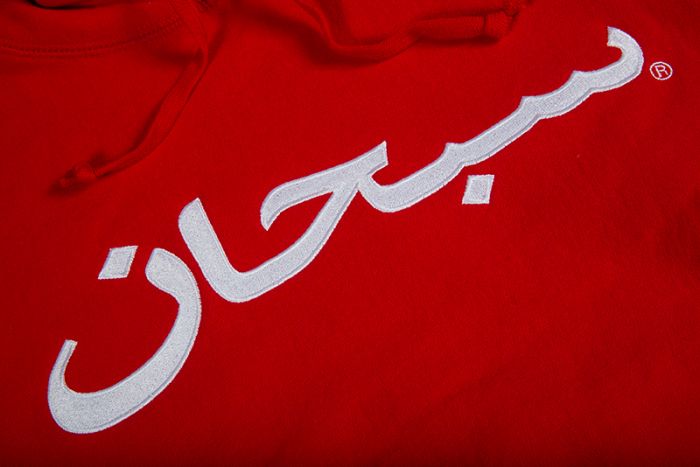 In 1997, Supreme began to experiment with the logo even more. Supreme released an Arabic box logo T-shirt and, since then, the Arabic logo has featured in a number of seasons over the years. The Supreme Arabic logo is certainly one of the most recognisable in the brands line up. It has featured on a number of items over the years, however the original 1997 box logo still remains one of the best use cases of the logo. For now, let's just hope that a few more Supreme Arabic box logos get released.
Supreme Script Logo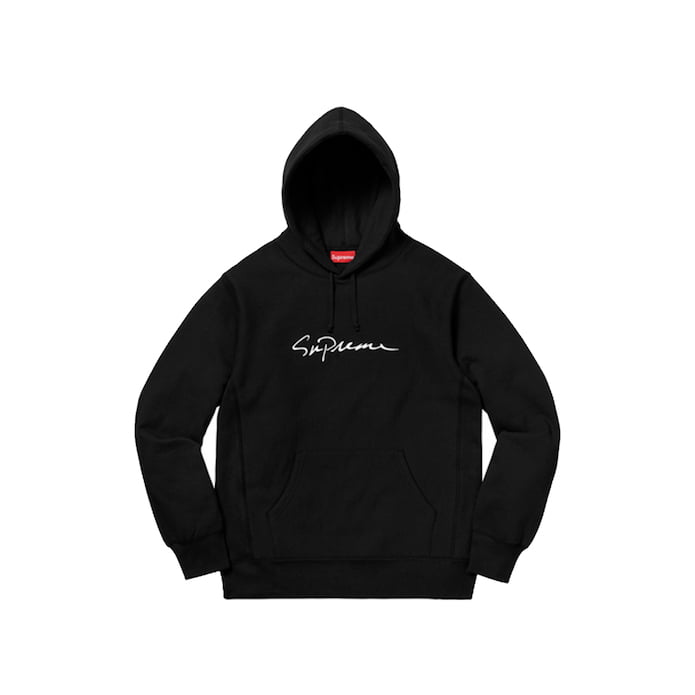 There have been a number of different versions of the Supreme Script logo, but fewer can beat the original 1995 version. As the brand started to get more widely known, the Supreme script logo developed and began to change. More and more versions of the logo began to appear. However, it's hard to be the OG. The simple Supreme Script logo has become a staple for many items over the recent seasons. Embroidered versions have adorned everything from T-shirts to hoodies and hats to jackets. It's easy to see why this has remained a constant for Supreme.
Supreme Box Logo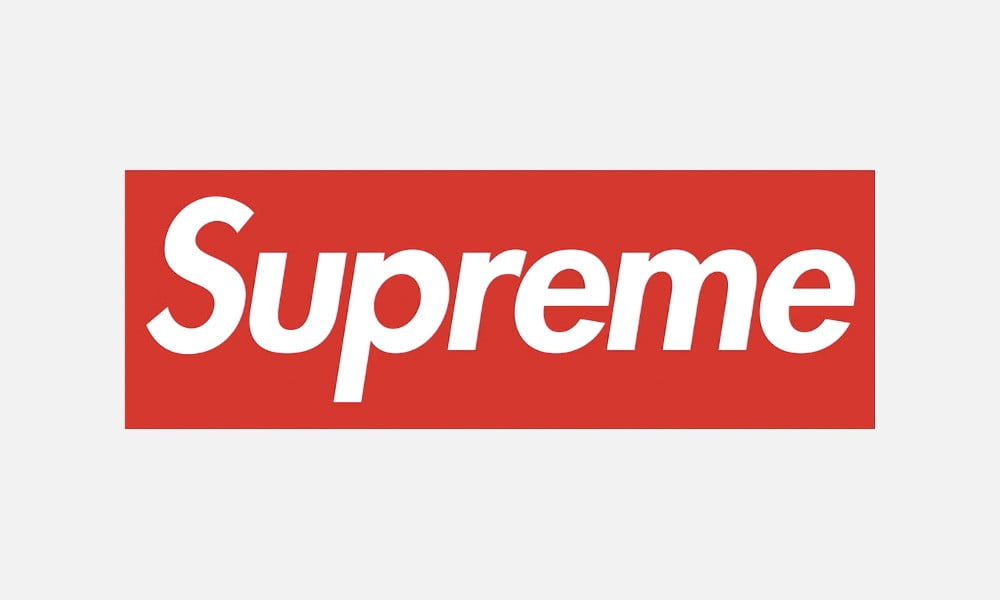 There was no way we couldn't include this on the list of the best Supreme logos of all time. When it comes to top Supreme logos, fewer beat the box logo design. In 1994, James Jebbia opened the doors to Supreme on Lafayette Street. Jebbia commissioned his friend to design the brands logo and gave him a book on design by Barbara Kruger.
Now, there is much debate whether Supreme copied Kruger's designs or whether it was inspired by her work. Using a bold oblique Futura font, the Supreme logo was an instant hit. It was nothing like the skate world had seen before and used a refined approach. Since then, the Supreme box logo has become one of the most instantly recognisable logos in the world. It has been reimagined in countless collaborations, graced the runways of Paris and been spotted on high profile celebrities.
As the history of Supreme continues to grow, we are sure that the strength of the box logo will only grow.
Final Thoughts
As popular Supreme logos go, we are sure that we have picked some of the best in the brand's history. All Supreme logos have a great story and the inspiration from some of those cool Supreme logos we see each season is always refreshing to see. For now, we just hope that Supreme logos continue to develop as the brand does.