Few brands on the planet are as instantly recognisable as Supreme. Over the past 25 years, Supreme has transformed from an independent skate store to something far bigger. Founded by James Jebbia in 1994, Supreme New York has transcended its original skating roots to become a streetwear behemoth. Whilst it may have been donned by skate rats in the early 90s, you can now catch it being worn by supermodels in Paris and Milan. Of course, it has attracted a fair few celebrity fans along the way.
As one of the hottest brands in the world, Supreme has garnered an unlikely celebrity cult following. In recent years, celebrities wearing Supreme has skyrocketed. After its collaboration with Louis Vuitton, Supreme was able to bring in an entirely new customer demographic. What once was the calling card of a streetwear kid has now become the hallmark of a celebrity in the know. With more money, resource and time, celebrities can stretch their Supreme budget just that little further.
In this piece, we're going to be showing you 10 celebrities that you probably didn't know liked Supreme. Although we could have made this list at least 100 celebrities long, we thought we'd keep it short and shocking. Without further delay, let's take a closer look at 10 celebrities in Supreme!
Kanye West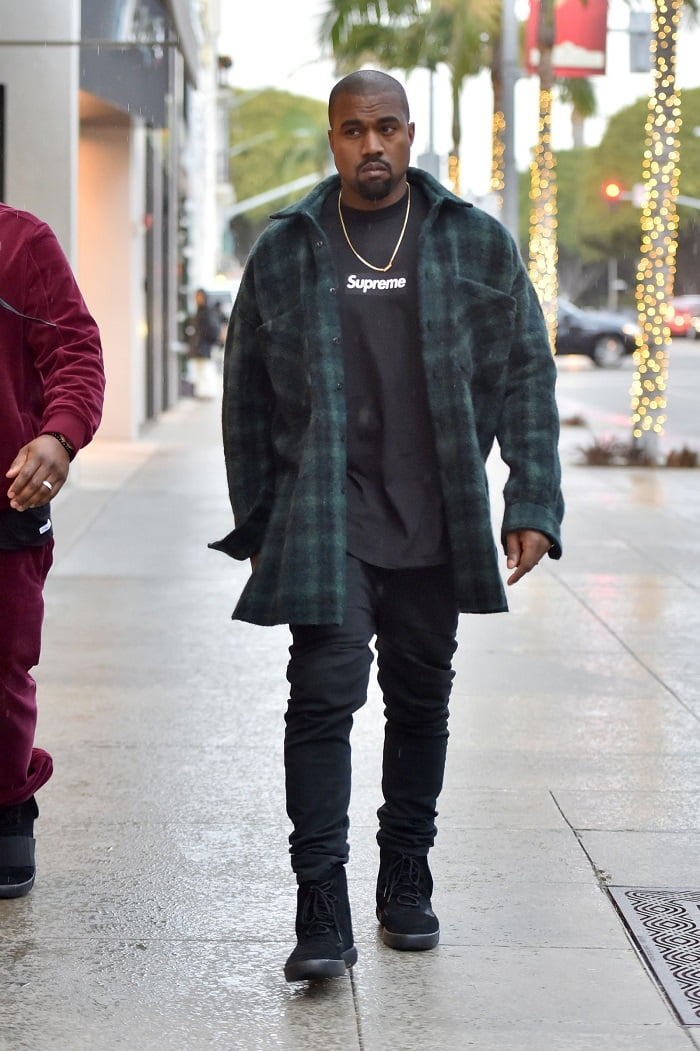 Kanye West is undoubtedly one of the most instantly recognisable people on the planet. The 43-year-old has been in the public eye for the best part of 20 years, bringing with him a number of outfits, sneaker moments and outrage. As one of the best-dressed men in the world (according to GQ), Kanye has one of the most expansive wardrobes of any celebrities. Whilst he may have the likes of Haider Ackermann, Maison Martin Margiela and his own Yeezy label, he also has a penchant for Supreme.
Over the past few years, we have seen Kanye don a number of Supreme items. From Basquiat tees to camouflage jackets, Kanye has shown love for Supreme on a number of occasions. Arguably his most famous Supreme moment, however, can be seen above. Donning a black Supreme box logo T-shirt alongside a pair of customised adidas Yeezy Boost 750 OGs, this is arguably one of the best Kanye outfits we've seen.
Rihanna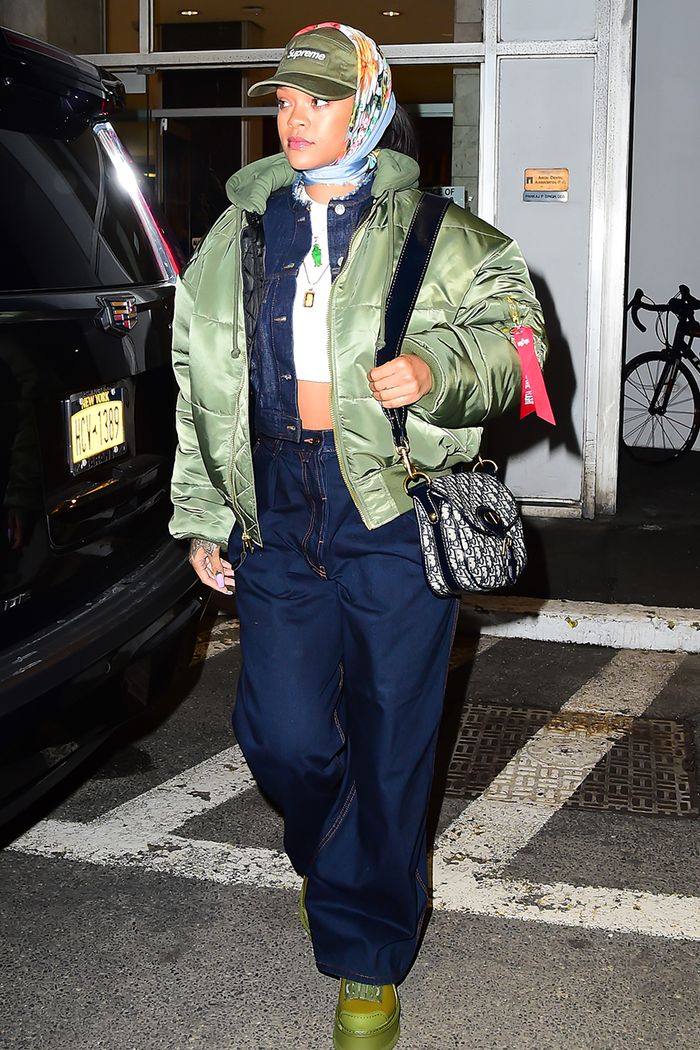 There is no denying just how well-dressed Rihanna is. The 32-year-old singer turned fashion and beauty mogul is no stranger to the finer things in life. Though she may have eight Grammy's at home, she also has a wardrobe that any fashion fan would be jealous of. Whether its Thierry Mugler atelier dresses or Christian Dior bags, Rihanna has some serious heat in her closet. She is also no stranger to keeping things on the simple side, as pictured above.
Showing her love for Supreme, Rihanna can be seen wearing a Satin Camp Cap underneath a flowery babushka. Paired with a Vetements x Alpha Industries Bomber and matching Fenty x Puma boots, the subtly of the cap almost goes unnoticed. Rihanna also has a number of Supreme x Louis Vuitton pieces too which she has been seen in on a number of occasions.
Justin Bieber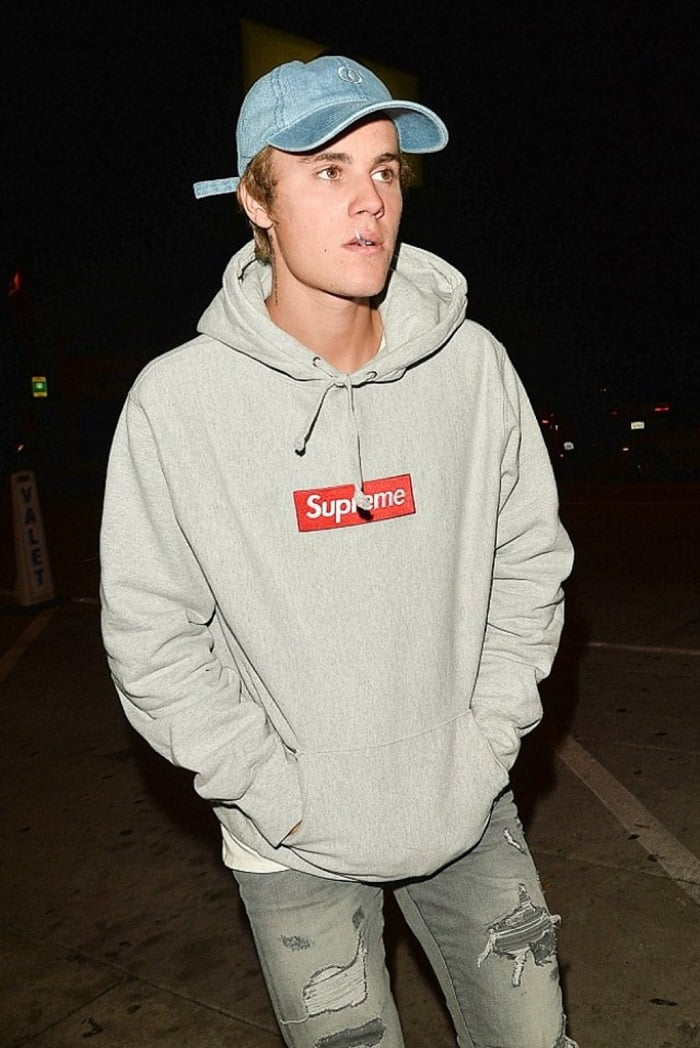 As arguably the most famous singer of his generation, Justin Bieber has well and truly grown up in front of the entire world. After gaining an unprecedented level of fame at just 13, Bieber quickly ensured that he was well-dressed. His early days consisted of brands such as Supra paired with basic jeans. Of course, once he started growing up and making more money, it didn't take long for Bieber to enjoy the finer things in life. As you can imagine, Bieber found Supreme.
Over the past few years, Bieber has been spotted wearing a number of high profile Supreme items. Whether its Supreme x Nike apparel or simply Supreme x Louis Vuitton Baseball Jerseys, Bieber can get his hands on almost any Supreme piece that he wants. Whilst the limited edition pieces are eye-catching, we prefer seeing Biebs in just simple Supreme box logo hoodies. Pictured above in a pair of distressed jeans and a trucker cap, this is an effortless Supreme look.
Victoria Beckham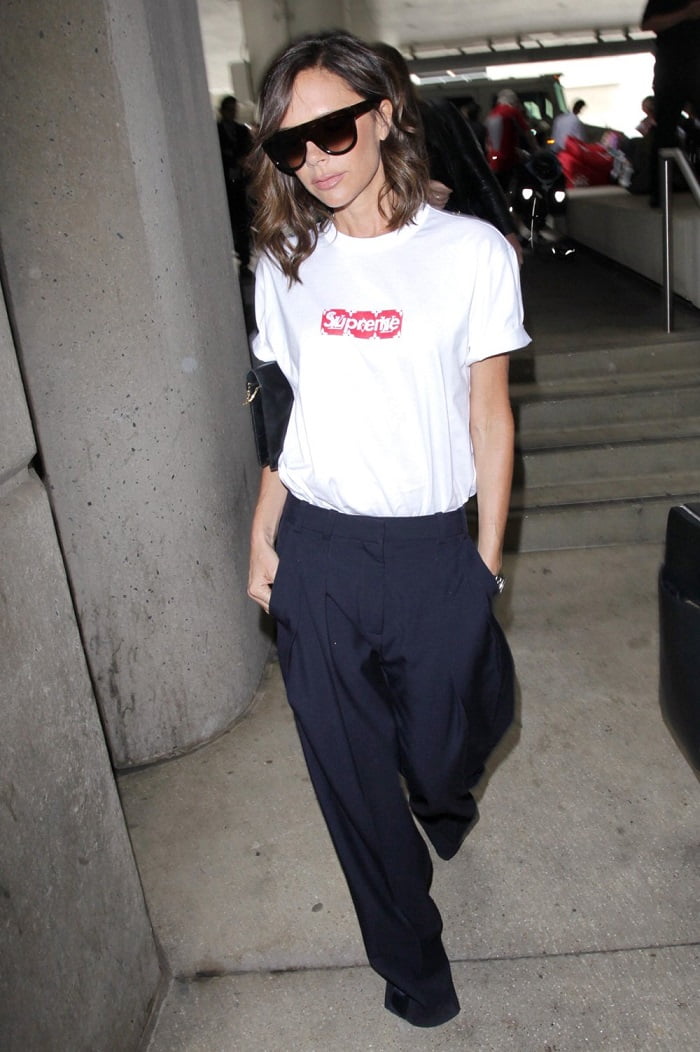 For more than 25 years, Victoria Beckham has been a household name. After rising to fame in 1994 with the Spice Girls, Victoria Beckham (then Victoria Adams) caught the attention of young Manchester United star, David Beckham. Pretty soon after, the two became an item, leading the Beckham's to become one of the most famous couples on the planet. With this success came the launch of Victoria's own eponymous label and her rise to the very top of fashion.
During her rise, Beckham met a number of emerging designers, one of which was Kim Jones. The two sparked up a close friendship and when Jones eventually secured his job at Louis Vuitton, he made sure that his friends were well kept. The Beckham's and Jones have a very close relationship, meaning that they received almost everything from the Supreme x Louis Vuitton collab. As you can probably imagine, it didn't take long for Victoria to rock her box logo.
Drake
Since bursting onto the global stage in 2007, Drake has been a constant figure in pop culture. Over the past 13 years, the Toronto native has graced almost every arena, stage and awards ceremony on the planet. In that time, Drake has also amassed a number of fans for his fashion sense. As one of the most influential people on the planet, and with his own label, Drake has been in the spotlight for well over a decade. Of course, he's lived up to the hype.
As a long-standing fan of Supreme, Drake's affiliation with Supreme dates back to the rise of his fame. Though he does not always wear it, Drake has been known to pull out everything from Supreme x The North Face to box logo hoodies. Whilst his tastes have gotten more expensive as his wealth has grown, he is no stranger to wearing Supreme. Drake also wrote the runway song for the Supreme x Louis Vuitton show in 2017, another landmark achievement for the rapper.
Kendall Jenner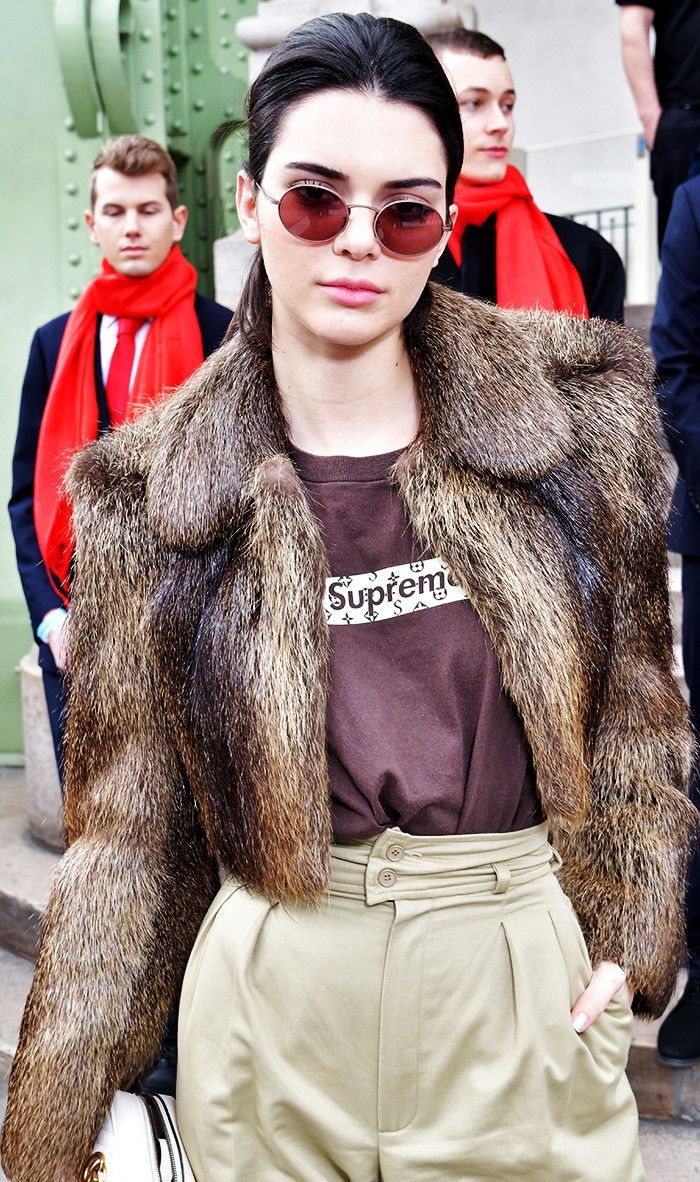 Growing up in the public eye must be tough. As the second-youngest member of the Kardashian-Jenner clan, Kendall's entire life has been spent in the spotlight. Whilst it may have its downsides, it almost certainly has its perks too. Since starting her modelling career in 2009 at just 14, Kendall has gone on to walk for almost every major fashion house on the planet. With an astonishing estimated net worth of $45 million at just 24, Kendall can have almost anything on the planet, including rare Supreme.
When attending the Supreme x Louis Vuitton fashion show in 2017, Kendall pulled out arguably one of the rarest Supreme box logos of all time: the Supreme "Louis Vuitton" bootleg. The full-circle moment for Supreme and Louis Vuitton was documented by Kendall, bringing a slice of OG Supreme to one of the most prestigious runways on the planet. With a current resell value of around €3,000, this is one Supreme box logo you won't see every day.
LeBron James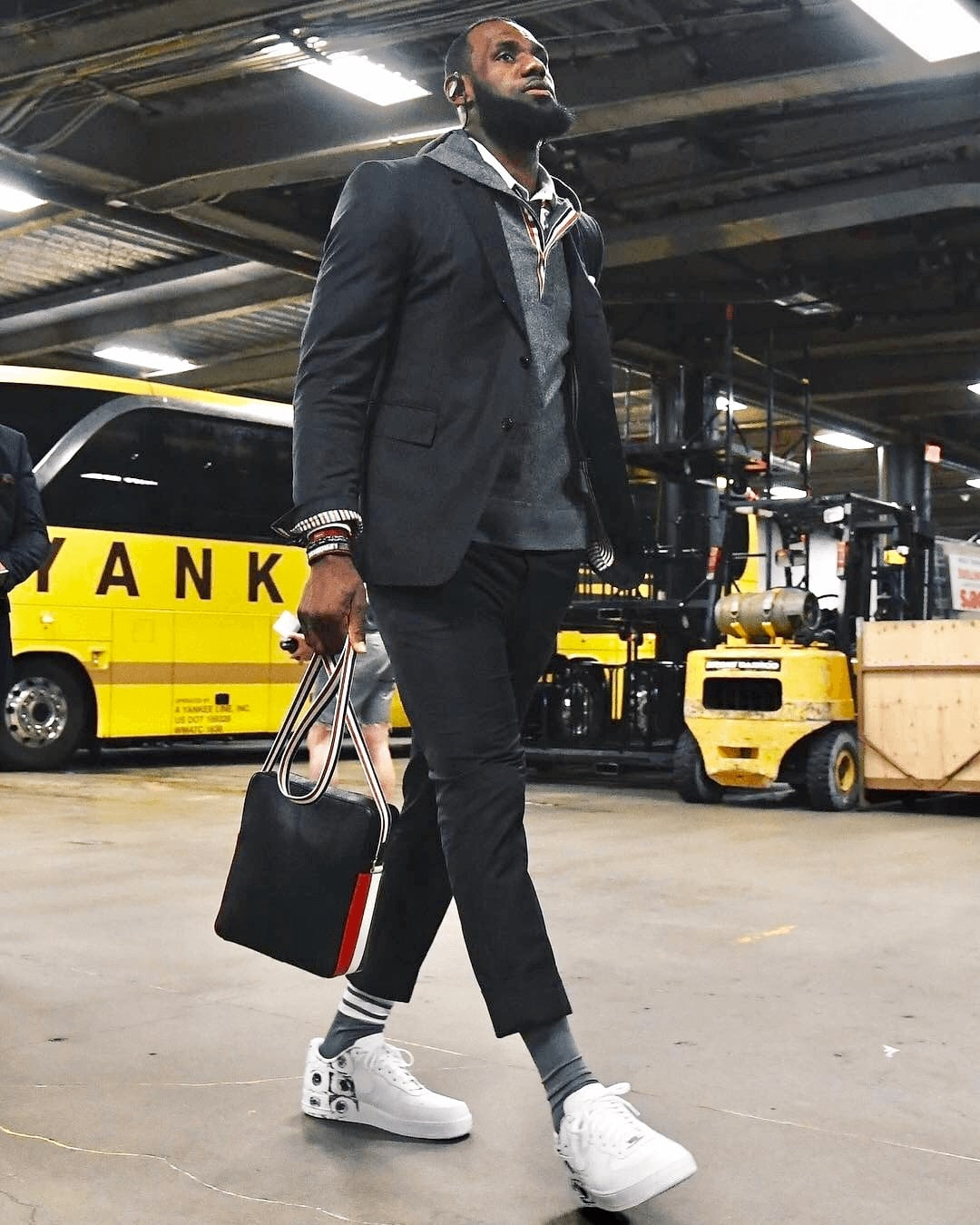 When LeBron James burst onto the global sports stage in 2001, nobody could envisage just how successful he would be. Widely considered as one of the best basketball players of all time, LeBron has a legacy in basketball that few can match. On top of his sporting achievements, LeBron is also one of the best-dressed athletes on the planet too. His lifetime deal with Nike has seen him given a number of exclusive sneakers, many of which happen to be Supreme collabs.
As one of Nike's most valuable athletes, LeBron can get his hands on almost anything. In 2018, Supreme revealed a collaboration with close friends COMME des GARÇONS. As you can probably imagine, it didn't take long for LeBron to wear these in the tunnel. On multiple occasions, LeBron has been spotted in some rare Supreme pieces, covering everything from Air Max collabs to LV. When you have a net worth of $450 million, LeBron can have any Supreme he wants.
Cara Delevingne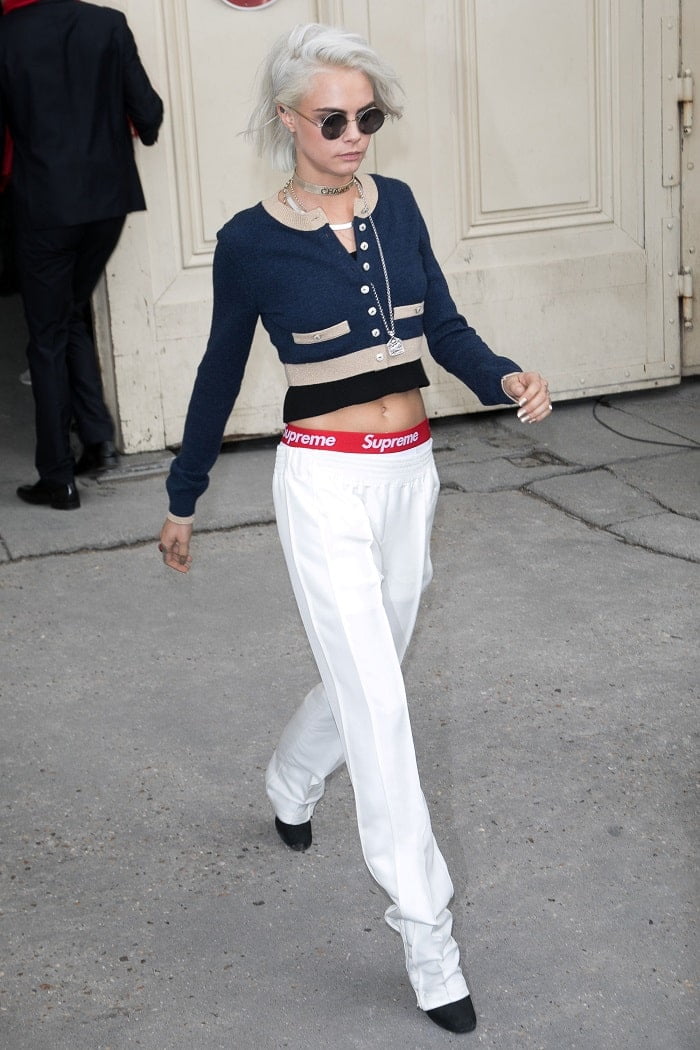 Cara Delevingne is without a doubt one of the most famous supermodels in fashion. Since starting her career back in 2009, Delevingne has walked for almost every major fashion brand on the planet. After being given her first runway show chance by Burberry's Christopher Bailey, she quickly became one of the most sought after models in the industry. As you can probably imagine, this has allowed her to sit at almost any runway show that she chooses.
In 2017, Delevingne attended the Supreme x Louis Vuitton show in Paris. Her striking outfit featured white trousers, a traditional cardigan and some high profile jewellery. However, it was her Supreme Hanes Boxers that caught the attention of many. Seamlessly blending into her legwear, Delevingne rocked the crisp white boxers with the red and white band. The statement piece was a nice touch from Delevingne, showing her love for Supreme.
John Mayer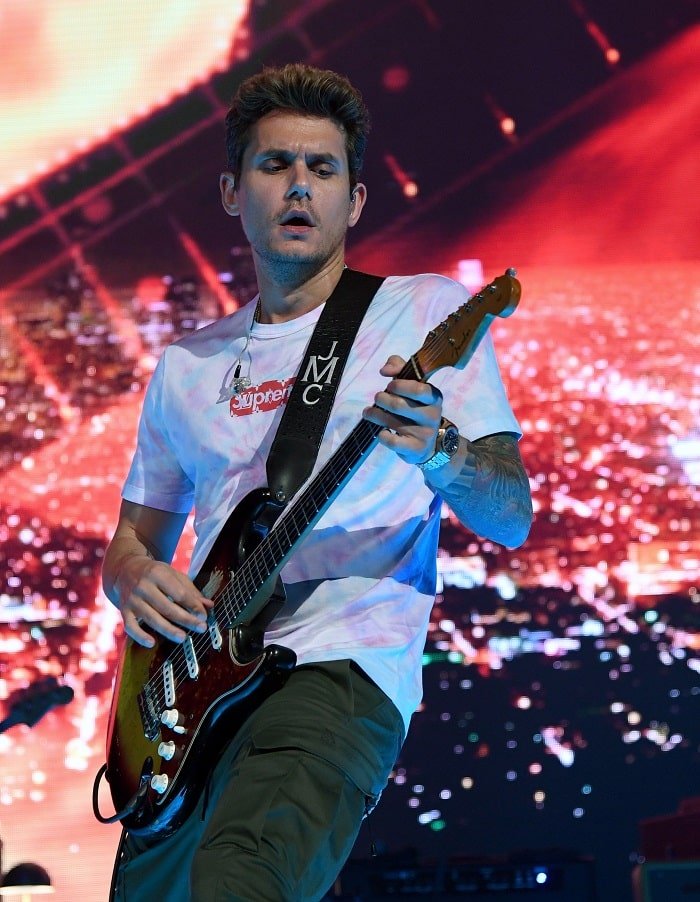 As one of music's biggest sneakerheads, it should come as no surprise that John Mayer is also a big fan of fashion. Often spotting niche brands like Acronym, Heron Preston and Visvim, Mayer has made a name for himself as a fashionable man. In recent years, Mayer has been showing off his love of clothing on stage, often sporting the latest Off-White™ and UNDERCOVER. Back in 2017, Mayer pulled out a Supreme x Louis Vuitton box logo, but with a difference.
Mayer had tie-dyed his Supreme x LV box logo, something that sent the Supreme community winced at. Taking to the stage in a slightly pink and purple Supreme x Louis Vuitton shirt, the 42-year-old made headlines around the world. As arguably the most iconic collaboration of the decade, many questioned Mayer's decision (just as we are.) GQ summed it up best with the following: "Perhaps it was meant to be a gentle trolling of an extremely hyped collaboration." We can only wonder why he customised his Supreme.
Madonna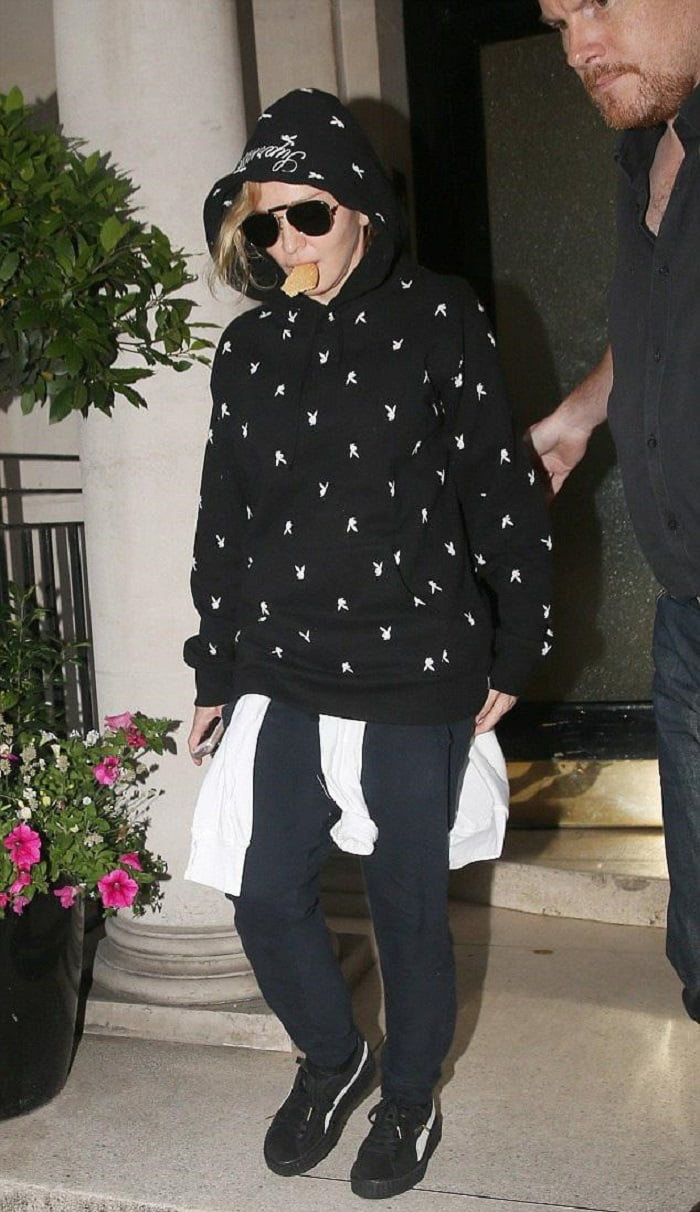 For more than 40 years, Madonna has been one of the most influential people in music. After rising to fame in the 1980s, Madonna quickly became one of the key figures in the industry. Whilst her music may not have been making headlines in recent years, her outfits certainly have. Covering a wide number of labels, Madonna has one of the most diverse wardrobes on the planet. She also happens to have a soft spot for Supreme.
Pictured in everything from Supreme x Louis Vuitton to Supreme x Playboy, Madonna is no stranger when it comes to rare Supreme items. The 61-year-old has often rocked a number of exclusive items, with her style being a combination of casual and hype. With Supreme only continuing to grow, you can expect Madonna's wardrobe to grow along with it. Whether you love her or hate her, you can't deny that Madonna loves Supreme.
Final Thoughts
So, guys, that concludes this round up of 10 celebrities you probably didn't know liked Supreme! We hope that you found some new celebs wearing Supreme that you didn't expect. Famous people wearing Supreme is becoming more popular, with limited-edition collabs helping attract a different customer entirely. With Supreme in a league of its own in streetwear, you can expect the number of Supreme celebrities to go up.