Virgil Abloh 1980 – 2021
In celebration of Virgil Abloh. Arguably the industries most influential designer. He leaves behind a vast legacy with Off-White, his work for Louis Vuitton and his expansive collaborative work. Vigil's disruptive boundary-breaking approach subverted and challenged everything we knew and know, about fashion and culture. We extend our deepest condolences to his friends and family.
There are few people on the planet as influential in both the footwear and fashion worlds as Virgil Abloh. The architect turned fashion designer turned DJ turned furniture maker has lived a life that many of us would be envious over. Once the often unsung hero of Kanye West's creativity, Abloh has since risen to the very top of the fashion world. It has, of course, been a memorable rise. From screen-printing T-shirts in 2006 to heading up Louis Vuitton menswear in 2017, Abloh's career has been filled with iconic designs.
For this post, we'll be taking a look at some of Virgil Abloh's best sneakers. Since starting his Off-White™ label in 2013, Virgil Abloh has certainly transformed the footwear world. Whilst it was the Nike x Off-White™ collaboration that really kickstarted it for Abloh's sneaker career, his designs with both brands he heads up have become legendary. Whether it's Off-White™ Air Jordans, Louis Vuitton sneakers or remixing Converse, there's no limit to Abloh's creativity.
Now, it's definitely been hard to pick just a few designs, but we hope you'll agree with our list. Without further delay, let's look at some of Virgil Abloh's sneakers.
Disclaimer: this list is in no particular order!
Off-White™ x Nike Blazer Mid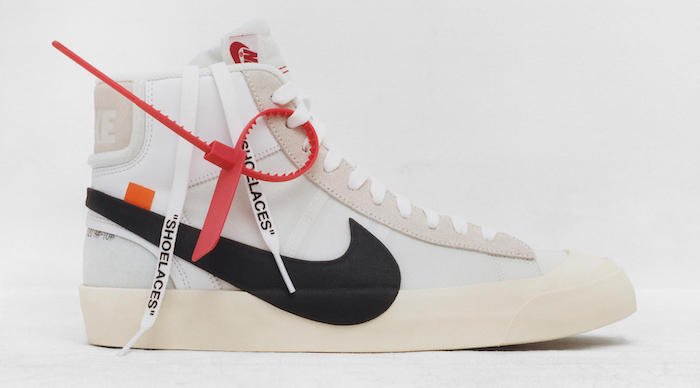 As one of the original sneakers from Off-White™ and Nike's "The Ten", the Blazer Mid was one of the most underrated pairs in the pack. Often forgotten about, the reason the Off-White™ x Nike Blazer made this list is simple: it's a classic reborn. Made up as part of the "Revealing" set, the Off-White™ Blazer was Virgil Abloh's spin on the iconic Nike's 1977 basketball design. Made in one session in Beaverton, Oregon, the Blazer's legacy was given a new lease of life.
Although there may be uproar at this choice, give us a chance to explain the reasoning. Putting a fresh spin on a 40-year-old model is not easy to do, yet somehow Virgil Abloh did just that. A nylon upper features an oversized Swoosh, completely transforming the original. Suede accents, exposed foam on the tongue and additional design elements ensured that the Nike Blazer would never be the same. Dropping in three additional colourways, the Off-White™ Blazer made its mark.
Off-White™ x Air Jordan 5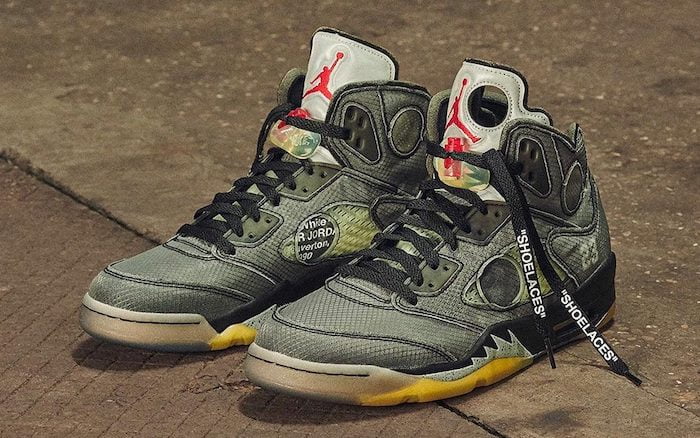 2020 was a big year for the Air Jordan 5. Tinker Hatfield's 1990 design officially celebrated its 30th anniversary and Jordan Brand didn't miss the chance to go big. Although there were few Air Jordan 5 collaborations, the sneaker was pretty much everywhere last year. Almost as soon as 2020 began, however, there was news that Off-White™ x Air Jordan 5 would be releasing in February. As you can probably, imagine, it caused chaos.
Paying homage to the original Air Jordan 5 "Black Metallic", the first pair of Jordans that Abloh owned, the Off-White™ 5s represented a full-circle moment. The semi-translucent black nylon upper was an ode to the OG, featuring an aged sole unit to give the shoe a vintage look. Familiar details like the text on the side, laces and zip tie also came as standard. However, the use of circles, which Abloh encouraged wearers to cut out, was a new addition. "23" featured on the heel, representing MJs number with the Bulls.
It's safe to say that the Off-White™ x Air Jordan 5 "Muslin" was a big success. Selling out almost instantly on All-Star Weekend, it didn't take the shoe long to hit the resell market. Although it may be one of the new Off-White™ x Air Jordan models out there, this is a real game-changer. Later that same year, we also saw the Off-White™ x Jordan 5 "Sail" release, showing just how popular the shoe really was.
Off-White™ ODSY-1000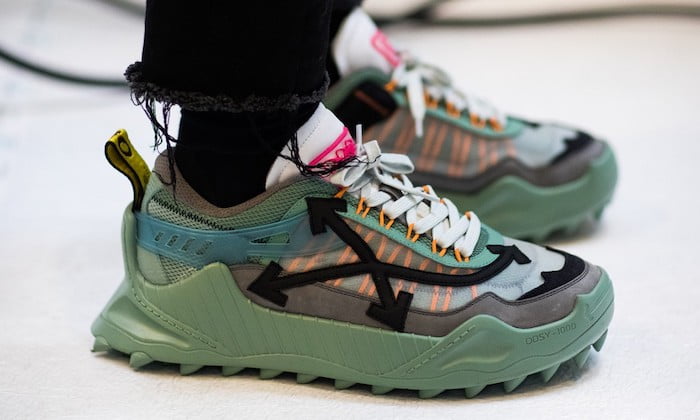 Right, before you all recoil in horror, let us explain. Whilst it's easy to rework an already classic design, it can be difficult to create something new that people will remember. Last year, during the Off-White™ Paris Fashion Week show, the Off-White™ ODSY-1000 was revealed. Although it may not be the, ahem, "prettiest" of shoes, it certainly took Abloh's design principles to a new stage. The silhouette itself was quick to do the rounds on social media and gained a lot of attraction from various fashion outlets.
Whether you like it or not, chunky sneakers are having a bit of a moment. The Off-White™ ODSY-1000 is bang on trend but also puts Abloh's own creative process on show. Premium materials match with an almost hiking style Nike model to give this shoe a very bold look. A remixed Off-White™ arrow logo ensures that you know the brand, but it's the thick sole that's our favourite detail. Although they may not be for everybody, these Off-White™ sneakers are certainly for us.
Off-White™ x Nike Air Presto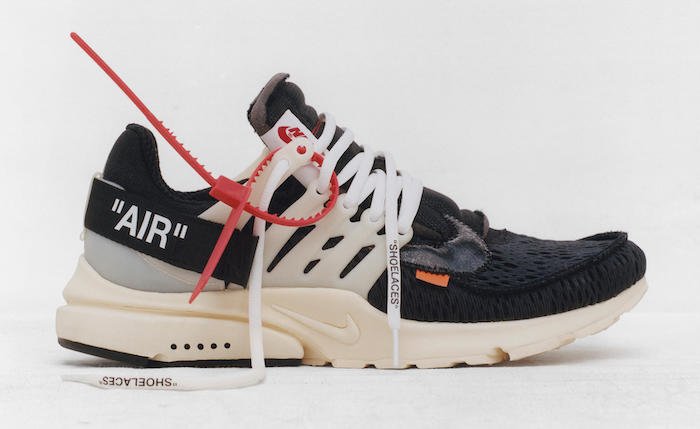 When Off-White™ and Nike dropped "The 10", there were a few stand out models. Another of Tinker Hatfield's iconic creations, the Nike Air Presto first debuted in 2000 at the Sydney Olympics. The forward-thinking design was certainly divisive and it took a while for people to really appreciate it. So when Virgil Abloh sat down at Nike HQ and took an X-ACTO knife to the shoe and created something entirely new, it became a smash hit with the sneaker community.
Easily one of the greatest Nike x Off-White™ sneakers so far, the Presto was an instant success. Draped in a navy blue upper, the shoe features exposed foam throughout the design and creates a nice textured look to the shoe. A cream cage on the side is matched on the sole, but it's the additional features on this presto that make it what it is. Using an oversized Swoosh throughout the midsection, the Off-White™ Presto updated the 17-year-old design in a never before seen way. A velcro strap on the heel, complete with "AIR" branding, was another addition not used on the OG. Selling for upwards of €1800+, these are grails.
Off-White™ x Nike Air Force 1
It's difficult building on an already iconic legacy. For Nike, the Air Force 1 is a huge part of its DNA. First designed by Bruce Kilgore, the AF1 was a massive success when it first launched in 1982. Nearly 40 years later and things haven't changed much at all. When Virgil Abloh began to dissect the Air Force 1 back in his first session with Nike, he was changing things forever. Although the above may not be the original, it's certainly one of the memorable pairs.
Deconstructing a classic model is not without its risks, but Virgil Abloh didn't miss on this one. Minimalistic changes gave the sneaker a brand new look and put a fresh spin on the then 35-year-old shoe. Exposed foam on the tongue, Swooshes with visible stitching on the midsection and the now instantly recognisable text on the side gave the AF1 an unforgettable look. Whilst we've seen a number of Off-White™ x Nike Air Force 1s. When they look this good, it's easy to see why.
Off-White™ x Air Jordan 4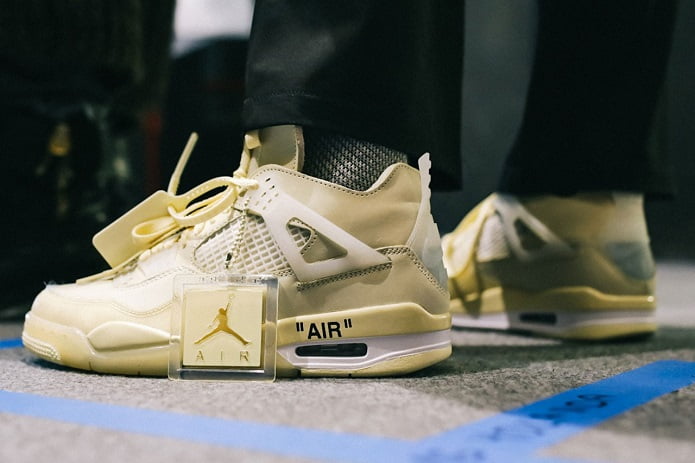 Nike and Virgil Abloh have one of the strongest partnerships in sneakers, there's no denying it. Though the partnership is only five years old, the effect it has had on the industry is profound. When Abloh launched his "Figures of Speech" exhibition back in 2019, the world was treated to a number of samples from the Off-White™ x Nike line. One that caught the attention of many was the Air Jordan 4 which, fortunately for sneakerheads, dropped in 2020.
Virgil's luxurious take on this 1989 classic was unveiled at the Off-White™ Women's Paris Fashion Week show, much to the delight of almost every sneakerhead on the planet. Featuring a "Sail" colour scheme, the shoe uses leather and nylon to create a luxurious take on this iconic Jordan model. Translucent detailing on the ankle straps and heel create a window into the design, whilst the usual Off-White™ features come as standard.
Originally thought to be just for women, the Off-White™ x Air Jordan 4 dropped in men's sizes too, selling out almost instantly.
Louis Vuitton 408 Trainer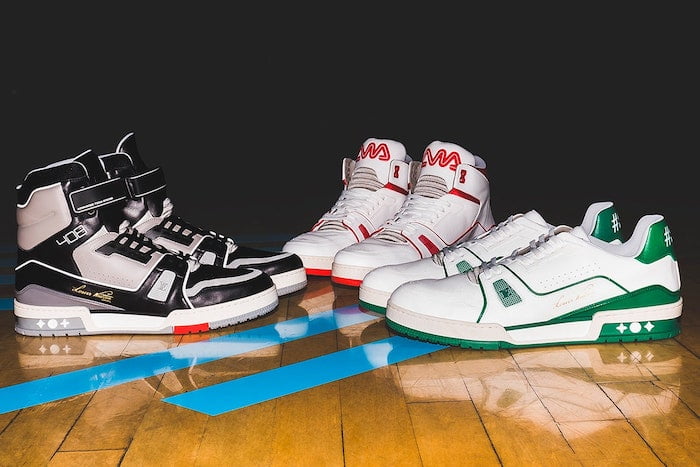 When Virgil Abloh took over from Kim Jones as creative director of Louis Vuitton, the fashion world was surprised. Although Abloh had proven his ability within the streetwear market, running one of the most iconic brands on the planet was very different. It didn't take Abloh long to put his stamp on the French fashion house, updating its traditional style with a luxurious take on streetwear. For his inaugural show in 2018, Virgil Abloh debuted the Louis Vuitton 408 Trainer.
A premium version of vintage basketball sneakers, the LV 408 quickly became a talking point in the sneaker community. Each shoe is handmade in Italy from 106 different pieces, meaning it takes around six hours to make each shoe. Referencing his youth, Abloh wanted to put his stamp on Louis Vuitton in a way that no other creative director had done before. Putting new life into a company with so much heritage was tough, yet Virgil did it in a way no other designer had done before.
Whilst it may just be another Louis Vuitton trainer, the historic appointment of Abloh and the shift in fashion it represents is undeniable. As the first person of African descent to lead the brand, Abloh's Louis Vuitton reign marks a seismic change in the fashion industry.
Off-White™ x Nike Air Max 97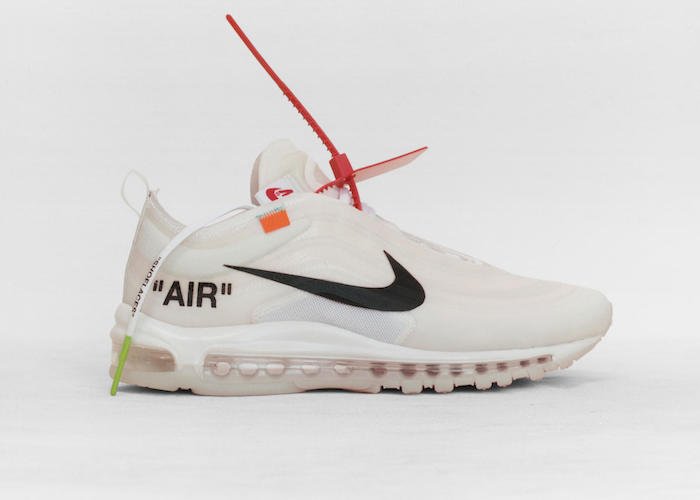 When the Nike Air Max 97 first dropped, it became an instant classic. Christian Tresser's design was the first Air Max sneaker to have a fully visible air unit, something even Tinker Hatfield had not achieved. Back in 2017, the AM97 celebrated its 20th anniversary. To mark the occasion, Virgil Abloh was brought in to put his spin on the sleek Air Max silhouette. Featured as part of the"Ghosting" selection from "The Ten", the Off-White™ x Nike Air Max 97 was an instant classic.
The semi-translucent white upper of the Off-White™ Air Max 97 was a big hit with sneakerheads. A large oversized Swoosh across the midsection, as well as the large "AIR" on the heel, completely transformed the shoe. Sitting atop a white air max unit with a transparent sole, the Off-White™ 97s were unlike any other AM97 in history. Bold printed text on the medial side and lace, an orange tag, a red zip tie and the bright coloured lace tips made these a must-have for some sneakerheads.
Off-White™ x Converse Chuck Taylor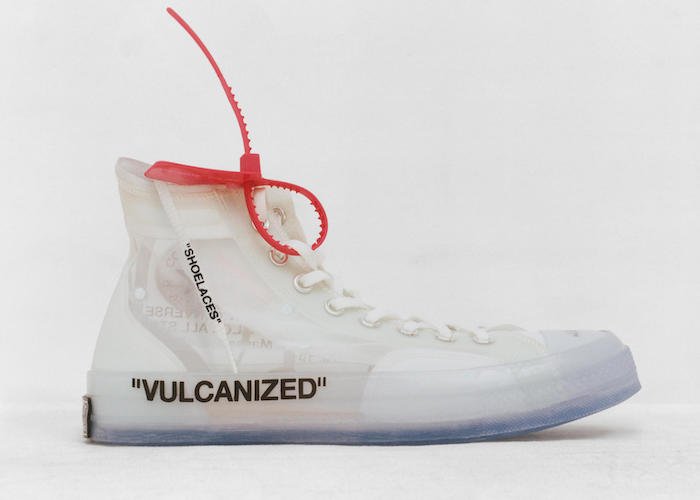 As part of "The Ten", the Off-White™ x Converse Chuck Taylor was arguably the weakest model of all. Although many were not a huge fan of the design at the time, the hype around the sneaker inevitably grew. That's thanks, in part, to the fact it took around eight months to drop after the rest of the collection. Whilst many of Virgil Abloh's design in The 10 were creative, this may be the most creative from the entire range of sneakers.
A transparent upper completely changes the look of the Converse Chuck Taylor. The materials had never been used on a Converse before, allowing people to physically see into the shoe. Other notable design elements included "VULCANIZED" across the midsole, as well as "LEFT"/"RIGHT" on the toe box. Finished with a slight blue tint, the midsole was a big hit for us. Although the subsequent Off-White™ x Converse Chuck Taylor was not great, these are a real standout pair from the drop and one of Virgil Abloh's best sneakers.
Off-White™ x Air Jordan 1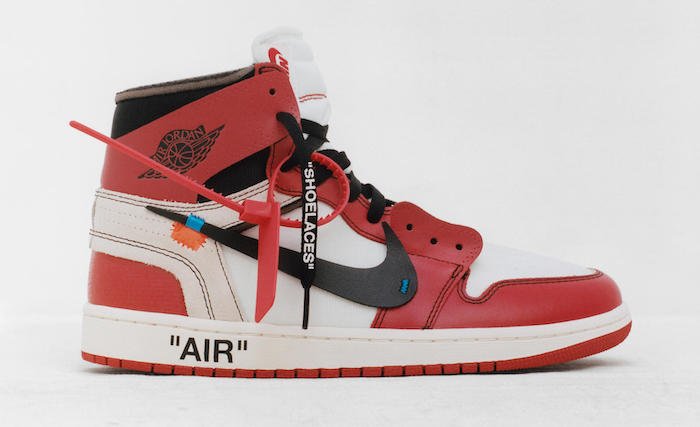 Quite simply put, this is Virgil Abloh's greatest sneaker design so far. Whilst that may seem a big statement to make, let's look at the facts. "What we're talking about here is larger than sneakers, it's larger than design culture" Abloh explained. Sneaker culture exploded after the Air Jordan 1 released in 1985. To completely transform Peter C. Moore's design whilst still keeping the integrity of it is something that's not easily achieved.
Taking the famous X-ACTO knife, Abloh redesigned the Air Jordan 1 in one sitting. Stripping the sneaker back to its individual parts brought a brand new design to life. Exposed foam, a barely attached Swoosh, ankle flaps with an embossed Wings logo transformed the Air Jordan 1. The medial side, complete with text, referenced the origins of the Jordan 1 too. What made this design even more special, however, was what it represented.
"It's nothing short of state-of-the-art design. These 10 shoes have broken barriers in performance and style. To me, they are on the same level as a sculpture of David or the Mona Lisa. You can debate it all you want, but they mean something. And that's what's important" Abloh stated. The Off-White™ x Air Jordan 1 is the pinnacle of The Ten, but also sneaker culture.
Final Thoughts
We hope you enjoyed our look at Virgil Abloh's best sneaker designs. Whilst we've seen a number of high profile Off-White™ sneaker releases, the ten used above represent everything about Abloh's style. Let us know which are your favourite Virgil Abloh sneakers!