With Halloween around the corner, it's a spooky time in the sneaker world. Although nothing may be as scary as taking an L on the SNKRS App, the footwear community is gearing up for the festivities. Despite 2020 feeling like one long horror film, we're optimistic that Halloween can take everyone's mind off it all (even if it is for just one night). As any serious sneakerhead will know, however, Halloween is a time to take a trip down memory lane at some spooky shoes.
Over the past two decades, Halloween has become a big part of the sneaker release calendar. Of course, the inspiration and stories behind each creepy kick tend to get footwear fans excited. Whether it's Freddy Krueger SB Dunks or Mummy adidas Superstars, there's no limit to which brands will go. Thankfully, this year is no different. Here at KLEKT, we've decided to take a closer look at some of the best Halloween sneakers out there. Without further delay, let's start this Halloween sneaker list off!
Off-White™ x Nike Blazer Mid "All Hallows Eve" (2018)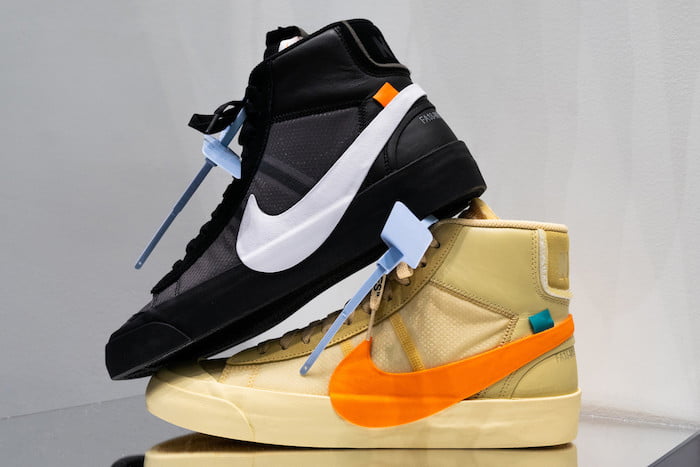 Virgil Abloh and Nike have one of the strongest relationships in sneakers. Since kicking things off with "The Ten" in 2017, the collaboration has extended to over 40 shoes and multiple clothing drops. Back in 2018, there were strong rumours that an Off-White™ x Nike Blazer Mid "Spooky Pack" was set to launch just in time for Halloween. Thankfully, the rumours were correct.
Dubbed the "All Hallows Eve" and "Grim Reaper," the two Off-White™ Nike Blazers were certainly seasonal. A slick black pair, complete with white detailing, was contrasted by a bold orange pair. Familiar Off-White™ detailing such as the extended Swoosh, text on the laces and medial side came as standard, but it was the light blue zip tag that was a real statement. Dropping in limited numbers, the pack was an instant sellout around the world. Prices now regularly hit over €800 so they're an expensive Halloween shoe!
Nike SB Dunk "Night of Mischief" (2019)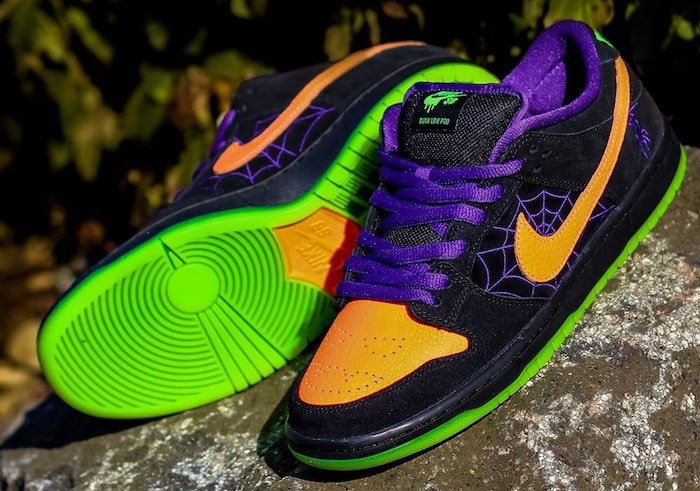 Nike is arguably the pioneer of Halloween-themed sneakers. Its love affair with the seasonal shoe designs is well-documented, going back well over 20 years. However, it is its SB Dunks that have won the hearts of many sneakerheads. Although we've seen a number of Halloween Dunks drop, arguably one of the best that we've seen came in time for last year. With an official "Night of Mischief," you already know that these are going to be good.
Constructed using a number of different materials, this Nike SB Dunk is sure to be a future classic. A mix of black suede and orange leather features throughout the shoe, with touches of purple and green to complete the spooky scene for this shoe. Subtle details include the use of a Jack-O-Lantern on the toe box as well as spiders, skeletons and ghosts throughout. Even the heel tabs feature the words "Trick" or "Treat" for good measure. It's safe to say these "Night of Mischief" Dunks are up there.
Nike Air Max 95 QS "Halloween" (2014)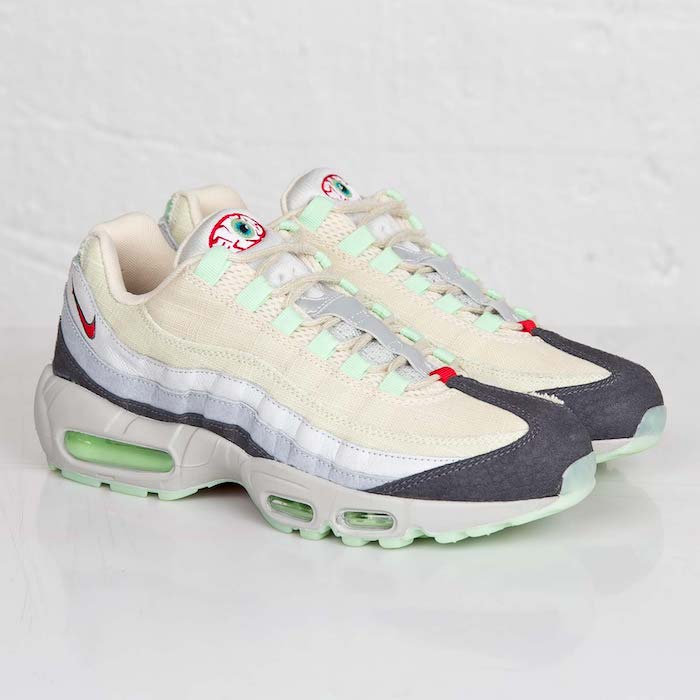 2014 was a great year for Nike's Halloween sneakers. The Swoosh dropped one of the most memorable packs in Halloween sneaker history, comprised of two of the most iconic Air Max models of all time: the 90 and 95. Although the Nike Air Max 90 QS "Halloween" was good, it was its Air Max 95 counterpart that stole the show.
The tonal approach to the AM95 utilised soft cream, light grey and dark grey, with mint accents adding a splash of colour. Subtle textural elements create a nice addition, with a subtle cracked leather adding a nice touch. At first glance, the shoe is not overtly Halloween inspired at first, it was the subtle detailing that made it really stand out. A bloodshot eye on the tongue gives this shoe its Halloween edge, giving this zombie-themed shoe it's scary Air Max moniker.
Reebok Pump Omni Lite "Pumpkin" (2013)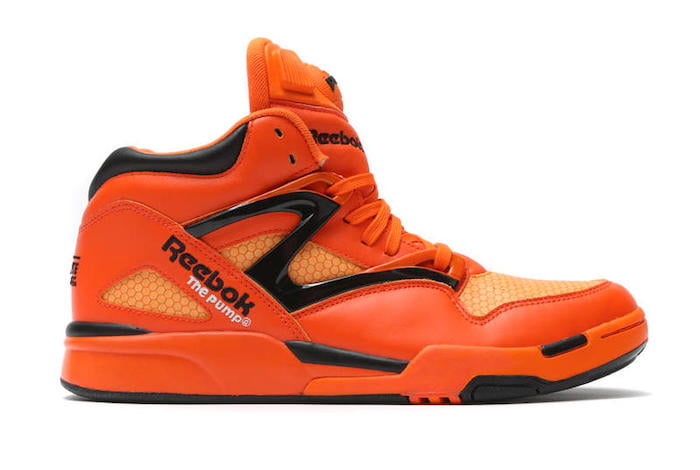 You may be thinking up until this point "is Nike the only brand that does Halloween sneakers?" Thankfully, the answer is no. The world of Halloween sneakers is diverse, with Reebok giving us one of our favourites of all time. Taking its classic Pump Omni Lite silhouette, Reebok draped the shoe in a fitting black and orange colour scheme, giving this shoe its "Pumpkin" name. Although it may not be as popular as some of the other shoes we've seen, this is definitely one of the best Reebok Halloween sneakers out there.
Nike SB Dunk High "Vorhees" (2007)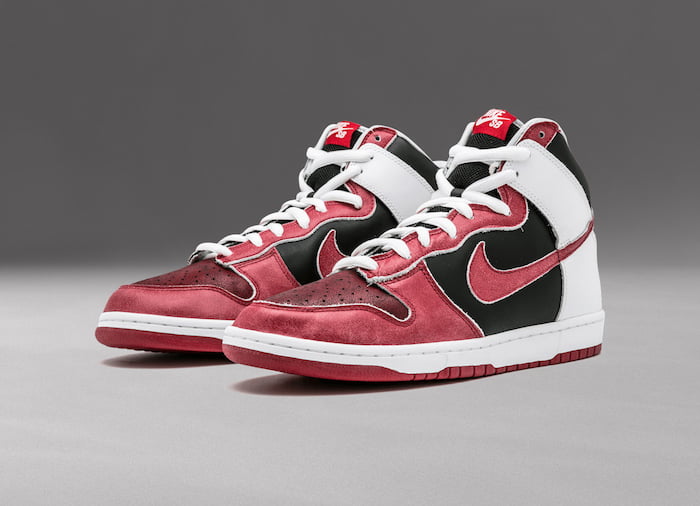 Nike is no stranger to Halloween film sneakers (more on that later) and this is without a doubt one of the best. For anyone who's seen a Friday the 13th film, you'll know exactly where this 2007 Nike Dunk gets its inspiration from. Constructed in red, white and black leather, the Nike SB Dunk High "Jason Vorhees" was reminiscent of the film franchise villain. Selling out in seconds on release day, this shoe has remained one of the best Nike Halloween sneakers out there.
13 (spooky) years ago, Nike released this SB Dunk High with Jason Vorhees as its muse, but the story of its production is just as murky as the film plots. According to sneaker myth, a low top version was created in 2006, with just 24 pairs making their way into public hands. Rumour has it that the shoe was scrapped by Nike altogether, so the 24 samples have gone on to become one of the most in-demand Dunks of all time, with prices hitting into the tens of thousands.
Nike LeBron XIII "Horror Flick" (2015)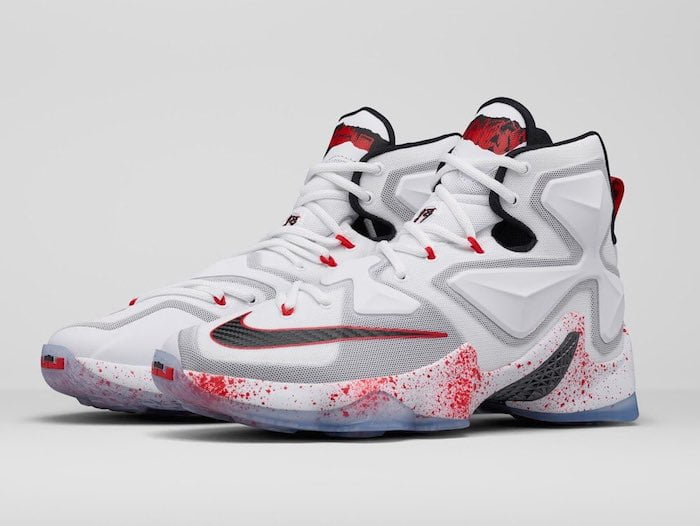 As a known lover of Halloween films, LeBron James has always loved Halloween. The NBA legend has often gone all out for Halloween, dressing up in the tunnel and having a number of PEs that reflect the season. However, back in 2015, Nike cooked up a simple but brilliant Halloween sneaker in the form of the LeBron 13.
Comprised of an all-white upper, the shoe featured "blood" splatters across the midsole and sole unit, as well as a black Swoosh with red lining. Other notable features include a "13" on the tongue, a scary "LJ" logo on the heel and even a blood-soaked "LJ" insole. Originally the shoe was supposed to be called the LeBron James "Friday the 13th" but due to legal issues, Nike had to change them at the last minute.
Nike Air Force 1 "Frankenstein" (2006)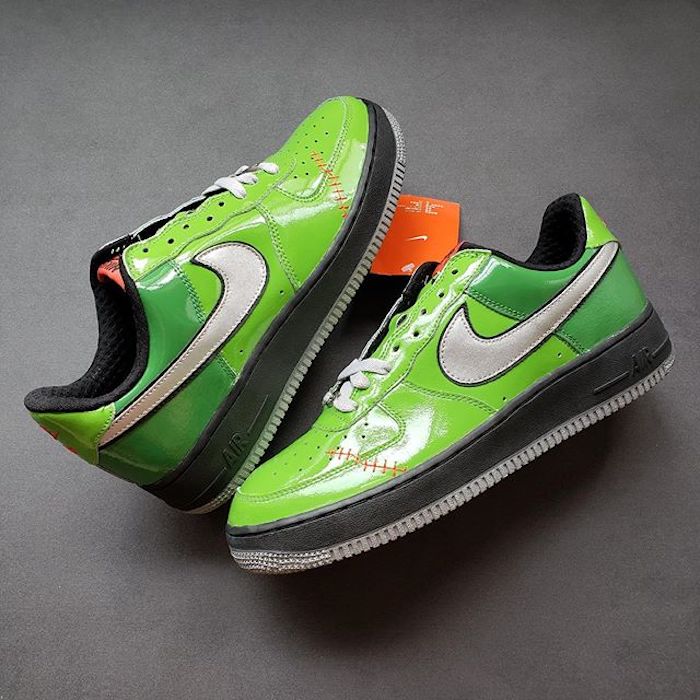 Fun fact: Nike kicked off it's Halloween sneaker journey with the Air Force 1 in 1998. Over the past 22 years, however, the Swoosh has reimagined the humble AF1 numerous times throughout Halloween. Arguably one of the bolder Halloween Nike Air Force 1s in history, this 2006 pair is an ode to one the oldest horror characters in the world; Frankenstein's monster.
The two-toned patent green upper sets the base for this shoe in reference to the monster's complexion, with a silver Swoosh representing the bolts found on the neck of Mary Shelley's now nearly 200-year-old creature. Our favourite detail on this shoe, however, is the orange stitching on the toe box, depicting the stitching on the neck of the beast. With Nike's AF1 Frankenstein shoes being so bold it's safe to say that these horror sneakers are certainly going to get you noticed.
Saucony Grid 9000 "Hallowed" (2015)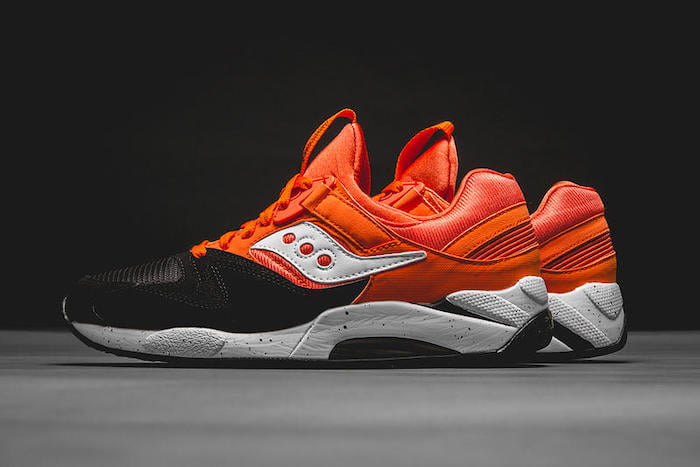 French sneaker brand Saucony are no strangers to seasonal sneakers, with these being no exception. Back in 2015, Saucony released two shoes dubbed the "Hallowed" pack. Comprised of two Grid 9000s, both with creepy colourways reminiscent of Halloween, the shoes were a nod to the spooky season. The orange, black and white colourway was by far the winner, paying homage to the festivities that happen at the end of the month. It's definitely one of the more obvious and much brighter Halloween sneakers on this list but for those reasons, it's one of the best.
Nike SB Dunk "Freddy Krueger" (2007)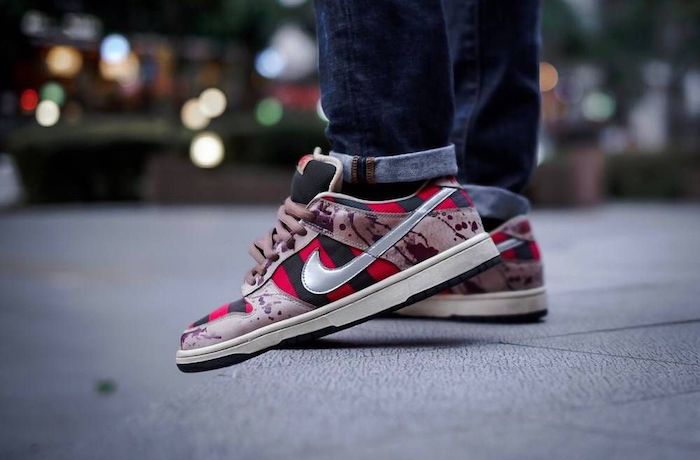 In terms of Halloween sneakers, this is the undisputed greatest of all time. The Nike Freddy Krueger Dunks are legendary in the sneaker community, with a story that is so good they've become a cult-like shoe for any collector to try and own. Inspired by Freddy Krueger, the iconic horror film character from Wes Craven's 1984 slasher A Nightmare on Elm Street, this Nike sneaker never, in fact, saw a release. The iconic blood splatters, as well as red and green stripes from Krueger's jumper, are found on the sneaker, with a silver Swoosh representing the glove that killed so many in the film.
The story goes that the Swoosh had planned to release a special Nike SB Horror Pack in 2007, with the shoes being reminiscent of Freddy vs Jason. Nike had begun manufacturing the Freddy Krueger SB when they were hit with a cease and desist order by A Nightmare on Elm Street producers for not getting the design approved. Nike then ordered the factory workers to get rid of the sneakers and pour oil on them, but many workers decided to steal the sneakers off the production line knowing that they would be worth a lot to collectors.
In terms of rare Nike SB Dunks, the Freddy Krueger Dunk is up there. With nobody knowing the exact numbers that are in circulation, it's rumoured that anywhere from 15-30 pairs are currently on the market. If you want a pair of these, you're going to need deep pockets. Since the start of 2020, Nike Freddy Krueger Dunks have been regularly going for upwards of £25,000. Whether you love them or hate them, there's no denying that these are the best Halloween sneakers ever.
Final Thoughts
Well, there you have it. Our round-up of some of the best Halloween sneakers of all time. From Nike to Reebok and, well, Nike to Saucony, the diverse range of Halloween shoes is great to see. As you've probably just read, Nike is the clear winners when it comes to the festive footwear range. That doesn't look to be changing any time soon either! With Halloween happening every year, we are sure that there will be more to come.