It's safe to say that 2020 has been like no other year in history. With the current coronavirus pandemic sweeping the globe, it's scary, to say the least. Lockdown, quarantine and social distancing have got everyone feeling a little deflated. Here at KLEKT, we thought it was about time that we helped lift the spirits a little bit.
Below, we've put together our ultimate guide on sneaker movies and sneaker series. Throughout the history of cinema, there have always been iconic sneaker moments. We thought that we'd help you out and have put together a handy list of the greatest sneaker movies of all time. We'll be covering trainer movies, sneaker documentaries and picking some of the best sneaker IMBD choices.
So, get the popcorn out, turn your phone on silent and dim the lights down. This is KLEKT's Ultimate Sneaker Cinema Guide.
Kicks (2016)
Justin Tipping's directorial debut is Kicks, a story of a 15-year-old Brandon who is desperate to get his hands on a fresh pair of sneakers to improve his social status. Ignored by girls, picked on at school and sick of never having the hottest pair of trainers, Brandon is tired. After working hard to get his hands on a pair of new Bred Jordan 1s, his popularity grows but he becomes a target for his local neighbourhood gang leader, Flaco. Wanting to get revenge for his sneakers being stolen, Brandon is desperate and willing to go to any means necessary to get them back. Kicks is a real-life look at the complexities of inner-city life, the journey of manhood and how new sneakers can be a blessing and a curse.
Cop the Air Jordan 1 "Bred" now!
Space Jam (1996)
There are fewer more important sneaker movies in history than Space Jam. For many, it is the film of their childhood and, for many sneakerheads, one of their earliest memories of sneaker moments in a film. Space Jam follows the story of the Looney Tunes who are desperate to win a basketball match to save their world from destruction. After careful spy missions, they recruit Michael Jordan to help them win. Jordan, who had just retired from the game of basketball, must hit the hardwood once more to help them win. The film has a tonne of exclusive Jordan sneakers, most memorably the Air Jordan 11. It's a classic.
Cop the Air Jordan 11 "Space Jam" now!
Back to the Future II (1985)
Ok, so technically this isn't a sneaker movie but it has one of the most important sneakers of all time in it. Back to the Future II is the story of Marty McFly and Doc Brown's journey into the future. After saving the world from disaster by travelling back in time to 1955, Marty is thrust into the year 2015. Biff, the villain in the Back to the Future series, steals Doc Brown's time machine and travels into the year 2015, 30 years from the 1985 reality.
Realising that he must save his family from Biff, Marty works hard to change the events of the future to ensure that the present is saved. The introduction of the Nike Mag is arguably the most iconic moment of this film; Marty's self-lacing sneakers. It is also easy to say that these are one of the top 10 sneakers of all time. This shoe is a piece of cinema and sneaker history, that's for sure.
White Men Can't Jump (1992)
White Men Can't Jump is a classic basketball movie. The film follows Billy Hoyle, played by Woody Harrelson, a former college basketball player who hustles players in streetball. He meets Sidney Deane, played by Wesley Snipes, and the two begin hustling together. However, it later develops that Billy and his girlfriend Gloria are on the run from gangsters because of a gambling debt. Gloria wants Billy to find a stable job so that they can move away and start fresh, but Billy's love of gambling and streetball has him hooked. This 90s classic sneaker movie features sneakers from Nike, Air Jordan, Reebok and more. It's a must-watch for any basketball fan.
Cop the Nike Air Command Force "Billy Hoyle" now!
Like Mike (2002)
Calvin Cambridge, played by Bow Wow, is tired of being picked on. After finding a pair of sneakers with the initials MJ, Calvin believes that the sneakers belonged to Michael Jordan. When Calvin puts the shoes on, he discovers that the sneakers give him a playing ability he didn't know that he had. Soon after, he signs to the Los Angeles Knights and begins playing in the NBA. Other teams begin to get jealous of Calvin's ability and sabotage his sneakers, leaving his career in pieces. However, the story isn't just about sneakers, it's about much more.
Spider-Man: Into the Spider-Verse (2018)
Spider-Man: Into the Spider-Verse is a 21st-century take on one of the most successful comic book characters of all time. The first-ever animated Spider-Man film follows Miles Morales, son of a policeman who fails to live up to his father's expectations. Miles moves to a boarding school and then sneaks out to see his Uncle Aaron's apartment.
After going to graffiti an abandoned subway station, Miles is bitten by a radioactive spider and has abilities to the real Spider-Man. As the film develops, Miles discovers that there are multiple Spider-Man's in one shared universe. Soon, they all come together in order to take down the cities hardened criminals. In 2018, Jordan Brand released a special Spider-Man Air Jordan 1 to commemorate the film characters favourite sneakers.
Cop the Air Jordan 1 "Chicago Crystal" now!
Forrest Gump (1994)
There are fewer more iconic films than Forrest Gump. Directed by Robert Zemeckis, the film follows Forrest Gump throughout a number of decades and experiences. Although at an early age he is deemed to have a below-average IQ of 75, he has an endearing character and shows devotion to his loved ones and duties, character traits which bring him into many life-changing situations. Along the way, he encounters many historical figures and events throughout his life. The most iconic sneaker moment in this film is when Forrest is given a pair of brand new pair of Nike Cortez which he runs across America in.
Cop the Nike Cortez "Forrest Gump" now!
Sneakerheadz (2015)
If you're looking for a complete trainers movie, then this is it. Sneakerheadz follows the booming subculture of sneakers in 2015. It showcases how sneakers have transformed from something that people wear casually to a multi-billion dollar business. Interviews from big sneaker names like DJ Clark Kent, Frank the Butcher, Jeff Staple, DJ Skee and many more help bring this film home. If you're looking for a complete sneaker film, then this is it.
Sole Seekers (2018)
Sole Seekers takes a look at sneaker culture in the UK. The independent film follows some of the biggest names in the UK sneaker scene, taking a retrospective approach to the birth and origins of trainer culture. The first-ever feature-length documentary on UK trainer culture, Sole Seekers examines how sneakers started as a small group of people and is now an integral part of pop culture.
Abstract: The Art of Design | Tinker Hatfield
Whilst Abstract: The Art of Design is an amazing series, one episode, in particular, should grasp sneakerheads attention. The Netflix original documentary follows Tinker Hatfield, a name any trainer fanatic will know. The episode sees Hatfield explain his time with Nike, what his work with both Nike and Jordan helped create and the importance of pushing boundaries. From the Air Max 1 to the Air Jordan 3, the documentary gives you an insight into Hatfield's mind. If you're looking for a captivating sneaker film, this is the one for you.
Uncle Drew (2018)
Uncle Drew sees Kyrie Irving take up his character from the classic Pepsi Max adverts in a full-length feature film. It follows the story of Dax Winslow, a man trying to win the Rucker Classic to make a name for himself. After being humiliated live on TV, Dax knows that he must do anything he can to win. He stumbles across Uncle Drew and Drew recruits his former teammates to help Dax win the tournament. However, Dax fails to tell Drew that there is prize money up for grabs and drama ensues. The film is a sports comedy and even features NBA names like Shaquille O'Neal, Chris Webber, Aaron Gordon, Reggie Miller, and Nate Robinson.
The Fresh Prince of Bel-Air (1990-1993)
In 90s culture, fewer people were more influential than Will Smith. The Fresh Prince of Bel-Air epitomises the 90s, with Will Smith playing a fictional version of himself and his family. After being moved from Philadelphia to Bel-Air, Will realises that his family are certainly wealthy. He is enrolled in private school, but his lifestyle and upbringing soon clash with his family. The programme ran for 148 episodes over six seasons and saw Smith rock his Air Jordans with no laces. It also inspired some of the most iconic sneaker moments in television history.
Cop the Air Jordan 5 "Fresh Prince" now!
The Sneaker Game (2019)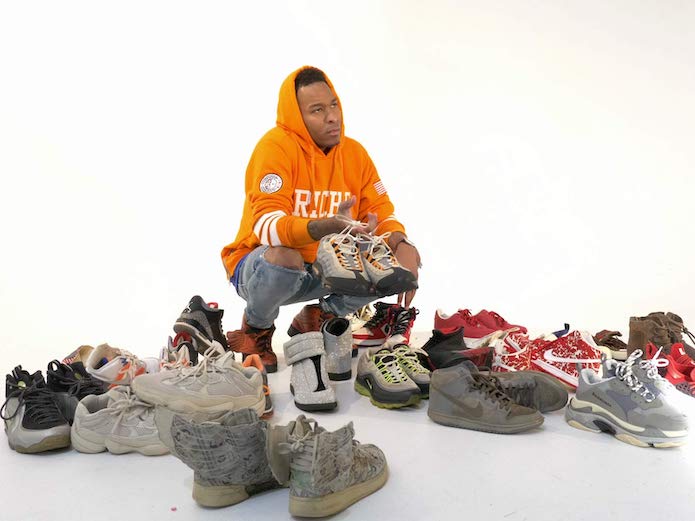 The Sneaker Game is a documentary that takes a look at sneaker culture in the USA since it boomed. It follows a select group of resellers and talks about how sneakers went from being worn by athletes to a multi-billion dollar market. The show examines how things like store exclusives, PEs, samples, collaborations and conventions have become a key part of sneaker culture in the US. If you're looking for a sneaker series, this is perfect.
He Got Game (1998)
He Got Game is a 1998 American sports drama film written, produced and directed by Spike Lee and starring Denzel Washington. The film revolves around Jake Shuttlesworth (Denzel Washington), father of the top-ranked basketball prospect in the country, Jesus Shuttlesworth (Ray Allen). Jake, in prison for killing his wife, is released on parole for a week by the state's governor to persuade his son to play for the governor's alma mater in exchange for a reduced prison sentence. It saw sneakers like the Nike Foamposite and Air Jordan 13 take pride of place and is a sneaker classic.
Cop the Air Jordan 13 "He Got Game" now!
Final Thoughts
Well, there you have it. That should keep you busy during this lockdown period! We hope that you stay safe and enjoy our top sneaker movies. Head back to the KLEKT Blog where we'll be running more guides like this to keep you entertained.