Despite the world being in the middle of a global pandemic, 2020 has been one of the best years in sneakers for a long time. Over the past 12 months, we've seen a number of high profile collaborations, limited-edition pairs and new silhouettes make a big impact. In that time, we've also seen some fan favourites return, as well as brand new colourways of iconic models, after a long hiatus. So, we guess you could say that this year has been pretty big for sneakers.
As 2020 closes out and 2021 is on the horizon, we've taken a look at all of the big releases that have happened throughout this year. With hundreds of pairs releasing, it's been pretty tough choosing just 10 to make the cut. On the whole, we think that you'll agree with what we have chosen and if you don't, we encourage you to share your own top 10 sneakers of 2020 so that we can take a look. So, without further delay, let's take a closer look at some of the best sneakers in 2020!
Casablanca x New Balance 327
Unveiled at Paris Fashion Week, the Casablanca x New Balance 327 was one of the standout moments of the show. The never before seen New Balance silhouette left many sneakerheads scrambling to find out more information. Since its debut 11 months ago, the New Balance 327 has remained one of the standout models of the year. Multiple collaborations, colourways and iterations of the shoe have ensured that the 327 remains one of 2020s most popular sneakers.
Although there may be a number of versions of this shoe though, it's the OG New Balance 327 that makes this list for us. The white perforated leather of this 1970s inspired sneaker is what first draws you in, though it's the premium suede accents that give the shoe character. The oversized "N" emblem on the side is juxtaposed with minimal "New Balance" branding to create a nice balance. An extended sole unit works its way up the heel and is paired with a co-branded tongue, rounding off this vintage style sneaker.
Union x Air Jordan 4 "Off Noir"
Now, when rumours of the Union x Air Jordan 4 collaboration first started, many sneakerheads got excited. However, after the initial images were released, it didn't take long for sneakerheads to express their distaste at the sneaker. For many in the community, it was considered a failing on Union's part, messing with a design that was so iconic. However, as months went on, the sneaker community began to recognise the story and inspiration, ultimately changing their opinion.
In true sneakerhead fashion, the Union x Jordan 4 collaboration became a success after all. Whilst there were two equally as good colourways, it's the "Off Noir" that out does the "Guava Ice" for us. The black mesh and nubuck upper sets the perfect base for blue, pink and clear accents to work against. A hidden tongue allows this pair to stand out, with the traditional "Nike Air" on the tab bringing this 1989 classic straight into 2020. Selling out in seconds on two occasions, there was no way that the Union AJ4 couldn't make this list.
Travis Scott x Nike SB Dunk Low "JackBoys"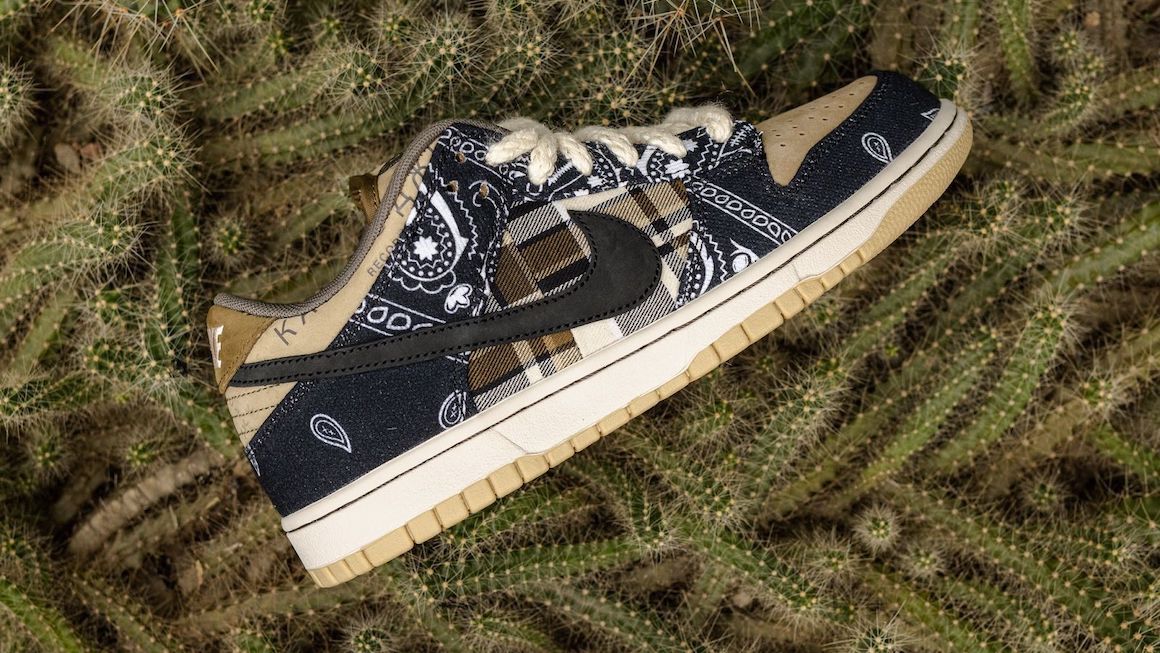 There is no denying that 2020 has undoubtedly been the year of the Nike Dunk. We've seen almost 50 pairs release this year alone, with a number of collaborations and skate shop exclusives pairs being the most sought after. Part of the reason that the Dunk has seen such a resurgence in popularity is thanks to names like Virgil Abloh and Travis Scott. After teasing his own collaboration in his "JackBoys" video in late 2019, we were treated to a Travis Scott x Nike SB Dunk Low of our own earlier this year.
It should come as no surprise that this pair made our top 10. Constructed in a number of materials, the Travis Scott Nike SB features everything from suede to denim and leather to nubuck. Tearaway panels also feature subtle patterns, as well as the Houston rapper's "Cactus Jack Records" branding. Contrasting Swooshes on the medial and lateral side create further texture, whilst the vintage midsole and gum sole bring this pair to a close. This is easily in the top three SB Dunks to release in 2020.
Stüssy x Nike Air Zoom Spiridon Cage 2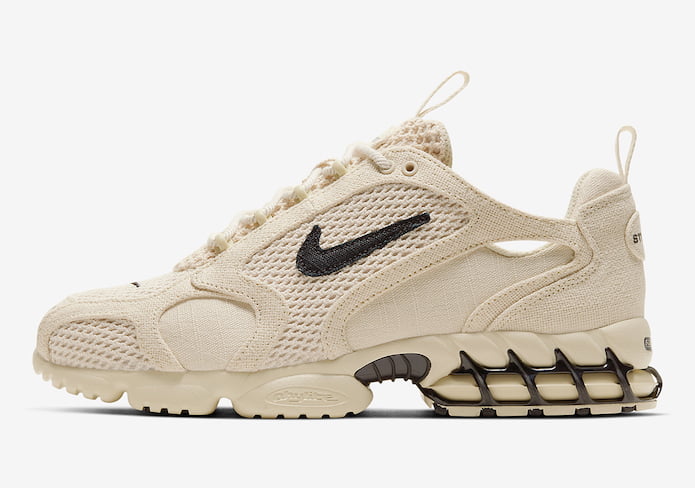 Although Stüssy and Nike have worked together a number of times over the past 18 years, this year it felt as though the partnership really hit its stride. Towards the latter half of 2019, there was a number of rumours that Stüssy and Nike would be teaming up again, but not on a silhouette many would have expected. As rumours became reality, we were given a closer look at the Stüssy x Nike Air Zoom Spiridon Cage 2, making this an instant cop for many.
The "Fossil" colourway was and still is the standout pair from this year's collabs between Stüssy and Nike. Constructed in a canvas and woven mesh upper, the tonal approach on this shoe is simply magnificent. Black accents adorn the Swoosh and Air Zoom Cage at the rear sole, subtle details that make this pair stand out. Minimal branding features on the tongue and the heel, rounding off this perfectly executed collaboration between Stüssy and Nike. This is arguably one of the best sneakers 2020 has to offer.
YEEZY QNTM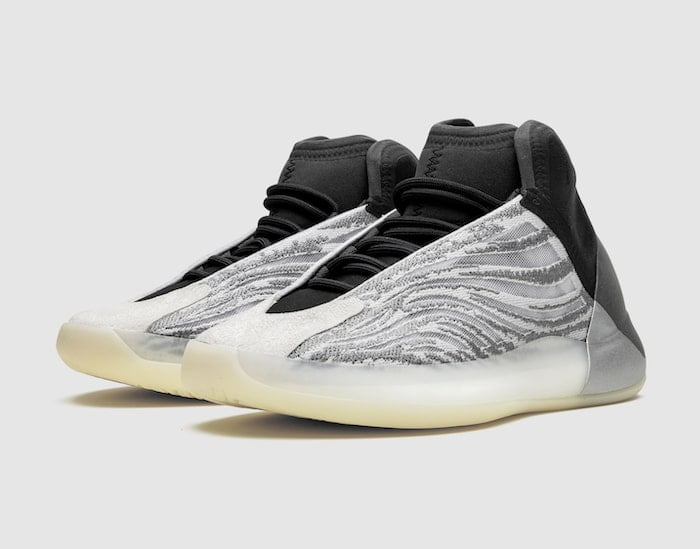 Ok, hear us out on this one. This is arguably going to be the most divisive pair in this list, but it makes perfect sense to be included. Over the past six years, we've seen Kanye West and adidas cook up a number of iconic lifestyle sneakers. The success of adidas Yeezy's has made Yeezus a billionaire, something that can't be lightly overlooked. However, the two had never ventured into Yeezy's that were actually made for athletic means, until the YEEZY QNTM.
Although the QNTM had been teased for close to three years, it had never made it further than blurry internet pictures of samples. That was until All-Star Weekend in Chicago, where adidas and Yeezy took to the streets to start handing pairs out. The story, as well as the fact that these Yeezy's were made for the basketball court, was a key point in this sneaker year. Unlike traditional adidas Yeezy's, the QNTMs were the first foray for West into athletic footwear. Whilst it may not be one of the most hyped, it's definitely one of the best sneakers of 2020.
sacai x Nike Vaporwaffle
Although Chitose Abe's sacai and Nike had worked together since 2015, last year was the real breakthrough. After all, 2019 belonged to the sacai x Nike LDWaffle. With that in mind, Abe had a lot of work to do in order to compete with the already successful silhouette. Back in January, however, the world was treated to another sacai x Nike model. In keeping with the same smash hit design, sacai decided that more is definitely more.
Taking two classic Nike designs, the Pegasus and Vaporfly, the shoe was another mismatch design that seemed to work. Dubbed the sacai x Nike Vaporwaffle, the shoe continued the strong double-stacked detailing that made the LDWaffle such a success. A combination of mesh, suede and leather combines to create a bold looking sneaker. Whilst it may have taken far longer than many liked, the two Vaporwaffles released last month and quickly sold out.
Off-White™ x Air Jordan 4 "Sail"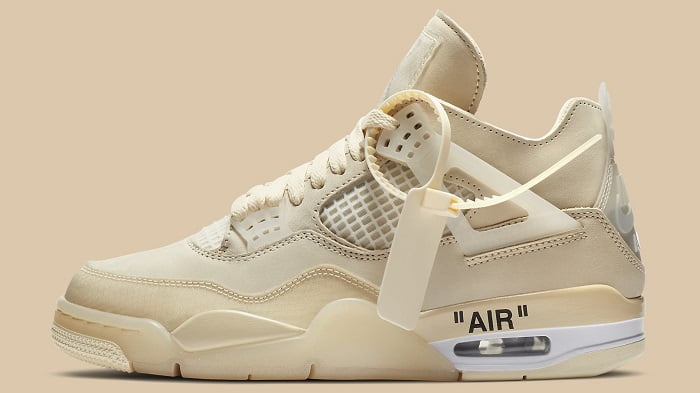 In recent years, Off-White™ has dominated the sneaker and fashion world. This year has, unsurprisingly, been no different. Throughout 2020, we've seen Off-White™ shoes retain their dominance in the sneaker space. Launching this year was the Off-White™ x Air Jordan 4 "Sail": as Virgil Abloh's second Air Jordan collaboration that was not the Air Jordan 1, it was a big deal.
After first being debuted at the "Figures of Speech" exhibition, the sample pair of Off-White™ Air Jordans didn't take long to do the rounds on social media. However, many assumed that the sample would stay n unreleased pair. That was before Abloh teased the sneaker ahead of the Off-White™ women's show in Paris back in January, kickstarting the hype once more. Released in limited numbers, this was definitely one of the best shoes to drop in 2020.
JJJJound x New Balance 992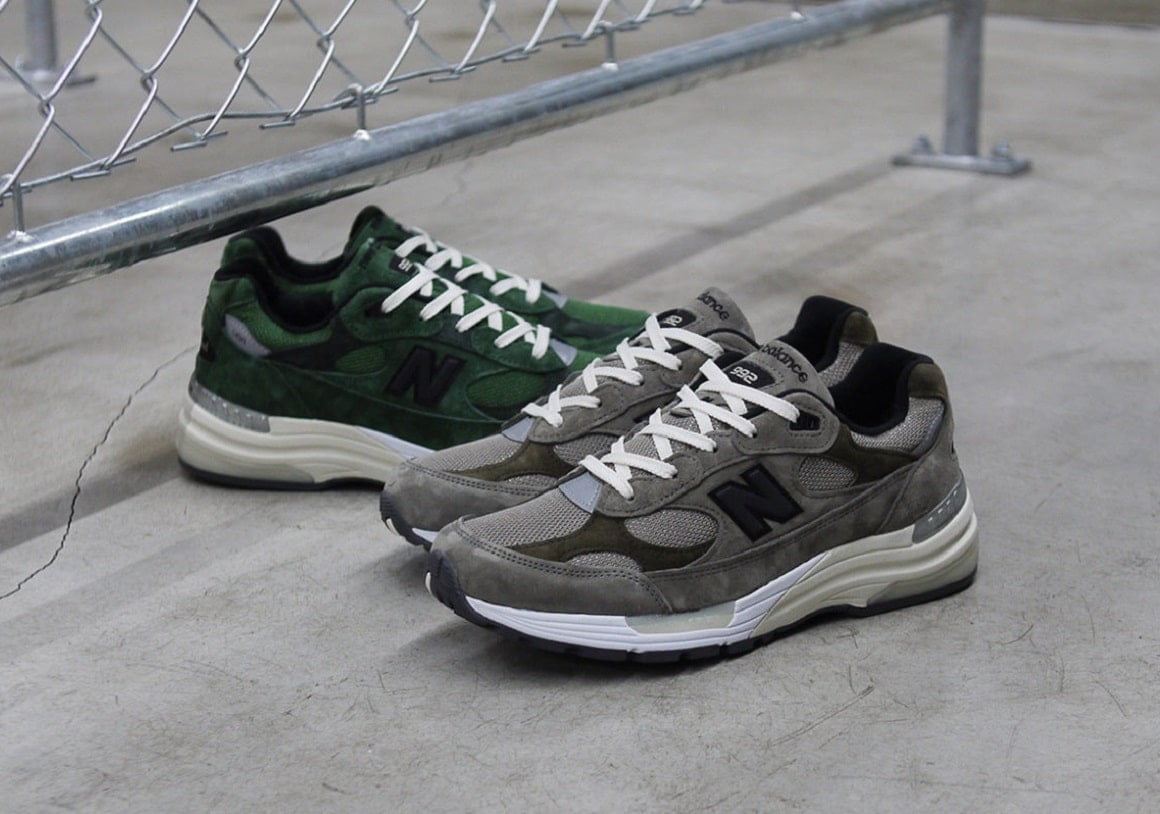 New Balance has been a strong contender for brand of the year and it's easy to see why. Since the start of the new decade, New Balance has not stopped its output, collecting an army of fans in the process. However, one collaboration in particular caused a big stir in 2020. Teaming up with Montréal-based JJJJound, New Balance dropped one of the hottest 992 packs on record, creating two of the best NB collabs to date and two of the best sneakers of 2020.
Known for its minimalistic aesthetic, JJJJound has crept up in the sneaker world since its inception in 2006. It's recent New Balance collaboration was a perfect example of how less is more. Taking the classic 992, JJJJound draped the sneaker in premium suede and mesh, alongside leather detailing. Although the material choices were not new the colour scheme certainly was. A bright green pair and a more subtle brown pair ensured that these were two New Balance 992s you wouldn't forget in a hurry. With the hype around JJJJound being so high, it didn't take long for these two sneakers to sell out globally.
Ben & Jerry's x Nike SB Dunk Low "Chunky Dunky"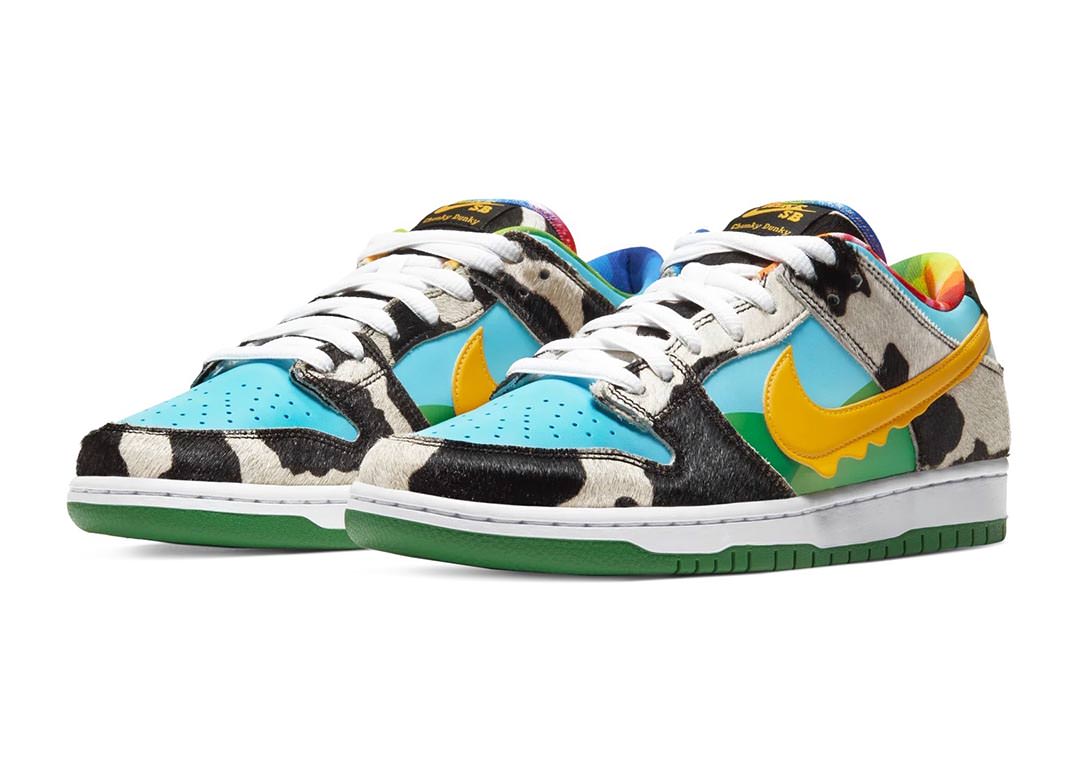 Whether you love it or absolutely hate it, there's no denying the hype that surrounds the "Chunky Dunky". Since it was first teased way back in February, the Ben & Jerry's x Nike SB Dunk Low collaboration was an immediately eye-catching pair. Although it may have taken far longer than many sneakerheads would have liked, the Chunky Dunky madness was high throughout most of the year. Unless you've lived under a rock throughout 2020, then you'll know all about this SB Dunk.
Inspired by Ben & Jerry's beloved packaging, Nike SB hooked up with the famous ice cream manufacturer on one of the most playful sneakers we've seen this year. According to Nike Senior PLM Steve Pelletier, the "Chunky Dunky" was born in a cab on the way to a European airport. Fake cow hide, bright colours and a melting Swoosh ensured that this was a pair you would remember instantly. As one of the most popular sneakers in 2020, it sold out in seconds and was also met with crazy resell prices. Anyone for ice cream?
Air Dior Jordan 1
There was no way that this shoe couldn't be put on this list. Almost exactly a year ago to the day since it was first debuted, the Air Dior Jordan 1 is without a doubt the best sneaker of 2020. It's historical significance for sneaker culture and what it represents are, quite simply, amazing. First debuted at the Dior Cruise show in Miami December 2019, the Air Dior collaboration was a key talking point for the fashion world. The high retail price of €2,000 did not deter over 5 million people from entering the raffle to win a pair, and for good reason.
Taking Peter C. Moore's iconic design, Kim Jones and his team created one of the greatest shoes of all time. A simple white is accented by Christian Dior's own "Dior Grey", whilst the Nike Swoosh uses the instantly recognisable Dior Oblique motif. Although this should be enough to make it the sneaker of the year, there is more. In order to really appreciate the craftsmanship of this shoe, you have to look even closer than you think.
Subtle details like the Dior Oblique motif running through the tongue, "Air Dior" branding replacing the Wings logo and "Dior Air" on the tongue tag ensure that you appreciate this shoe for what it is: history. Hand crafted in Italy by Dior's experts, the shoe was broken down into individual pieces before being reassembled in premium materials. Limited to just 8,500 pairs, the year the Air Jordan 1 was first released, this shoe has remained one of the most sought after sneakers this year.
Final Thoughts
So, there you have it! That finishes off KLEKT's Top 10 Sneakers of 2020. Picking just 10 pairs from the hundreds that have released was, of course, tough. With so many great pairs to choose from, there could have easily been a top 100 list. Thankfully, we won't bore you guys with that one. However, we do want to know what you think were the best sneakers of 2020. That's why we're asking you to keep your eyes on our social channels in the coming weeks where we'll be giving away more info. If you have missed out on any of the year's big releases, then head to KLEKT!