In the world of music, there are some pretty obvious sneakerheads. From Drake to Kanye West and Fat Joe to DJ Khaled, most hip-hop stars tend to be involved in the sneaker community. As you would probably expect, most of the aforementioned celebrities tend to have some pretty good connections in the sneaker game. But a rock star? Well, maybe not so much. However, John Mayer is something of an enigma.
Over the past few years, John Mayer has been making a lot of noise in the sneaker community, and for very good reason. The 42-year-old musician can often be spotted wearing some of the most sought after sneakers on the planet. Whether it's Off-White™ or Undercover, Mayer has it all. With that thought in mind, we thought it was about time to honour the soft blues star with his very own top 10 sneaker moments post.
We'll be delving back into the archives to show you just how big John Mayer's sneaker collection is. Trust us when we say that John Mayer has a sneaker collection that any sneakerhead would be jealous of. Without further delay, let's take a closer look at John Mayer's best sneaker moments.
Off-White™ x Nike Air Presto "The Ten"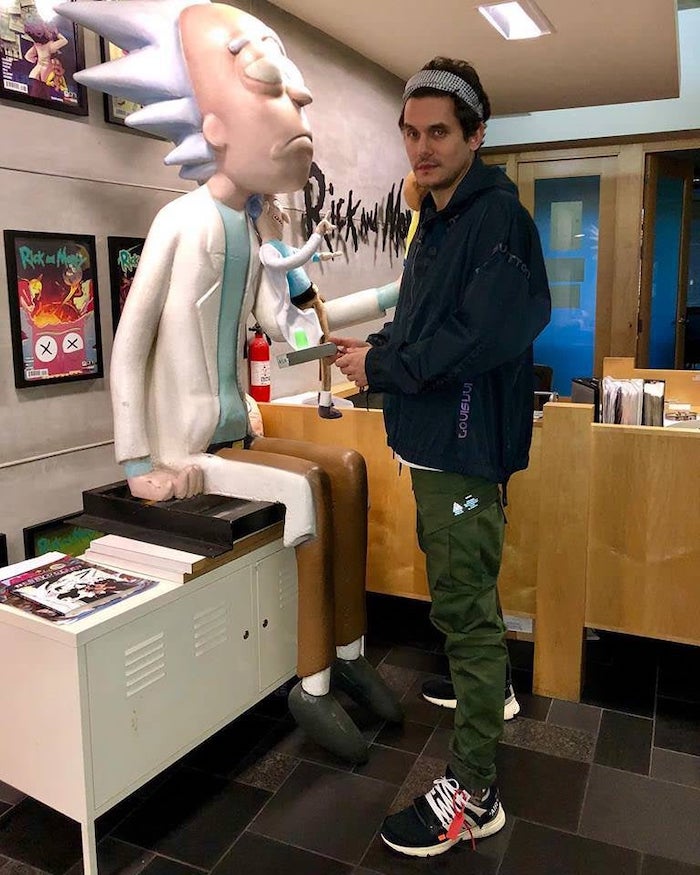 Virgil Abloh's influence in the sneaker community is nothing short of amazing. The 39-year-old designer has one of the most remarkable track records in fashion, but it's his sneakers with Nike that got him where he is today. Back in 2017, "The Ten" was revealed; a project between Off-White™ and Nike. The shoes would go onto become one of the most successful sneaker releases in history, selling for thousands.
John Mayer managed to pick up his pair in the form of the Off-White™ x Nike Air Presto. Sporting a Louis Vuitton technical windbreaker and a set of cargo trousers, Mayer shows us just how his technical style has evolved. A pair of the OG Off-White™ Air Prestos on his feet brings this style to life, creating a slick-looking outfit that we're captivated by. We did tell you that John Mayer's shoes were pretty fire, kicking this list off with one of the best.
Sean Wotherspoon x Nike Air Max 1/97 VF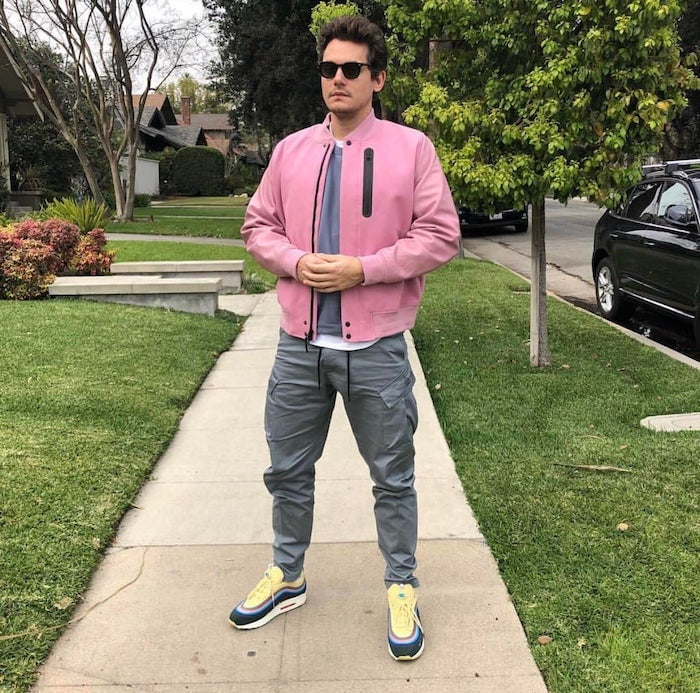 There are few Air Max collaborations more easily recognisable that Sean Wotherspoon's. After winning the Nike Vote Forward competition in 2017, Wotherspoon's creation was brought to life in 2018. The eye-catching multicoloured corduroy upper brings this shoe to life, as well as the combination of an Air Max 97 upper and Air Max 1 midsole. It was an instant hit when it dropped in 2018, with prices only going one way.
John Mayer's Air Max certainly caught our attention in this photo. Wearing a shoe with 11 different colours on is tough, yet somehow he pulls it off. Sporting a bright pink bomber jacket, neutral grey bottoms and a navy jumper, this is a tough style to get right. It is no surprise that the man who rocks Supreme on stage managed to nail this outfit. This is definitely one of John Mayer's best sneaker moments.
UNDERCOVER x Nike React 87 "Light Beige/Chalk/Signal Blue"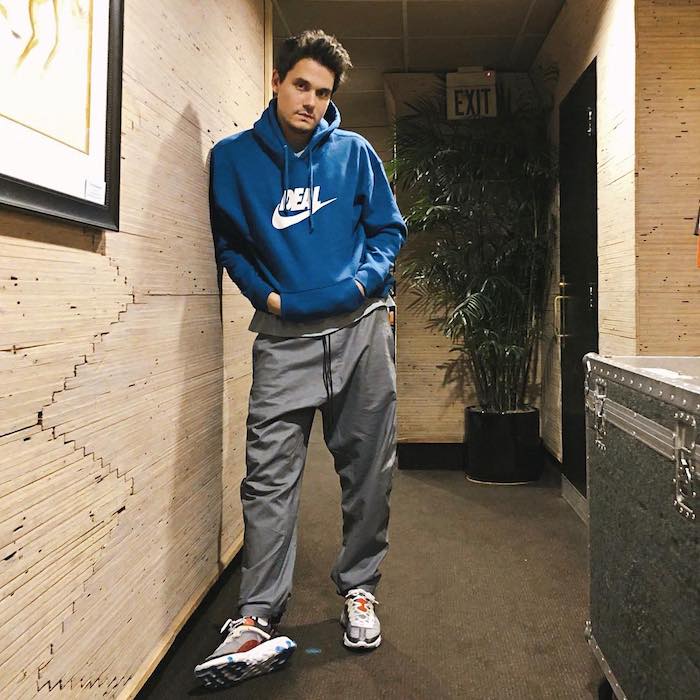 When the Nike React 87 burst onto the scene in 2018, it was a breath of fresh air. The lightweight runner was perfect for the summer months and extremely comfortable. Whilst it may have become something of a general release in recent years, the React 87 is still a great pair. Few collaborations are as coveted as the UNDERCOVER x Nike React 87, which dropped in four colourways. As you'd expect, John Mayer has a pair.
Posing in a relaxed-looking outfit, Mayer can be seen rocking the UNDERCOVER x Nike React 87 in the "Light Beige/Chalk/Signal Blue" colourway. The well-balanced upper features slightly translucent upper and well-matched colours. Of course, the sneakers aren't the only thing to be discussed in this outfit. Paired with a pair of simple grey trousers and a blue hoodie, this is a great example of less is more. Shoutout John Mayer.
Nike Air Fear of God 1 "Sail"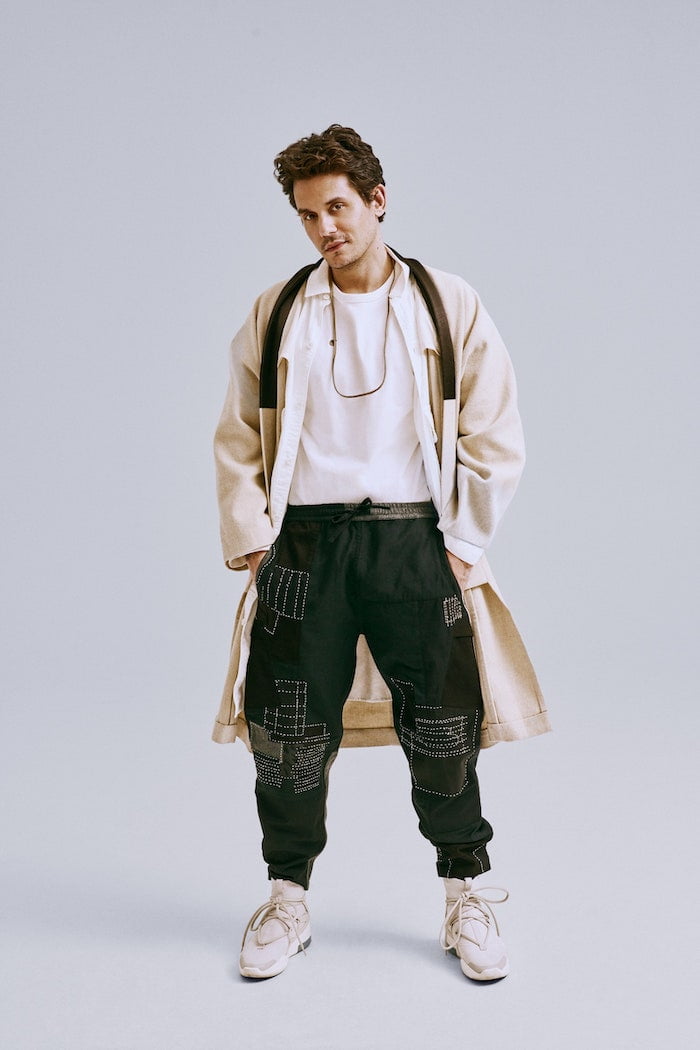 Jerry Lorenzo and Nike have one of the simplest yet greatest working relationships in sneakers. The two first linked up back in 2018 with the Nike Air Fear of God 1; a 21st century take on high-end athletic footwear. Release in a Black/White and Sail, the collaboration was an instant hit. Since then, the resell value of the two OG Air Fear of God 1s has gone through the roof, with pairs selling for over €1,000. Fortunately for John Mayer, he managed to secure a pair on release.
As you have probably seen so far, John Mayer is a hypebeast. The 42-year-old music star can often be seen in fashion brands like Visvim. The above image highlights how John Mayer's style revolves on relaxed fitting and niche labels. On his feet, he can be seen sporting the Nike Air Fear of God 1 "Sail," alongside brands like Maharishi, Kapital and more. This is one of John Mayer's top sneaker moments, without a doubt.
BAPE x NEIGHBORHOOD x adidas Superstar BOOST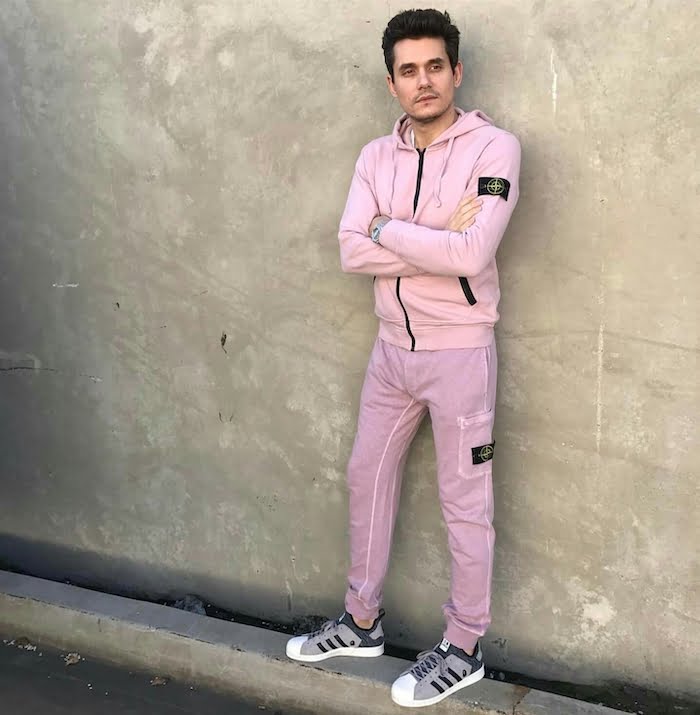 BAPE is without a doubt one of the most important brands in streetwear. Since being founded by Nigo in 1993, the Japanese streetwear behemoth has become a staple in street culture. For the past 27 years, BAPE has worked with some of the biggest brands on the planet, including Coca-Cola and Supreme. However, it's sneaker collabs with adidas have helped to create a brand new line of BAPE collectors.
In 2017, BAPE hooked up with fellow Japanese label NEIGHBORHOOD and adidas to create a Superstar BOOST. The sneaker was a merge of Primeknit, heavy co-branding and a slick technology. It was a divisive sneaker, but one that certainly caught the attention of John Mayer. Pictured wearing a pink Stone Island tracksuit and a pair of BAPE x NEIGHBORHOOD x adidas Superstars, this is a tough look to get right. However, we think John Mayer has got it just right.
Acronym x Nike Air Presto Mid "Racer Pink"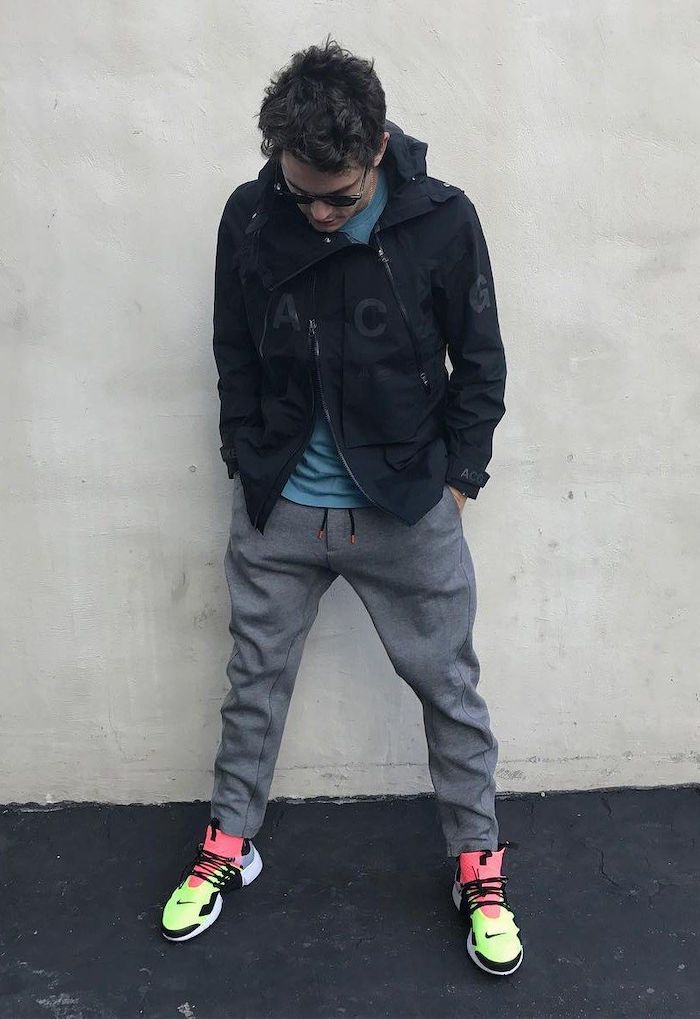 Acronym is one of the world leaders in technical fashion. Errolson Hugh and Michaela Sachenbacher's label has created a style all on its own, making technical garments that have garnered fans such as Jason Statham and Justin Bieber. Of course, it's Nike collaborations are what helped it put them on the map for sneakerheads, particularly the Air Presto Mids, one of which you can see on John Mayer's feet in the image above.
Constructed using a merge of mesh and neoprene, the Acronym x Nike Air Presto is an ode to all things great about technical footwear. Laces work together with zips to create a seamless look. However, in this "Racer Pink" colourway, you're always going to get noticed. A combination of Volt, Pink, Black and Blue all work to create one unique statement sneaker. Paired with an ACG Jacket and VacTech tracksuit, John Mayer has nailed the technical look.
Levi's x Air Jordan 4 "White Denim"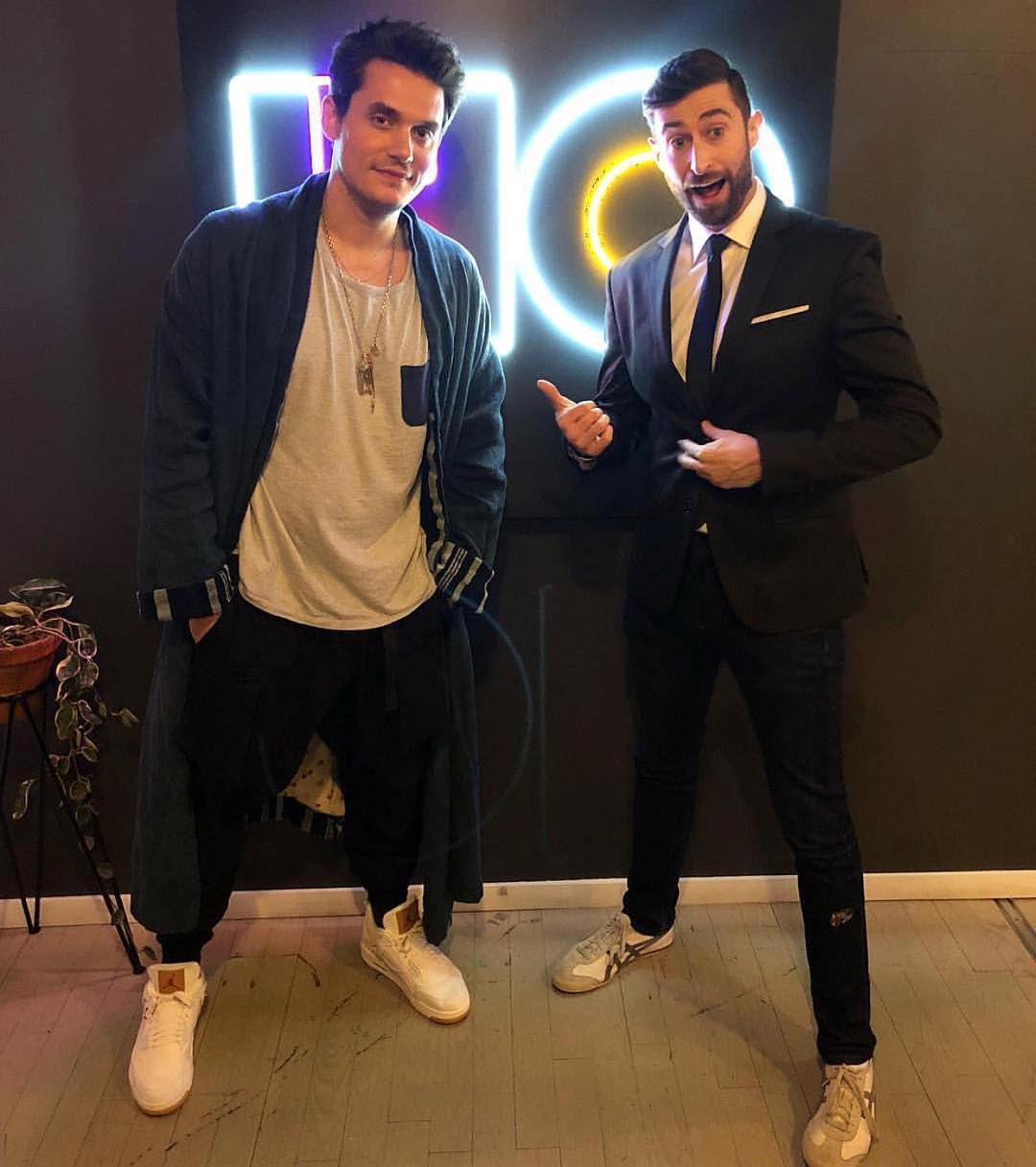 Levi's is one of the biggest brands on the planet. Since 1853, the denim manufacturer has become a staple in mainstream society. In fact, in 2018, Levi's estimated that 450 million people bought a pair of their jeans. That very same year, Levi's collaborated with Nike for the very first time, creating a distinctive denim-covered Air Jordan 4. Dropping in Navy, Black and White, it was a big hit, especially for John Mayer.
Covered in the premium denim that Levi's is known for, the AJ4 features subtle detailing throughout. A tongue tag reminiscent of the labels found in the back of Levi's jeans replaces the traditional "Flight" version. Furthermore, a crisp white midsole is contrasted with a gum sole, making for one of the only denim sneakers we would ever consider wearing. Pictured above in an oversized cardigan and relaxed trousers alongside his Levi's x Air Jordan 4s, this is one of John Mayer's best sneaker moments.
Travis Scott x Air Jordan 4 "Purple Suede" F&F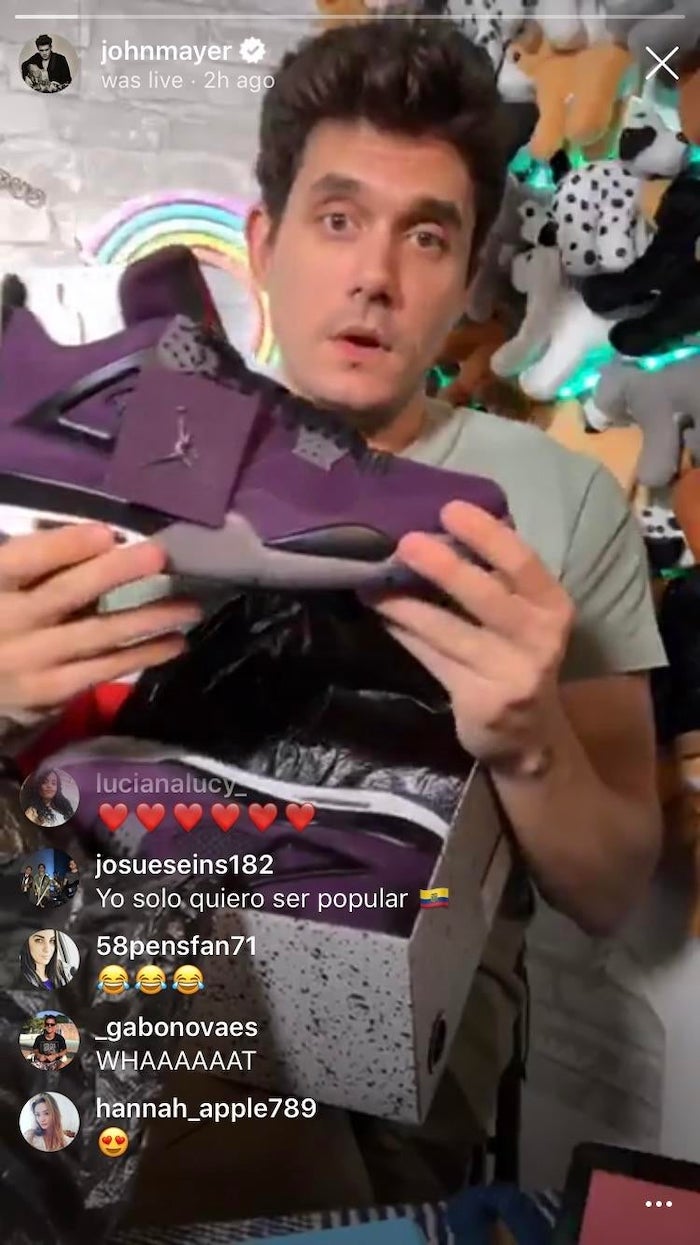 Travis Scott without a doubt one of the most important people in the sneaker community. For the past three years, La Flame has been cooking up some of the most sought after sneakers on the planet. From Nike SB Dunks to Air Jordan 1s, Travis Scott has never failed when it comes to collaborative kicks. Yet, his nearest and dearest have often got treated to some of his more exclusive creations, with John Mayer being one of them.
You'll have to excuse this poor screenshot, but this is literally the only photo of John Mayer with the Travis Scott x Air Jordan 4 "Purple Suede." Made exclusively for friends and family, the Travis Scott Purple Suede 4s use a premium suede construction throughout, as well as "Cactus Jack" and "Nike Air" branding on the heel tabs. Limited to under 1,000 pairs, you've really got to know someone to get these. Fortunately, John Mayer and Travis Scott are friends, meaning he got hooked up right away.
Acronym x Nike Vapormax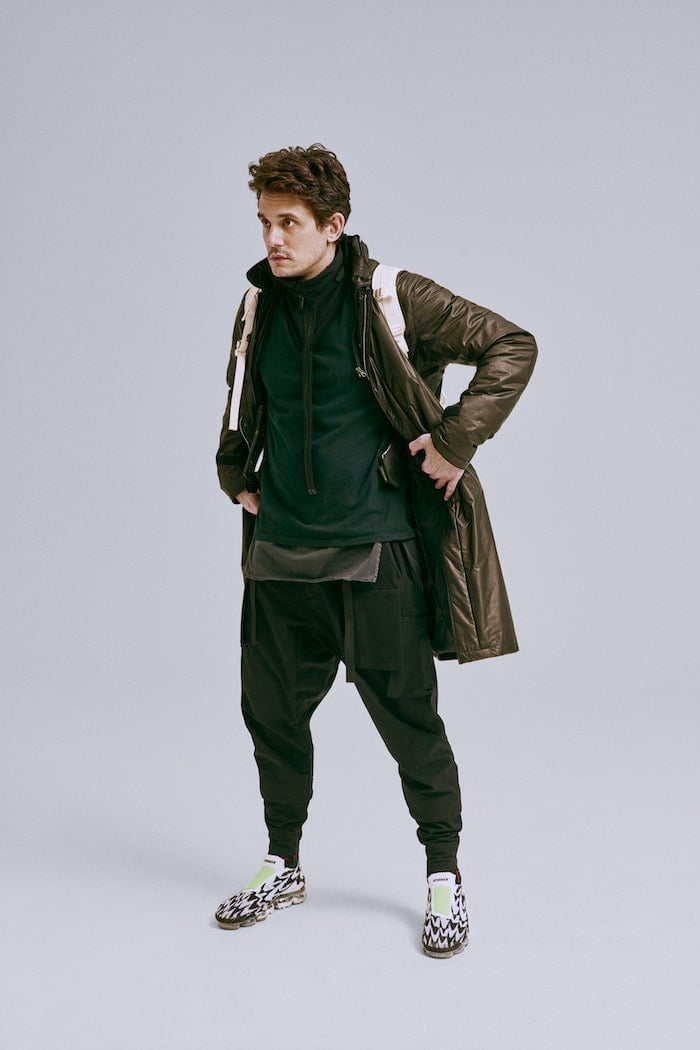 Errolson Hugh and Michaela Sachenbacher founded Acronym as a way to fuse style and technical functionality in apparel. For the past 26 years, the two have created a style that has really picked up in recent times. Acronym's collaborations with Nike also turned them onto a brand of fans, with their debut Air Presto sneakers selling out instantly. In 2018, Acronym teamed ip with Nike to put its spin on the popular Vapormax silhouette with instant success.
Featuring a white and black Flyknit upper, the Acronym x Nike Vapormax is certainly eye-catching. Bringing together Acronym's love of functionality with Nike's technological vision of footwear, this is a match made in heaven. John Mayer is known for his eclectic looks, with the above showcasing his love of all things technical. Donning a well-layered outfit as well as this statement Nike Vapormax, this is one John Mayer sneaker you won't forget.
Off-White™ x Nike Air Max 90 "The Ten"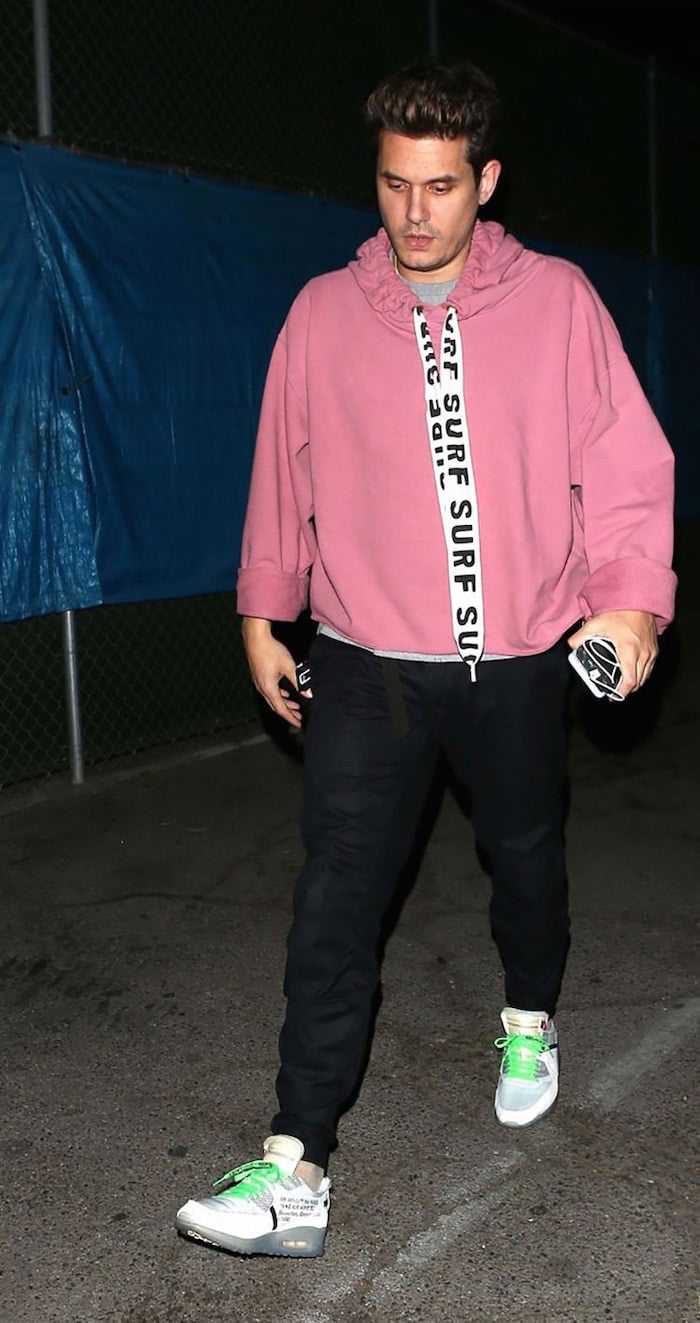 Virgil Abloh is easily one of the most important people in sneakers. The Off-White™ and Louis Vuitton head honcho has asserted himself as a formidable force in the fashion industry. Back in 2017, Abloh was invited by Nike to recreate 10 of it's most iconic silhouettes. One of those was the Nike Air Max 90. The OG Off-White™ x Nike Air Max 90 has remained one of the most sought after sneakers in the world, selling for a pretty hefty price tag.
As you can imagine, John Mayer got his pair. Comprised using a deconstructed aesthetic throughout the upper, the Off-White™ Air Max 90 features unique details. Exposed foam, elongated Swooshes and an icy sole unit give this shoe a sense of edge. Signature pieces like the text on the medial side and shoelaces, zip tag and Swoosh tag only give this shoe more allure. This is one of the simplest John Mayer outfits we've seen, but the kicks make it.
Final Thoughts
So, guys, there you have it! That concludes our round-up of John Mayer's best sneakers. There was a lot to choose from, believe us, with John Mayer's shoe collection being pretty crazy. Of course, there were a lot of sneakers to choose from, but we think you'll agree we picked a pretty solid top 10. If you're looking to cop any of the sneakers listed above, why not head over to KLEKT? We've got all the sneakers mentioned above and more. Head to the KLEKT store now!