There is no denying that some of the best sneakers the world has to offer can usually be spotted on the feet of Hector Bellerin. The 25-year-old Arsenal and Spain star has shown his penchant for style over the last few years. In that time, Bellerin has become one of the most fashionable footballers on the planet, something that has caught the attention of the streetwear community. Whether it's by walking for Virgil Abloh's Louis Vuitton show or simply attending London Fashion Week, Bellerin is a known name in the fashion world.
Quite frankly, Bellerin is arguably the best-dressed footballer on the planet. When it comes to soccer players, style is usually one of the last words that people associate. Not for Bellerin however. His extensive wardrobe plays home to the usual high fashion labels such as Raf Simons, Balenciaga and Gucci. Now, although nearly every Premier League football player can afford these labels, there are only a select few that can really pull it off. As you can probably tell by now, Bellerin is one of them.
We've rounded up some of Hector Bellerin's best sneaker moments, taking a deep dive into his closet to see just what he's got in store. Although Bellerin may be a Puma athlete, that hasn't stopped him from rocking some of the best sneakers on the planet. Without further delay, let's take a closer look at Hector Bellerin's sneakers.
Balenciaga Triple S "White/Cream"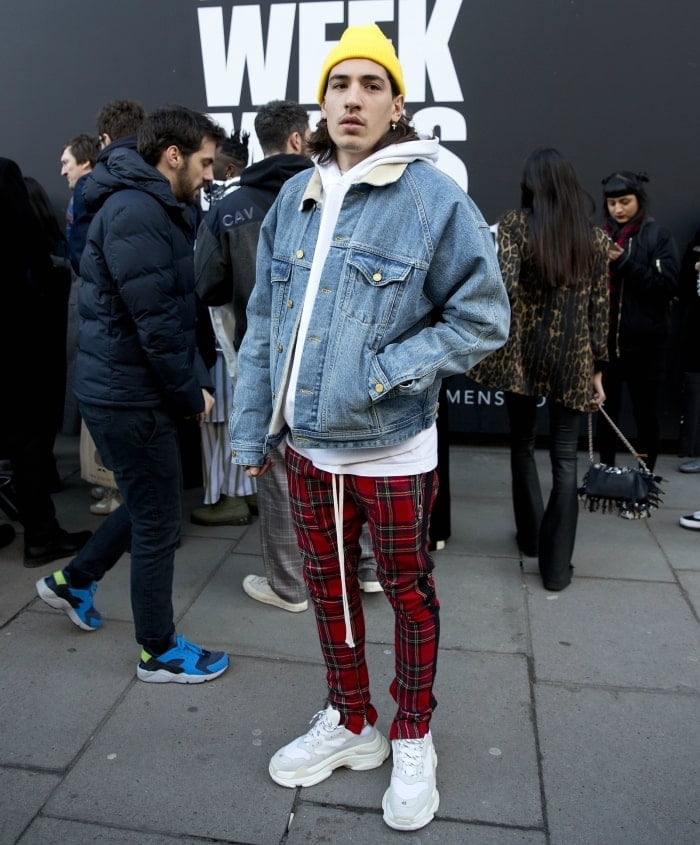 Never one to miss out on a fashion week appearance, Hector Bellerin can usually be spotted sitting at the front row of almost any designer. Over the past few years, there has been a dramatic rise in Bellerin's style, with many players and fashion writers commending the Right Back. Of course, this should come as no surprise. What's on Bellerin's feet both on and off the football pitch are equally as important.
In 2018, Bellerin attended London Fashion Week in one of his most memorable outfits. A vintage-style denim jacket is layered with a white hoodie and matching white T-shirt. The tartan drawstring trousers add a punk vibe to this ensemble, but it is the Balenciaga Triple S sneakers that bring it all together. The chunky dad sneaker was arguably the hottest shoe in the world back then, with Bellerin showing you how to wear it properly.
Revenge x Storm Low Top Blue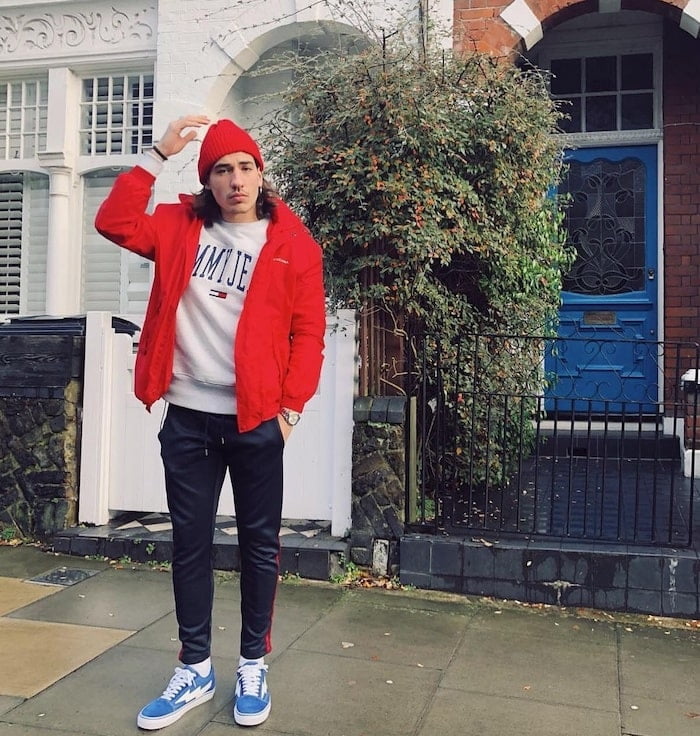 Hector Bellerin's style is certainly to be envied. The careful balance between ensuring that an outfit works instead of just flaunting labels is something that many footballers could learn from. When he is not training, Bellerin can often be seen roaming the streets of his second home, London. Having grown up for most of his adult life in the city, London has become Bellerin's own personal catwalk, something that is well documented online.
Pictured above Bellerin can be seen showing a carefully constructed premium athletic leisure look. A simple Tommy Jeans hoodie makes the perfect base for the Balenciaga track jacket to sit over the top. Tracksuit bottoms come complete with contrast stripes down the side, pulled up ever so slightly so a crisp pair of white socks is on show. Wearing Ian Connor's Revenge x Storm Low Top sneakers in a pale blue suede, this is one slick looking outfit.
Puma Future AVID NetFit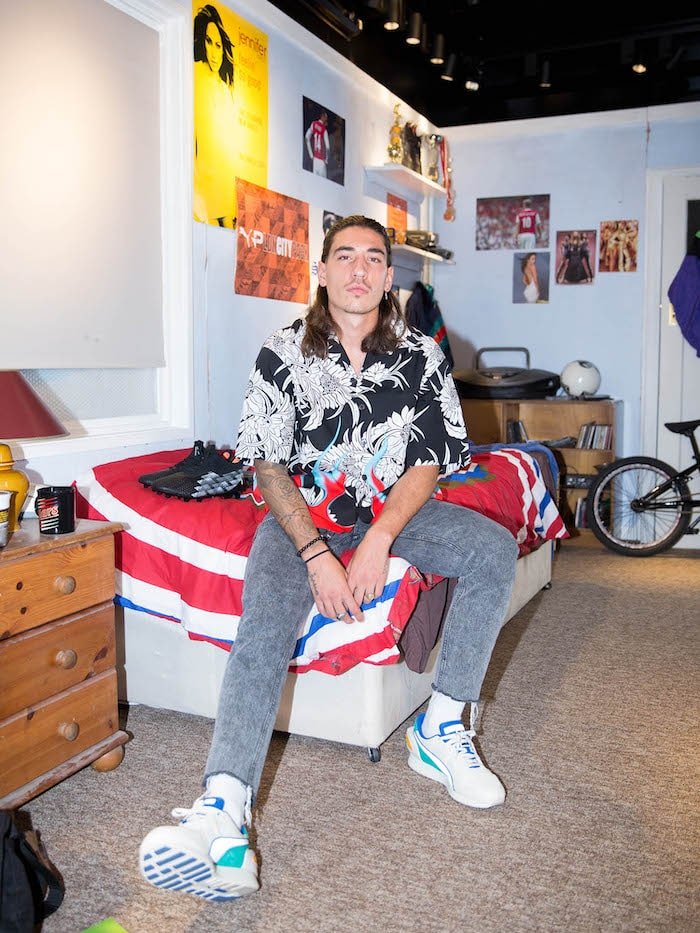 Since signing as a Puma athlete, Bellerin has often been the poster boy for the German athletic brand. Though Puma may not be as powerful as it once was on the field, the sneakers and football boots they make are still extremely good. When Puma unveiled its LDN City Pack last year, Bellerin was the face of the campaign. As someone who has spent years in the British capital, it certainly seemed the best decision.
Donning a flowery shirt and a trusty pair of grey acid wash jeans, this vintage look is one that you won't forget in a hurry. A clean pair of white socks and these Puma Future AVID NetFit sneakers brings this 80s-esque outfit to a close. Whilst this may not be one for everyone, the laidback and simple style is one that we can't ignore.
Converse Golf Le Fleur "Black/White"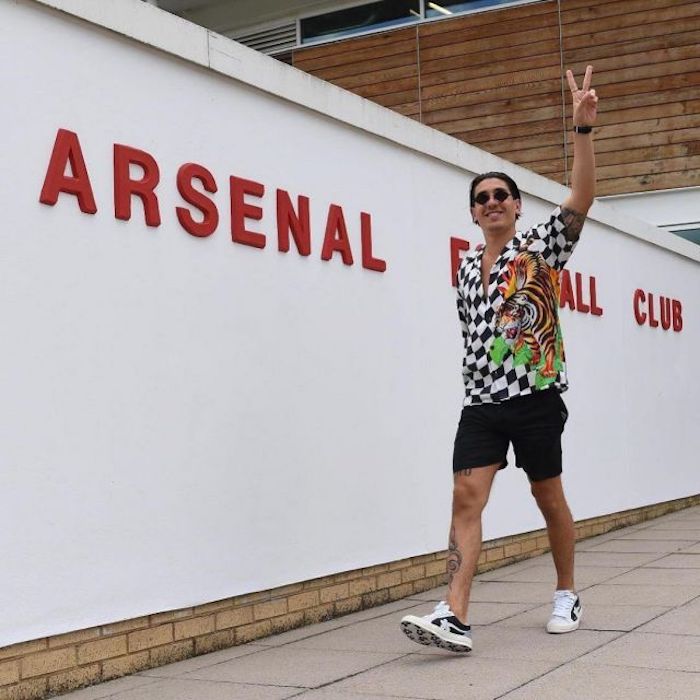 Sometimes less really is more. When it comes to dressing for summer, being able to get the balance right is everything. Being able to strike the right colours and patterns is a skill that many people struggle with. Hector Bellerin however, does not. Arguably one of his more relaxed outfits can be seen above, showing you how to get your summer looks just right.
A bold statement shirt is a real focus on this outfit, with the large check pattern featuring a tiger graphic. Simple black shorts, as well as black accessories, keep the bottom half fairly neutral. Of course, the Converse Golf Le Fleur help to add a little more to this look, with the black and white colourway working perfectly with the shirt.
Primury Dyo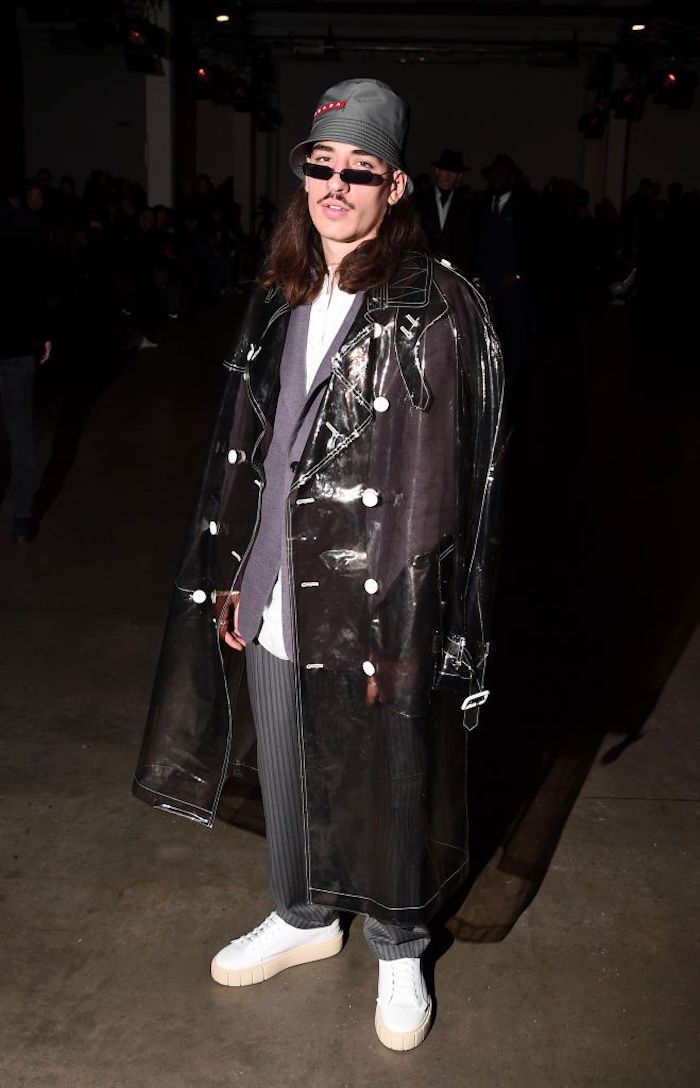 As we have already mentioned, Hector Bellerin is no stranger to London Fashion Week. The 25-year-old Spain international is often in attendance, showing off his daring outfits. Last year we saw Bellerin attend the Christopher Raeburn show alongside close friend and fellow fashion magnate, Leo Mandella. Though many on social media were quick to jump on Bellerin's outfit, we think this is without a doubt one of his best looks.
Wearing an Off-White™ PVC trench coat, Bellerin's subtle tailoring underneath helps to create century take on formal wear. The light grey Prada bucket hat, as well as thin sunglasses, give Bellerin's outfit an added edge. On his feet are a pair of Primury Dyo sneakers, the chunky alternative to the traditional white trainers. Whether you love it or hate it, there is no denying that this is one of Bellerin's best outfits.
Gucci Rython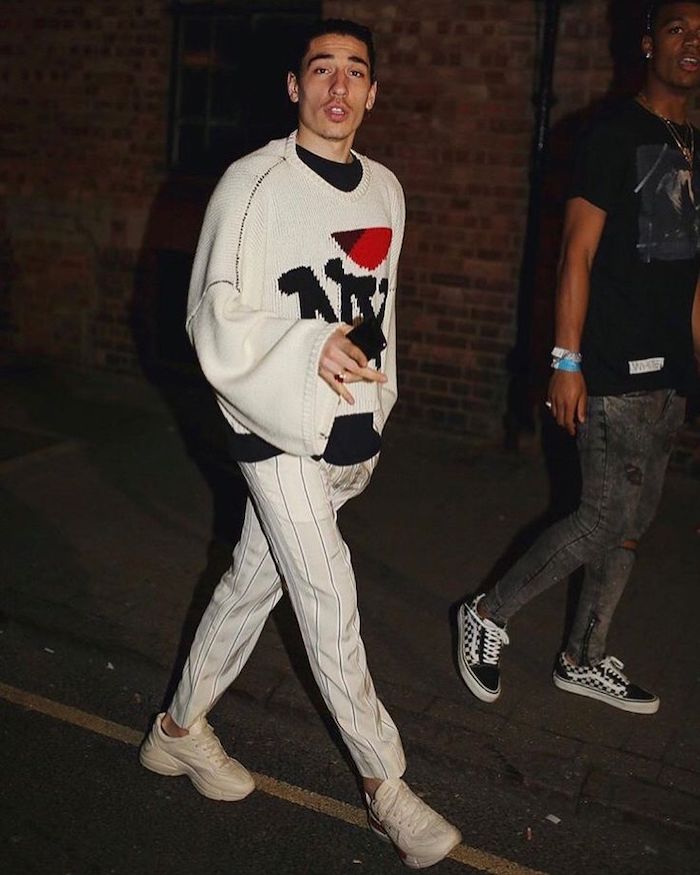 Let's face it, Hector Bellerin's style is undoubtedly the best in the Premier League. His wardrobe is certainly eclectic, bringing together high fashion labels with everyday staples. Whether it is haute couture pieces from Prada or just a Trapstar hoodie, Bellerin knows how to rock an outfit properly. Though we have seen some pretty daring looks so far, sometimes keeping it casual yet chic is what Bellerin does best. You can see from the photo above exactly what we mean.
Pictured wearing an oversized Raf Simons Jumper with a set of daring trousers, this is one of Hector Bellerin's best fashion moments. The relaxed fit of the jumper, particularly around the arms, gives more depth to this look. A simple black T-shirts works with striped trousers to create a monochromatic outfit that you won't forget. Bringing this entire look together is a pair of Gucci Rython trainers, rounding off one of Bellerin's best outfits.
Louis Vuitton 508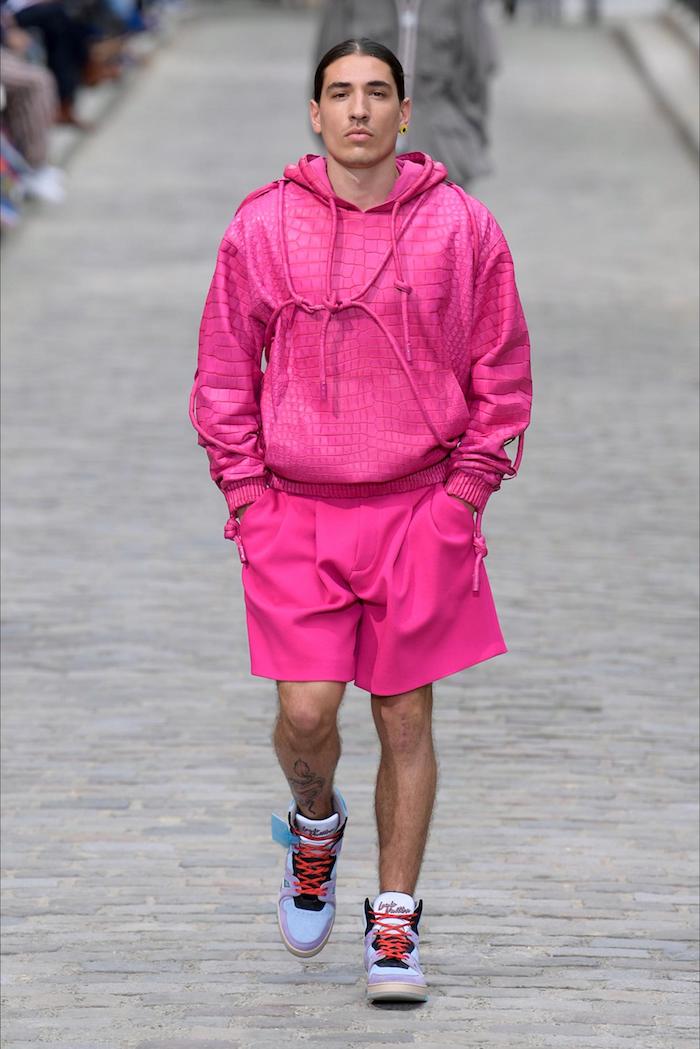 When Virgil Abloh was announced as Kim Jones replacement at Louis Vuitton, the news was a landmark moment in fashion. Louis Vuitton had attracted a brand new demographic of customers thanks to Jones and his Supreme x LV collaboration. With Abloh the hottest name in fashion, it made sense for LVMH to appoint him as the next step in its plans to dominate streetwear. For Abloh's Louis Vuitton SS20 show, he had Hector Bellerin walk in Paris, something that many football and fashion fans can recall.
Rocking a bright pink outfit, Bellerin's look was one of the boldest down the Louis Vuitton runway. The rose-coloured croc leather hoodie featured multiple cords throughout, with a set of matching shorts making for one of the brightest duos in Abloh's lineup. Wearing a pair of the Louis Vuitton 508 trainers, this high-end streetwear look is one that very few people could pull off. Thankfully, Bellerin managed to make it look like it was an everyday occurrence.
Puma Basket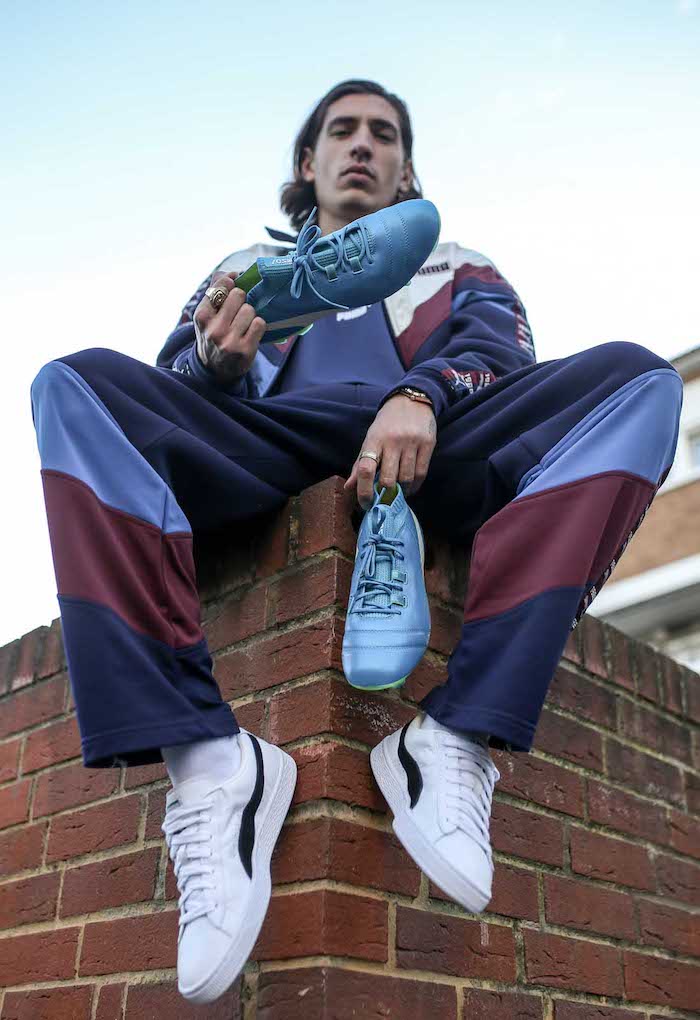 As one of the most important stars in Puma's line up, Hector Bellerin can often be spotted in its campaigns. When Puma revealed its ONE 17.1 boot, it had Bellerin as the centre focus for the boots. And why wouldn't they? As one of the most stylish footballers on the planet, it makes perfect sense for Bellerin to promote any of Puma's new products. Looking at the outfit above, you can completely understand why.
Rocking a collegiate themed tracksuit, Bellerin can be seen holding the new ONE 17.1. The combination of navy, light blue and maroon is cut through with large Puma branding on the stripes. Keeping things simple on his feet are a pair of Puma Basket, one of the most important sneakers in history. The perfect combination of white leather and a black suede Puma stripe brings this athleisure outfit to a close.
Balenciaga Sock Runner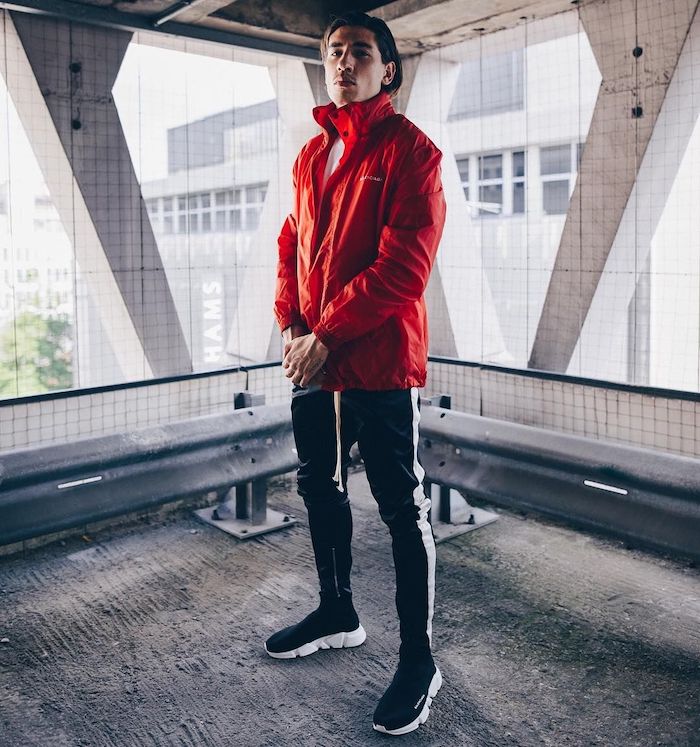 It's important to keep your outfits simple, especially when wearing designer brands. Too much and you're going to overcompensate for the label, something that unfashionable football players do far too often. Just take a look at some of the world's leading footballers and you'll see what we mean. For Hector Bellerin, however, that isn't the case. Premium athletic style is something that comes naturally to Arsenal's favourite Right Back.
As you can see in the outfit above, this luxury athleisure look has been done perfectly by Bellerin. A red Balenciaga coach jacket is paired with a simple set of black and white tracksuit bottoms. The pop of colour up top is countered by the monochromatic style of the joggers, with the large drawstring adding another element. On Bellerin's feet are a pair of Balenciaga Sock Runners in the classic black and white colourway, bringing this high-end look to a close.
Fear of God x Vans Era 95 DX "Red Corduroy"
Jerry Lorenzo is without a doubt one of the most well-respected people in fashion. Since starting his Fear of God label in 2013, Lorenzo has grown the grunge-chic inspired brand into one of the most popular in fashion. Collaborations with the likes of Converse and Nike have turned Lorenzo onto an entirely new army of fans. However, it is his early collaborations with Vans that gained him a lot of attention, one of which can be seen on Bellerin's feet.
Worn during London Fashion Week in 2018, Bellerin stole the show with this particular outfit. Donning a Loewe multicoloured tartan jacket and a navy zip-up jumper, this is not something everyone could get right. Navy tailored tracksuit bottoms featuring contrast stripes on down the side, with the Fear of God x Vans 95 DX "Red Corduroy" bringing this eye-catching outfit to a close. Say what you want, but this outfit is fire.
Final Thoughts
So, guys, that concludes Hector Bellerin's top sneaker moments! We hope that you enjoyed taking a closer look at Hector Bellerin's shoes. As you've probably seen from this post, Hector Bellerin's fashion sense is second to none. As one of the most stylish football players on the planet, these were just a few of Hector Bellerin's highlights. Stay tuned to the KLEKT Blog as we take a closer look at more footballer fashion moments soon!