There is no denying just how influential Drake is. Since bursting onto the global stage in 2010, the Toronto rapper has since become one of the most famous people on the planet. His work, ability to become a meme in almost every situation and four Grammy's are just some of his achievements. Of course, Drake is also known for his love of basketball and, more specifically, his beloved Toronto Raptors.
Over the past 10 years, Drake has gone from sitting courtside at the Raptors to becoming one of the teams mascots. His love, passion and commitment to the Raptors are undeniable. After being told to calm it down a bit by the Raptors and NBA, Drake has changed his attitude ever so slightly. However, one thing that often has a lot of sneakerheads talking is what Drake has got on his feet. With that in mind, we've decided to take a look at Drake's top 10 courtside sneaker moments.
In the list below we'll take a closer look at Drake's best sneakers. As you can imagine, a man worth over $150 million who is also close with Nike and Jordan Brand has had some pretty great kicks on court. Without further delay, let's take a closer look at Drake's best courtside sneakers.
Disclaimer: this list is in no particular order!
Air Jordan V "Tokyo"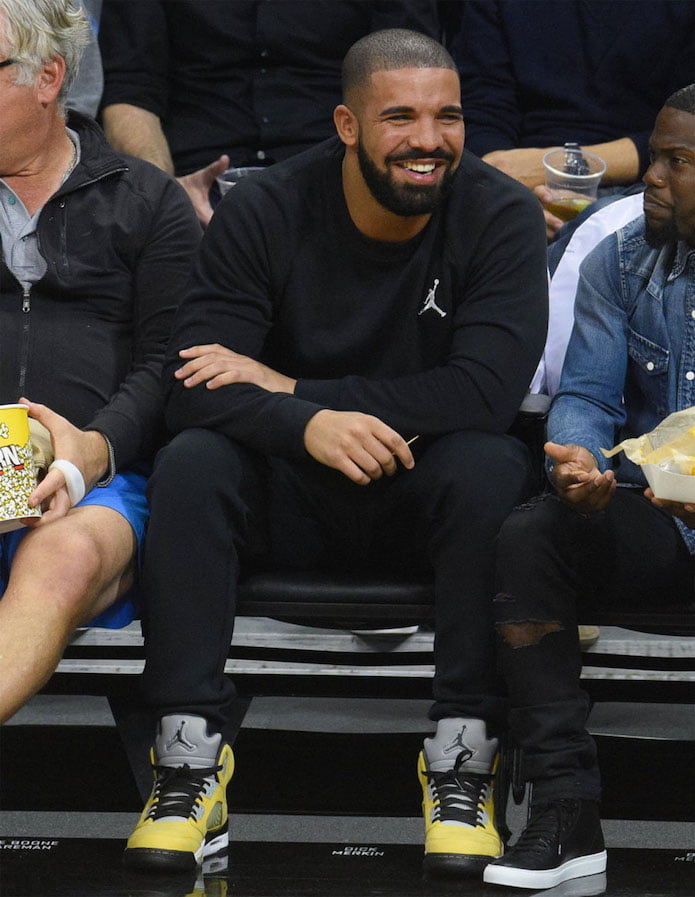 Kicking this list of Drake's best sneakers, we have an absolute banger. When it comes to courtside sneaker moments, Drake certainly knows how to pick his moments. Back in 2015, Drake was spotted with close friend Kevin Hart at the Staples Center in Los Angeles rocking this Air Jordan 5 "Tokyo." Of course, the sneaker world went wild. To say it worked its way through the sneaker community like wildfire would be an understatement.
The Tokyo Jordan 5, which was released back in 2011, is one of the most exclusive Jordan 5s on the planet. Released during the opening of a brand new Jordan store in Tokyo, the sneaker quickly sold out and hit the resell market. Featuring premium yellow suede, the Tokyo 5s include a "23" on the heel designed to look like a traditional Japanese character. Nowadays, the Tokyo 5s can sell for upwards of €5,000, making them a serious pair for Drake to have in his rotation.
OVO x Air Jordan XI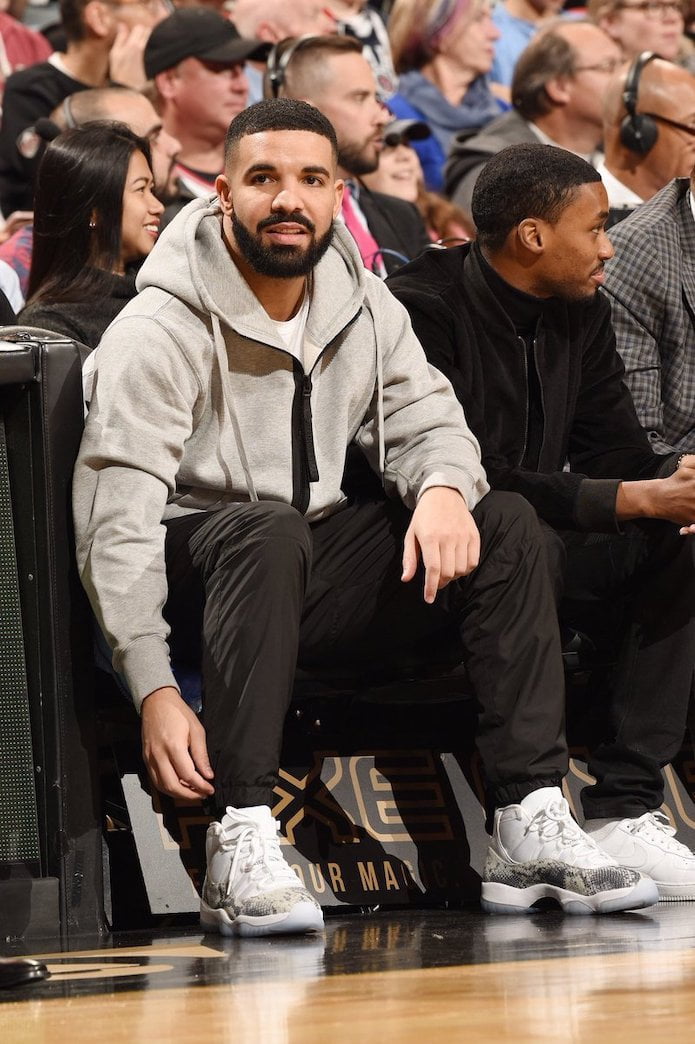 Being a member of the Jordan Brand family certainly has its perks. For Drake, that has included six retail release sneakers and a number of exclusive sneakers. The 33-year-old musician first joined Jordan Brand back in 2014 and was kitted out with a number of PEs. However, although some of those exclusive Jordans made it to retail, a number of them did not. That made it the perfect excuse for Drake to bring out these OVO x Air Jordan 11 "Snakeskin" sneakers.
Back in 2018, Drake turned up to the Toronto Raptors game rocking a simple grey hoodie and black tracksuit. What he had on his feet, however, quickly took the sneaker community by storm. The unreleased Air Jordan 11 OVO sample in the "Black/White" colourway made Drake's simple outfit pop. Since then, sneakerheads have been patiently waiting for a release, but to no avail. For now, we'll just have to wait for Drake to pull these out again. You can buy your own OVO 11 samples if you have a spare €12,500!
Air Jordan IV "Raptor"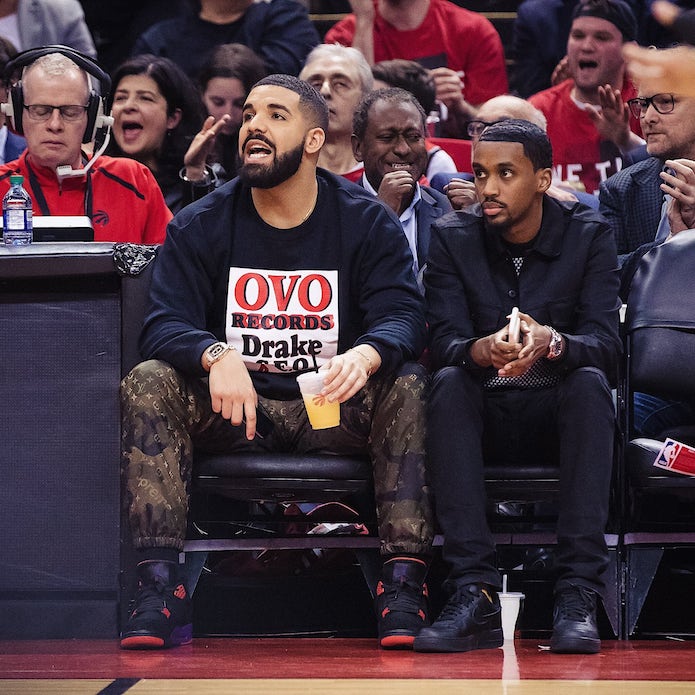 Drake's love for the Toronto Raptors is unparalleled. Having grown up watching player's like Dell Curry, it's easy to understand why. As the Toronto Raptors finally began picking up speed in the NBA Finals, it looked as though they might finally bring the title to Toronto for the first time. As you can imagine, a man who loves his home basketball team as much as Drake does was at every single game. On his feet were some rather apt Air Jordan 4s.
Rocking the "Raptor" Air Jordan 4s for Game 5 of the NBA Finals, Drake immediately caught the eyes of the streetwear community. The black nubuck sneaker features slightly red and purple accents, representative of the sports franchises' earlier colours. Paired with the Supreme x Louis Vuitton camo pants, a Richard Mille watch and a bold OVO T-shirt, Drake's outfit was one of the most memorable moments of the 2019 Finals.
Air Jordan VIII "Kentucky Madness" PE (White)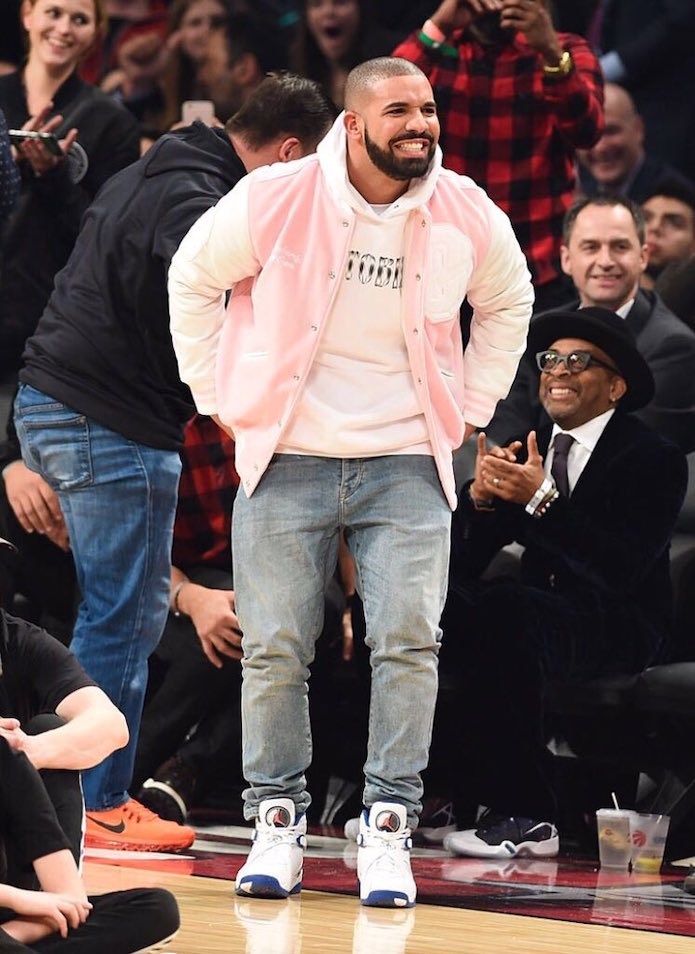 There is no denying the impact that the NBA All-Star Weekend has always had a big impact in the world of sports. The organise tournament between players from both the East and West Coast divisions of the NBA has meant that sports fans see something unlike anything else in sports. For that very same reason, it has also given many basketball fans the perfect opportunity to watch the games, celebrities included. In 2016, Drake pulled out arguably the greatest All-Star Weekend sneaker moment in history.
Rocking up to the All-Star game, Drake was donning a white and pink OVO varsity jacket, a simple pair of blue jeans and the instantly recognisable OVO x Air Jordan 8 "Kentucky Madness." Having become a fan of the University of Kentucky's basketball coach, John Calipari, Drake had two Kentucky inspired AJ8s made. The simple white tumbled leather features blue accents throughout, as well as subtle OVO details on the heel and insole.
Only a few people outside of Drake and Coach Cal actually have these, making them one of the rarest Air Jordan 8s on the planet.
Supreme x Nike SB Blazer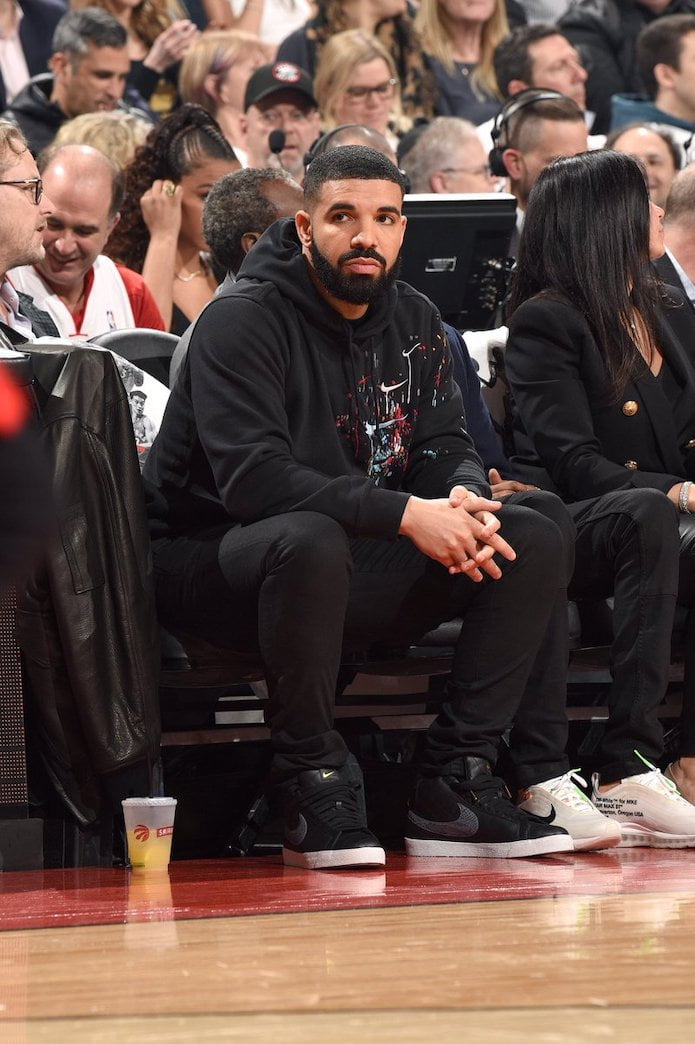 Drake is a sneakerhead, there is no doubting it. His carefully curated collection is expansive, covering everything from Air Dior Jordan 1s to a vast selection of Kobe's. As you can imagine, a man who has close sponsorship deals with Nike and Jordan Brand is always going to be looking to showcase what he's got in his closet. One of Drake's greatest sneaker moments came last year during Game 2 of the NBA Finals between the Philadelphia 76ers and the Toronto Raptors.
Attending the game in the 2003 Supreme x Nike SB Blazer collaboration, sneakerheads were quick to send the news out to the community. The black quilted leather upper features a Gucci-inspired red and green pattern on the heel as well as gold accents. Of course, with the sneaker being 16-years-old, they are not easy to come by in good condition. Fortunately, when you're worth as much as Drake is, we doubt you'd worry about the cost.
OVO x Air Jordan XII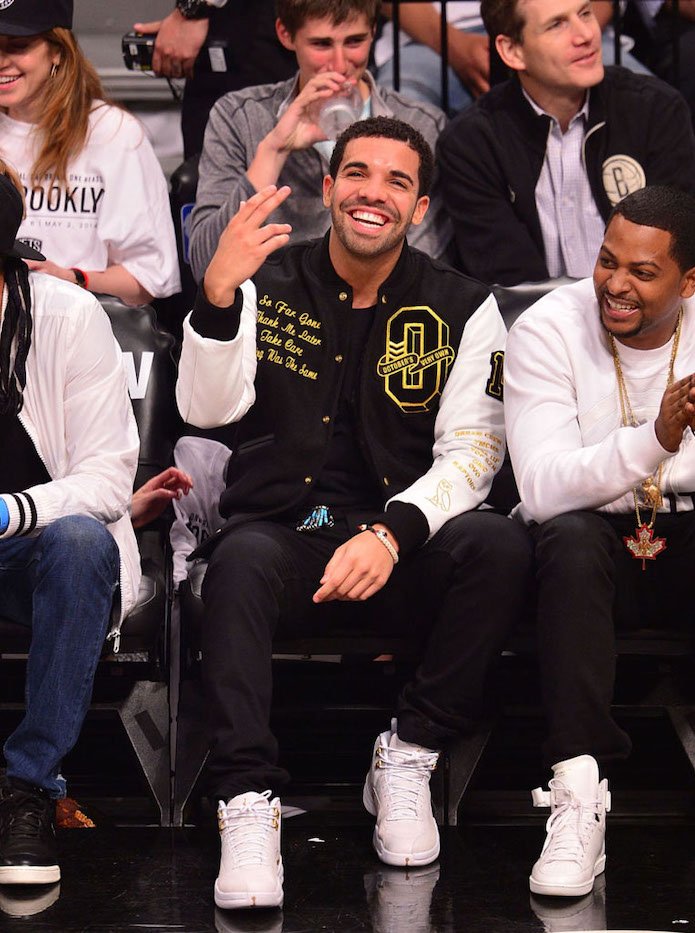 Drake and Jordan Brand have had one of the most fruitful relationships in sneakers over the past six years. The Toronto-born star has had six OVO x Air Jordan collabs released as well as a number of exclusives. In 2014, Drake's relationship with the Jordan Brand had only just begun, with the rapper treating his OVO circle to a limited Air Jordan 12. That very same sneaker was worn by Drake as he watched the Toronto Raptors take on the Brooklyn Nets.
Donning a black and white OVO varsity jacket and black jeans, Drake was spotted rocking the OVO Air Jordan 12. The white version for the sneaker remained a pair that only select people had managed to get a hold of. A combination of white tumbled leather, as well as gold detailing throughout, made the OVO 12s one of the most luxurious 12s on the market. Subtle OVO branding can be seen throughout the shoe, kicking Drake and Jordan Brand's partnership off with a bang.
Air Jordan IV "Oreo"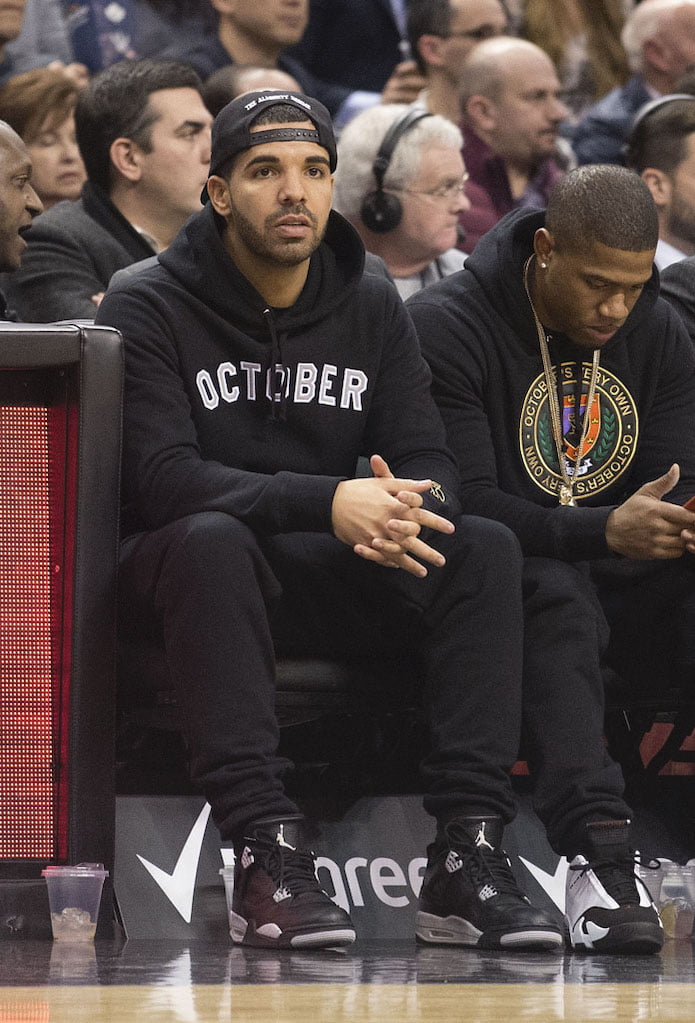 Whilst Drake may be known for rocking exclusive sneakers courtside, sometimes less is more. As you would expect, you don't have to always wear rare shoes. Though the rapper may have one of the craziest celebrity sneaker closets in the world, it's easy to rock simple colourways too. With that in mind, Drake pulled out a simple pair of Air Jordan 4 "Oreo" sneakers back in 2015.
Sat in his usual courtside seat at the Air Canada Centre, Drake watched his beloved Toronto Raptors take on the Brooklyn Nets. Though the memory of the Raptors losing 109-93, it didn't stop sneakerheads for noticing what was on the rapper's feet. The Oreo 4s featured a black tumbled leather and light grey accents on the eyelets, midsole and tongue. Paired with a simple OVO hoodie, this is one of Drake's simplest courtside sneaker moments.
OVO x Air Jordan X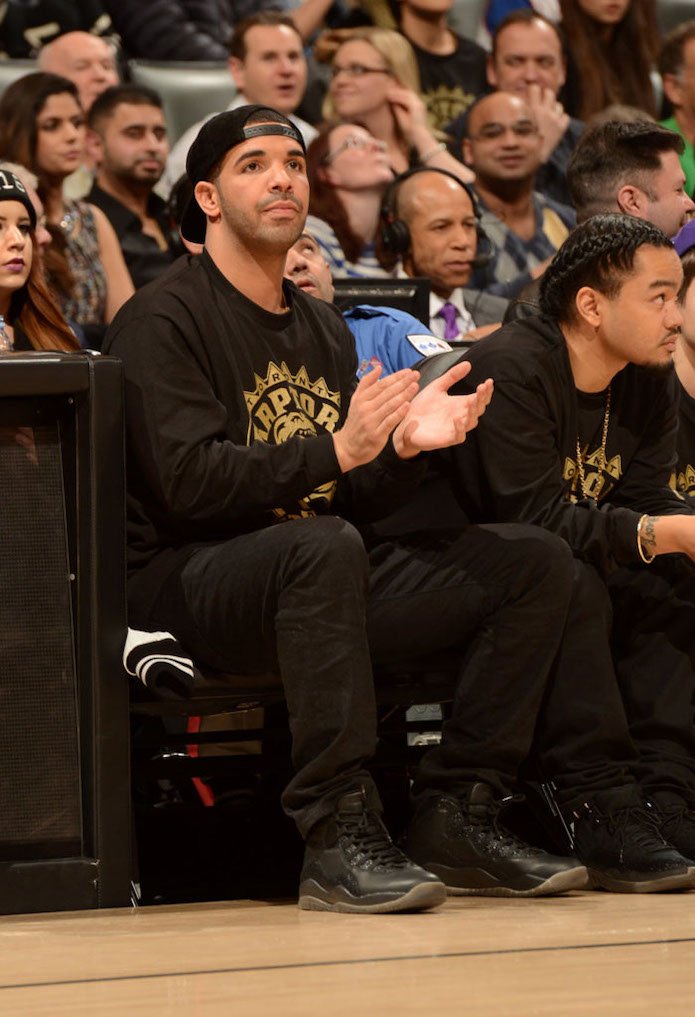 Whilst the Air Jordan 10 may have been the first signature sneaker that Michael Jordan barely played in, it has remained one of the most underrated sneakers in the Air Jordan line. When Drake was given the chance to work with Jordan Brand in 2014, he took two models that many sneakerheads would have probably chosen last: the Air Jordan 10 and Air Jordan 12. Yet, somehow Drake managed to create one of the best Air Jordan 10s of all time with his OVO collab.
Drake pulled these OVO Jordan 10s out for "Drake Night" at the Toronto Raptors vs Brooklyn Nets game in 2014. The event celebrated Drizzy becoming the new Global Ambassador for the Raptors. Featuring black tumbled and stingray leather, the OVO Jordan 10 is a masterpiece. The shoe features subtle gold accents throughout, as well as OVO branding on the sole and insole. Combine that with the fact that the sneaker was originally a friends and family release and you get the idea on how hyped these were.
Eminem x Carhartt Air Jordan 4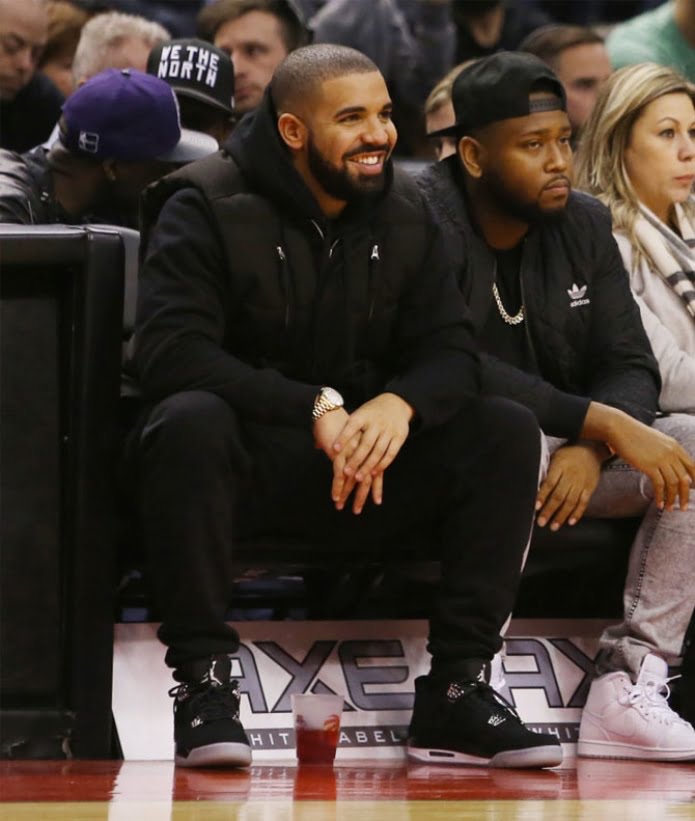 As we've previously mentioned, Drake has some pretty rare sneakers in his closet. The rapper recently shared a video on Instagram which showcased his extensive collection. That being said, the rapper can certainly afford any kicks he sets his heart on. When Drake wants to make the sneaker community pay attention, he has an entire arsenal of heat just ready to be rocked. However, fewer pairs are more noteworthy than the Eminem x Carhartt Air Jordan 4.
The Eminem Carhartt Jordan 4 is one of the rarest 4s on the planet. Made exclusively for Eminem as a way to raise money for the Detroit rapper's charity, only 10 pairs of the Carhartt 4s made it to the public. This premium Air Jordan 4 features a black Carhartt upper, luxurious leather on the inside, silver accents throughout and Eminem branding on the heel. When Drake rocked these courtside when the Raptors took on the Golden State Warriors, the sneaker community took notice.
OVO x Air Jordan VIII "Kentucky Madness"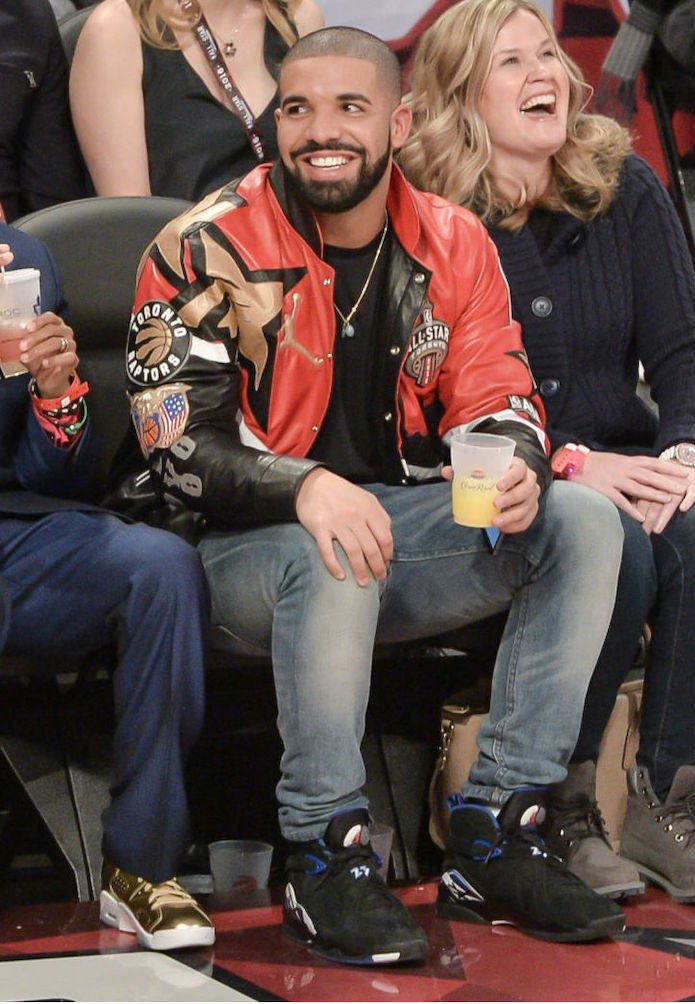 Celebrities sitting courtside at basketball games is nothing new. Everyone from Beyonce to Leonardo Di Caprio and David Beckham to Jay-Z has sat right amongst the action taking place on the court. However, fewer celebrities have shown as much commitment to their team as Drake has. Over the past few years, Drake has been through thick and thin with the Raptors, becoming an adopted teammate to the squad. That also means he's pulled out some heat during games.
In 2016, Drake sat next to Spike Lee during the NBA All-Star Game rocking his unreleased OVO x Air Jordan 8 "Kentucky Madness" PE. Unlike the white pair, this Air Jordan 8 featured black suede throughout the entire shoe. The same blue accents can be seen, as well as subtle OVO branding on the heel and insole. Very few pairs of these were ever made, with John Calipari of the UoK having his own. Sometimes, you just have to flex on them.
Final Thoughts
So, guys, that concludes our list of Drake's top 10 courtside sneaker moments! Drizzy has had some pretty crazy pairs on his feet over the year's and we can't wait to see what else he pulls out soon. As the rapper's relationship with the Toronto Raptors only grows stronger, you can expect his sneaker moments to do the same. Of course, if you're looking for a new pair of sneakers, why not head over to the KLEKT store?
We've got everything from Off-White™ to OVO just ready and waiting to be copped. Our dedicated team of authenticators also ensure that every item is legit before leaving HQ. Whether you're looking to get some new Supreme or a pair of Yeezys, we've got you covered. What are you waiting for? Head over to the KLEKT store and cop some new sneakers now!