Some of the best sneaker collaborations of all time have come from female designers. Over the past decade or so, the focus on women in the sneaker industry has changed for the better. Although there has been big changes within the industry, there is still much to be done. However, with today being International Women's Day, we've been celebrating all the women in the industry here at KLEKT. Now, we'll be taking a closer look at the some of the best sneaker collaborations designed by women.
As we celebrate International Women's Day, it's important to highlight that there is a long way to go for women to be fairly represented in the sneaker industry. If you've been paying attention to KLEKTIVE over the last week, you'll have seen our Women in Sneakers focus. This list of the best women sneaker collaborations will show you a little bit more about their work as well as introduce you to some that you may have forgotten all about.
Without further delay, let's take a closer look at 10 of the best sneaker collaborations designed by women!
Aleali May x Air Jordan 1 Retro High (2017)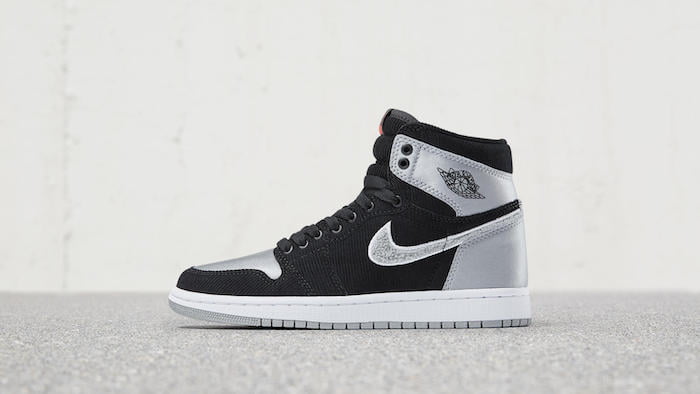 Kicking this list off with a serious pair of heat is the Aleali May x Air Jordan 1 Retro High. As only the second women to ever collaborate with Jordan Brand at the time, as well as the only woman to design a Jordan released for both genders, Aleali May's influence in sneaker culture is undisputed. Over the past seven years, Aleali has cemented herself as one of the biggest names in the industry. She was given the opportunity to create an Air Jordan 1 back in 2017 and didn't miss the chance.
Inspired by her Los Angeles roots, Aleali looked back at her youth when building this Air Jordan 1. Her uncle and father were big sneaker collectors, meaning she was immersed in the culture at a young age. Aleali's AJ1 used a number of premium materials like satin, corduroy and quilted leather to give it a distinctive look. Using the iconic "Shadow" colourway, this was always going to be a big hit. This has since become one of the most sought after Air Jordan 1s of all time, showing just how great the design is.
Cactus Plant Flea Market x Nike Vapormax (2019)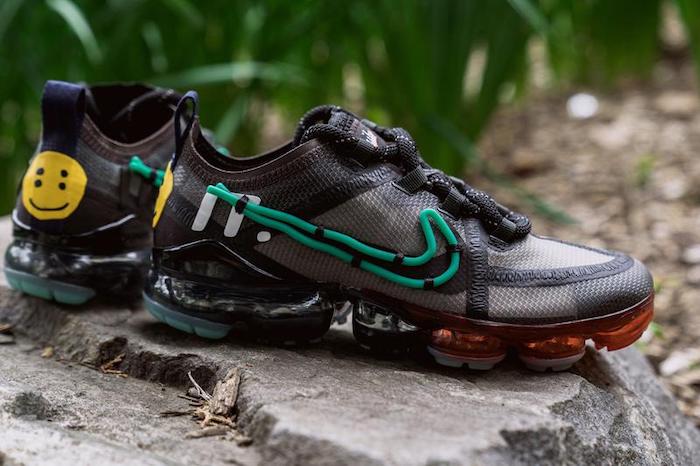 Cynthia Lu is one of streetwear's rising stars. The Cactus Plant Flea Market founder has never given an interview, instead letting the clothes and her friends do the talking. You will no doubt have seen her hoodies, T-shirts and collaborations worn by the likes of Pharrell Williams and Kanye West. When, in 2019, she was invited to work with Nike, she supposedly stunned the room by bringing with her a duffel bag full of early stage prototypes – no really.
The craziness of the CPFM x Nike Vapormax is without a doubt one of the boldest collaborations we've seen to date. Playing on CPFMs anti streetwear approach, the Vapormax represented everything that's great about the brand. Playful graphics, wire for a Swoosh and even a light-up version for F&F, meant that these were always going to be a success. It's safe to say that Cynthia Lu didn't miss for her first Nike project, with the value of these CPFM sneakers only continuing to climb.
FENTY PUMA By Rihanna Creeper (2015)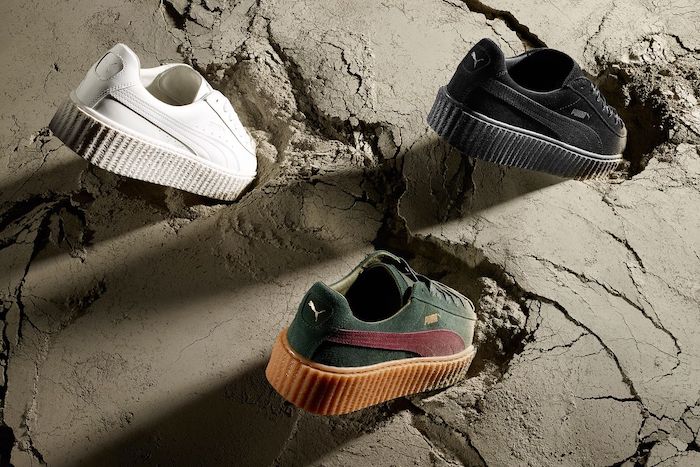 Puma probably knew just how successful its partnership with Rihanna was going to be. Back in 2015, RiRi signed a sneaker deal with Puma to create arguably one of the most influential women's sneaker lines in history. The collaboration saw the two work on everything from high heels to performance sneakers, as well as brief stint in apparel. However, there was one silhouette that really took the sneaker world by storm: the FENTY PUMA Creeper.
Rihanna's PUMA FENTY sneakers took the world by storm throughout 2015. The chunky sneaker was something that kickstarted a revolution, giving women a model that they could call their own. Over the past few years, the hype surrounding the PUMA Rihanna sneakers may have slowed, but their influence is immeasurable. It was one of the first dedicated shoe ranges designed by women for women, something that was not as common now as it was back in 2015.
sacai x Nike LDWaffle (2019)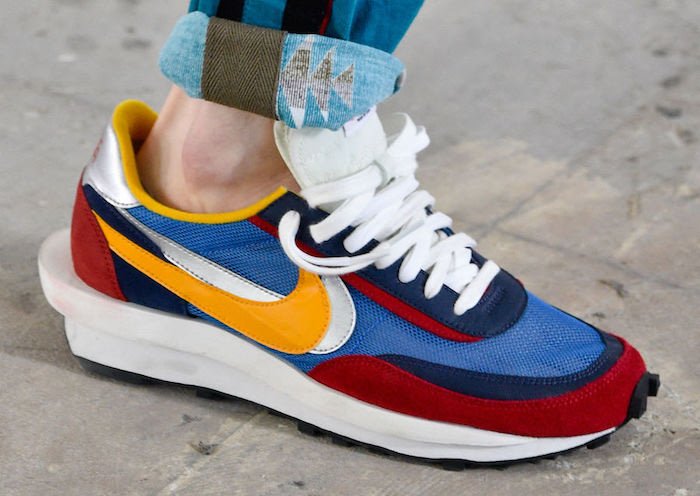 Over the past few years, we've seen the relationship between sacai and Nike blossom. Chitose Abe's label has risen to the very top of the sneaker world. Although the partnership dates back to 2015, it was not until 2018 that it truly became a success. Chitose has since shown that her designs are some of the hottest in the fashion and footwear world, with no signs of slowing down. However, things all started at a Spring-Summer show.
When the sacai x Nike LDWaffle was previewed at sacai's SS19 show, the industry took note. The futuristic blend of two classic Nike sneakers was and still is a winning formula. Double stacked detailing lined the midsoles, Swooshes, tongues and laces. Premium materials like suede and leather worked against 1970s inspired mesh to create a high end take on athletic Nike sneakers. Selling out instantly on release day, these are still a grail for many.
Melody Ehsani x Air Jordan 1 Mid Fearless (2019)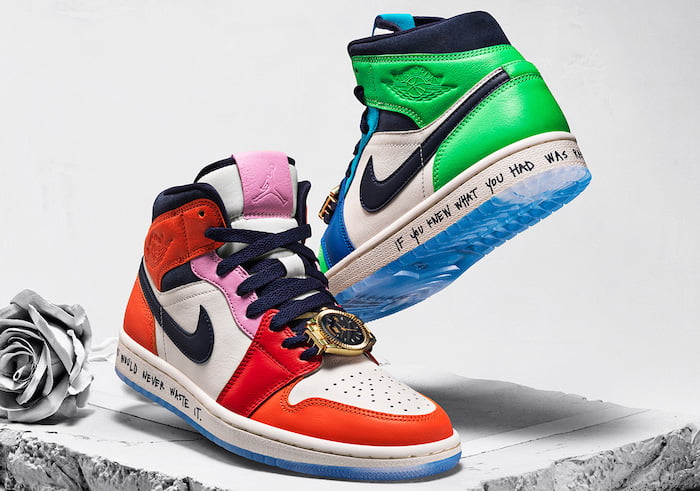 When Jordan Brand unveiled the "Fearless" collection in 2019, many could not have imagined just how successful it would be. The sneaker pack represented the symbolic power that the Air Jordan 1 had both on and off the court. To celebrate, Jordan Brand invited a number of collaborators to put their spin on the AJ1. Whilst there were a few standout pairs, there was one that has remained a serious grail for collectors: the Melody Ehsani x Air Jordan 1 Mid SE.
Melody Ehsani created one of the most eye-catching pairs of Mids that the world had ever seen. The Los Angeles designer put her signature aesthetic throughout the sneaker, using two different uppers with incredible results. Other noticeable features included the gold watch lace dubraes; arguably the highlight of this AJ1. The midsole included a handwritten message too "IF YOU KNEW WHAT YOU HAD WAS RARE, YOU WOULD NEVER WASTE IT." These now sell for upwards of €1,000+!
AMBUSH x Nike Dunk High (2020)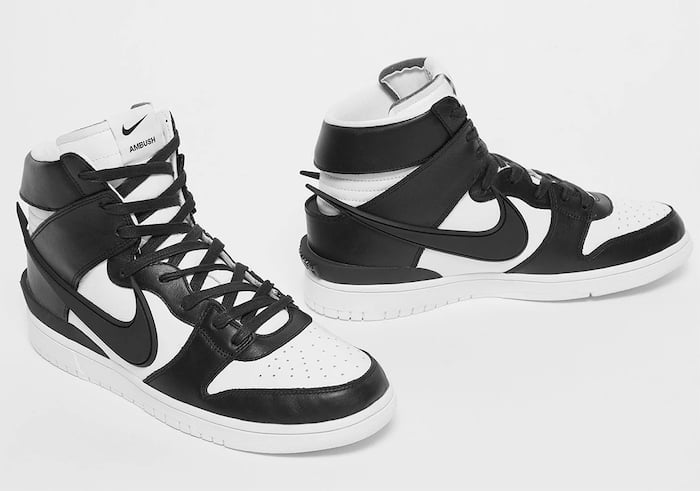 Yoon Ahn is undeniably one of the most influential women in streetwear. Over the past four years, her work in menswear, jewellery and sneakers has put her on the map in multiple industries. Although Yoon collaborated with Nike in 2018 on the Air Max 180 Hi, it would take her another two years to make a bigger impact. However, the recent AMBUSH x Nike Dunk High has certainly shown that her designs are ones to remember.
Taking a simple black and white colour scheme, this AMBUSH Dunk High is a perfect combination of high fashion with an athletic design. Inspired by one of the OG colourways of the Nike Dunk, Yoon put a new spin on the silhouette. Oversized panelling, an extended Swoosh and bold textures meant that the AMBUSH Dunk was unforgettable. Released towards the end of 2020, these quickly sold out, showing the influence of Yoon's work.
Casablanca x New Balance 327 (2020)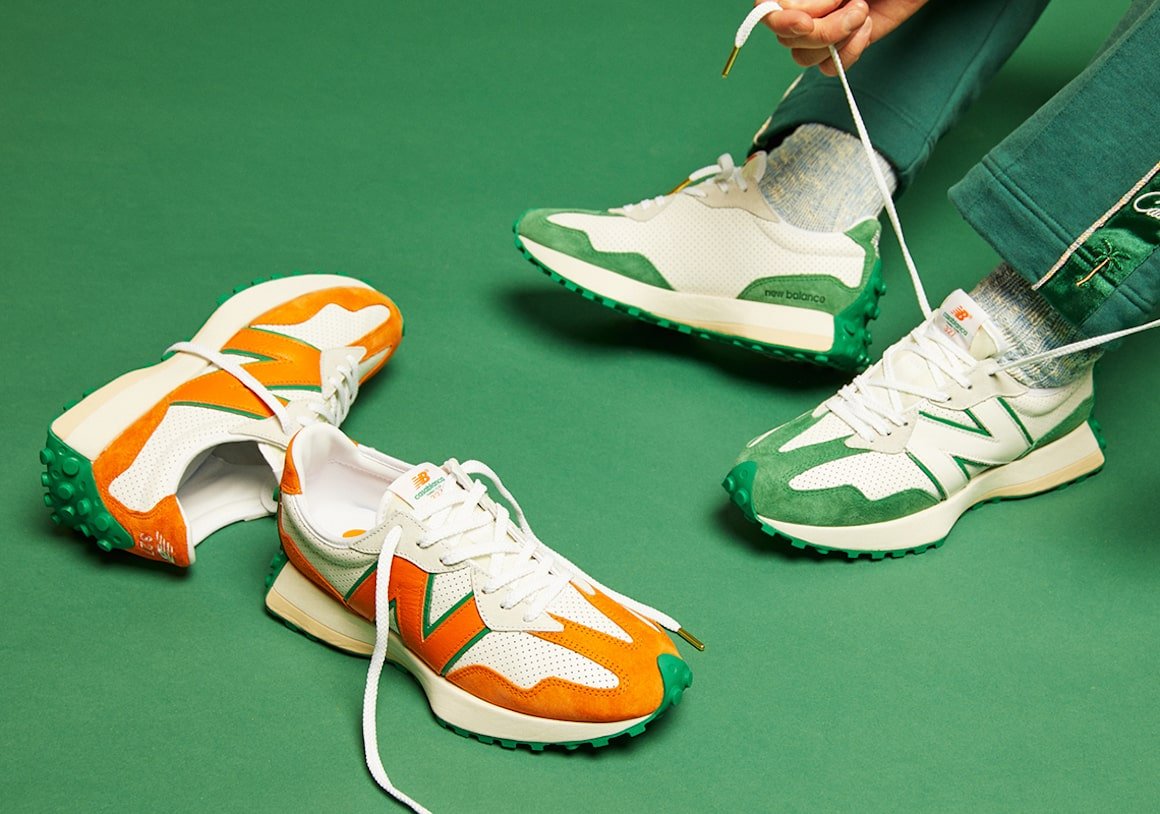 2020 saw the introduction of one of the hottest sneaker models on the planet: the New Balance 327. Designed by Charlotte Lee, the 327 has since become a staple silhouette in the NB arsenal. Unveiled at the Casablanca Paris Fashion Week show, the 1970s inspired shoe has since risen to the very top of the sneaker world. As we've seen throughout 2021, there are no signs that the New Balance 327 will go anywhere, but these are without a doubt one of the best colourways.
sacai x Nike Vaporwaffle (2020)
The second Chitose Abe designed sneaker collaboration on this list is the sacai x Nike Vaporwaffle. Following on from the widespread success of the sacai x Nike LDWaffle, the Vaporwaffle had a lot to live up to. In total, seven iterations of the sacai LDWaffle had released with each colourway selling out on release day. When Chitose headed back to Paris Fashion Week in January 2020, there was a big focus on the sneakers. Thankfully, she didn't disappoint.
Taking the same successful recipe as its LDWaffle collab, Chitose opted for the double detailing once more. Swooshes featured in leather and came printed on the mesh, with two sets of laces and tongues used as a nice touch. Subtle branding was also used on the heel stating "Nike sacai"; matching that found on the LDWaffle. Double stacked midsoles and soles bring this shoe to a close, rounding off another perfect collab from sacai x Nike. These sold out instantly and, unsurprisingly, the hype continues.
COMME des GARÇONS x Nike Air Max 180 (2018)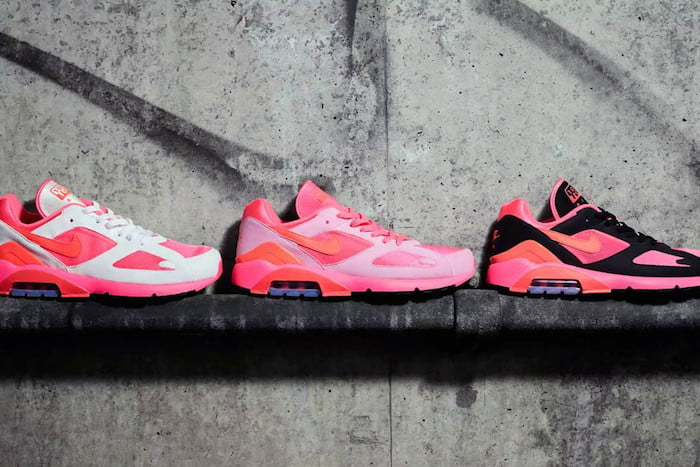 Rei Kawakubo's COMME des GARÇONS label is one of the most iconic in fashion. For almost 50 years, CDG has remained a constant in both streetwear and haute couture thanks to Kawakubo's timeless designs. Though CDG x Nike sneakers are not new, the partnership has certainly had some pairs that are more memorable than others. In 2018, the two joined forces to create the COMME des GARÇONS x Nike Air Max 180 with great results.
Taking another of Tinker Hatfield's classic designs, CDG put an extremely bright spin on the trio of sneakers. Fluorescent pinks worked with black, white or (more) pink to create a set of eye-catching 180s. Premium leather was used, whilst each pair of 180s came with collaborative insoles and a translucent icy air unit at the heel. These have become a serious collectors pair for fans of CDG and Nike, with there being no sign of that changing any time soon.
Nike Mag (2011/2016)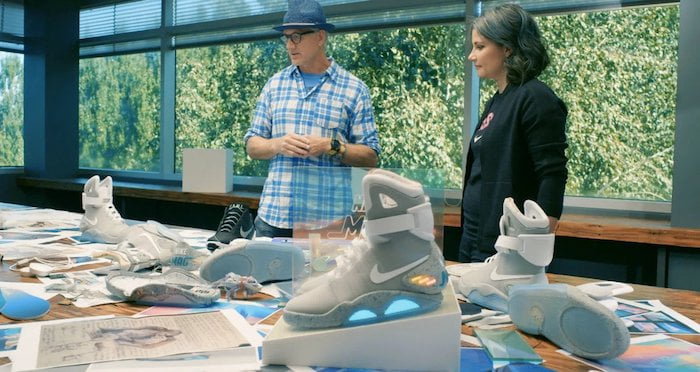 Whilst nearly every sneakerhead on the planet knows that Tinker Hatfield designed the Nike Mag, Tiffany Beers is the genius that really brought the design to life in both 2011 and 2016. The ex-Nike designer is one of the most influential women in the industry, quite literally creating an entire range of E.A.R.L and Adapt products with her auto-lacing technology. Although this one is not a collaboration, it's synonymous with the Back to the Future film series.
After the 2005 petition to bring back the Nike Mag became a reality in 2011, sneakerheads were thrilled. However, it was the 2016 auto-lacing pair that became legendary. This sneaker alone is one of the most instantly recognisable pairs on the planet, but the auto-lacing technology designed by Tiffany Beers is what made the dream a reality. The 2016 pair, limited to just 89 pairs, is now one of the most expensive sneakers on the planet. Quite simply put, the Nike Mag and, in particular, the technology that powers it, was created entirely by Tiffany.
Final Thoughts
That concludes this list of the best sneaker collaborations designed by women! We've highlighted just a few of the women that play an important part of the sneaker industry. There is still much work to be done, but right now we're celebrating these women for all their hard work. Make sure you check out our Women in Sneakers series for more women who are shaping the culture.