Over the past few years, Travis Scott has slowly become a driving force in the world of sneakers. The 28-year-old Houston rapper has cooked up some of the most sought after shoes thanks to his relationship with Nike. Whether it's his Air Jordan 1s or Air Force 1s, Travis Scott certainly knows how to nail a sneaker collaboration. However, one of his most exclusive collaborations dropped earlier this year in the form of a Nike SB Dunk Low.
After being spotted on La Flame's feet in the JackBoys video last December, the Travis Scott x Nike SB Dunk Low quickly made its way through the sneaker world. With Scott championing the SB Dunks return from 2018 onwards, it made sense for Nike to give him his own signature version. Packed full of unique details, subtle branding and mismatched patterns, the Travis Scott SB Dunks quickly became a hit in the sneaker community. As you can imagine, this also meant that a large number of fakes hit the market.
This week's episode of Real vs Fake sees Dr KLEKT take on the Travis Scott Dunks. Whilst the sneakers may look strikingly similar, there are a number of big differences to look out for. As our resident authentication expert, Dr KLEKT will show you just to what to look for when it comes to real vs fake Travis Scott Dunks. However, unlike any of our other videos, this week's episode has our biggest giveaway so far. Check out the comparison below and make sure you enter!
Of course, that's not all we've got for you. Below you'll find a comprehensive breakdown of just how to spot a fake Travis Scott Dunk. We'll be covering all the important details you need to make sure you don't get caught with some fake Travis Scott SBs.
The Test
You didn't think it was going to be that simple, did you? Before we get into this real vs fake Travis Scott Dunk post, we're putting your sneaker knowledge to the test. One of the Travis Scott x Nike SB Dunks below is real and one is fake. We're giving you ten seconds to pick which Travis SB you think is authentic. Ready, set…go!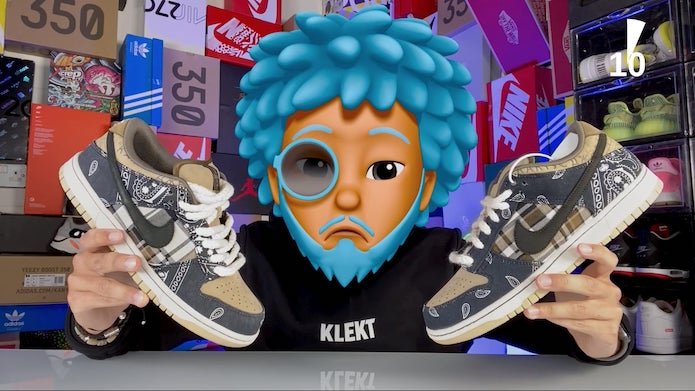 The Price
As with all of our fake education guides, we're going to talk to you about the price. Now, fake sneaker sellers will try and lure you in with a low price point. When the Travis Scott Dunks dropped on February 29th, they had a retail price of €130. Currently, the resale value of the Travis Scott SBs starts at €1317 on KLEKT, by no means a cheap sneaker. If you're looking to cop a pair of Travis Dunks, the price can help you check the authenticity straight away.
You should be wary of any seller that has Travis Dunks listed at way below resell value. Of course, we are not saying that bargains can't be had, but when the price looks suspiciously low, this should raise concern. We have seen on secondary marketplaces instances where sellers actually list the sneakers at below retail too, a simple thing for you to be aware of. Remember, if it sounds too good to be true, that usually means that it is!
The Reveal
If you said that the real Travis Scott Dunks was on the righthand side…congratulations! This was a difficult comparison so a big well done to you if you got the answer correct. If you got the answer wrong, don't worry. The whole point of Real vs Fake is to educate you on how to spot fake sneakers. We'll show you just how to tell fake Travis Scott SBs below!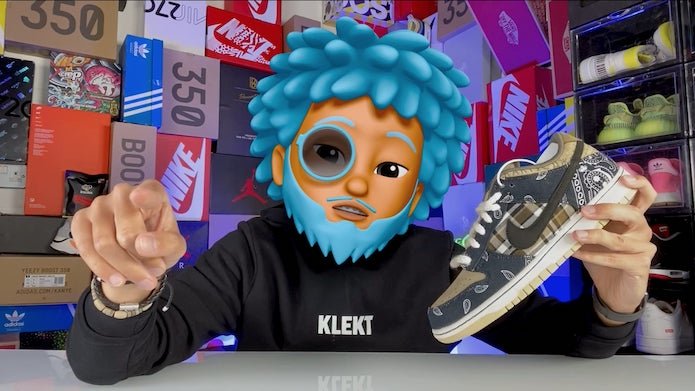 The Box
Most fake sneaker manufacturers will tend to struggle with the packaging. It is an easy detail for you to take a look at and, for the most part, the flaws can be pretty easy to spot. On this fake Travis Scott Dunk, the packaging had a number of differences when compared to the real thing.
Now, when looking at the real Travis Scott Dunks, the packaging is far superior. However, what we are focusing on here is the "Nike SB" logo across the front. You can see that this logo is well proportioned, with the more of the Swoosh being on the front that on the side. Also, it is important to note that there is only a slight gap between the Swoosh and the "SB."
Pretty obviously, there is a number of clear discrepancies between the real vs fake Travis Scott SBs. The Swoosh on the fake box extends much further on the side than on the front. Also, the size difference is clear. These particular fake SBs are a UK7 and have the same size box as a UK10. That's a pretty big difference!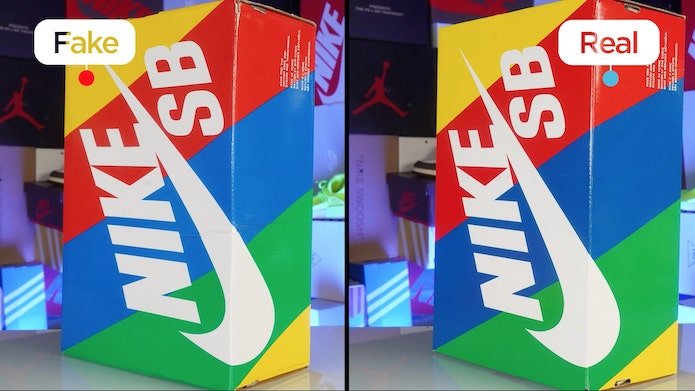 The Laces
As you would expect, Travis Scott put some very unique details on this particular Nike SB. With the SICKOMODE rapper being a big fan of Dunk's, this shouldn't come as a surprise. One particular detail comes in the form of the laces which have a couple of sections for you to make sure you check out.
The Colour
On real Travis Scott Nike SB Dunks, the thick rope laces use a nice premium material. Additionally, these laces are a beige/off white colour which works really well with the beige nubuck upper. This beige colour is the colour that you should be looking for. However, the fake Travis Scott SBs use a crisp white pair, a detail that ultimately let this fake down. If the laces are completely white, you should avoid picking these Dunks up altogether!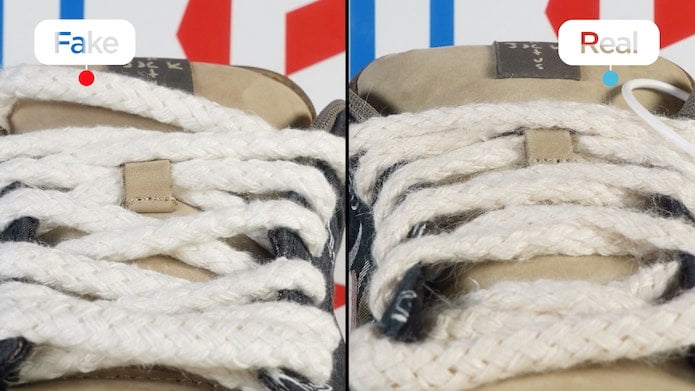 The Spare Laces
Travis Scott has always included spare laces on his collaborations. However, the packaging of these spare laces is a great way to determine whether or not your Travis Scott sneakers are real or fake. On the real Travis SBs, the laces come attached to the sneaker via a plastic bag with a tag in. However, the fakes do not come attached and will often be in a bag that is too small. This is a very small detail but definitely one to look out for!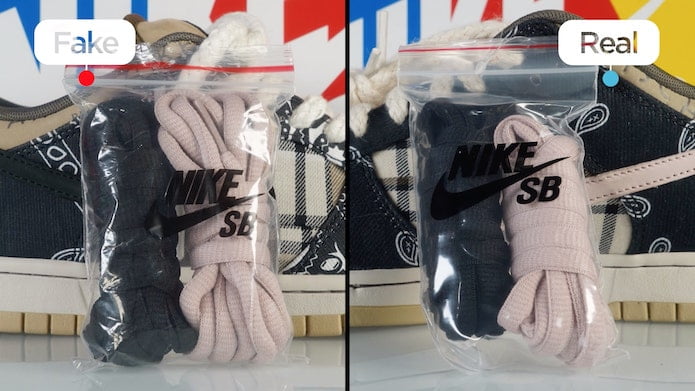 The Sole
More often than not, fake sneaker manufacturers will tend to overcomplicate some details. Whether this is just the addition of new parts, these details are on all fake sneaks. When we were comparing the real vs fake Travis Scott Nike SBs, there were a number of differences on the sole, some of which were very surprising.
On the replica Travis Scott Dunks, the "Nike" logo on the sole was simply too clean cut. You can see that the copyright symbol are too crisp, as is the trademark symbol. Additionally, the stars that can be found on all Nike SB Dunks are completely absent on this fake Dunk. When you compare this to the authentic Nike SB Dunk Travis Scott, the two are miles apart. These smaller details make all the difference so make sure that you check them out!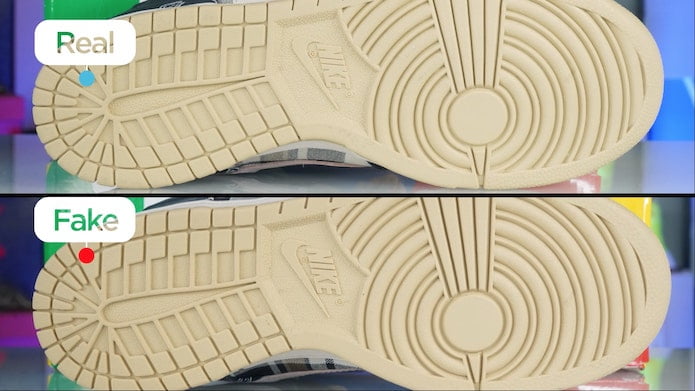 The UV Studio
Ah, the UV Studio. Dr KLEKT's favourite room at HQ and the ultimate test for fake sneakers. As we always say, guys, you should invest in a UV light. These relatively cheap tools can help you to detect a fake sneaker with details your naked eye can't see. For us at KLEKT, they are an essential part of our authentication process. Our dedicated legit check staff use these every day and they can spot some major differences.
The Denim
On the authentic Travis Scott SBs, the denim and paisley pattern work really well together under UV light. You can see that the paisley pattern shines a bright white, whilst the denim is a dull blue. This denim should not light up bright and if it does, well then its probably a fake Travis Scott SB Dunk. You can see the big difference between the two sneakers in the image below.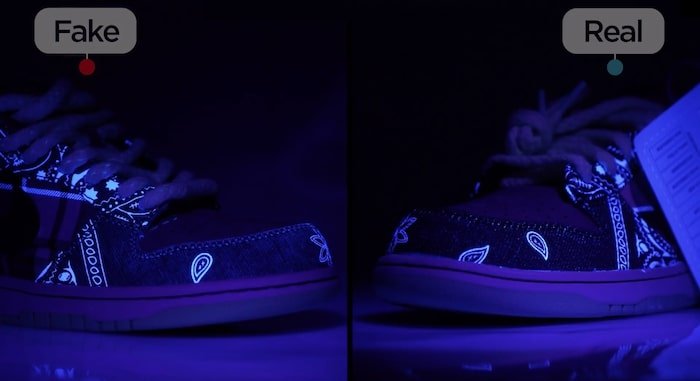 The Laces
As we previously mentioned, the UV light brought out some big differences on this sneaker. One of the most important areas for you to check is the laces of the Travis Scott Dunks. You can see on the real pair that the laces are fairly non-reactive, with only two sections showing any light. However, when looking at the fake laces, there are multiple areas that light up underneath the laces. This is a small detail that you wouldn't be able to spot without a UV light!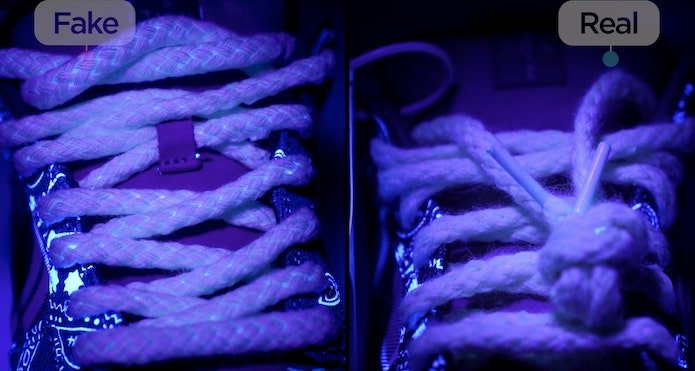 The Stitch Lines
Stitch or "trace" lines are a very big deal when it comes to determining the authenticity of a sneaker. When it came to this particular fake, the stitching lines shone up perfectly under the UV light. Now, as you can see, the real SBs have no trace lines. This is one area that all fake sneaker manufacturers will struggle with and one you would not spot without UV light. It may sound like we're repeating ourselves, but UV lights really can help you spot fake sneakers!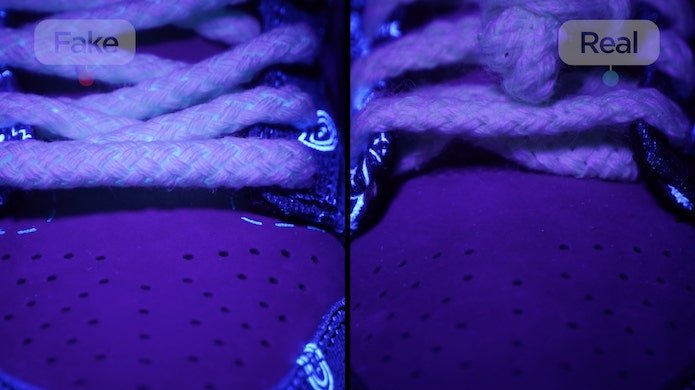 Recap
If you ever want to know how to spot a fake Travis Scott Nike SB Dunk Low "JackBoys", then just remember these areas:
The Price – if it sounds too good to be true then it probably is!
The Box – check the placing of the Swoosh, ensuring that more is on the front of the box. Also depending on your size, make sure that the shoebox isn't too big
The Laces – these should be a beige/off white colour, nothing else. Spare laces should come attached to the shoe via a plastic tag and in a normal-sized bag, not too small or big
The Sole – make sure that the details are not too clean-cut and that the stars on the outsole are visible
The UV Test – check that the denim isn't too bright under UV, that the laces do not light up too much and the there are no visible stitch lines on the upper
Final Thoughts
So, guys, there you have it, the last episode of Real vs Fake Season 2! We hope that you enjoyed this piece and learnt some new ways to spot a fake Travis Scott SB. As with all our fake education guides, we want to make sure that you have all the info you need to spot a fake sneaker. For this Nike x Travis Scott sneaker, the differences were very clear. However, that may not always be the case for fake sneakers.
If you are looking to cop a new pair of sneakers and don't want to worry about getting sent fakes, then why not head to KLEKT? Our team of authenticators take all the stress away from your sneaker purchase, meaning you don't have to worry about fakes. Whether its a new pair of Yeezys or simply a Supreme T-shirt, our on-site authentication checks make sure you always get a real item. What are you waiting for? Head to the KLEKT store today!