Nike's Air Technology would go on to become one of the most important parts of its business. Air Max tech has graced everything from Air Jordans to sliders, becoming a fundamental pillar in the sneaker community along the way. As sneakerheads, we all know only too well the impact that Nike Air has had on our favourite sneakers. Now, we thought it was about time to take you behind the design of the shoe that started it all: the Nike Air Max 1.
It is difficult to imagine what sneaker history would look like if Nike didn't create the Air Max 1. Tinker Hatfield's forward-thinking design truly revolutionised the sneaker industry, kick-starting one of the most successful lines in footwear. 33-years later and the Nike Air Max 1 is just as important now as it was back in 1987. Of course, the reason why Nike Air Max 1s are still just as popular now as when they were first introduced is simple: they're game-changing.
Without further day, we're going to tell you the story of the Nike Air Max 1. As many of you will know, the journey behind the Air Max 1 is one of the most difficult production stories in history. With twists and turns, ups and downs, it's amazing that Nike even got it out of the production line. Without further delay, let's take a closer look at just how the Air Max 1 came to life.
History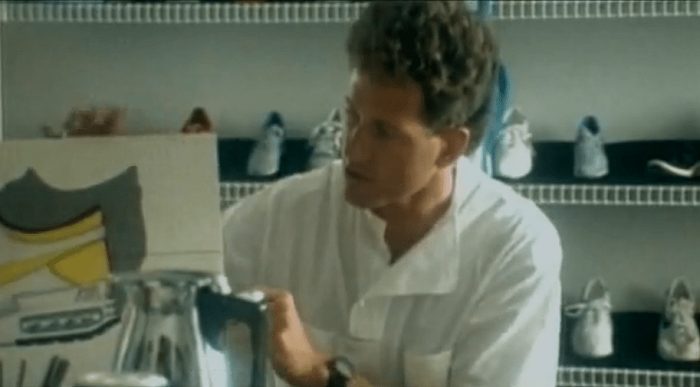 There would be no Air Max if it were not for Tinker Hatfield. An architect by trade, Hatfield was hired by Nike in 1981 to design buildings on its Oregon campus. As an experienced architect, Hatfield was used to bringing challenging designs to life. Though Hatfield never considered himself something of a footwear designer, he entered a shoe design competition in 1985. This would go on to kickstart his career within Nike's inner design circle.
In 1986, when visiting Paris, Hatfield found himself outside the Centre Georges Pompidou. As one of the most divisive buildings in Paris, the Centre Georges Pompidou is just as crucial a part of Air Max history as the sneakers. Considered an eye-sore by some and a work of art by others, the library is completely inside-out; making the structural elements completely visible instead of hiding them. This was the design that would change everything.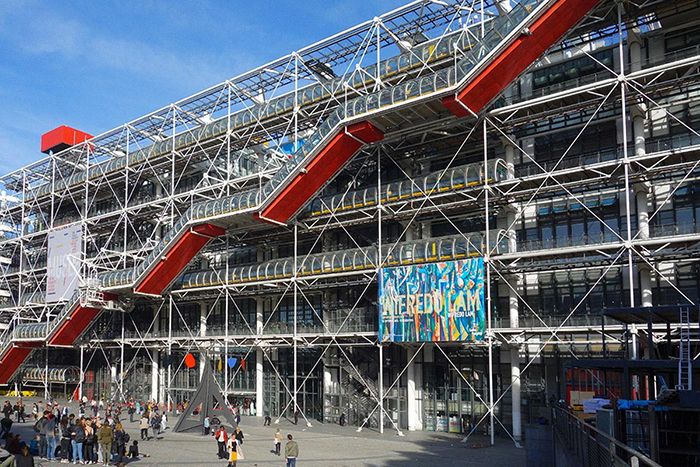 Structurally, the Centre Georges Pompidou blew Hatfield's mind. In his interview with Respect the Architects, Hatfield explained, "I just remember being super influenced by it and having my architectural senses turned upside down." However, Hatfield also concedes that "I don't know if I was thinking, well now I'm going to design a shoe based off of this." Its lasting influence on Hatfield was clear. By the time that he had got back to Oregon, the image of visible air was not heavily imprinted in Hatfield's brain.
Design
By the late 1980s, Nike was beginning to struggle against the competition. Though it had had an explosive start to the new decade, adidas and Reebok were beginning to take their share of the market. Nike needed something fresh in order to keep up. As it happened, Hatfield had come back from Paris eager to show just how he could make the technology that powered the Air Max visible, something that had never been done before.
Although Nike's Air technology had been a part of the brand's DNA since 1978, it had never been made visible. Frank Rudy was the man behind Nike's original Air Technology and even he was sceptical that he could pull the visible air unit off. Questions began being asked about Hatfield and his idea, with some saying that it would never work. In the Netflix documentary Abstract: The Art of Design, Hatfield explained that people at Nike thought he was not fit for the job. "It was widely discussed that I had pushed it too far. People were trying to get us fired."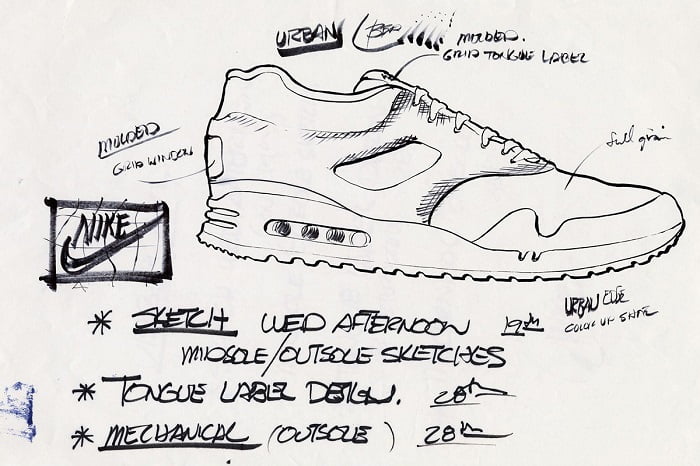 At a time when Nike was trying to make its Air technology even smaller, Hatfield was pulling the brand in the completely opposite direction. For the most part, Nike did not want consumers to see the inside of its shoes, and why would they? People knew that they worked and surely that was enough. However, it wasn't enough for Hatfield. He wanted people to see the technology just the same as he had seen the Centre Georges Pompidou. Eventually, Hatfield had won over support from David Forland, Nike's Director of Cushioning Innovation.
Technology
In an interview with Streething, David Forland explained just how much hard work was going into Nike's Air Max revolution. "The first couple of years were full of hard work. From '85 until we actually launched the Air Max 1 in 1987, we were dedicated to research and development and inventing what became Air Max. After all that time, the idea sort of came together in one thought. Kind of like when a cartoon character has a light bulb above his head."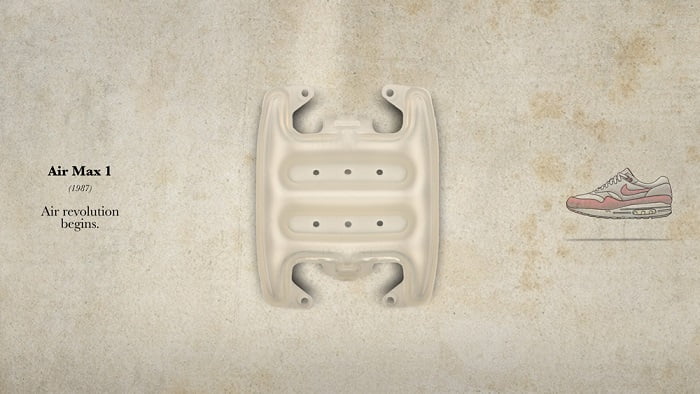 Forland would go on to create a hand-welded prototype of his visible air unit. After going back and forth over just how to get it right, he was becoming a little frustrated. However, another Nike engineer came in and asked him a simple question that would change the course of Air Max history. "Another designer walked into the lab and asked what would happen if I rotated the bag so the seams were on the top and bottom instead of the perimeter. At that exact moment my light bulb turned on and I thought to myself 'yeah, I could do that.'
"I built a new prototype right there on the spot, which included building a setup that would allow me to manoeuvre the air-bag film in a way that I could make the necessary welds. What we had stumbled on and created was an encapsulated air unit with smooth sidewalls on both sides, the very first prototype of what would eventually become visible Nike Air technology."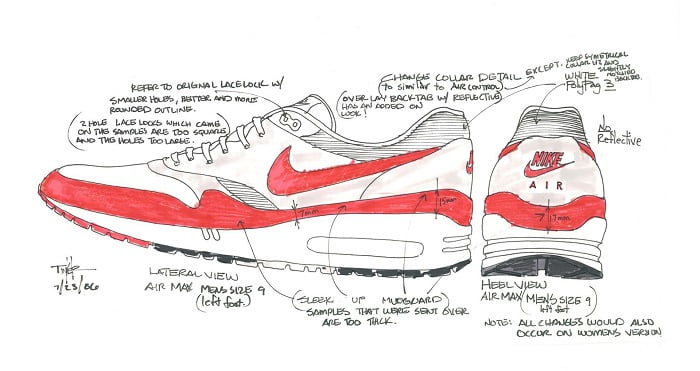 Introduction to the World and Lasting Success
After years of hard work, Nike would eventually launch the Nike Air Max 1 on March 26th, 1987. The unfamiliar air-cushioned sole was something that had never been seen before. Whilst Nike were sceptical over just how successful the shoe would be, it needn't be. After rolling out one of the most iconic adverts of all time, Nike was shocked and just how big the reaction was on the Air Max sneakers. Rolled out as part of the Air Pack, Nike knew that it was onto a winner.
Almost instantly, the reaction was one of joy. Tinker Hatfield's crazy design reshaped sneaker culture as well as creating a culture of its own. Pretty soon, Nike's Air Max sneakers would go onto be one of the brands most successful shoes in its history. Over the past three decades, we have seen just how big Air Max culture is in the world of sneakers. That is all down to Hatfield's crazy idea, something that doesn't look as though it's ever going away.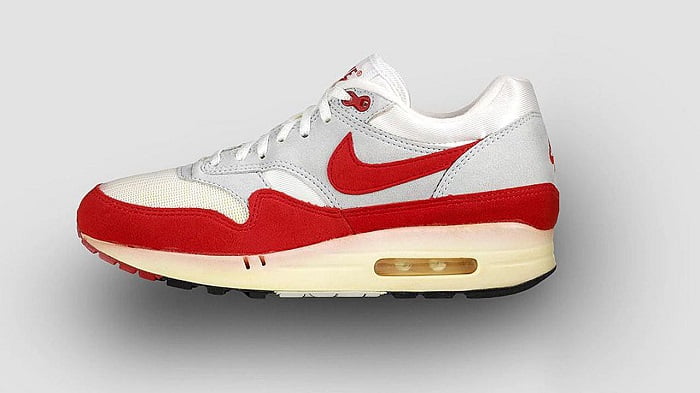 Final Thoughts
So, guys, that concludes this post on the origins of the Nike Air Max 1 history! We hope that you found this piece interesting, especially given that Air Max 1s are just as big a part if sneaker culture now as they were in 1987. For more than 30 years, Nike's innovative design has ensured it is one of the most powerful brands in sneakers. If those next 33 years are anything like the past 33, then there is a lot to still get excited about as sneakerheads.