As a sneaker that's rapidly approaching its 39th birthday, the Nike Air Force 1 is almost as old as sneaker culture itself. It is difficult to imagine what the world of sneakers would look like if it were not for the Air Force One. Worn by almost every person on the planet, the AF1 is one of Nike's best selling models and for very good reason. Transforming from an on-court model to an off-court icon, the Nike Air Force 1 is without a doubt one of the greatest sneakers of all time.
For nearly 40 years, AF1s, or Uptowns, have dominated the sneaker scene. With more than 2,000 individual styles made by 2015, and countless pairs since, the importance of the Air Force 1 is undeniable. In this post, we're delving back into the story of the Nike Air Force 1 design. We'll be taking a closer look at who designed the Air Force 1 as well as why the Air Force 1 has become as popular as it has. Without further delay, let's take a closer look at the Nike Air Force 1 history and its design.
Origins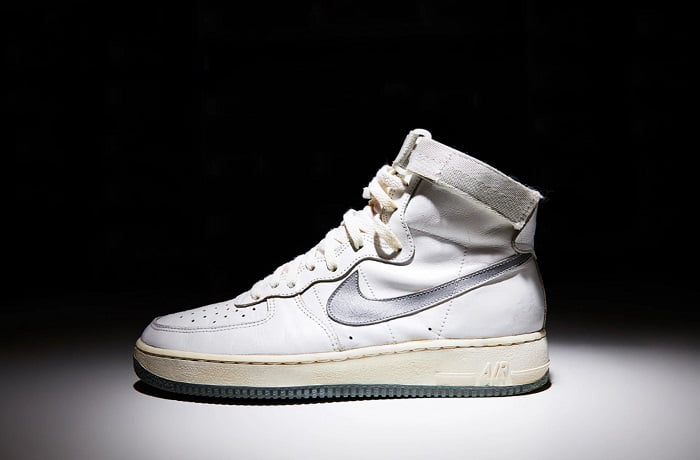 In the early 1980s, basketball was changing and Nike needed to keep up. Although Nike had been running for 16 years, it needed to make sure that it could make an impact in whatever sport it got involved in. Whilst Nike had made a success in its running silhouettes, venturing onto the court was a different story. The task of creating a basketball sneaker that could beat its competitors fell one man. If you've ever wondered who designed the Air Force 1, you can thank Bruce Kilgore.
Kilgore was a veteran at Nike. He had designed some of the most successful running silhouettes in the brand's history. Phil Knight, Nike founder and CEO at the time, tasked Kilgore with creating a basketball sneaker. With no other design elements or blueprints to go off, Kilgore was given free rein over what he could do. It was completely out of Nike's comfort zone, meaning that Kilgore had to start from scratch with no help.
The Design
At the time, Nike had a rich catalogue of designs to choose from. Having recently launched its own hiking boot line, Kilgore an unlikely source of inspiration. Looking at the Nike Approach hiking boot, Kilgore used this design as a muse for the Air Force 1. However, he made a few subtle changes that would separate it. Realising that the Approach was designed to tackle tough terrain but ensure stability, Kilgore knew that it would be perfect the court.
What caught the attention of Kilgore from the Nike Approach was its shape. It slanted the shaft of the foot from the front to the back of the achilles, meaning that it provided more stability. With basketball players constantly changing direction and speed, this was a vital element that needed to be included in the final product. As sketches began to form and designs coming together, Kilgore knew that he needed to make the shoe stand out from everything else on the market. How did he do it? The sole.
Kilgore took a chance when it came to the now-iconic midsole construction of the Air Force 1, doing something that had not been done in Nike's history before. Shoe companies had always used a herringbone traction pattern on its soles to provide grip but Kilgore had a better idea. Instead of sticking to the traditional herringbone, he opted for a circular outsole pattern. The reasoning behind this was simple: basketball players' pivot a lot and the circular pattern would allow them to do so much easier. Once samples had been made, they were sent out to wear-testers to await feedback.
A Champion on the Court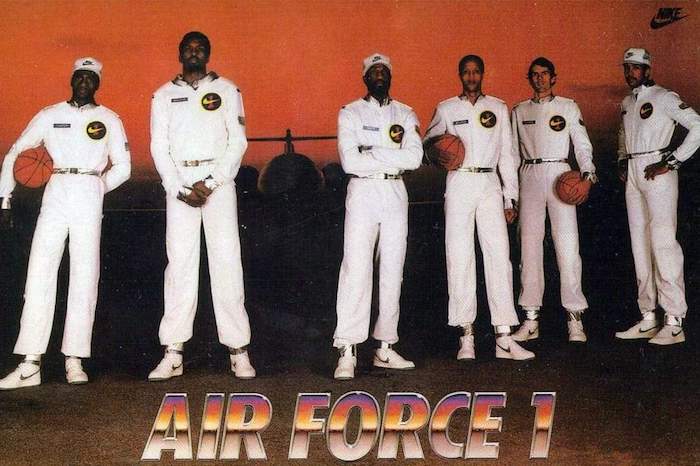 Once the wear-testers got the Air Force 1 in hand, it didn't take long for it to become a hit. In fact, one of the very first people to get their hands on the Nike Air Force 1 was an unknown architect called Tinker Hatfield. The Air Force 1 inspired Hatfield to pursue a career in footwear design rather than buildings, cool right? Although many of the wear-testers were not a fan of the strap that wrapped around the ankle, they loved the shoe as a whole. Many of the wear-testers would also not give the samples back to Nike!
With 1981 proving to be a successful year for the Nike Air Force 1, it was time to get the sneaker into production the following year. Nike would recruit six players in the NBA to wear the shoe on the court; Moses Malone (Philadelphia 76ers), Michael Cooper (L.A. Lakers), Bobby Jones (Philadelphia 76ers), Calvin Natt (Portland Trail Blazers), Mychal Thompson (Portland Trail Blazers), and Jamal Wilkes (L.A. Lakers). It didn't take long for these players to start scoring big points with the Air Force 1, making the shoe widely popular off the court.
Wanting to replicate their favourite players in cities like Los Angeles, Boston and New York, kids everywhere were trying to get AF1s. At the time, the shoe was expensive costing around $89.95 a pair. In the early 1980s, that was a lot! The people had to have the Air Force 1 though, doing anything in order to get it. After seeing the success of the Air Force 1 High in 1982, Nike rolled out a Low version the following year, kickstarting the frenzy once more. However, it wasn't to last forever.
Pulled From the Shelves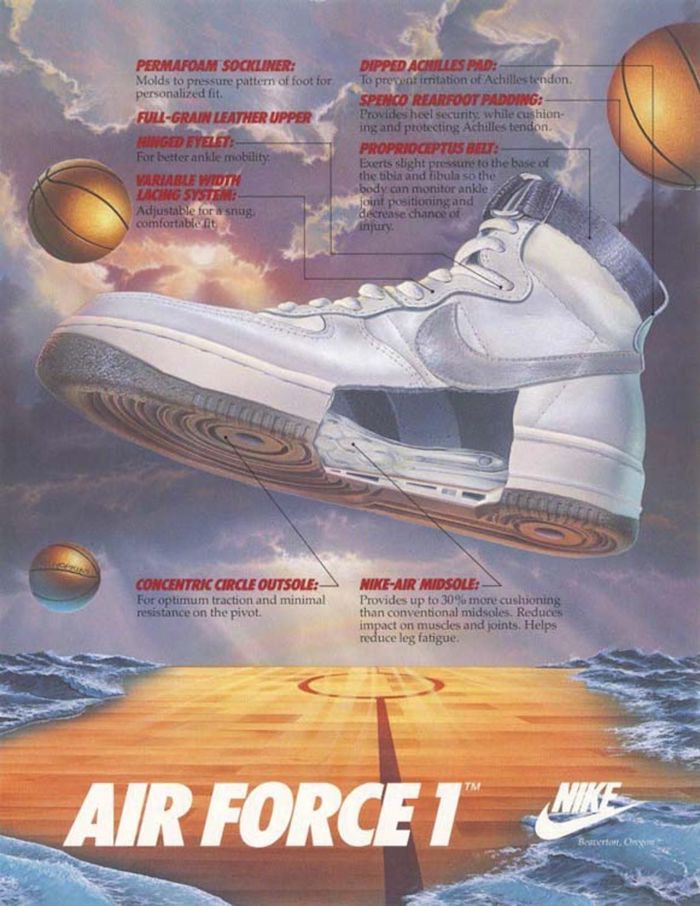 Although Nike's Air Force 1 may have been a commercial success, the brand ceased production of the shoe in 1984. Demand for the shoe remained high and people were taking things into their own hands in order to get new colourways. Many people would customise their own shoes, taking to them with paint and pens in order to create new styles. Distributors found themselves being asked by customers when the Air Force One would be making a return. It was something they had never experienced before.
Eventually, the distributors were fed up of hearing the same question over and over again. Many of them went to Nike and asked if the should be making a return in the future as demand was so high. For Nike, it didn't make sense. Why would customers want an old shoe? Why would they not just want a shoe to replace the old one? For the 20 years that Nike had been running, it had never been asked to bring back a sneaker. That's not how Nike worked.
Something was different about the Air Force 1 though. It was as popular on the court as it was off the court. So much so that kids were going to great lengths in order to keep the sneaker fresh. In the end, Nike decided that it was time to give the people what they wanted. After much deliberation, it decided that it would bring the Air Force 1 back, giving sneakerheads exactly what they wanted. In 1986, the Nike Air Force One hit the shelves, kickstarting the craze all over again.
Cultural Significance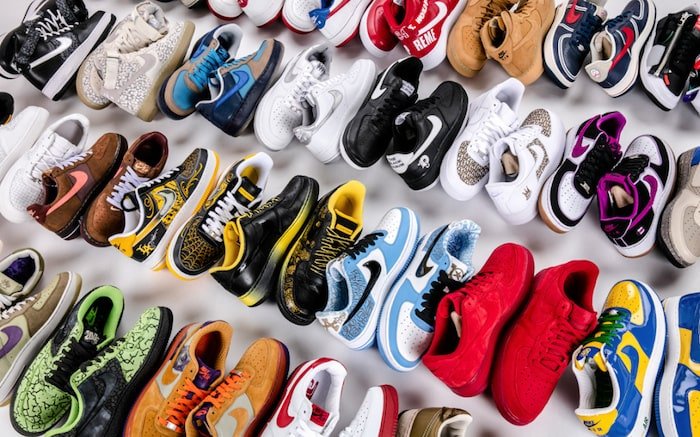 Since its introduction in 1982, the Nike Air Force has been a constant in the ever-evolving sneaker landscape. It is a title that few silhouettes have the pleasure of owning. What sets the Air Force 1 apart from other sneakers, however, is its importance in sneaker culture. Fans had to fight in order to get the shoe back, something that had not been done in Nike's history. It was also worn by everyone, from bankers on Wall Street to kids in Harlem.
For nearly 35 years, the Nike Air Force 1 has continued to be a key sneaker. Its links with hip-hop, art, basketball, pop culture and everyday life are simply undeniable. It's a way of life. Almost every famous name in hip-hop has worn a pair of Air Force at some point and some even have a constant supply of them. Dr Dre, for example, wears a brand new pair of white Nike Air Force 1s every single day. If that's not a commitment to one specific shoe, then we don't know what is.
Take a look at recent collaborations on the Air Force 1. Virgil Abloh, Travis Scott, Don C, G-Dragon, Stüssy, Kith, Ronnie Fieg. All of these people have chosen to put their spin on this iconic piece of footwear design. As of 2015, there were over 2,000 different versions of the Air Force 1. 2,000! That's a number that's unfathomable. Sneaker collectors like Mayor have (or had) a supply of over 1,000 rare Air Force 1s that many people will never have seen. There simply is no other way to put it: the Air Force 1 is a sneaker culture onto itself.
Final Thoughts
Who knows what the sneaker space would look like if it were not for the Air Force 1. It's a tough thing to even imagine, let alone think about. The unexpected commercial success of the Nike AF1 is something that pushed Nike into reissuing sneakers; something that had not been done. Over the past 38 years, we've seen how stronger the AF1 has gotten, being worn on runways in Paris and streets in Hong Kong. With the 40th anniversary on the way, we're sure Nike had got some big plans.