Michael Jordan was fast-tracking his way to becoming a global superstar in 1992. Having earned his second ring with the Chicago Bulls, MJ had his eyes set on winning gold at the Barcelona Olympics. The global sports stage was about to meet the cocky boy from Charlotte, North Carolina, for the first time. It was a year that changed Michael Jordan's life forever, as well as the world of sneakers altogether.
Following on from the massive success of the Air Jordan 6, Tinker Hatfield tried something different on the Air Jordan 7. Replacing the traditional bulky sneakers of the past, the Jordan 7 OG focused on becoming more streamlined. It made His Airness more nimble on the court, giving him an added edge against his opponents. Moreover, it used tooling from the Air Huarache, another widely popular Nike silhouette created by Hatfield.
With the Air Jordan 7 as such an iconic piece in the Jordan Brand puzzle, we thought it was about time that we picked 20 if the best colourways in its history. Now, for the first part of this piece, we'll be choosing 10 of the top AJ7 colourways over the past 28s. We'll cover everything from PEs to retro Jordan 7s, making sure you get to see the full scope of the model. Without further delay, let's take a closer look at the 20 best Air Jordan VII colourways of all time.
Air Jordan VII "French Blue" (2002)
Kicking this list off with a classic, we have the "French Blue" Air Jordan 7. Originally released in 2002, the Jordan 7 French Blue utilises a premium white leather upper as the base for the colours. Splashes of French Blue and Flint Grey accented this sneaker throughout, making for an instant hit on the court. Now, if Jordan was still with the Bulls, he would, of course, never rocked these.
However, by 2002 things had changed. Jordan had recently become a part-owner/player for the Washington Wizards and was still proving his doubters wrong. On December 13th, 2002, MJ laced up the French Blue Air Jordan 7s against the New Jersey Nets. Whilst the game didn't go Jordan's way, this sneaker stuck with fans forever.
Air Jordan VII "Charcoal" (2002)
In keeping with the newer Air Jordan 7s, we have the "Charcoal." Unlike the Air Jordan 7 "Raptor", the "Charcoal" Air Jordan 7 features an all-black nubuck base, whilst the original "Raptor" (more on that later) featured hits of grey throughout. Of course, it's kind of hard to tell these two apart, but it doesn't stop it from being a classic. Splashes of red and purple across the midsole, as well as a purple heel tab and red Jumpman, give this shoe its edge.
Air Jordan VII "Hare" (1992)
This sneaker needs no introduction. In 1996, Michael Jordan starred in Space Jam, a film that would go on to spark an inner sneakerhead in children all over the world. The story needs no explaining but this Jordan 7 "Hare" was nicknamed after Bugs Bunny. Having been sported by Bugs in the film, and in several successful Jordan adverts, the "Hare" Air Jordan 7 became an icon in its own right.
Since its initial release in 1992, the "Hare" Jordan 7 has been reissued a number of times, with each Jordan 7 retro being just a little bit different from the OG. Of course, that hasn't stopped people from snapping it up when it launched. It's hard picking a favourite Air Jordan 7, but there is no denying that this is a banger.
Air Jordan 7 "Flint" (2006)
Revitalising a 14-year-old silhouette is tough, yet somehow Jordan Brand managed to do just that in 2006 with the "Flint" Air Jordan 7. The simplistic colourway used a combination of white leather and Flint Grey nubuck. A monochromatic midsole was contrasted by a grey outsole. However, it was the purple accents on the tongue and Jumpman that really made this sneaker what it was. Over the past 14 years, sneakerheads have been patiently waiting for a retro of this Jordan 7.
Air Jordan VII "Bordeaux" (1992)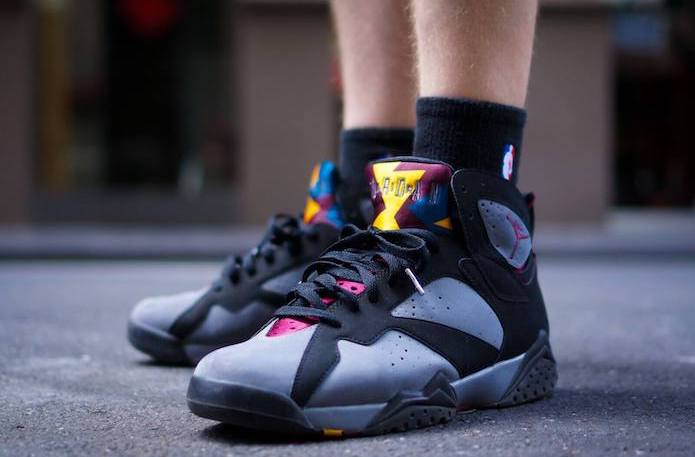 They say that some things age like fine wine, with this Air Jordan 7 OG being one of them. As one of the original Air Jordan 7s, the "Bordeaux" was one of the most sought after colourways of the stripped-back silhouette. A contrasting set of grey and black nubuck made up the majority of this sneaker, yet it was the colour pops that made it great.
Yellows, blues and, of course, a maroon colour gave this shoe its appeal. The "Bordeaux" nickname comes from the maroon located on the Jumpman and tongue, referencing the French wine region. Since 1992, the Bordeaux Jordan 7 has remained a firm favourite amongst sneakerheads, rightfully earning itself a place on this list.
Air Jordan VII "Chambray" (2006)
The "Chambray" Air Jordan 7 debuted back in 2006, much to the delight of sneakerheads around the world. With the sneaker celebrating a monumental milestone in 2006, Jordan Brand crafted a sneaker that was worthy of its history. In fact, it cooked up the "Chambray" Jordan 7s as a way to start the party.
An all-black suede upper made a perfect place for light powder blue splashes to make their way on the midsole and Jumpman. Contrasting light graphite accents on the tongue, as well as a powder blue "23" on the heel, make this shoe a classic. Released in limited quantities, the Chambray Air Jordan 7s remains one of the most sought after on the planet.
Air Jordan VII "Raptors" (1992)
Now, as we discussed earlier, there is a lot of confusion about which sneaker was the Air Jordan 7 "Raptor." Many sneakerheads have disagreed for generations about which was the first Air Jordan 7 that Jordan himself laced up. According to the official Jordan website, this was, in fact, the first Jordan 7 ever made.
Though the shoe released three years before the Toronto Raptors formed in 1995, it didn't take long for it to be given a new nickname once Canada's first NBA team arrived. The Air Jordan 7 "Raptor" was like nothing ever seen before. A black and grey nubuck upper made the ideal base for colourful accents to pop. The sneaker featured purple and red accents on the midsole, as well as a tongue that had a never before seen pattern. A set of matching purple and red details was seen on the heel, with "23" emblazoned across them. The "Raptor" Jordan 7 has been a firm favourite of many and for good reason.
Air Jordan VII DMP "60+ Magic" (2009)
Michael Jordan had some amazing moments during his 15 seasons in the NBA. Dunks, last-minute three-pointers and six rings, just to name a few. Once Jordan officially retired in 2003, Jordan Brand began to chronicle his achievements through sneakers. Special "Defining Moment Pack" shoes were issued, with this Air Jordan 7 being one of them.
Nicknamed the Air Jordan 7 "Magic", this sneaker is a respectful homage to one of Jordans greatest games. In 1998, Michael Jordan recorded 64 points against Orlando Magic and a rookie Shaquille O'Neill. This Air Jordan 7 features a white leather base and is contrasted by a pinstripe tongue as well as a cracked blue pattern on the midsole. Even though Jordan scored 64 points, the Bulls went on to lose the game. Crazy, right?
Air Jordan VII "Cardinals" (1992)
As one of the original Air Jordan 7 colourways, the "Cardinal" has remained a favourite of many sneakerheads. Whilst it may have been one of the most uninspiring, there is no denying its importance in the legacy of the AJ7. Given it's "Cardinal" nickname from the Arizona Cardinals MLB team, the sneaker was a hit. It even made an appearance on the feet of early 90s sneakerhead, Jerry Seinfeld.
The white leather base is contrasted by red and white accents throughout, with a black midsole breaking things up nicely. Splashes of gold on the Jumpman, heel tab and on the insole make this an instant classic. Whilst Jordan himself may have played few games in the Cardinal 7s, it remains one of our firm favourites. It was even reissued in 2011, much to the delight of sneaker fans.
Air Jordan VII "Olympics" (1992)
There was no way that we could go through this list without finishing on the "Olympic" Air Jordan 7s. It is a rare thing for a sneaker to have such a history attached to it and yet the Olympic 7s do. Made specifically for Michael Jordan to wear during the 1992 Barcelona Olympic Games, these AJ7s were one of the highlights of the tournament. Of course, the players that made up the USA basketball team also helped.
"The Dream Team" as it would be called featured players such as Larry Bird and Patrick Ewing. Michael Jordan was the only player to start all eight games, winning his second Olympic gold medal with Team USA. Of course, when Jordan collected his medal, he hid the Reebok logo from his jacket, something that is still spoken about to this day. Whilst Jordan may have only averaged 14.9 points a game in these, the importance they have on his career is unparalleled.
Final Thoughts
We hope you enjoyed part one of our 20 best Air Jordan 7 list! Keep your eyes peeled to the KLEKT Blog where we'll be launching part two very soon. If you're looking to cop a new pair of retro Jordan 7s, or just want to check out some Air Jordans, then head over to the store.