With the introduction of the Air Jordan 1 in 1985, Michael Jordan did not know it but he would change the face of footwear forever. For 35 years, Jordan Brand has created some of the most sought after sneakers in history. Jordans, from 1-35, play a key part in the sneaker community. During the past three decades, there have been a number of high profile Jordan releases. However, there has also been a lot of unreleased Jordans too.
As you would expect, not every Air Jordan makes it to the production line. There are probably thousands of Air Jordan samples in the Jordan Brand vault. Some collaborations, other general releases and some simply 1-of-1s. With such a rich history that spans almost 40 years, the Jordan Brand inventory is vast. Here at KLEKT, we thought it was about time that we dug deep into the Internet to see just what Jordan samples we could find.
We've picked out 10 of the best Air Jordan samples that we wish released. With thousands to choose from, and after a lot of deliberation, we've chosen our top 10 sample Jordans. Take a look below and see if you agree with our list.
Disclaimer: these are not in order!
OVO x Air Jordan 4 "Splatter" (2018)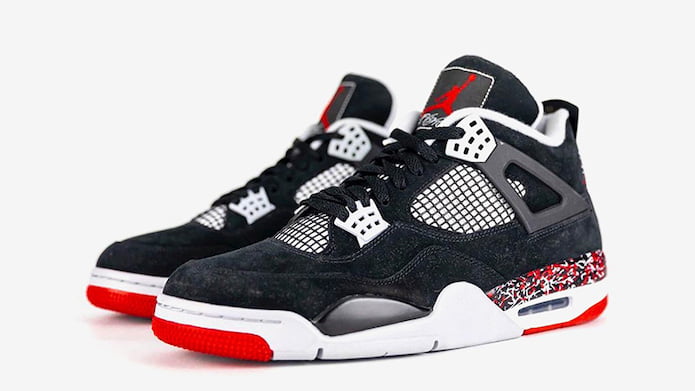 This may be one of the simplest Air Jordan 4 samples of all time but it's still a classic. In 2018, Drake unveiled a number of Air Jordan samples. The list varied from Air Jordan 8s to 11s and almost everything in between. As you would expect, the sneakers broke the internet. Thankfully, we've been treated to a number of detailed images from the wonderful world of Instagram leaks.
This "Splatter" Air Jordan 4 uses the iconic "Bred" colourway as a base, but with a few subtle differences. For starters, the traditional black nubuck upper was replaced with black suede. A white sockliner also replaces the grey, with visible white mesh underneath. Of course, the red, black and white paint splatters across the heel are what makes this sample Air Jordan 4. Subtle OVO branding can be seen behind the heel tab as well as the insole. This is an instant cop if it releases.
fragment design x Air Jordan III "The Ten" (2017)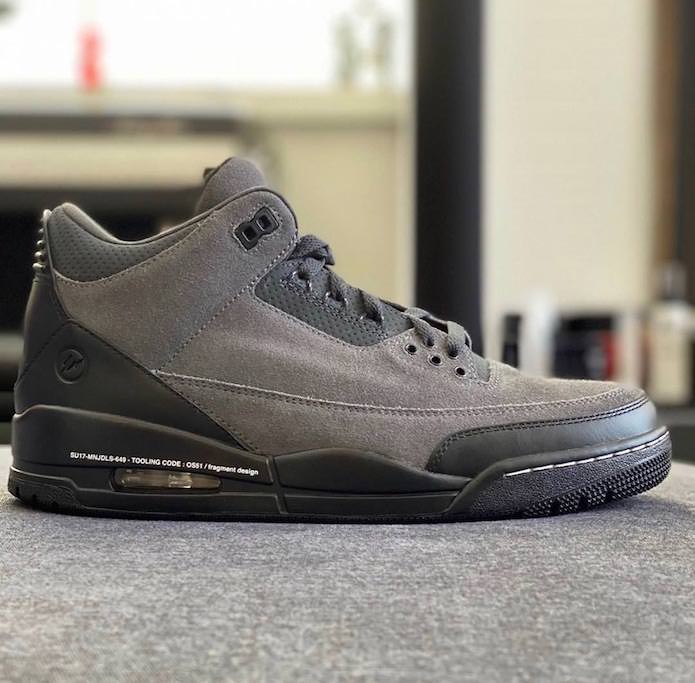 Earlier this year, Hiroshi Fujiwara unveiled a fragment design x Air Jordan 3 and it quickly took the sneaker world by storm. Originally unveiled to be a part of the unreleased fragment design x Nike "The Ten" collection, the fragment Jordan 3 was a premium approach to the classic sneaker. A combination of black leather is contrasted by dark grey suede and features simple fragment design branding across the midsole and ankle.
As Fujiwara himself explained, Virgil Abloh beat him to the punch on "The Ten." Though the Japanese designer was graceful in defeat, we can't help thinking about how different the sneaker world would look if these released instead of the Off-White™ x Nike "The Ten." Either way, these Air Jordan 3 samples are certainly one of the best we've seen.
Air Jordan XI "Blackout Sample" (2011)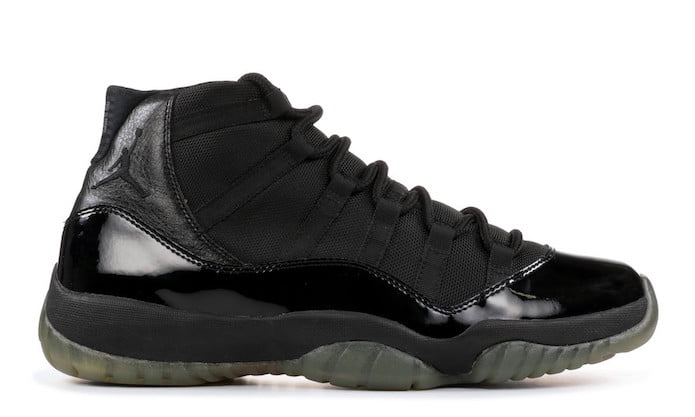 There are Air Jordan 11 samples and then there are Air Jordan 11 samples. Originally unveiled in 2010, the "Blackout" Air Jordan 11 quickly made its way through various sneaker groups throughout the world. The stealthy approach on one of Michael Jordan's most iconic sneakers had never been seen before. A combination of black mesh, premium leather on the ankle and shiny black patent leather made this slick silhouette a clear winner.
As you would expect, the sneaker became a key topic of conversation. Unfortunately, however, it was never released. With only three to six pairs rumoured to be in existence, these are one of the rarest Jordan samples on the planet. Pairs do not come up very often, if at all, and only a few big Jordan collectors have ever had these in hand. If you're looking for a pair of rare Air Jordan 11s, then look no further.
OVO x Air Jordan VIII "Kentucky Madness" (2017)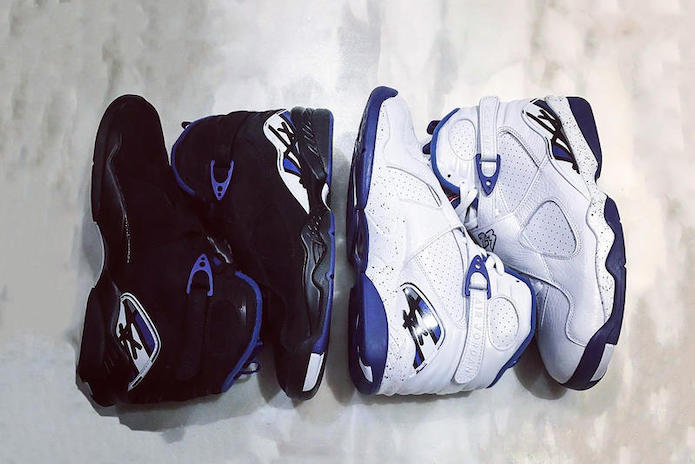 Over the past six years, Drake and Jordan Brand has cooked up some of the most sought after sneakers in history. Since being given his own OVO x Air Jordan 10 and 12, Drake has been quietly making waves in the sneaker community. So much so that Jordan Brand has even laced up the Hotline Bling rapper with his own exclusives Jordans. Thankfully for us, we know exactly what they look like.
Previewed back in 2017, the OVO x Air Jordan 8 "Calipari Pack" is an ode to the University of Kentucky basketball coach, John Calipari. Drake's love affair with the UoK made its way onto these two Air Jordan 8s. The black nubuck pair and white leather pair are contrasted with UoK blue throughout, with simple OVO branding behind the heel and on in the insole. Very few pairs of these Jordans exist, with Coach Calipari owning a set himself.
Off-White™ x Air Jordan 1 "Canary Yellow" (2018)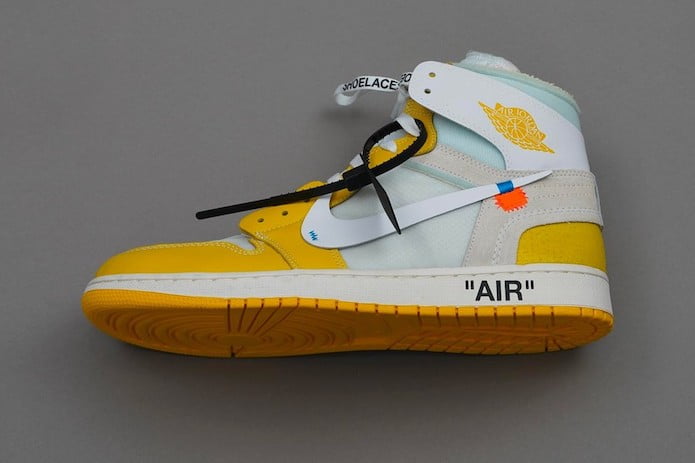 Virgil Abloh and Nike created arguably one of the greatest sneaker collections of all time back in 2017. Dubbed "The Ten", the collaboration saw Abloh reimagine 10 classic Nike silhouettes. Standout models included the Air Jordan 1, Nike Presto, Blazer and Air Max 97. Of course, there were also a number of sneakers that didn't make the cut. One of which was the Off-White™ "Canary Yellow" Air Jordan 1.
Taking a similar approach to the "Chicago", "UNC" and "NRG", the "Canary Yellow" features a deconstructed upper. White nylon and off-white suede is contrasted by an exposed foam collar. It is the yellow leather overlays that really catch the eye though. Paired with a white midsole and yellow outsole, the "Canary Yellow" Air Jordan 1s turned heads at the "Figures of Speech" exhibition last year. Rumours have swirled that the Off-White™ x Air Jordan 1 "Canary Yellow" will release soon but nothing has happened yet.
fragment design x Air Jordan 1 (2019)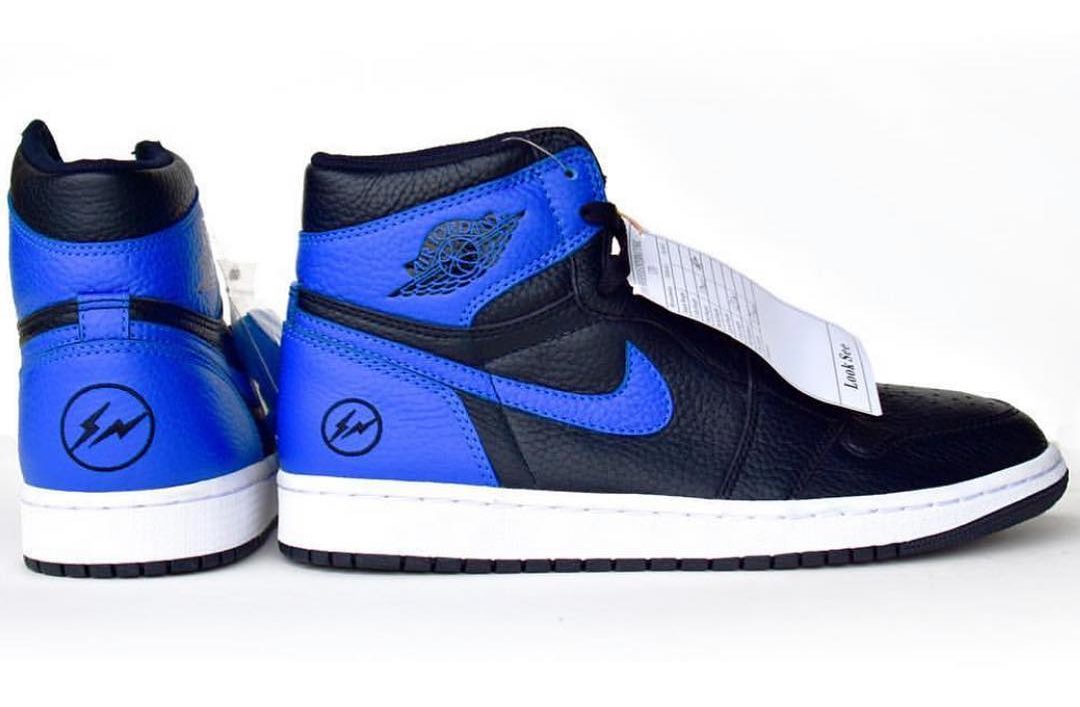 In 2014, Hiroshi Fujiwara was given the chance to create a fragment design x Air Jordan 1. The sneaker quickly sold out and now has a very hefty price tag. Of course, during this process, a number of sample Air Jordan 1s would have been made. Fast forward five years and one sample fragment design x Air Jordan 1 surfaced online.
Featuring a predominantly obsidian tumbled leather base, the fragment design Jordan 1 sample used royal blue accents on the heel and Swoosh. Embroidered fragment design branding can be seen on the ankle and the heel, a bolder version than that of the retail release pair. A crisp white midsole features an obsidian sole and that rounds this fragment design sample off. Even the "Look See" tag is on the laces for good measure.
Air Jordan V "Wedding" (2006)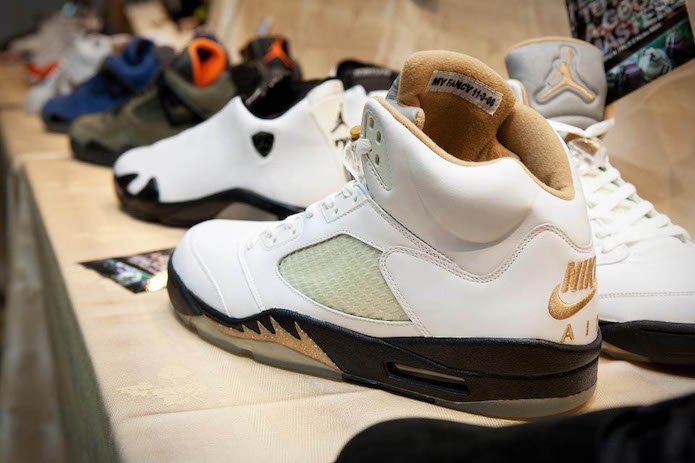 Although this may look strikingly similar to the Air Jordan 5 "Gold Tongue", you would be sorely mistaken if you thought these were the same shoe. These Air Jordan 5 samples are, unfortunately, a 1-of-1 pair for a very special occasion. Made exclusively for a Jordan Brand executive, the "Wedding" Jordan 5 is a celebratory sneaker. Created for the executives wedding day, the sneaker uses the same base as the "Fire Red" Air Jordan 5.
White leather and black midsole are contrasted by gold accents on the tongue and shark teeth. The traditional red Jumpman was also replaced with a gold one. It's the unique details that really help make this a great pair though. The inside tag reads "MY FANCY 11-3-06", making for a sentimental sample Air Jordan 5 that we wish dropped. A black pair has also been seen online, but we think the white pair just edges those.
Off-White™ x Air Jordan VI "Bred" (2018)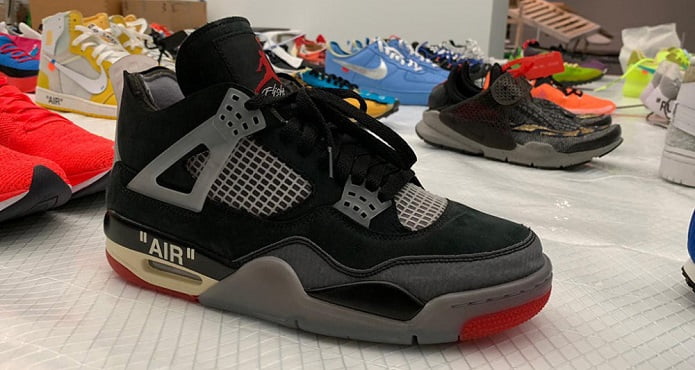 Virgil Abloh's work with Nike has made him a key figure in the sneaker community. The Off-White™ founder and Creative Director of Louis Vuitton's Menswear has become one of the leading pillars of streetwear. During the four years since his Nike collaboration was announced, a number of samples have surfaced online. Thankfully, we have been given a detailed look at one of those courtesy of Abloh himself.
Unveiled during the "Figures of Speech" exhibition, the Air Jordan 4 is another take on the "Bred" colourway, but with an updated aesthetic. A nylon mesh base features the same iconic colouring as the OG with a few changes. A set of translucent eyelets, ankle straps and heel tabs can be seen, as well as a translucent sole. "AIR" branding sits above the Air Unit, with an exposed foam collar also on show. These are rumoured to launch in 2020, but that has not yet been confirmed.
OVO x Air Jordan XI "Snakeskin" (2017)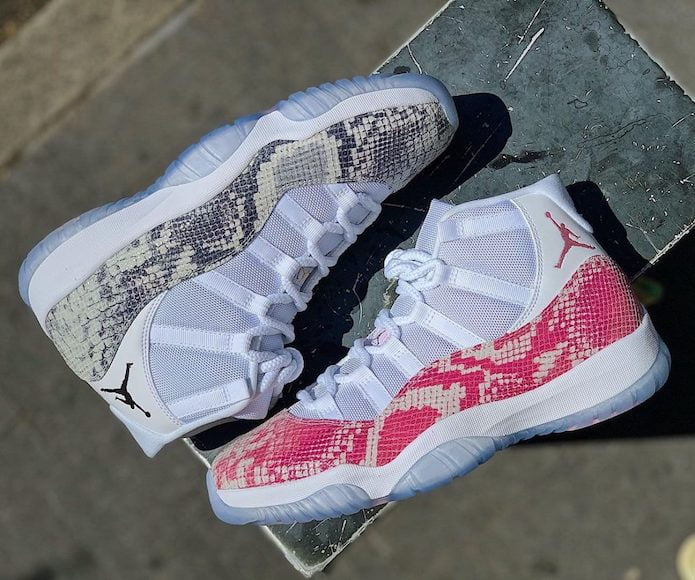 As you have probably seen throughout this post, Drake has had some pretty crazy Air Jordan samples. At the same time he unveiled the "Splatter" Air Jordan 4s and "Calipari" Air Jordan 8s, Drake also showcased a pair of wild Air Jordan 11 samples. Since then, sneakerheads have been patiently waiting to see whether or not these ever release, but it's not looking too likely. Thankfully, we do have detailed images of them though.
Using a white mesh base, the two OVO Air Jordan 11 samples featured faux snakeskin leather. Coming in two eye-catching colours, pink and white, the sneakers feature a white midsole and a translucent outsole. Contrasting Jumpman can be seen on the ankle, with very minimal OVO branding featured on the insole. Whilst these may not be the rarest Air Jordan 11 samples, they are by no means cheap. A set is currently available for a cool $25,000 online if you've got the cash.
fragment design x Air Jordan III (2019)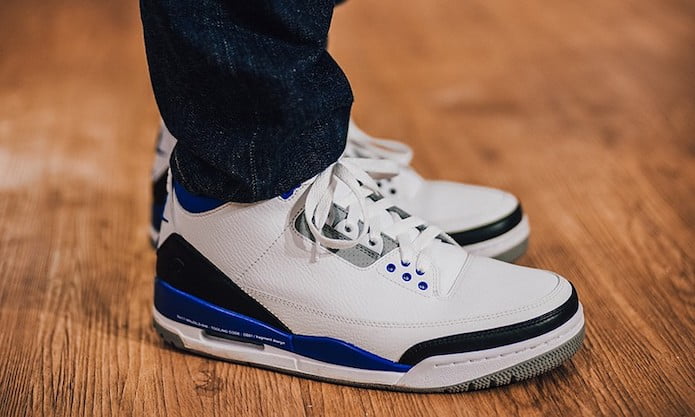 As one of streetwear's leading figures, Hiroshi Fujiwara has been given a number of exclusive sneakers. Following on from the enormous success of the fragment Jordan 1, things went quiet for Fujiwara's Jordan collabs. The fragment design founder and creative lead unveiled a never before seen Air Jordan 3 sample last year, much to the delight of sneakerheads.
It seems that the Air Jordan 3 is a favourite model of Fujiwara. This simple update on the classic sneaker makes for a very sleek Air Jordan 3 sample. A white leather base is accented by black and blue detailing throughout. The debossed fragment lightning bold can be seen on the heel, with fragment branding sitting on the midsole. Only a few pairs have been seen since, with Kim Jones, Creative Director of Dior Homme, being given a pair.
Final Thoughts
So there you go guys, that finishes off this piece on 10 Jordan samples that we wish released. Although there was a lot of collaborations and a few designers featured, we couldn't ignore the hype of these Air Jordans. If you've got a favourite sample that you think should release, then let us know. Of course, if you're looking for some new Jordans, then head over to the KLEKT store now!