There are some people in the Air Max community that live and breathe all things air. In an industry filled with hypebeasts, it is sometimes refreshing to find a collector whose sole purpose is to one style: Nike Air Max. Over the past few days, we've been talking to a number of Air Max heads from all over Europe. It's been clear to see how the Nike Air Max has impacted these people in so many ways and is a testament to the impact that Air Max really has.
For the third instalment of our Air Max Day 2021 interview series, we're sitting down with @swoosh_fever. As a self-confessed Nike Air Max addict, Yannik has been collecting heavily over the last few years. His passion for Air Max has also allowed him to meet some great members in the community, further continuing his love for all things Air Max. Below, you'll be able to find out some of his favourite pairs, his all-time grail and what Air Max means to him.
Can you please introduce yourself?
Hey guys, my name is Yannik, I'm 26 years old with a huge addiction to everything with visible Air and the Swoosh on it, from northern Germany.
How long have you been collecting sneakers?
I only started collecting really heavily about six years ago. Back then, I was also into Asics but then I realised that only visible Air really makes me happy.
How did you start collecting sneakers?
Like many other sneaker enthusiasts my age, I found sneaker culture through skateboarding. I only bought a new pair of shoes after I destroyed the ones I was wearing at the time but then I saw more and more other cool skate shoes. Back then I couldn't afford all those shoes but as I started my first job, I finally had the money to buy my first sneakers.
Are there any other collectors out there who you admire?
There are too many good accounts to name everyone but I can say you can't beat Iceberg.
When were you first introduced to Air Max?
I think I was first introduced to Air Max through old music videos of German rappers and the Gabber/Hardcore scene where an Air Max was always a part of your outfit.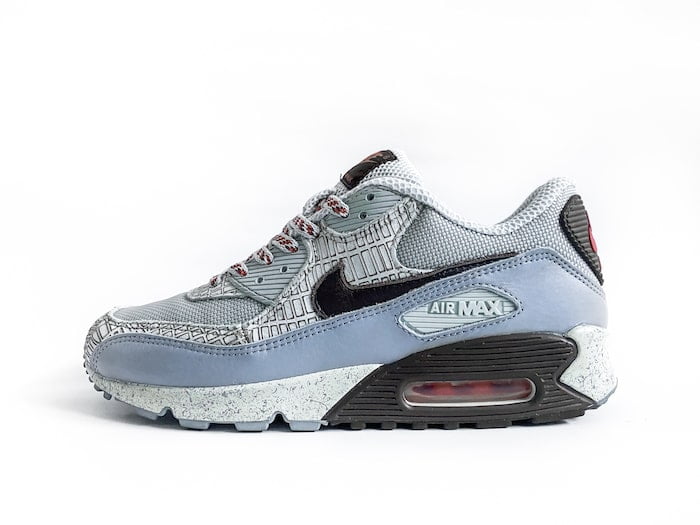 What was the first Air Max you remember wanting/owning?
I still remember seeing a pair of the Nike Air Max 1 Denim "Wash Pack" from 2004 on KLEKT in 2014 for just €75 but I wasn't getting paid until the next day. I saved it but the pair was sold that very same evening. I am still looking for that same pair! From that day on, I knew I always wanted this Air Max 1 and, indeed, many more Air Max.
How important is the Air Max to you?
Very important! Every time I get a new pair of Air Max I'm just happy. Also through Air Max, I have met so many nice people from around the globe; especially my seven friends and co-members of our Air Collective EU.
Which is your favourite Air Max silhouette?
My favourite silhouette is, and always will be, the Air Max 90. It is the silhouette I have the most pairs of in my collection. Many people prefer the Air Max 1, but the 90 looks more aggressive and always fits perfectly with track pants, cargo pants or nice denim jeans. I wear my Air Max 90 "Infrared" two times a week because it doesn't matter how the weather is: it's a colourway you can always wear!
What are your top three Air Max shoes?
My favourite Air Max shoes are the Air Max 90 WMNS "Navigation" from 2004, Air Max 1 "Shima Shima 1" from 2003 and the Air Max Classic BW "Persian Violet" from 2003. The women's Navigation Air Max 90 and, the Navigation Pack as a whole, represent the hunt for sneakers back then for me the best.
The Air Max 1 "Shima Shima 1" is the best colourway, next to the OG colourways, ever produced in my opinion. Just the combination of navy, white, grey and small red details makes it so perfect for me. I've had the shoe two times in my life and destroyed both so I have to find a new pair now for the third time! Finally, as a long time listener of Gabber/Hardcore the addiction to the BW is not far away.
What is your oldest pair?
My oldest pair is my Air Max 2 Light from 1994. Due to the fact that I was born in 1994, it was always a dream for me to own a pair of Air Max which was released in the same year. Most people would now choose a pair of Air Max 94s but I prefer the Air Max 2 Light. The overall design is so unique and when the retro returned in 2019 I was pretty hyped. But sadly, compared to the OG, the retro was well made but with a too boxy toe box shape so I tracked down an original pair. They are still unworn since they left the factory in 1994!
Do you have an Air Max grail?
A grail is what you have to hunt for years! My grail pair is an Air Max III "Radiant Red" from 1990 in the best condition you could find today. Many people would say they are pretty expensive for an unwearable pair but for me, it's a huge part of the Air Max history. To find and track down an OG pair, for me, makes it the perfect Air Max grail.
What's been the hardest pair for you to find?
As a huge fan of the Navigation pack by Jeff Staple and Staple Design, it was always my main target to find all the Air Max 90s, Air Bursts and Shox. Each silhouette has a men's and a women's colourway so to find the women colourways in your men size is always the hardest part. I searched for many years for the women's Air Burst and found them finally five weeks ago for just €30 including shipping.
As they arrived, they were not in the best condition and without a box. But like every time I finally find a pair I've been looking for for years, another pair will pop up. Two weeks later I got a message from a good friend in France so say that he found another pair in my men's size, in near deadstock condition and with a box in a shop near to him. I didn't even think about it and asked him to pick them up and ship them over. So now I own one to stock and one to get sole swapped!
If you could bring back one pair of Air Max, which one would it be?
If I could bring back one pair it would be the Air Max TL from 1998 in the "White/Grey/Cone" colourway and all other colourways they released back then. The silhouette never got a retro till now. In my opinion, I don't think they will ever retro the silhouette because it is not well known and not so popular, but never say never! Nike is also bringing back the Air Max 96 II with smaller bubbles but the original sole so you never know.
Lastly, what does Air Max mean to you?
To always look fresh.
Make sure you follow Yannik on Instagram!