It's clear that Nike Air Max is a lifestyle. Sneakerheads both old and new understand and recognise the importance of the innovative line, with it becoming a key part of people's lives. Over the past few days, we've spoken to a number of collectors for whom Air Max are far more than just a pair of shoes on their feet. We've heard countless stories of air, missed pairs and grails. Today, we'll be talking to another of those serious Air Max collectors and one of Nike's own Masters of Air: @shoenica.
After being introduced to the sneaker world in 2016 as a Master of Air, Chanica kickstarted her journey to the very top of the Air Max community. As one of only three women chosen across the globe to represent Air Max, Chanica is without a doubt one of the biggest Air Max collectors in Europe. Her love of the Air Max 1 is well-documented and with dozens of colourways of the OG silhouette, it's still thriving. Now, we'll be speaking to the women behind the collection and getting to know all about her love of Air.
Can you please introduce yourself?
Hi, my name is Chanica but I am sometimes known as @shoenica. I'm 30 years old and living in Amsterdam, Netherlands. I'm an Air Max collector and also own a sneaker consignment shop in Amsterdam City Centre.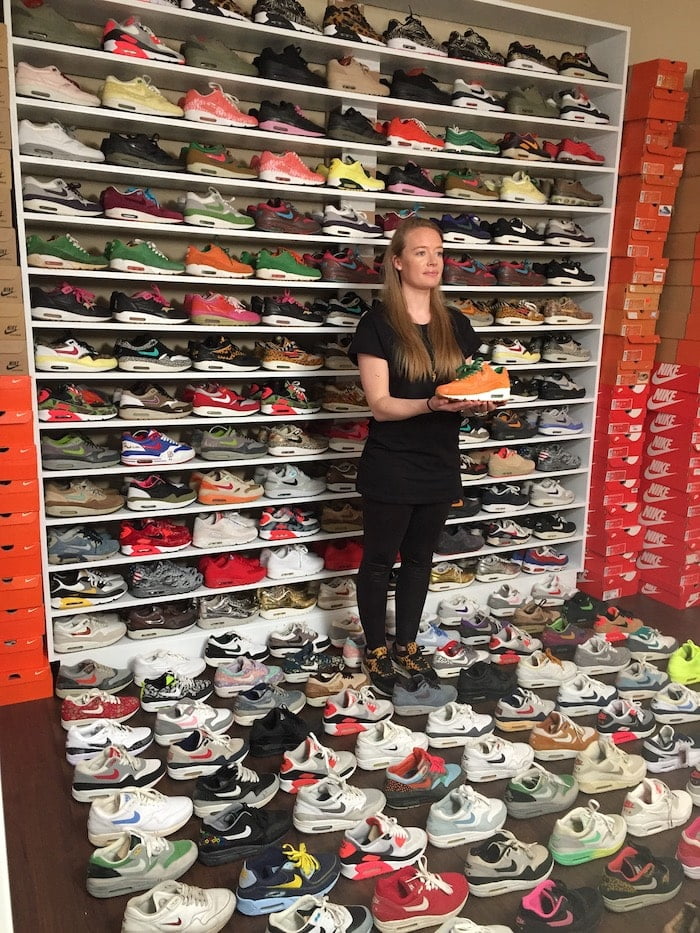 How long have you been collecting sneakers?
I really started collecting sneakers around 15 years ago.
When were you first introduced to Air Max?
My primary school teacher had a pair of OG Red Air Max 1s and I was always fascinated by their visible air units.
What was the first Air Max you remember wanting/owning?
I think some Air Max 1996's or Air Max Sanjaya's. In the '90s my great uncle had a sports shop in Amsterdam so that was like a candy shop to me when I was little.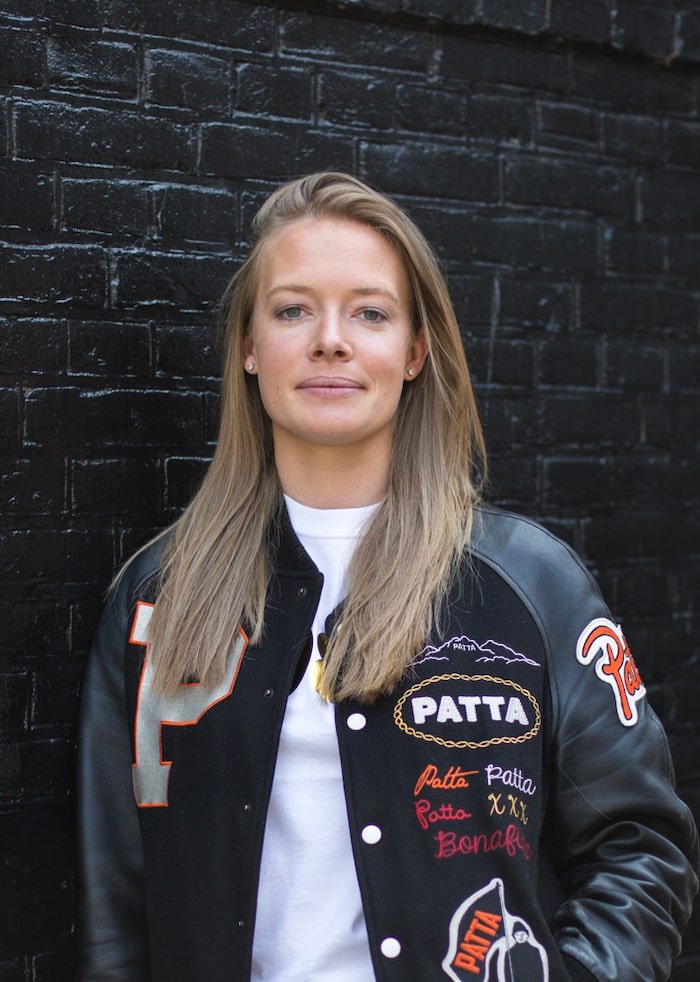 What are your top three Air Max shoes (colourways, collaborations etc)?
Wow, that's a tough question. I think the Air Max 1 "Animals" are definitely in my top three as I love all the different animal prints, especially the pig part which I think is really funny between the other animal prints. I also love the Air Max 90 Infrared" as they are just classics with such a simple but dope colourway. And then number three…this is impossible to pick! There are so many great pairs to choose from. The Air Max 1 "Cherrywood", "Pink Pack", "Greystone", "Shima Shima" and "Dave White" are all great pairs. The Air Max 90 "Dizzee Rascal", "Homegrowns" and Air Max "PersianViolet" are also contenders. I give up, sorry!
Do you feel like women are represented enough in the Air Max community?
Yes, definitely. I think because of social media nowadays every female collector has the possibility to represent themselves in the Air Max community. It's always nice to see other girls in Air Max, showing the same passion for the silhouette.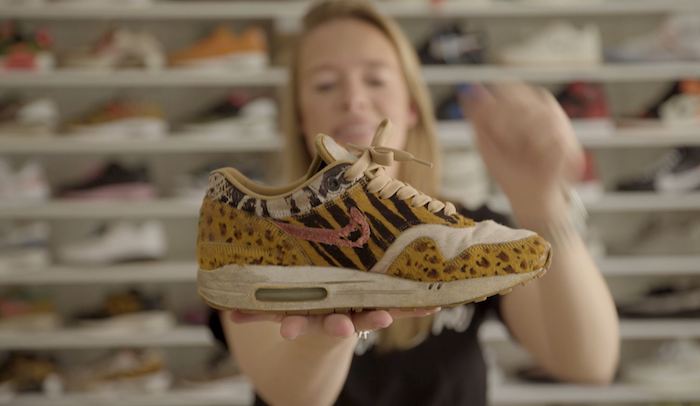 Do you feel like brand's are doing enough to celebrate women in the sneaker community?
Yes, I think so. There were many women's releases over the last few years and you see that big brands also have female brand influencers at this moment. Shops like Maha and Naked are doing a lot to represent women in the sneaker community too. Even though I never felt I was being treated differently than men, I was very enthusiastic about the collab Jordan brand did with Melody Ehsani for example. Instead of picking a very popular Jordan model like an Air Jordan 1, they choose the first women's Air Jordan model.
How did it feel being selected as one of Nike's Masters or Air?
It really was a dream that became reality. As a kid, I was always a huge fan of the brand Nike. All my clothes were from Nike, I always had my Nike socks pulled up high and Nike shoes on my feet that were way too big – even my dog was called Nike! So when they asked me to do a worldwide campaign with them I was blown away.
The whole team behind the scenes were very nice people who understood the meaning of the shoes to us so they wouldn't touch any pair before asking. Even when we went to Portland they took all the time to show us the Campus and let us ask all the questions we had for Tinker Hatfield. Just the whole experience was insane and I'm forever thankful for that.
Do you have an Air Max grail?
1000% the big bubble Air Max 1's from 1986.
What's been the hardest pair for you to find?
The Eminem Air Max 1 took me years to track down as I only knew the username of the owner but didn't know from which platform the username was. I just saw the picture on google back then so that was a nice hunt back in the days. I've also been looking for years for Air Max 1 caves in my size. Not a crazy rare pair but I'm a US 6.5/7 in men and I couldn't find them anywhere. The older collectors might still know goeey_wooey with his rare old Air Max 1's for sale and that's where I got them from in the end. I'm still looking for the Air Max 1 112 Pack in my size too by the way!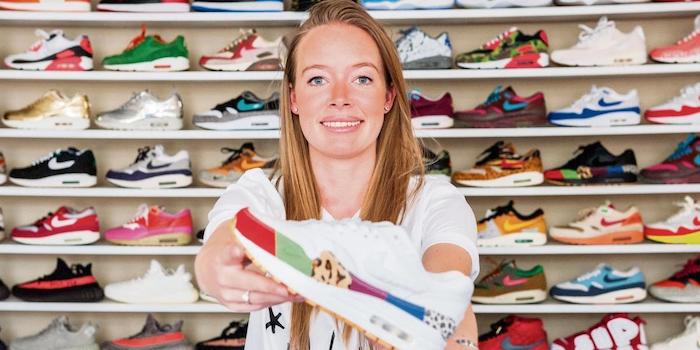 If you could bring back one pair of Air Max (colourway/model etc), which one would it be?
To be honest, I'm not a fan of retro's like they did with the Elephants, CLOTs, Powerwalls, but if I had to choose it would be the Air Max 90 Currents. I love them, they are so comfy!
Lastly, what does Air Max mean to you?
Everything – I can't imagine a life without Air Max!
Make sure you follow Chanica on Instagram!