With Air Max Day around the corner, we're back with another interview series discussing all things Air Max. Following on from last year's Love Is in the Air, we're kickstarting There's Something In the Air. Over the next seven days, we'll be highlighting a different Air Max collector every day to better understand their love of Air Max. Starting this year off we have none other than Ria, aka @ria_rascal on Instagram. Let's just say we've started strong.
Located in Essex, UK, Ria has been collecting trainers for the best part of a decade, amassing a pretty sizeable closet along the way. Despite finding Air Max later in her sneaker journey, Ria has been able to build a collection that almost any sneakerhead would be envious of. From Powerwalls to atmos collabs and Quickstrikes to Tier Zeros, there's not much you won't find in this rascal's rotation. Without further delay, let's find out more about Ria's love of Air Max.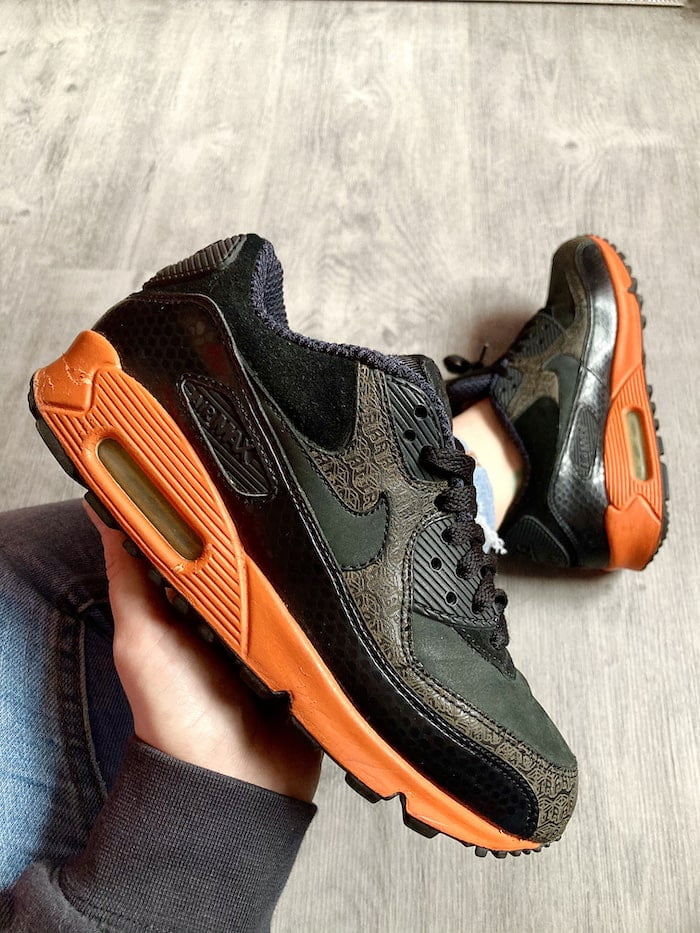 Can you please introduce yourself?
Hi, my name is Ria (or ReeRee), I'm 30 years old and from Essex, UK, but most people will know me as Ria Rascal. Rascal is a childhood nickname that stuck!
How long have you been collecting sneakers?
I've always been into sneakers from a young age, but I think serious collecting and not just wearing a shoe until it was unwearable maybe started when I was 19 or 20. Back then I was more into Nike Dunk Highs, but the Air Max love has always been there. I started collecting Air Max when I was around 21 or 22 years old.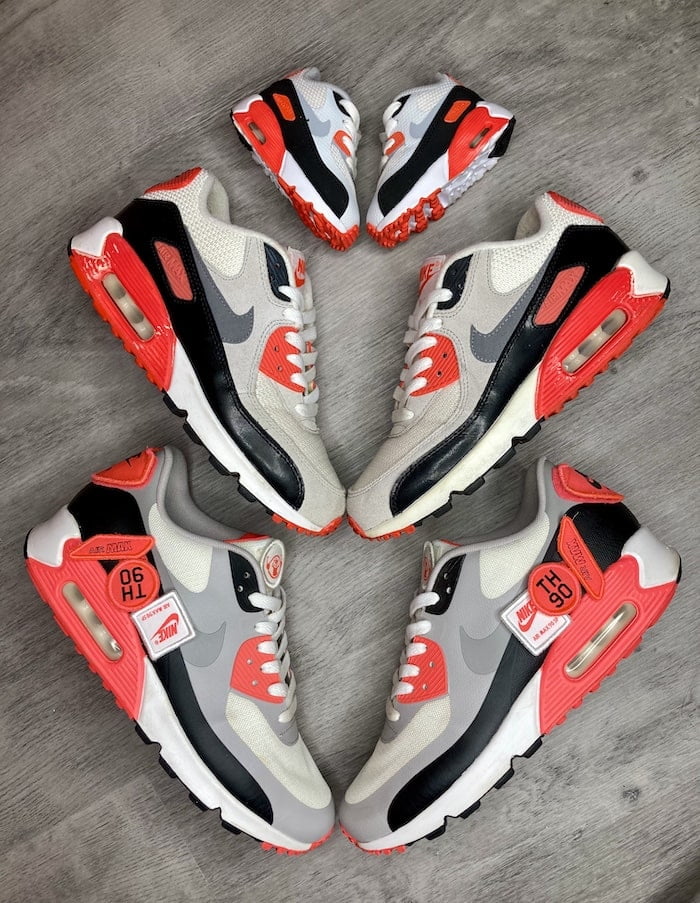 When were you first introduced to Air Max?
It was a Navy Blue and Silver Nike Air Max BW – I wish I still had them! This always sticks in my mind as my first Air Max memory and where it started. I remember saving up to buy them when I was about 15 years old. I think I did have other pairs before that but this is the one that I remember, probably because I bought it myself.
What was the first Air Max you remember wanting/owning?
As I said before with trainers, I started with more Nike Dunks than Air Max, but I think the first pair I was really set on getting was those Navy BWs. I remember I'd seen them in a shop and I'd check every week to make sure they were still on sale, as I was saving my own money to buy them. When I finally had enough to get them, I was so excited. I think they were about £45 at the time!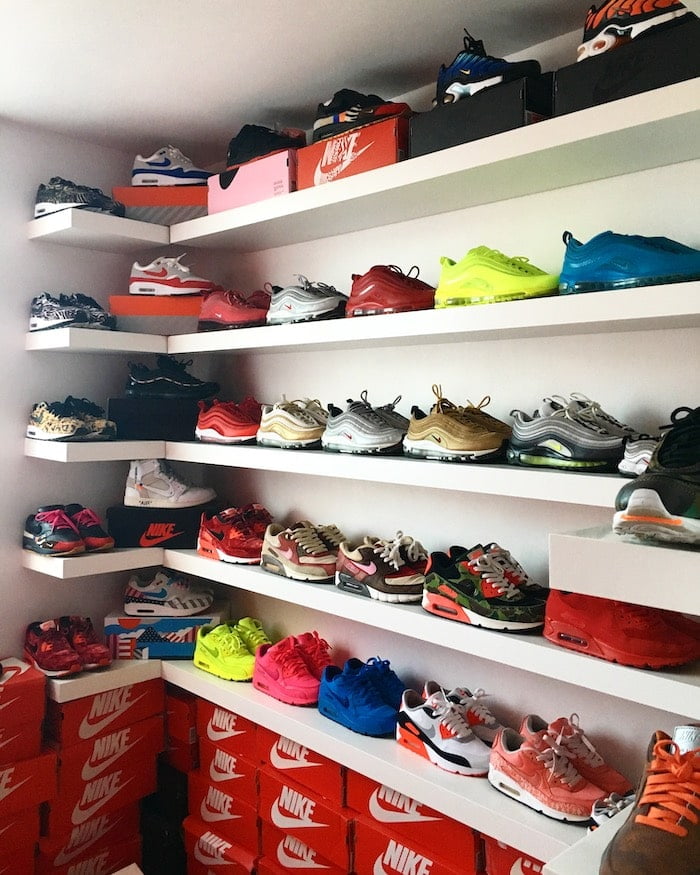 What are your top three Air Max shoes?
Asking a collector to choose their top three is impossible! I have favourite pairs that I own, which hold sentimental value, but like any collector, I also have favourites because of what they are. I think my favourites right now are probably my 2015 "Infrared" Air Max 90s, Swarovski x Nike Air Max 97 "Silver Bullet" and "Persian Violet" BWs. However, I love my two pairs of Powerwall 90s. I'll stop there, that's a top 5 before I get carried away!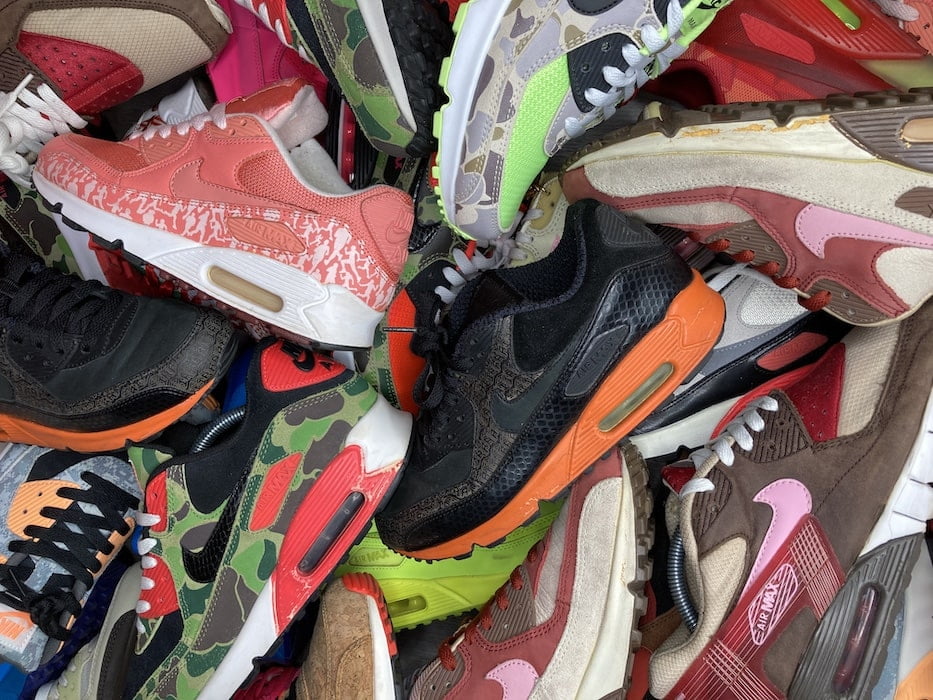 Do you feel like women are represented enough in the Air Max community?
I feel like women are represented, but not enough. The Nike "We Are Cultivator" programme is good at representing females in the community. The most recent one had some amazing women release Air Max designs through this which was great at representing female sneakerheads in the community. There have also been some women's exclusive Air Max silhouettes released over the last year too.
While I think that's great for women, I would just like to see more inclusivity with releases and even full size runs across the releases, there should be no divide. We should all be able to have a chance at getting the pairs we want, regardless of the silhouette or colour.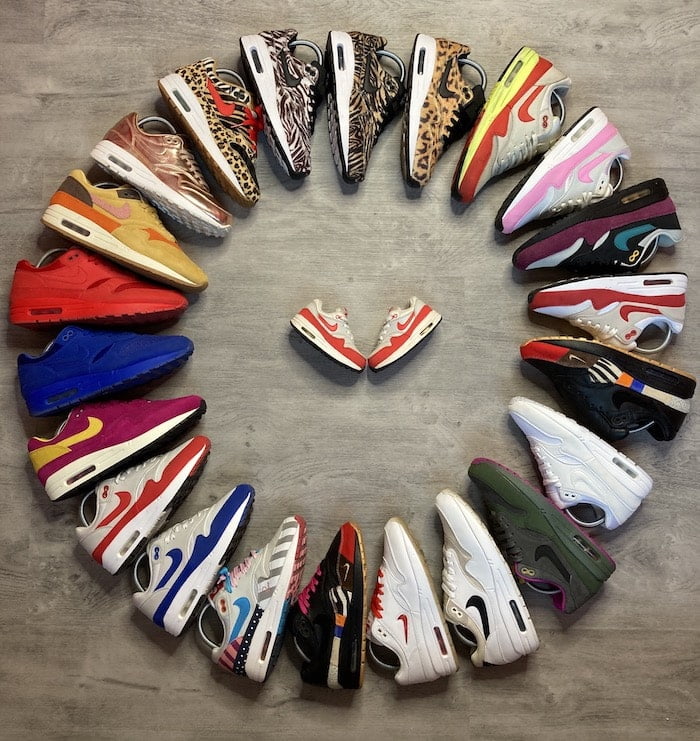 Do you feel like brand's are doing enough to celebrate women in the sneaker community?
I think brands are starting to do more. There are certainly more collaborations with women happening and I think certain brands are trying to show more inclusivity for women, but more still needs to be done. I don't feel like brands are doing enough to be inclusive of females in regards to size runs overall. While some of the newer Air Max retros released have started at smaller sizes, this isn't always the case. More needs to be done. Brands need to include and celebrate women more until there is no divide and we are all fully accepted in this community.
Do you have an Air Max grail?
I have a few, it's an ever-growing list that never seems to end! Most of what I consider my grails were never made in my size, so unless they are reissued, I know I'll never have them in my size. That being said, I buy certain pairs just because I want them in the collection, usually in my partner's size.
A few of the grails I own are the OG atmos x Nike Air Max 90 "Duck Camo", DQM x Air Max 90 "Bacon" and "Orange Blaze" and "Sunblush" Powerwall Air Max 90s. In terms of pairs that I don't have, the Patta x Nike Air Max "Chlorophyll", Patta x Nike Air Max 90 "Homegrown" I could go on forever but I'll stop there!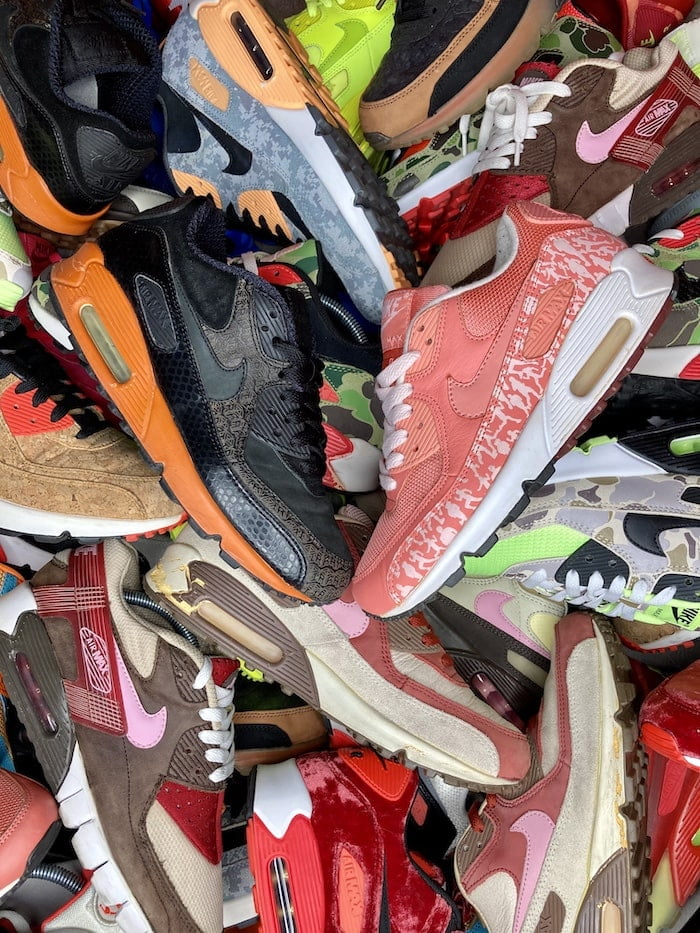 What's been the hardest pair for you to find?
I think finding a pair is easy most of the time unless it's a really old release. I think it's what you're willing to pay for a specific pair which is the hardest part. Finding a pair of Swarovski 97s for a price I was willing to pay was hard and it's the pair I waited for the longest to get so far. Also, the Air Max 1 "Masters" was tough – finding those in a small size is hard!
If you could bring back one pair of Air Max which one would it be?
Nike is doing a pretty good job at the moment at bringing back all of the classics. There have been some amazing retros in recent years. For me, I always said I'd love the DQM Air Max 90 "Bacon" in my size. The OGs were never made in my size, so I am happy they are finally coming back now. Of course, like most Air Max fans, I'd love to see the Powerwall pack return. If Nike did a retro of that whole pack, it would be crazy. I'd also love to own the "Warhawk" in my small size.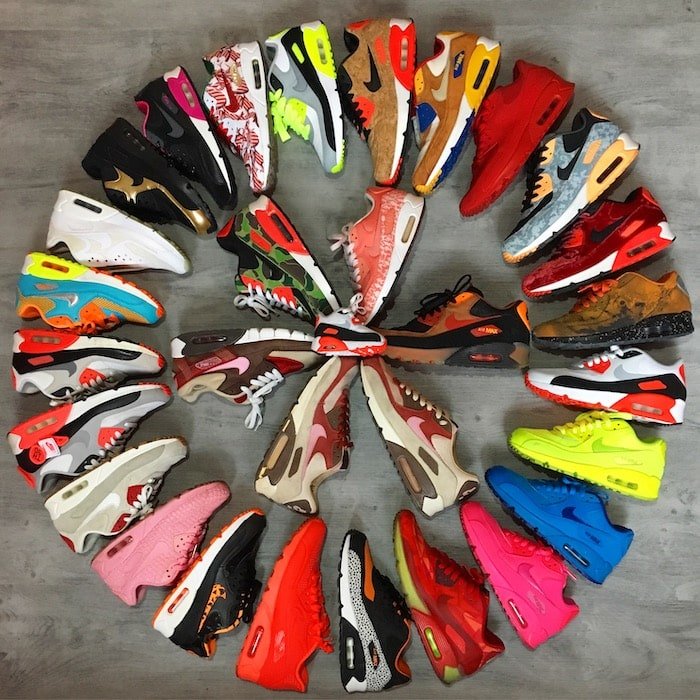 Lastly, what does Air Max mean to you?
I'm probably going to sound a bit obsessive over Air Max now, but it's a huge part of my life. I've spent years growing up wearing and collecting Air Max and it is what people know me for. I got my fiancé into collecting too, so I now share the love for trainers and Air Max with someone else. We decided to set a date for our wedding and the only date that seemed fitting was Air Max Day – everyone has to wear Air Max too! I think most people will think I'm mad for doing that but I don't care. It's a huge passion of mine and I don't think I'll ever lose the love for those visible air units.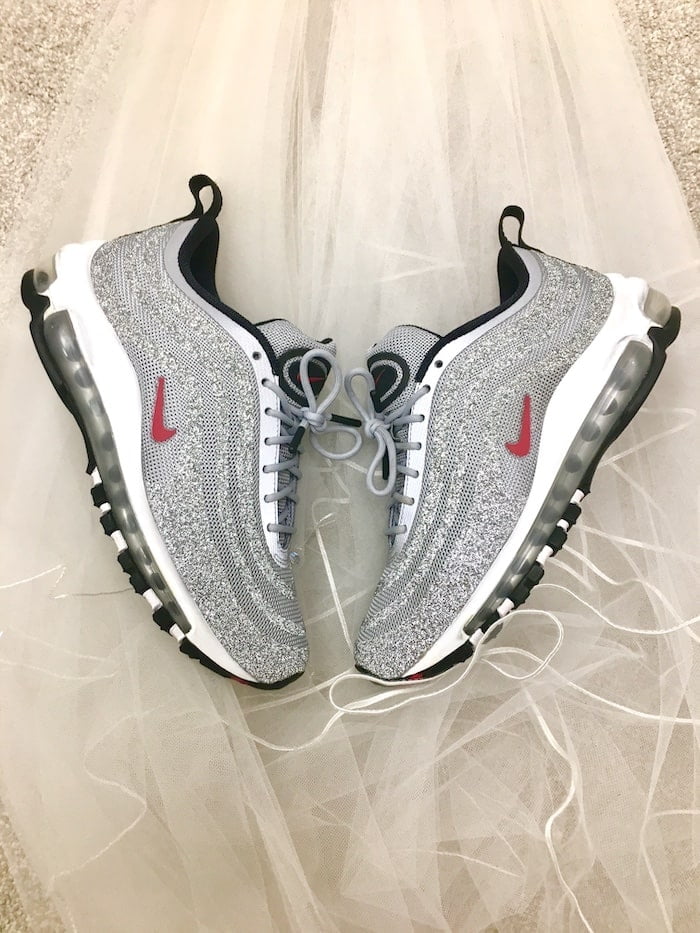 Make sure you follow Ria on Instagram for more Air Max and sneaker content!