When it comes to Dunks, it is always so hard for me to pick only five! Especially as I have such a crush on SB Dunks with the stories and the creativity behind part behind most pairs. – @car.o.lina_mar
This is one of my all-time favourites. This pair takes inspiration from six regional dishes from Chinese cities, combined with a slew of other nods related to Chinese cuisine. First of all, I think the details on this pair are so accurate and well done, they're just insane! I love the depth of research that went into the prints, materials, embroidery and colours, it fully represents its meaning. Mismatched shoes have always been a major crush for me, so I think this pair really suits my personality, with the contrast between delicate and strong elements.
This pair is a Nike collab with the Berlin-based skate shop Civilize. It features a heat-sensitive upper that changes colour as the shoe heats up when worn, resulting in such a uniquely colourful pair! I love the innovation, and once again, the details and concept behind it really got me.
I got this pair for retail, and I literally shouted when I realized I won them it was one of the best Christmas gifts ever! I really hoped to get them, and my dream came true! I love this pair mostly, because of the details and because I love Sean Cliver's art and illustration. The insole of the right foot showcases elves assembling gifts, and the left sports a simple snowy print. My favourite detail has to be the snowflake on the toe box.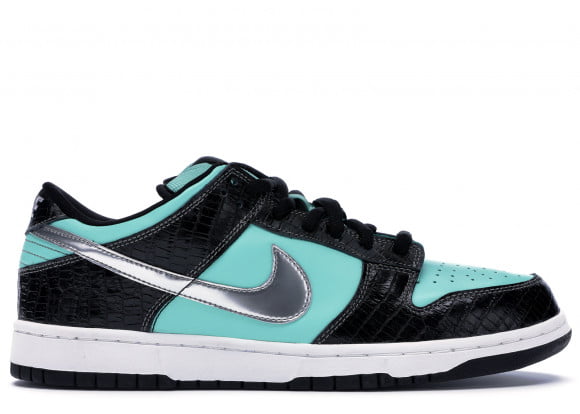 Nike Dunk SB Low Diamond Supply Co. Aqua Blue
Definitely, a GRAIL pair that I would probably never get to have in my collection. This collab between Nike and Diamond Supply marked a high point in the sneaker game. This pair became super coveted when Tershay posted a picture of the shoes on MySpace, causing campouts and people needing them so bad. I wish I hadn't been so young at that time and could have lived the moments and enjoyed the experience.
The Dunk Low 'What The Paul' again showcases a mismatched scheme (I just can't get enough), incorporating details from some of the skateboarder's past Nike collaborations. Once again, every single detail is amazing! What I love the most about this pair is definitely its craziness and eccentricity, gives me "wild spirit" vibes!