It's that time of the week again when we take a seat and catch up with another one of our team KLEKT members! For this week's 5Q's and 5A's its, @medlenno_bystro. As one of our newest recruits, Tanya has only been collecting sneakers for about 2 years but don't let that fool you! This girl really knows her stuff!
Today we will find out a little more about Tanya. Who and what inspired her to get into the industry and her all-time favourite silhouettes. Why not head over to Tanya's Instagram page (after reading this of course) and take a look at the special promo running this weekend. Whilst you're there, why not give her a follow? Without any further delay, let get into this week's 5Q's and 5A's with @medlenno_bystro
Hi Tanya, it's great to have you here. Can you please tell us a little bit about yourself?
Hello from Russia, St. Petersburg to be exact!
My name is Tanya, I am 28 years old, and I earn money to fund my sneaker collection as a senior manager at a beauty salon. 
I can't boast and say that I have been collecting for 10 years, I actually only started collecting recently. I started around 2 years ago, so I still have a long way to go with growing my sneaker collection. More often than not I buy all the sneakers myself at retail or enter the many raffles available out there!
What are some of your favourite women's releases and what are some of your influences in sneakers?
For me, it has to be the Nike Dunk Low Lemon Drop. They are the perfect summer sneaker pairing a super nice colourway and a premium construction. A good staple pair for any collection. 
My friends have influenced me the most, watching them get into sneakers and sneaker culture alongside the recent burst of popularity across social media really inspired me. 
Are there any other women in the sneaker community you follow?
On instagram I follow @blvckd0pe, @wideawakearthquake. I absolutely love their style!
What is on your feet right now? 
Right now, I have the Nike SB Dunk Low "What The Paul" on my feet! 
A slightly more expensive pair, but I am so glad I got the opportunity to buy them on Nike! (lucky)

What your Grail and why?
This is such a difficult question… Being so new to the industry, there are so many sneakers out there that I don't have yet! My absolute grail is the Air Jordan 1 Retro High Off-White Chicago. A truly classic sneaker made in collaboration with Virgil Abloh, given the OFF-WHITE treatment. But you've seen the price for size 7! 

And the second pair is the slightly more affordable Nike SB Dunk Low Ben & Jerry's Chunky Dunky. Such a playful and bright sneaker, every time I look at them life immediately gets better!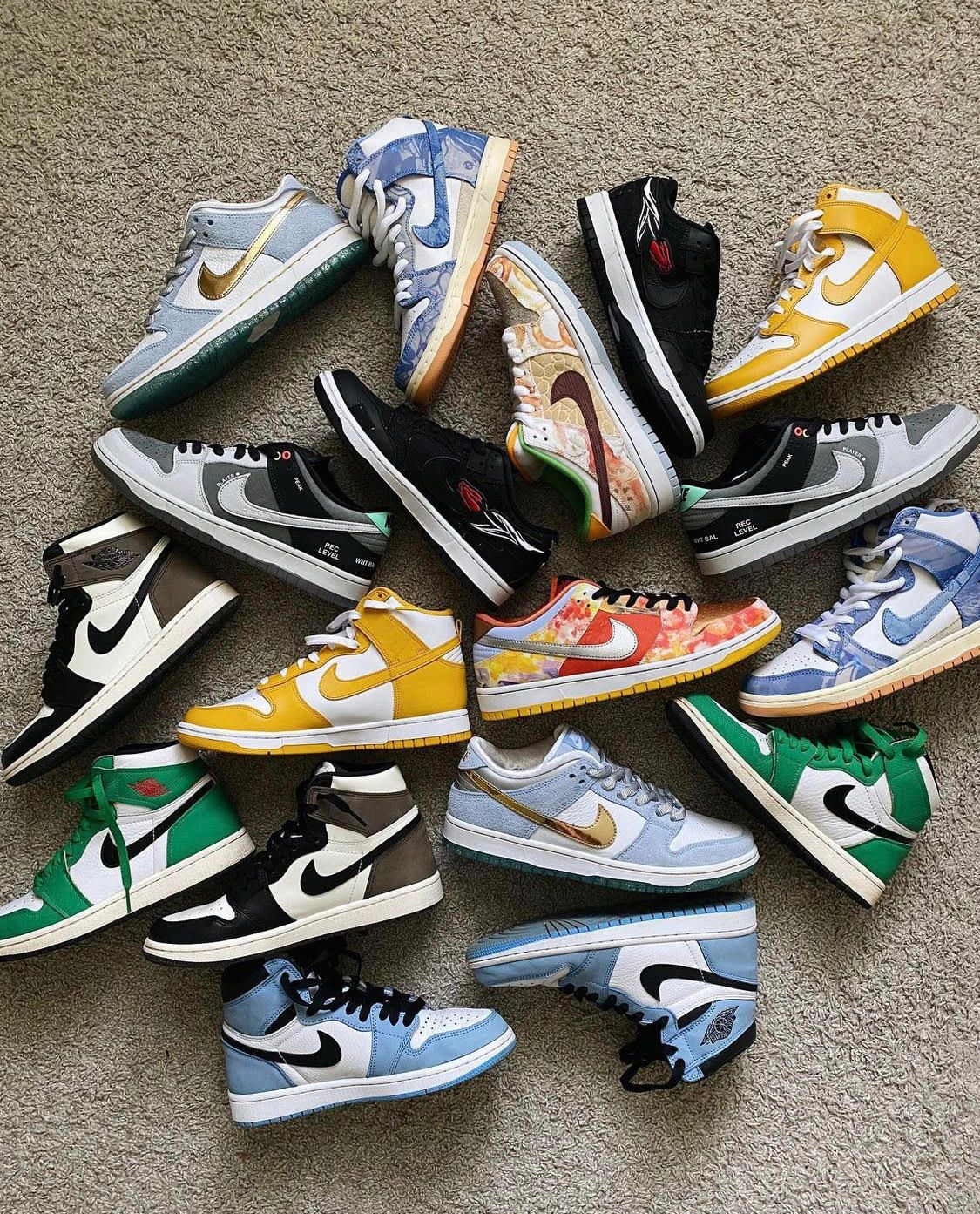 Can you tell us the Top 5 Sneakers in your collection!
Nike SB Dunk Low Pro "Street Hawker"
Air Jordan 1 Retro High White University Blue
Air Jordan 1 Retro High Dark Mocha
Nike SB Dunk Low x Sean Cliver
Nike x sacai Vaporwaffle Sesame Blue