Yoon Ahn's rise to the very top of the fashion industry is something that is truly astounding. The Korean-born, American raised designer went from making rings for her friends in Tokyo to working as the head of Dior Homme's jewellery under Kim Jones. In a relatively short space of time, Yoon has now become a well-known figure in the fashion industry. Her list of close friends includes the likes of Skepta, A$AP Rocky, Naomi Campbell, Bella Hadid and Kanye West.
If you don't know about Yoon's story, then you really need to educate yourself. Thankfully, we'll be taking a closer look at it just for you. From humble beginnings as a graphic design student in Boston to eventually owning her own label with her husband, Verbal, it's truly an amazing journey that she's been on. Today, we'll be showing you a little bit about Yoon Ahn, her work in the sneaker world and just why she is one of the most important designers in the fashion industry.
Without further delay, let's take a closer look at Yoon Ahn's story.
Origins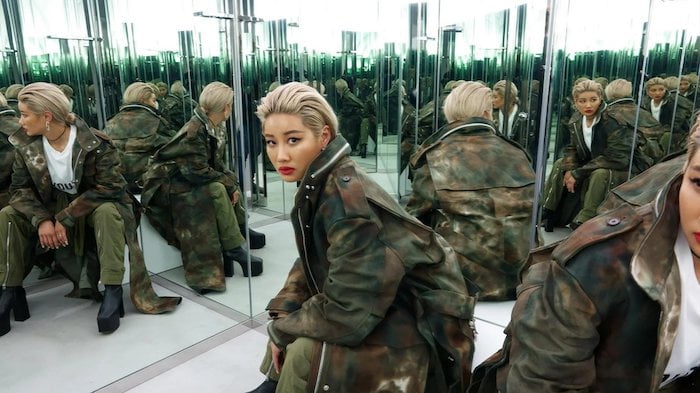 Born in Korea in 1976, Yoon Ahn moved around a lot as a kid. Her father was in the military meaning that by the time she was a teenager, she had moved from Korea, to California and Hawaii before finally settling in Seattle. It was in Seattle that she really began expressing herself through fashion. Growing up during the celebrated era of grunge, Yoon has fond memories of her time there. "You'd see Nirvana all the time downtown," she explained in an interview.
Whilst she may have fully immersed herself in the grunge culture of Seattle, Yoon still felt like an outsider. Despite being a fully-fledged US citizen, she described herself as feeling like an "alien". However, she continued to dive deeper into fashion, particularly in the various unique subcultures that come with it. Looking back on the 1970s eras of punk and reggae, Yoon became particularly interested in the clothing that each subculture wore and identified itself with.
By the time she was 18, Yoon had decided to undertake a graphic design degree at Boston University. It was here that she met her future, rap loving husband Verbal. The two began dating and after their time at university had finished, Verbal suggested to Yoon that she move back with him to Tokyo. At 21, it didn't take much convincing for her to go, jumping at the chance to live in Japan. It's here that the story of Ambush begins.
Peacocking in Tokyo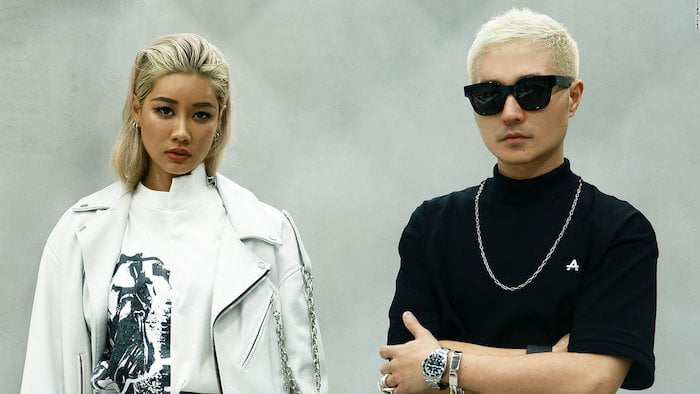 After arriving in Tokyo with Verbal, it didn't take Yoon Ahn long to become fully immersed in the city's thriving nightlife. In the late 1990s, Tokyo was a melting pot of streetwear and club culture. "The club scene in Tokyo at the time was off the chain" Yoon revealed in an interview. However, before the days of social media, it was the clubs, queues and corners where style was really expressed.
"Everyone was peacocking" Yoon stated. "If you wanted to see what a scene was like, you had to go to the clubs." Not one to miss out on the action, Yoon began making customisations of her own. "My hair was a different colour every few weeks, I was customising clothes with studs, making jewellery from found objects. Mixing things up." This was the start of Ambush.
Ambushing the World
By the time the late 2000s came around, Ahn's husband Verbal was well and truly underway in his rap career. Now one of Japan's biggest rappers, he became frustrated that there were no chains he wanted to spend vast sums of money on. Born out of the want for something new, Yoon and Verbal began experimenting on their own range of jewellery. With no formal training between either of them, it was often a case of trial and error. "We just wanted to prove we could do shit no one else was doing" she told ES Magazine.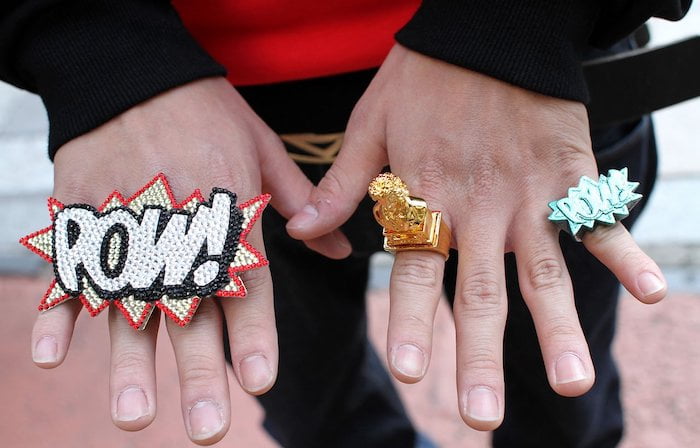 Named Ambush after the desire to surprise people, the pieces created by Yoon and Verbal were experimental to say the least. Fifteen-centimetre wide Cuban chains, bronze baseball caps and outrageous ring designs began to circulate throughout Japanese pop culture. With Verbal's career now taking off, his jewellery started gracing the covers of magazines, billboards and advertisements. After signing with Def Jam records, things really started taking off.
One of the most distinctive pieces created by Ambush was the "POW!" ring, inspired by pop-artist Roy Lichtenstein. "We really just made them for friends" Yoon explained. With Verbal now becoming friends with the likes of Big Sean and Pharrell, it wasn't long before some of hip-hop's biggest names started asking for custom items. Leading Ambush to become one of the most exciting brands in jewellery. Pretty soon, everyone from Skepta to Kanye West was after a bespoke Ambush piece.
Around 2008, Yoon was introduced to Virgil Abloh and Kim Jones, two of today's most important fashion designers. As a fan of her work, Jones explained that he would love to work with Yoon on something one day. Upon his announcement as the creative director of Dior Homme in 2018, now was the time "Kim talked about us working together since his Louis Vuitton days, but honestly, I never thought I could come into an old couture house and make things, because I came out of nowhere" Yoon explained to ES Magazine. Given the quality of the recent Dior Home jewellery, it's safe to say that she was the right choice.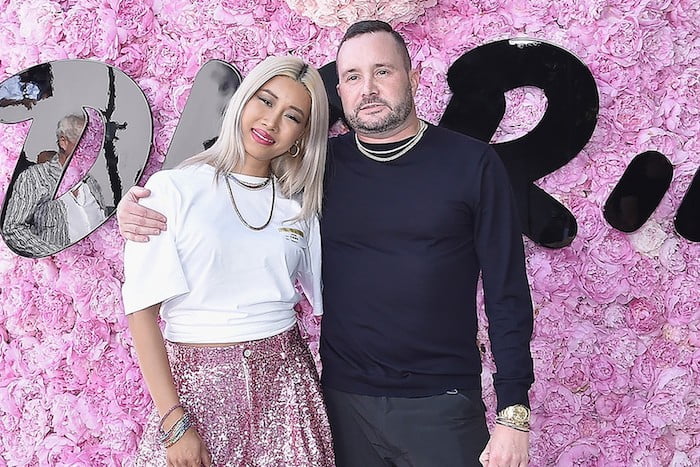 Ambush Meet Nike
In 2019, Yoon was given the opportunity to work with Nike for the first time. Her goal was to fuse two iconic silhouettes together; the Nike Air Max 180 and Nike Air Zoom Flight. The futuristic design was something that the sneaker world had not seen before. Taking one of Tinker Hatfield's classic Air Max models and applying a slick zipped upper was always going to be a challenge. Thankfully, Yoon managed to do just that.
Although the Ambush x Nike Air Max 180 Hi may not have been everyone's favourite, it put her on the map in the sneaker community. Already one of the most influential designers on the planet, Yoon pushed the boundaries of Nike's archives. Capsule collections, Converse collars and entire clothing lines have ensured that the fashion industry knows that this is not a fledgeling partnership between Ambush x Nike.
Fortunately, Yoon had a follow-up success with the recent Ambush x Nike Dunk High collaboration. Selling out almost instantly worldwide, the collaboration was well received in the sneaker community. More importantly, it marked what Ambush x Nike could really be. With 2021 well and truly underway, there is continued hype for Ambush x Nike. As we move forward, things are only going to go one way: up.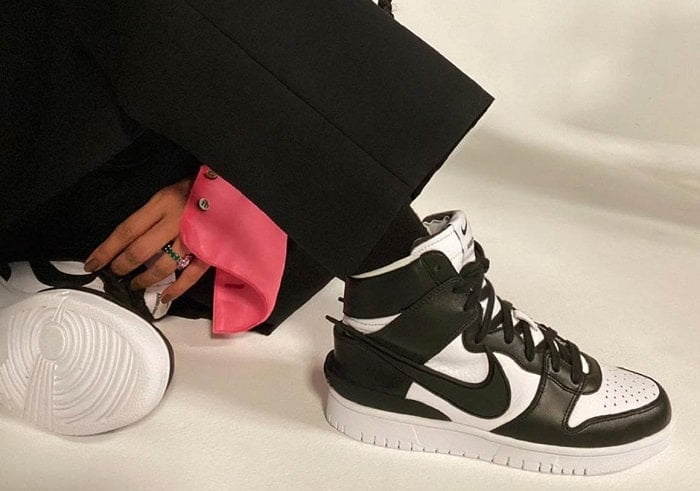 Final Thoughts
There is no denying the huge level of influence that Yoon Ahn has in the world of menswear. For over 15 years, the designer has created jewellery for some of the biggest names on the planet. More importantly, her life ethos is what has sustained her throughout this period. Using a previous quote, she sums it up perfectly. "We just wanted to prove we could do shit no one else was doing" a perfect way to live. Trying and failing is what has gotten Yoon Ahn to this point, working with some of the biggest fashion designers and brands on the planet. We can't wait to see what else is to come.