There are few athletes on this planet that can even come close to Serena Williams. For almost three decades, Serena Williams has been a constant presence in both tennis and popular culture. Undoubtedly one of the greatest women's tennis players of all time, Williams has won 73 titles throughout her career. Not only that, she has single handedly inspired an entire generation of people to take up the sport. If you're looking for a role model for a legacy, Williams is it. 
Whilst we could write an entire post on Serena Williams legacy in the world of tennis, today we're focusing on her legacy in sneakers. As you'll no doubt have seen over the past few years, Williams has been rocking a number of exclusive Nike sneakers. From on-court PEs to post-victory packs, Williams sneakers have gained the attention of the entire footwear community. 
Today, we'll be taking a closer look at what has made Serena Williams one of the most important women in sneakers.
A Wild Cat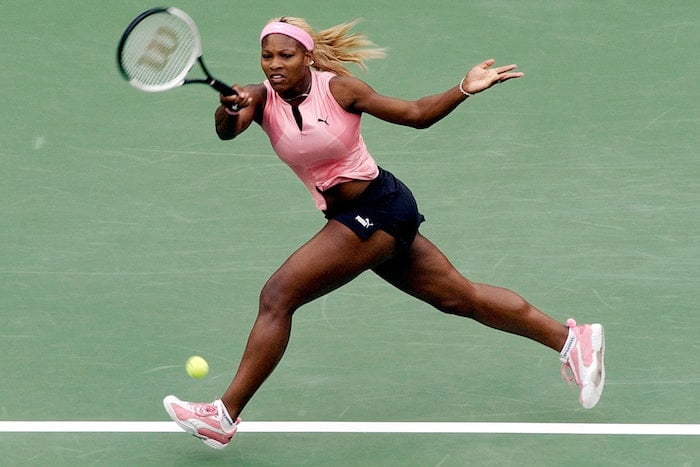 Although Serena Williams Nike sneakers may be something we are all familiar with now, it wasn't always this way. Just three years into her professional career, Williams signed a $12 million endorsement deal with Puma. For Puma, it was a big risk. She may have been making a name for herself at such a young age, but considering Williams had not yet cracked the Top 100 or won a WTA title, it was a lot of money to invest in a teenager. Of course, Williams didn't fail to deliver.
By the time the 1999 US Open started, Williams was just 17 years old. She would go on to win the title and sport a simple yellow and white Puma dress. Recognising the opportunity to say more on the court, Williams worked with Puma to make her dresses more eye-catching. After she turned 18, Williams began experimenting with her dresses on the court, creating some pretty formidable looks. 
At 21, Williams had begun wearing dresses that wouldn't look out of place on the catwalk, let alone the WTA Tour. Her big fashion moment on the court came at the 2002 US Open, wearing the iconic catsuit. To this day, the outrageousness of the catsuit is something that is still spoken about in tennis. In her book, On the Line, Williams explained that: 
"What most people didn't realize was it was so comfortable! Of course, that catsuit was so hot I would have worn it even if it was the most uncomfortable thing in the world, but it was designed with performance in mind."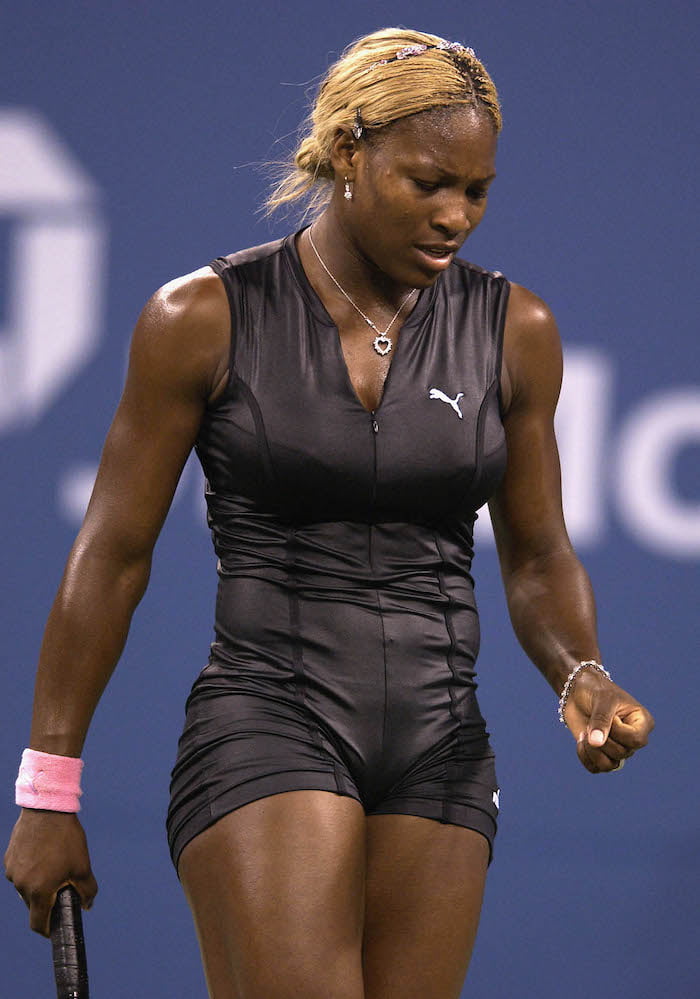 Like anything in life, all good things must come to an end. In 2003, Serena Williams' contract with Puma was over. It didn't take long for the then 21-year old player to sign a five-year endorsement deal with Nike, netting her a cool $55 million. It was with Nike, however, that Williams sneakers would go up a notch.
Joining Team Swoosh
Almost immediately after signing with Nike, Williams was able to start wearing her beloved Air Jordan 1s again. Many sneakerheads noticed that she would always be sporting a pair of "Bred" 1s at press conferences, events and pre-match events. It was here that the sneaker community really got to see who the real Serena Williams was. Behind the uniform was a regular 21-year old wanting to wear her favourite kicks.
In her own words; "I remember that memory—signing with Nike. It's always been a dream of mine to be an athlete for Nike, to innovate Nike, to bring greatness to Nike and to bring me to Nike." According to Serena Williams, that particular pair of Air Jordan 1s "has a ton of sentimental value." When she signed with Nike, Williams didn't waste the chance to get her hands on a pair of Breds. "That pair of Air Jordan 1s has been there a lot. It pretty much goes on every trip. I love the shoe. It's definitely had a thousand lives, but it's still kicking. It's one of the first pairs I actually asked Nike to send to me."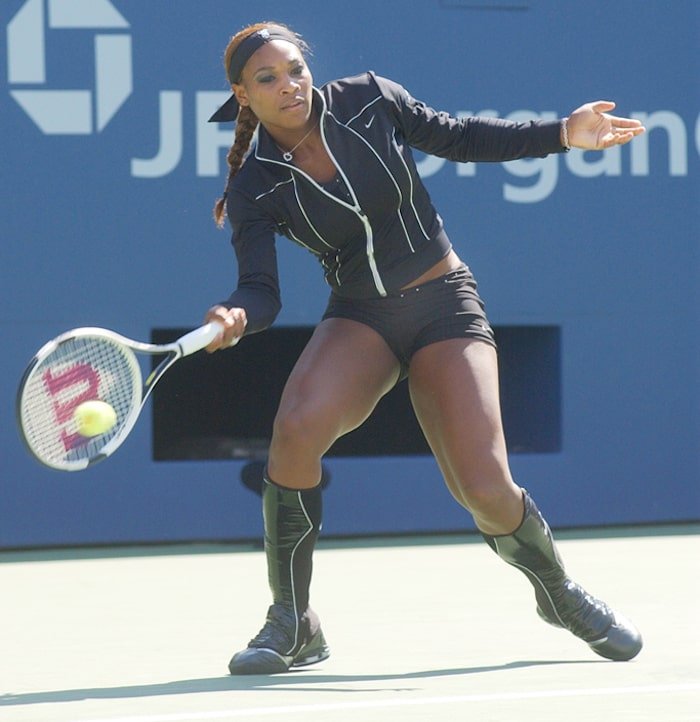 In 2017, Jordan Brand recognised the importance of Serena Williams winning her 23rd Grand Slam title with a special pack. A custom box featured the Jumpman and Williams emblem on the front and housed three PEs, all inspired by the Air Jordan 1. The star of the pack was undoubtedly the black and pink Air Jordan 1, complete with a "W" on the tongue tag and a large "23" on the heel.
Over the past 17 years, Serena Williams managed to launch her own signature line with Nike, something very few athletes ever get the opportunity to do. With this, she joins a select group of sports figures that have had this chance. Much like any other athlete, Williams has been heavily involved in the development of her own product line. Whilst her sneakers and apparel have, of course, always been eye-catching, it wasn't until 2018 that things began to get really exciting.
When Serena Met Virgil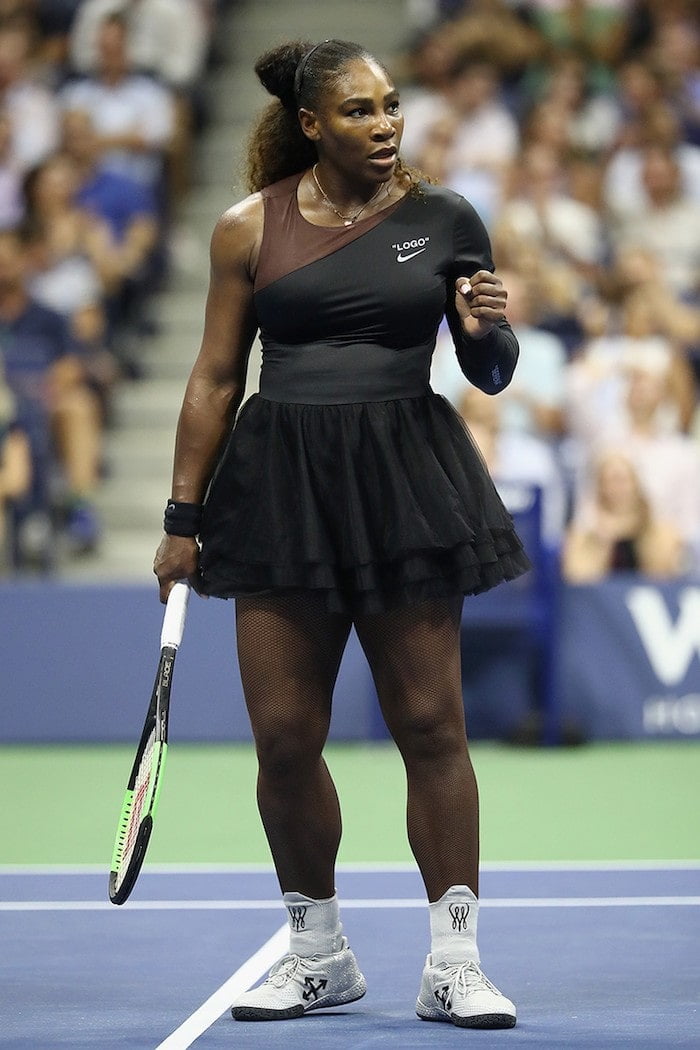 In 2018, Virgil Abloh met with the NikeCourt design team to create a custom dress for Serena Williams at the US Open. Drawing on her love of ballet, Abloh designed a dress that summed up Williams' game. What I love about tennis is the gracefulness. It's an aggressive and powerful game, but it takes touch and finesse," says Abloh. "So the dress is feminine, but combines her aggression. It's partially revealing. It's asymmetrical. It has a sort of ballerina-esque silhouette to symbolize her grace. It's not about bells and whistles and tricks. It's just about it living on the body, and expressing Serena's spirit with each swing of the racket."
Although the dress was a standout moment, it was the sneakers that went along with it. A custom NikeCourt Flare 2 PE was designed for Serena Williams, with Virgil Abloh applying his signature aesthetic to the athletic sneaker. The Off-White arrows featured on the midsole and "SERENA" on the midsole was a PE feature that any sneakerhead would be jealous of, but it was the lifestyle options that really had the sneaker community talking.
An Off-White x Nike Air Max 97 and Nike Blazer Mid collaboration were designed for Serena Williams. Taking his already iconic sneaker collaborations, Virgil Abloh updated the two sneakers with a muted grey upper and contrasting purple, pink and volt green accents used throughout. When the two shoes released, they quickly became two of the most sought after pairs in the footwear industry.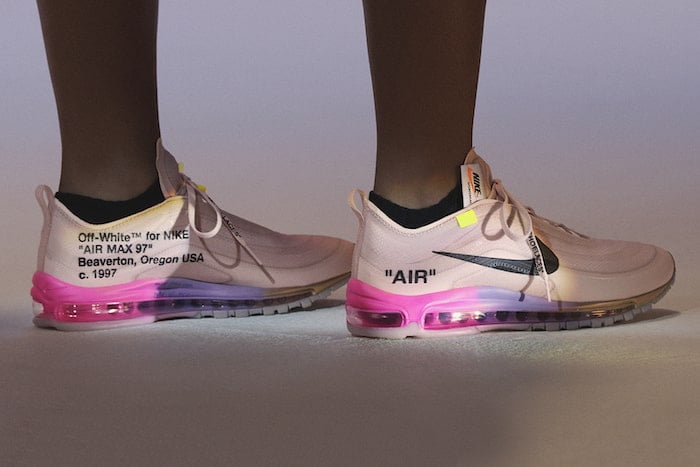 Final Thoughts
Since 1995, Serena Williams has created one of the most awe-inspiring legacies both on and off the courts. Her efforts to become a good role model to children and especially young girls means that she is the definition of an empowering woman. In an interview with Sneaker Freaker, Williams made it perfectly clear what her feelings on being a role model were: "I love it, it's important for kids to know that you can be successful and you can be strong, especially when you're a female. You can still be sexy as well, you can be powerful, but you can still be smart." With no signs of her career slowing down just yet, we're sure that Williams will continue to inspire future generations.