Let's face it, 2021 has got some pretty big shoes to fill. 2020 may have been one of the strangest years on record, but it didn't stop the sneaker community from grabbing some major heat. Huge collaborations, the first powerhouse year for the Nike SB Dunk since its revival and, of course, more Yeezys all released throughout last year. As the new year gets underway, it's going to be an exciting 12 months in the sneaker space. Countless leaks, several major partnerships and brand new silhouettes are all sitting just on the horizon, ready and waiting to be copped.
With that in mind, here at KLEKT, we're giving you a glimpse of what we would like to see happen in the sneaker industry in this year. Whether it's the use of new materials, exciting technological developments of even the retro of a classic, we've jotted some thoughts down for you to take a look at. As passionate sneakerheads, this is a conversation that we could have all day (and year) long. For the most part, these are simply predictions of what we expect to happen this year. Of course, there are a few dreams in there too and, if we're lucky, one of those might come true.
Check out KLEKT's top sneaker predictions for 2021 below and let us know what you want to see happen this year.
Disclaimer: these are opinions, not confirmed releases or projects that may be happening!
Sustainability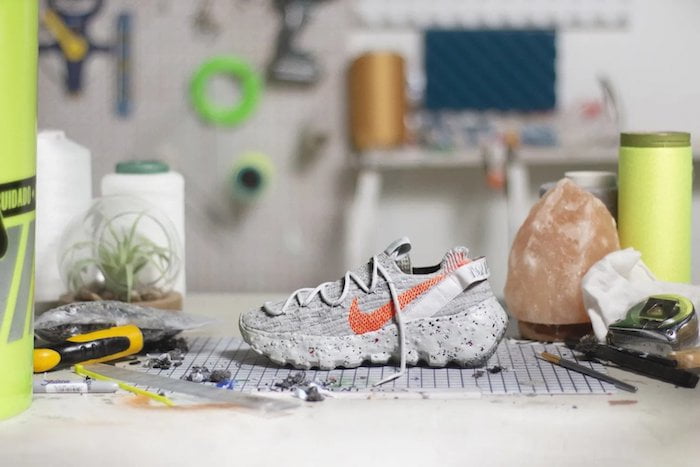 It is no secret that sustainability is one of the most pressing issues in fashion. Big brands such as Burberry, Stella McCartney and H&M have been moving towards sustainable manufacturing methods for years, with great results. Throughout last year, a number of sneaker brands began focusing on launching more eco-friendly approaches to their designs. As 2021 kicks off, we predict that sustainability is going to become a much larger part of the sneaker industry.
2020 was a defining moment for Nike with the launch of its Space Hippie collection; taking old materials and turning them into something brand new. Futuristic designs like the Space Hippie were matched with iconic models like the Air Jordan 1 and Nike Air Max 1. You can be sure that Nike will most likely push this momentum throughout this year, with its Crater series being a large part of its recent releases. As part of its Move to Zero campaign, Nike has plans to become zero carbon and zero waste by 2030. This is the beginning of a great journey for the Swoosh.
Of course, adidas has been championing sustainable sneakers for a number of years and its work with Parley is well-recognised amongst sneakerheads. It should come as no surprise that adidas has revealed that plans to use 60% recycled polyester in its products throughout 2021. According to adidas CEO, Kaspar Rorsted, "sustainability is an integral part of the adidas business philosophy". Even Kanye's divisive Foam Runner is a step in the right direction for adidas' global efforts.
Here at KLEKT, we expect to see a lot more recycled products dropping throughout this year. As brands look towards more apparel focused lines, the time for sustainable fashion has never been more important. This is one advancement we can all get behind.
Inclusive Sizing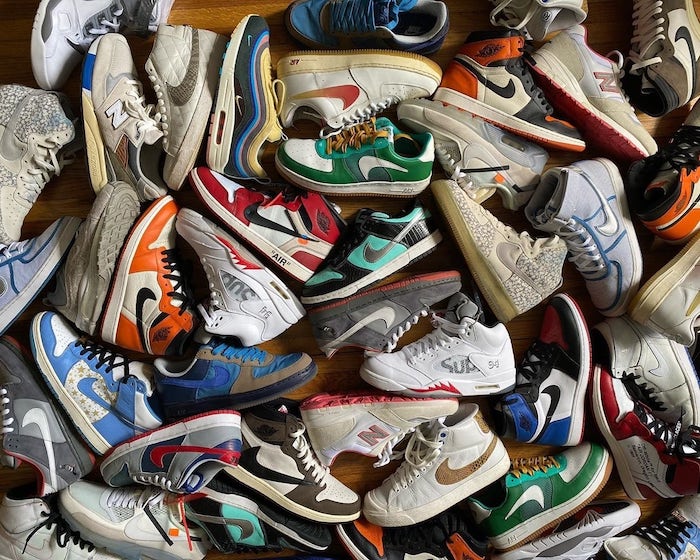 The Female sneakerhead has often been left behind when it comes to big releases. Over the years, there have been countless sneakers that have not been offered in women's sizing. This story is one that has been well documented for years and is a source of frustration for many women in the sneaker community. Although things looked to change last year with the Off-White™ x Air Jordan 4 "Sail" being a women's exclusive release, this momentum didn't last long. The shoe inevitably became a male release due to demand, leaving many women rightfully frustrated.
More importantly, brands need to recognise that female sneakerheads do not want to be given a different sneaker from their male counterparts. A classic example of this division is the Nike Dunk Low Disrupt. The shoe was a chunky take on the iconic Dunk silhouette, a style most women didn't ask for. As KLEKT's own Lynnie Zonzolo puts it, "inclusive sizing is something that needs to happen this year otherwise women in the sneaker community will begin to lose faith" and she's not wrong.
Countless models simply don't cater to women's sizing. That means that many smaller footed sneakerheads are simply disregarded through no fault of their own. "I'm one of the lucky ones," Lynnie explains, "I'm a size UK6 (EU40) meaning that I can cop men's sneakers, but many of my fellow female sneakerheads aren't as fortunate." As 2021 gets underway, we hope that sneaker brands recognise what many serious women in the sneaker community want: to buy hyped shoes they like in their size.
The Return of Icons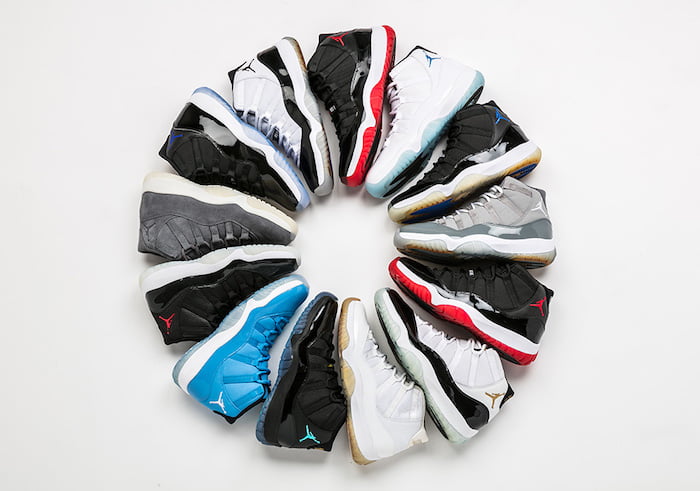 There are some very big anniversaries coming up in the sneaker world. Whilst we can't predict every single pair, we can give a slight insight into some of the pairs that will be made available, we're happy to take a punt on what to expect.
As any sneakerhead will know, the Air Jordan 11 is set to turn 25 this year. Originally debuted in 1996 by Michael Jordan, the pair holds a special place in the heart of many collectors. Although a string of retros have happened in recent years, we're sure that Jordan Brand has big plans for the 25th anniversary. If the AJ11 "Jubilee" is anything to go by, this is going to be a very big year for the Jordan 11. We can't wait.
Of course, that's not the only big anniversary for Nike. The Air Max 180 dropped back in 1991, meaning that its 30th anniversary is happening this year. As the first sneaker with a visible 180-degree air unit from Nike, this sneaker is a piece of footwear history. Thankfully, the Air Max BW is also expected to make a retro this year in the "Persian Violet" colourway, leaving many OG Air Max fans feeling very excited for 2021. Although we are yet to hear if the Air Max 96 will make a retro, here's to wishful thinking.
A Lot More Dunks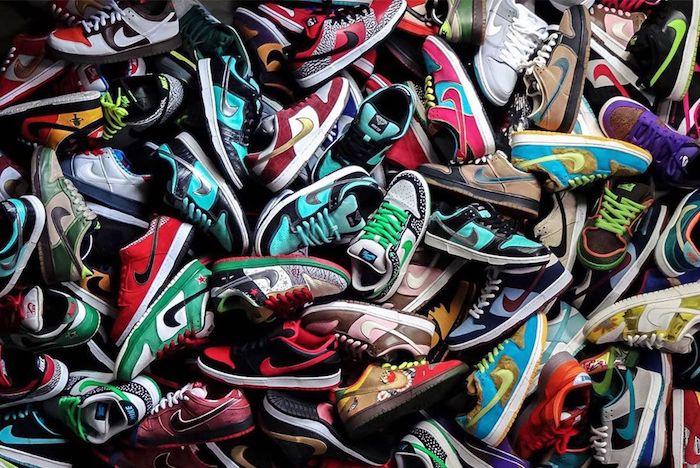 The hype around the Nike Dunk in 2020 was simply undeniable. As one of the most coveted silhouettes in the sneaker world, it seemed only right that the Dunk took the top spot last year. Countless collaborations, an army of new fans and a continuous hype around every drop ensured that Nike Dunk mania was well and truly back. It should come as no surprise then that Nike is far from over with the Dunk and, thankfully, neither is the sneaker community.
We already know that the Dunk, whether SB or OG, will be just as big in 2021. Numerous colourways are already being prepped, as well as some big collabs with the likes of Supreme. Of course, what we don't want to see is Nike over do. As with any popular silhouette, brands tend to get too excited and, eventually, ruin the sneaker. This already happened to the Dunk in the late 2000s so hopefully Nike knows where to draw the line this time. Whatever happens, we're just happy the shoe has made a comeback.
Heat for Kids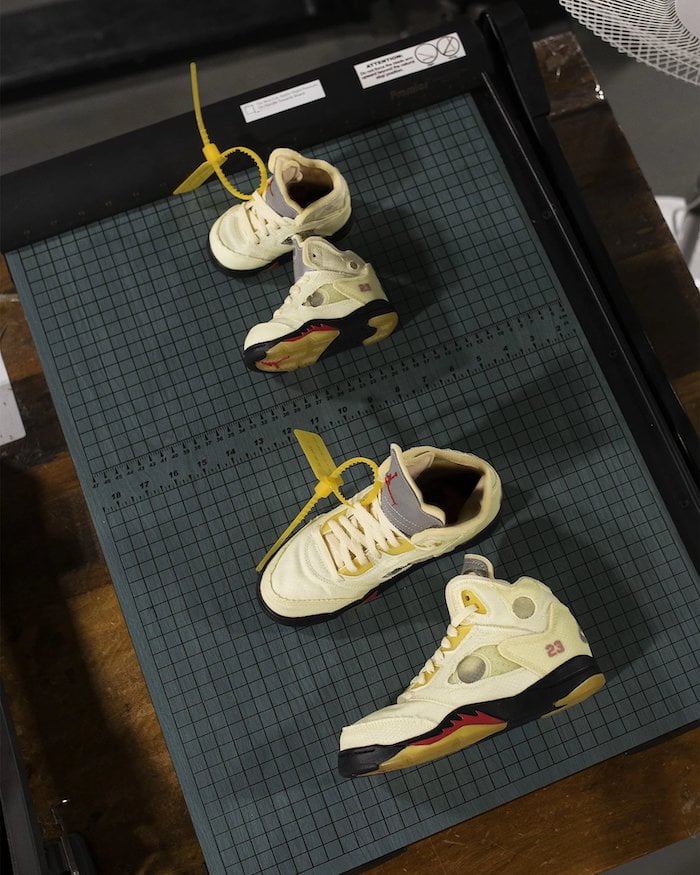 There's been a dramatic increase in the number of heat made for the younger sneakerheads in the community. Over the past few years, we've seen a huge demand for these kids sneakers, and for good reason: parents like flexing. Last year was a big year for brands making more toddler, pre-school and grade-school sizes of big releases. Whether it came from Off-White™ x Air Jordan or children's Yeezy Slides, there was a lot to choose from.
Interestingly, there is a huge secondary market for children's sneakers. Some sneakerheads collect them or simply cop them if they missed out on their size. We're banking on the fact that we're going to see a lot more high heat children's releases drop in 2021. As parents look to start their kids sneaker affinity earlier and earlier, we can't wait to see what's in store. Maybe we'll even see a high profile collaboration made just for kids! For one, we do know that we're excited to see more baby Dunks, Off-White™ x Nikes and Yeezys this year.
Yeezy Does It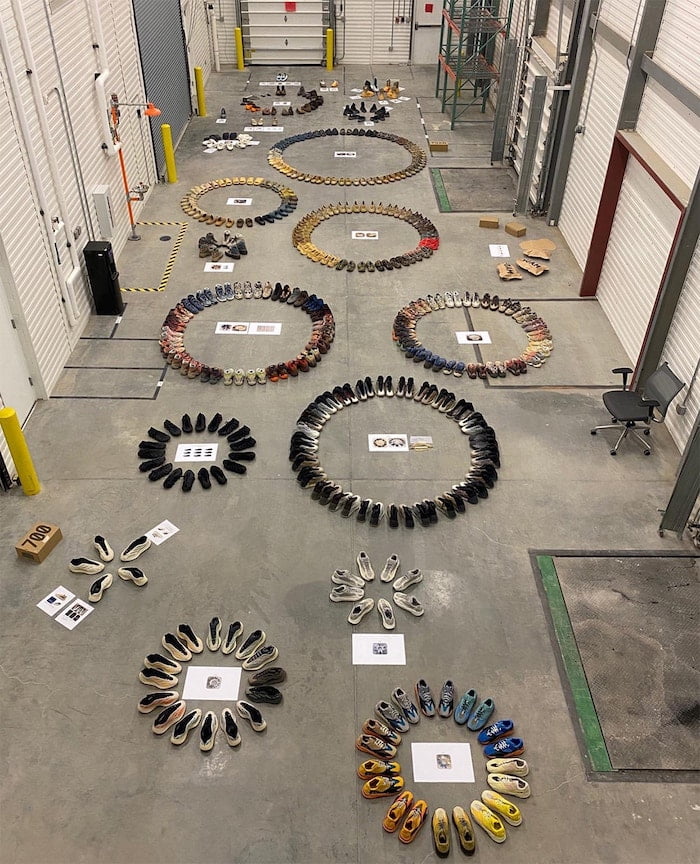 Kanye West and adidas have forged one of the most iconic partnerships in the footwear industry, there's no doubt about it. Since first joining forces back in 2014, the two have continued to stay true to Kanye's initial promise: "everyone who wants Yeezys will get Yeezys." In that time, we've seen a number of high profile sneakers drop, but last year was undoubtedly the biggest year for the two. According to multiple reports, Kanye officially became a billionaire in 2020 so you can expect to see a lot more from the two brands in 2021.
Over the past seven years, Kanye has proven that his work with adidas is not going anywhere. Product launched like the YEEZY QNTM, the first athletic adidas Yeezy, show how much influence Kanye has in different fields. Realistically, this was an easy prediction for us to make and one that we already know is going to come into fruition. The Yeezy Brand is continuously growing and blurring the lines between fashion, sports and lifestyle. With new silhouettes like the Yeezy 451 begin to release, there's more scope for Kanye's designs to become part of history.
As with any big sneaker brand, there is also the opportunity for retros happening. Who wouldn't love to see the OG adidas Yeezy Boost 750 or 350 drop? The possibilities of new colourways on popular models like the 350 V2, 700 and 700 V3 also mean that Yeezy will remain a dominant force in 2021. Whatever Yeezy has planned for this year, we're here for it.
E-Sports Takeover
E-sports, or just gaming to the rest of us, has seen a dramatic increase in popularity over the past decade. Attitudes towards gaming have changed a lot too, with parents now nurturing their children's careers on Fortnite or Call of Duty rather than shouting at them to turn the games console off. In fact, as an industry, e-sports was estimated to be worth around $1.1 billion USD in 2020, a 15.7% increase YOY. As the market continues to grow, big brands are tapping into it.
From Playstation x Nike sneakers to Gucci launching exclusive collections in Animal Crossing, the lines between gaming and fashion are slowly being blurred. With that in mind, we wouldn't be surprised if we saw a big increase in the number of e-sports collabs this year. More professional gamers are likely to get their own lines, with Ninja and adidas setting a precedent in 2020. Even the extremely limited Travis Scott x Playstation x Nike Dunk collab got people insanely excited. One thing's for sure, this is one market that we expect to explode in the sneaker industry this year.
Final Thoughts
So, guys, that's the end of KLEKT's sneaker predictions in 2021! After a pretty exciting year for releases in 2020, this year is going to be a tough act to follow in terms of drops. With so many big sneakers already being lined up for 2021, we can't wait to see what brands have got in store. For now, let's just sit tight and see what's to come from this year. As always, keep it locked to the KLEKTIVE where we'll be releasing the latest sneaker and streetwear news.