Although you may think it's crazy starting your holiday shopping this early, we'd like to think that it's just being organised. Over the past few weeks, we've seen a significant increase in the number of parcels coming through KLEKT HQ. As shoppers from around the world begin to get ahead this holiday season, we'd recommend beating the rush. With the Holiday season well and truly underway, there's never been a better time to start thinking about gifts for your significant other.
The sneaker and streetwear world is diverse in its offerings, normally giving everybody a chance to cop what they like. This year alone we've seen a number of high profile releases, but there's been a large increase in the number of women's exclusive pairs. As the big day is almost here, we thought we'd put together a guide on what we'd recommend getting your partners this Christmas. Check out a snippet of our selection below and keep your eyes peeled for the full list!
His
Whilst we're sure that you know exactly what your partner wants, here's a helping hand. We've selected a range of items that are perfect for any budget and will certainly be a hit with your man. If you're just looking for a stocking filler or want to get him something more memorable, then look no further. Take a closer look below and let us know what you cop!
sacai x Nike Vaporwaffle "Black/White"
The sacai x Nike Vaporwaffle is without a doubt one of the best sneakers to release this year. Designed by Chitose Abe and previewed at the sacai FW20 show in January, the sneaker took almost an entire year to drop. Thankfully, it did earlier in November. Seamlessly blending the Pegasus and Vaporfly, the double-stacked silhouette uses a simple "Black/White" colourway, making it perfect for any rotation. Considering the prices aren't too high right now, these are an instant cop.
Stüssy x Nike Reach The Beach Posse T-shirt White
Stüssy has been celebrating its 40th anniversary this year in a big way, working with a number of brands throughout 2020. However, its work with Nike was what really gave it a new lease of life amongst sneakerheads. Launching as part of the second Stüssy x Nike drop in summer, this "Reach the Beach Posse" T-shirt is a perfect item for every day, making it an ideal staple in your partner's wardrobe. Whether it's to be worn around the house or on a night out, this is a perfect piece.
Supreme Motion Logo Beanie Black
Supreme's love of the Motion Logo is well-documented, with the design taking inspiration from Martin Scorsese's Goodfellas. After a brief hiatus, Supreme launched the Motion Logo Beanie back in summer alongside the T-shirts and Skateboards. This simple black and white version features a printed Motion Logo across the front and is an ideal accessory for those cold winter months. Be quick though, these are selling fast!
Palace Tri-Text T-shirt White
Palace really has had a stellar 2020, putting out some of the most sought after pieces in the brand's history. Dropping towards the tail end of its Summer season, Palace introduced the Tri-Tex T-shirt. The updated Tr-Ferg logo on the front and back features a multicoloured and multi-textured pattern to create an almost hypnotic look. Seen here against the white background of the T-shirt, this is a must-have for any hypebeast this Christmas.
Ben & Jerry's x Nike SB Dunk Low "Chunky Dunky"
Now, if you're feeling REALLY generous this holiday season, then we've added arguably one of the best presents you could give. The Ben & Jerry's x Nike SB Dunk Low "Chunky Dunky" is a serious piece of heat for any collector and you can see why. Inspired by the famous ice cream makers packaging, the Chunky Dunky was an instant hit with sneakerheads this year and for good reason. This is going to certainly make someone's Christmas, believe us.
Hers
2020 has given us a number of high profile women's releases. The likes of Off-White™, in particular, have been catering to the ladies this year, making male sneakerheads understandably jealous. However, this just means that as you look to get your partner some gifts this Holiday season, there's a bigger pool to shop from. We've chosen a few of our favourites this year which you can check out below!
Air Jordan 1 High OG WMNS "Satin Snake"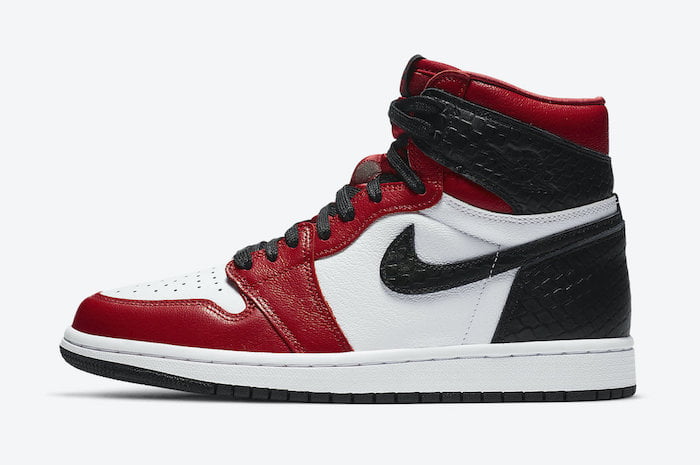 It's hard to beat an Air Jordan 1, but this WMNS pair is something else. Inspired by the iconic "Chicago" colourway from 1985, the Jordan 1 "Satin Snake" takes this classic that one bit further. A combination of red, white and black leather merges together, with the latter using a faux snakeskin effect. Satin on the tongue and collar gives this pair a luxurious edge and, when paired with the snakeskin leather, these become a must cop.
Cactus Jack World T-shirt
Travis Scott has dropped a number of high profile collabs this year, but it's his own merchandise line that's really taken off. This World T-shirt sees a smiley face in the shape of the earth on fire (2020, much?) and features custom graphics throughout. "Live in your world. RAGE in ours." can be seen on the back, something that we're all for. Updated Cactus Jack logos can be seen on the front and back and make this an ideal present.
Supreme x Pat McGrath Lipstick
Known for its wild collaborations, Supreme really outdid itself earlier this year with its first venture into the world of cosmetics. Teaming up with make-up legend Pat McGrath, the famous New York skate label created a custom lipstick. Housed in a red case and emblazoned with gold detailing and a large "Supreme" down the side, this was an instant sellout. If you're looking for a show-stopping holiday present, look no further.
Palace Tri-To-Help T-shirt Black/Pink
The Palace Tri-Ferg is one of those logos that simply never gets old. Launching earlier this year, Palace dropped ten T-shirts as part of a Tri-To-Help range, made with the Stephen Lawrence Charitable Trust. All proceeds of the sale were donated to the charity. This Black/Pink version was arguably one of the best versions, featuring a bright pink Tri-Ferg on the front and back. These are relatively cheap on the secondary market and would make a great present!
Off-White™ x Air Jordan 4 WMNS "Sail"
When it comes to big sneaker releases this year, the Off-White™ x Air Jordan 4 WMNS "Sail" has definitely been one of the best. Although the pair was debuted at Virgil Abloh's "Figures of Speech" exhibit in 2018, the pair did not see a release until 2020. Teased shortly before the Off-White™ Women's show at Paris Fashion Week, the sneaker officially dropped in June, much to the delight of sneakerheads. If you really want to make someone's year, then these are the shoes for you.
Final Thoughts
We hope that you enjoyed our His and Hers Holiday Guide and make sure that you check out the full range using the link below. We wish you a Happy Holidays and a sneaker-filled New Year!
SHOP HIS & HERS NOW