Kim Kardashian is without a doubt one of the most famous people on the planet, just ask any of her 178 million Instagram followers. Though her sisters may be trying to catch up to her, Kim K will always be the most famous Kardashian. Over the past decade, Kim Kardashian has become a key figure in popular culture. Her expansive presence has seen her grace almost every major magazine on the planet, wearing high-end brands like Chanel, Dior and Versace. However, it is her street style that is the most influential.
Since starting her relationship with Kanye West in 2012, Kim Kardashian's sneakers have been a focal point for many in the fashion community. As you can imagine, Kim has also had access to her fair share of exclusive shoes. From 1-of-1 adidas Yeezys to custom made Maison Martin Margiela's, Kim Kardashian knows her stuff when it comes to footwear. With that in mind, we thought we'd take a closer look at Kim Kardashian's best sneaker moments.
Looking back over a decade of sneaker images, it's safe to say that Kim Kardashian's shoe game is not to be messed with. From Jordans to Yeezys and almost everything in between, Kim K's sneakers are on point. Without further delay, let's take a closer look at Kim Kardashian's best sneakers.
Nike Flyknit Trainer (2013)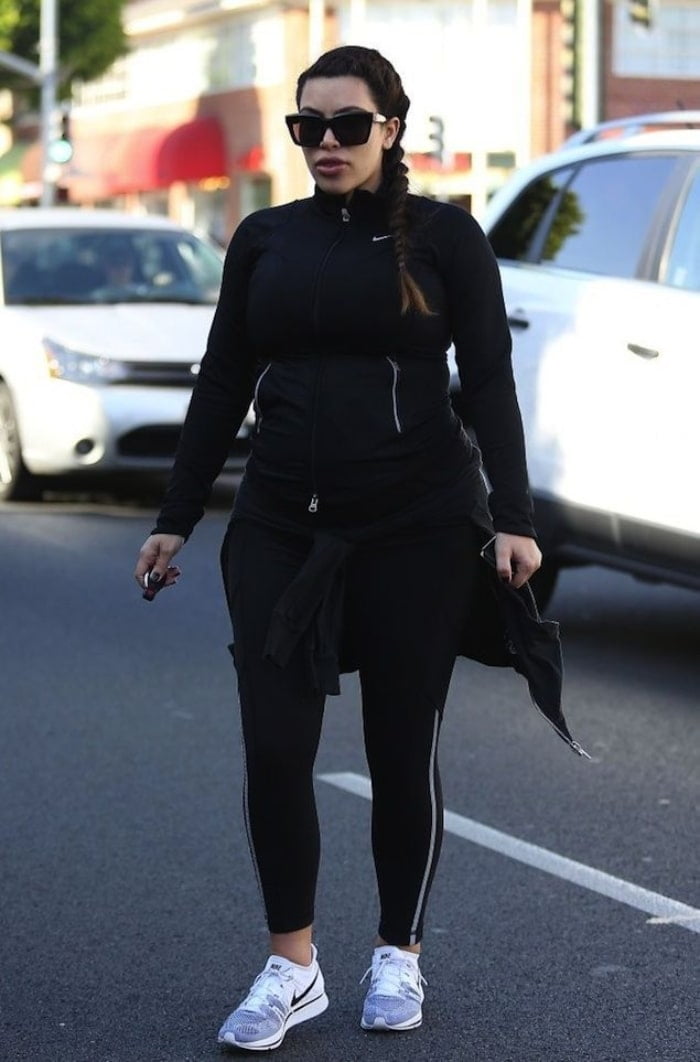 After being debuted at the 2012 London Olympics, Flyknit quickly started gracing silhouettes all over the Nike range. However, it was the following year that really made Flyknit a memorable material. Back when Kanye was still a big fan of Nike, Kim Kardashian could often be spotted wearing the latest offerings from the Swoosh. In 2013, the Nike Flyknit Trainer hit the market, quickly becoming one of the most sought after sneakers in the market.
Pictured above, Kim Kardashian's Nike Flyknit Trainers were all the rage. The well-balanced monochromatic colourway features the lightweight material, sitting atop a curved foam midsole. Often snapped with these on her feet during her pregnancy with North, Kim Kardashian's Nike trainers sold out almost instantly. Fortunately for sneakerheads, the same Nike Flyknit Trainer was reissued earlier this year.
adidas Yeezy Boost 350 "Turtle Dove" (2015)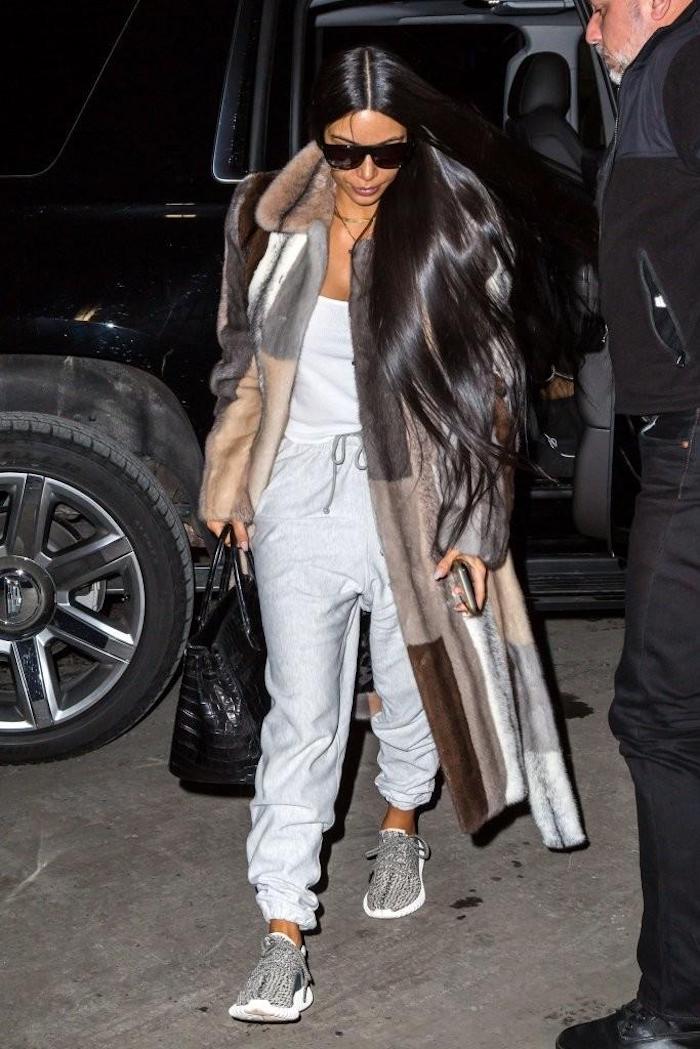 Kanye West leaving Nike for adidas is still without a doubt one of the most important moments in sneaker history. After publicly shaming Mark Parker for giving him royalties from his sneaker sales, Kanye began boycotting the Swoosh. When rumours began circulating that Kanye would be joining adidas, the sneaker community was left very shocked. Whilst it may have taken over a year to eventually see any hint of an adidas Yeezy, the wait was worthwhile.
A classic example of Kim Kardashian's enviable style, the media personality can be seen wearing a pair fo the first adidas Yeezy Boost 350s to ever release. Featuring a black and white Primeknit upper, the shoes feaure a set of matching laces and a Boost midsole. Paired with a patchwork mink coat, grey joggers, a Hermes Birkin Bag and thick black sunglasses, this is one of those Kim Kardashian's Yeezy moments that you can't forget.
Air Jordan III "White Cement" (2012)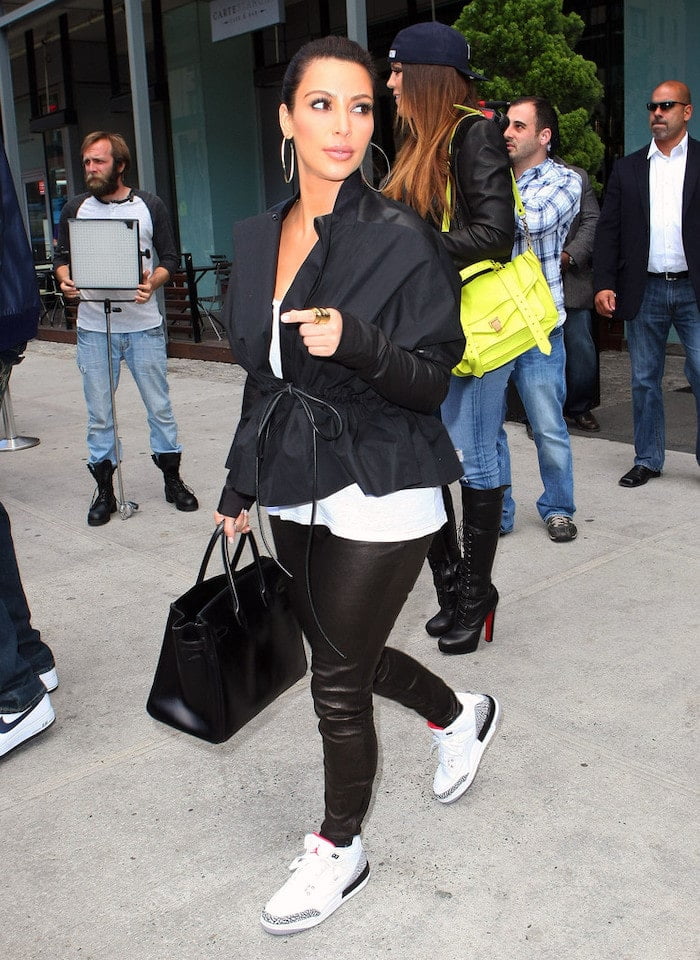 Kim Kardashian wearing Jordans may seem like a sentence you'd ever see, but Kim has been spotted in a few pairs of J's. However, the most notable that we could find would have to be her in the Air Jordan 3 "White Cement." Shortly before she met Kanye West, Kim was spotted with her sister Khloe and Lamar Odom rocking this classic pair of Jordan 3s. The tumbled leather, elephant print on the heel and mudguard and the Jumpman on the tongue make these a classic pair of Jordans. Shoutout Kim!
adidas Yeezy Boost 700 "Wave Runner" (2016)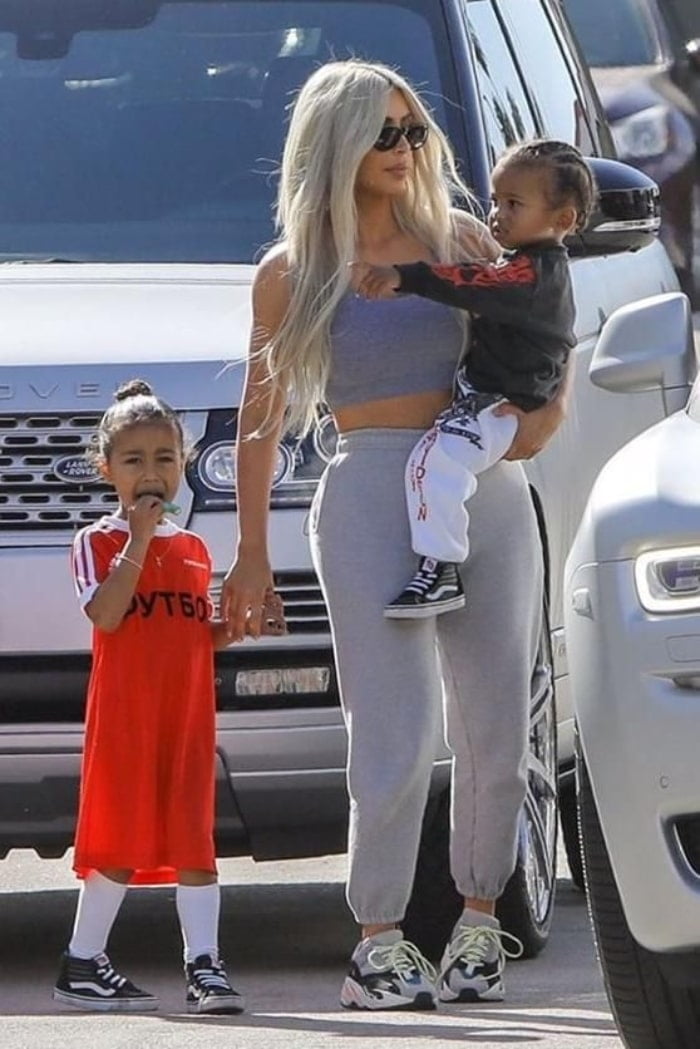 Kim Kardashian has always supported Kanye's sneakers, and why wouldn't she? Not only is she one of the first people on the planet to get a pair, but she's also got access to brand new Yeezys whenever she wants them. Alright for some, eh? Kanye's first foray into the world of chunky dad sneakers was the adidas Yeezy Boost 700. Almost as soon as the news broke that they were on the way, Kim was wearing a pair.
Sporting a pair of the adidas Yeezy Boost 700 "Wave Runner", Kim can be seen wearing a simple pair of grey sweats and a matching top. Being the ever doting mum, Kim certainly needs comfortable footwear to match her busy lifestyle. Completing this look is a pair of her signature black-framed glasses, making for one of the most memorable Kim Kardashian Yeezy moments on this list.
Vans Old Skool (2017)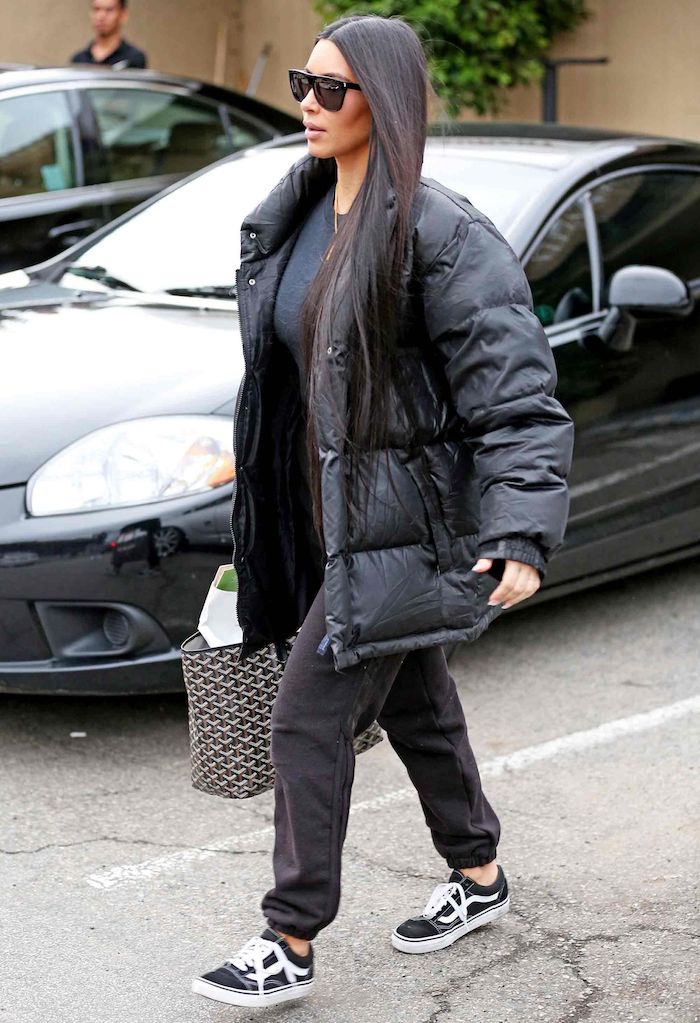 When you're flying all over the world, raising a family and trying to look after an outspoken husband, comfort really is key. Sometimes, less really is more when it comes to street style. Elevated basics can really help sell an outfit, meaning that you don't always have to dress head to toe in designer brands. For Kim Kardashian, the 'fit pictured above is a classic example.
Rocking an oversized puffer, a pair of black sweats and a pair of Vans Old Skools, this is one of Kim Kardashian's best street outfits. Whilst many of Kim Kardashian's sneakers may be exclusives, its good to see that she knows how to rock some more accessible pairs. Finishing this basic outfit off is a Goyard bag and, once again, her signature black sunglasses.
adidas Yeezy Boost 750 "Light Brown" (2015)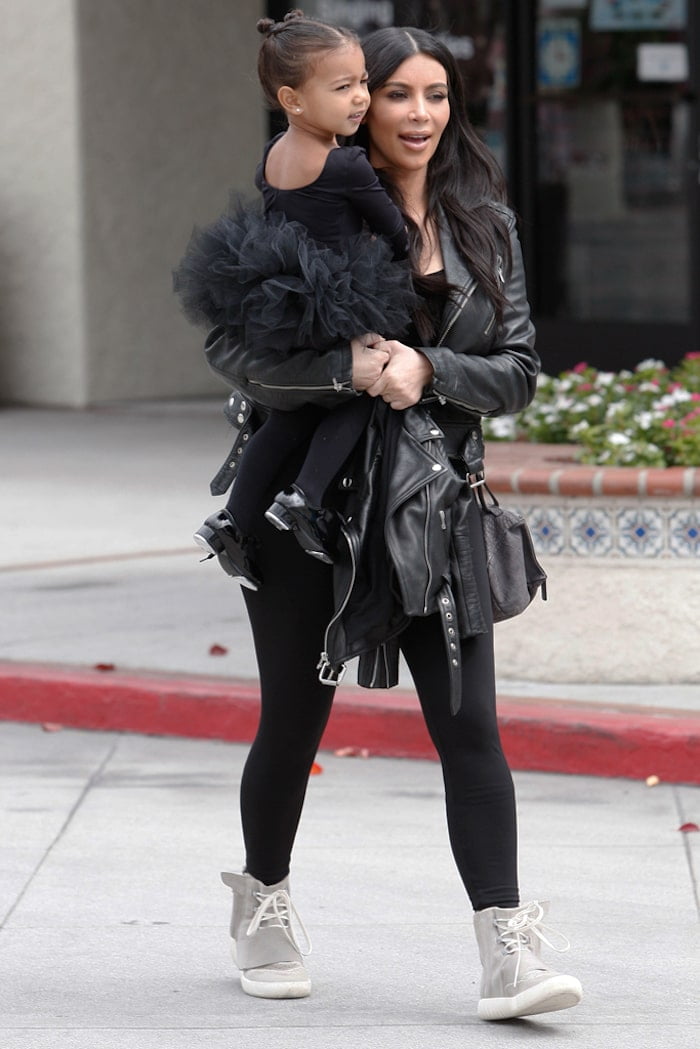 Kanye West has always liked to push boundaries with his designs. In 2015, over a year since he left Nike for adidas, Kanye began teasing images of the first adidas Yeezy model: the 750. Although the Yeezy 750 may not have won the community over almost instantly, it didn't stop the hype around the shoe from growing. Whilst there was very few on foot pictures of the sneaker, it didn't take long for Kim to show the silhouette off in all its glory.
Pictured with daughter North, Kim Kardashian wearing her adidas Yeezys quickly became a big moment in the sneaker industry. The light brown suede upper features a strap across the front, as well as a zip up the side. Crisp white laces match the Boost midsole, finishing this premium Yeezy model off nicely. Paired with an all-black outfit, Kim Kardashian wearing these Yeezy 750 sneakers is one of her best footwear moments.
Nike Air Yeezy II "Solar Red" (2012)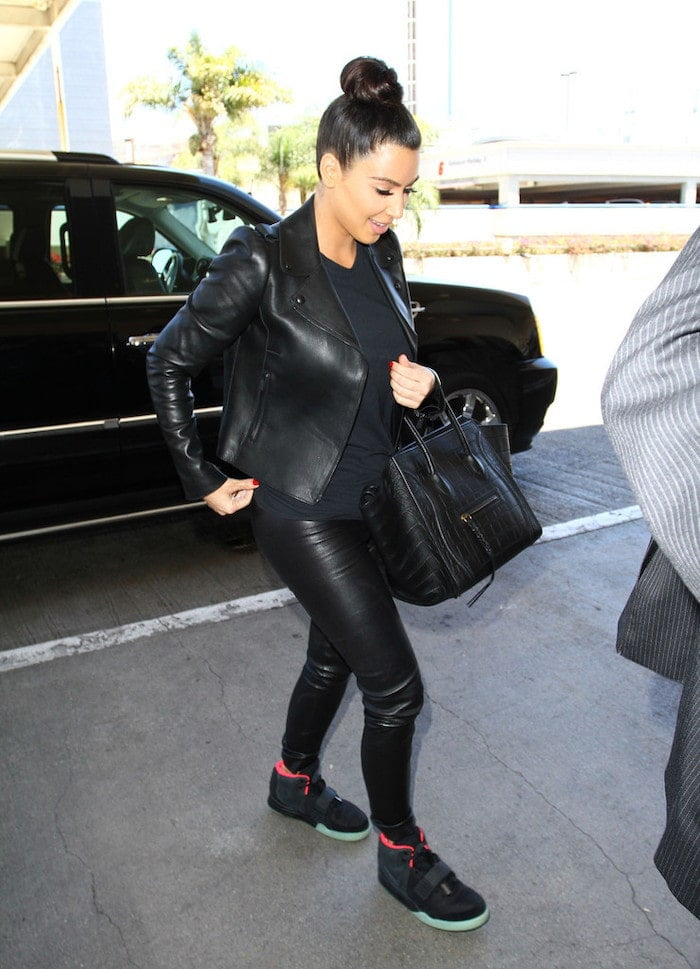 It seems strange Kanye West working with Nike now, but back in 2012, the relationship was flourishing. After the success of the Air Yeezy in 2009, the two teamed up again in 2012 to release the Air Yeezy II. Limited to just 5,000 pairs of both colourways, the Nike Air Yeezy II proved to be an instant hit with sneakerheads all over the world, quickly selling out. However, when you're dating the most famous rapper on the planet, you don't need to worry about securing a pair.
Kim Kardashian wearing Nike Yeezys may look strange, but it was a big sneaker moment. The two had only begun dating in the same year the Nike Air Yeezy 2 released, but that didn't matter. Kanye gifted Kim a pair and she can be seen rocking them above. Finishing off her all-black leather ensemble is the Nike Air Yeezy 2 "Solar Red." This is one those Kim Kardashian wearing Nike moments that you don't forget.
adidas Yeezy 500 "Supermoon" (2018)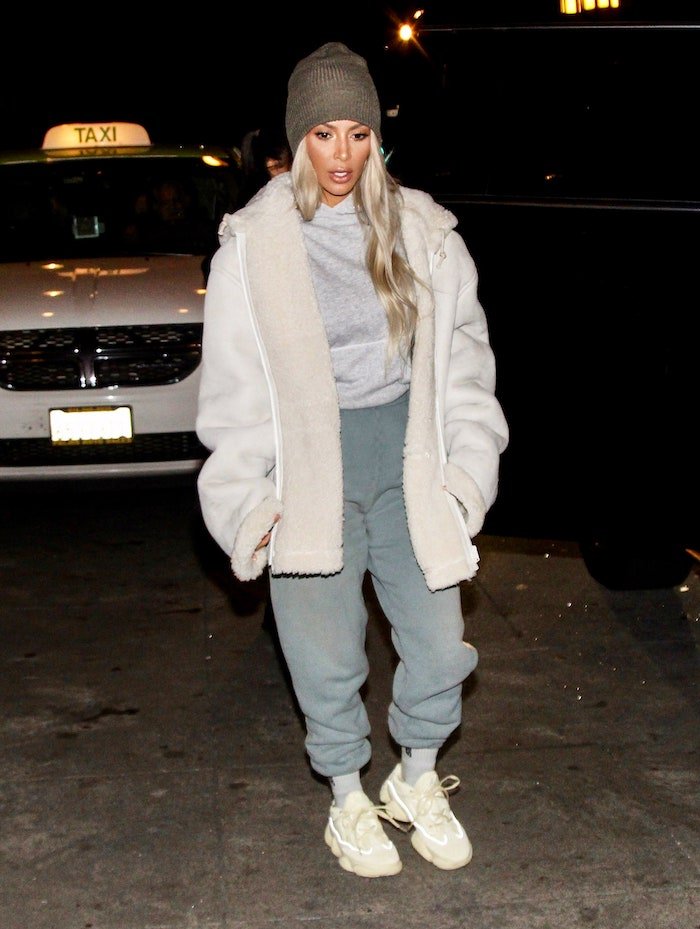 When your husband is Kanye West, you're bound to get your hands on Yeezys before everyone else. Kim has always got her hands on exclusive sneakers, often rocking them before her husband gets the chance to. Back in 2018, Kim pulled out a never before seen colourway of the adidas Yeezy 500. The chunky sneaker caught the attention of the community, with the unusual colouring and detailing being the reason why.
Dubbed the "Supermoon", this adidas Yeezy 500 features a slightly yellow upper. The combination of mesh and suede, as well as the reflective accents, made this an instant hit. Paired with an oversized sheepskin coat, Calabasas socks and a grey tracksuit, this is a slick outfit from Kim. Of course, Kim Kardashian in chunky sneakers is not new, but the Yeezys in this 'fit arguably her best outfit to date.
Nike Air Yeezy II "Red October" (2014)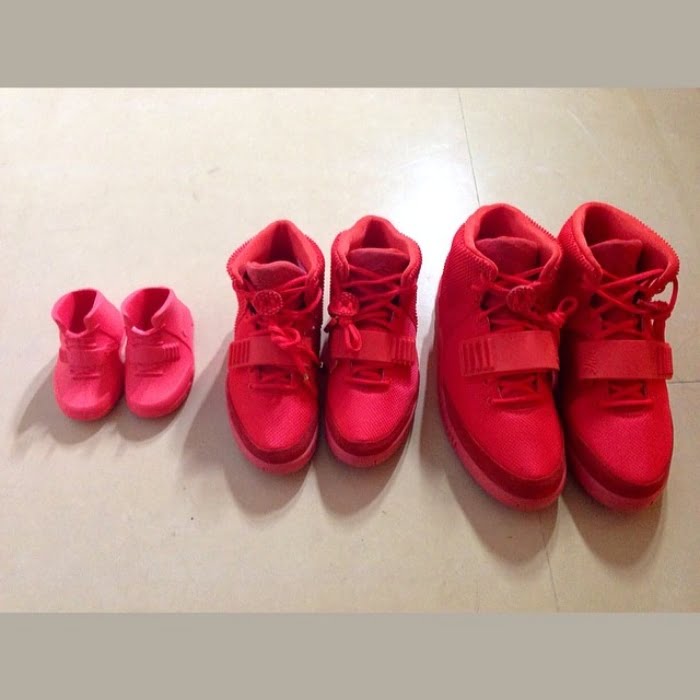 Kanye West and Nike's rather public fallout had many believe that the Air Yeezy 2 "Red October" would never release. With Kanye denouncing his relationship with the Swoosh, it seemed that all hope was lost. That was until February 9th, 2014, when Nike pulled off the biggest shock drop in history. It seemed that Nike had the last laugh over Kanye. Although Nike and Kanye may have had a big falling out, that didn't stop Kim from posting a rather emotional photo of the Red Octobers.
Kim may have never got the chance to wear her Red Octobers, but she certainly tugged at the heartstrings of the sneaker community. Uploaded with the caption "#Famleezys!!!!", Kim showed off three pairs of Red Octobers; one for Kanye, one for her and one for North. North's injection moulded Red Octobers are adorable, showing that at one time, Nike and Kanye had a solid relationship. Kim might not be wearing any sneakers in this pic, but this is one of her most memorable sneaker moments.
adidas YZY QNTM (2019)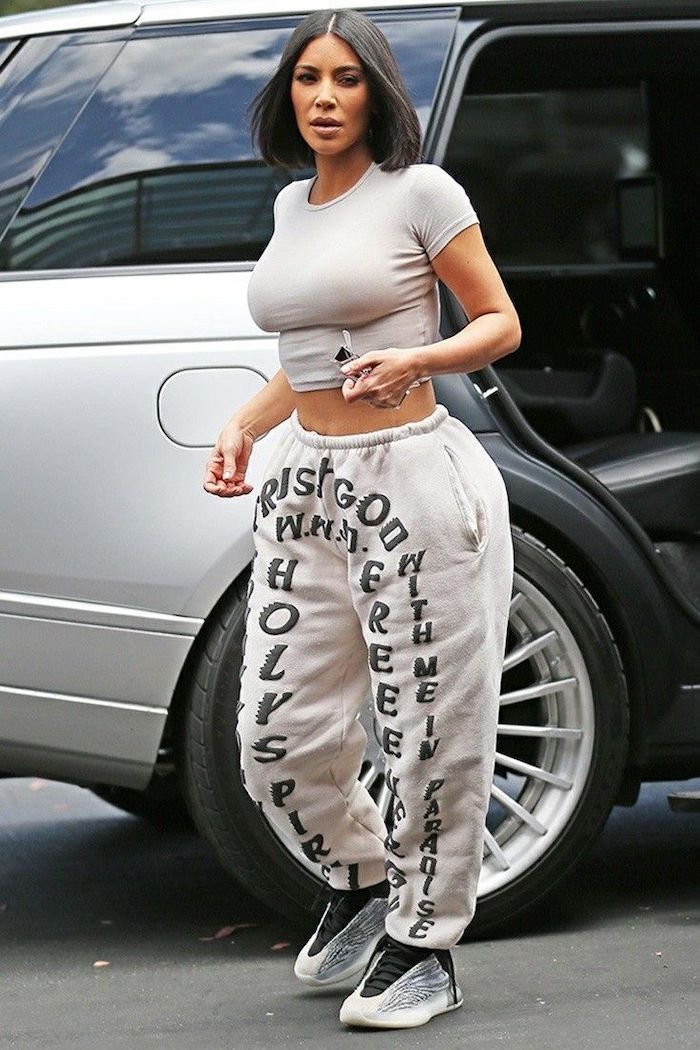 Kim Kardashian's street style is envious, to say the least. The 39-year-old media personality can effortlessly pair designer brands with streetwear labels with devastating results. Over the past decade, the evolution of Kim's style has been exciting to see. As always, what's she's got on her feet is always a big focus for many in the sneaker community. When looking at the image above, it is easy to understand just why.
Rocking the previously unreleased adidas Yeezy Quantum, Kim was wearing some of Kanye's merchandise and a simple grey top. The outfit above was the first time that sneakerheads had a good look at the YZY QNTM, leaving many wanting a release date. Kanye's first attempt at athletic sneakers had mixed reviews, but when they released in Chicago for All-Star Weekend this year, it was a major sneaker moment.
Final Thoughts
That concludes our list of Kim Kardashian's best sneaker moments! You can see that there has been a natural progression in Kim's kicks, and with Kanye as a husband, it's easy to see why. Never a stranger to exclusives, as well as general releases, Kim Kardashian's sneakers have always made the spotlight. With more and more Yeezys set to release, we can't wait to see what she's got in store. Who knows, perhaps Kanye will give her an exclusive pair of First Lady sneakers if he becomes president!