Over the past eight months, the hype surrounding the Air Dior collaboration has gotten out of control. With the launch now nearly complete, the House of Dior can breathe a sigh of relief. Arguably the most hyped collab of the new decade (if not all time?), the Dior Jordan sneakers and apparel are a symbolic moment in fashion. As many of you will remember, Kim Jones, creative director of Dior Homme, was also the man responsible for bringing Supreme x Louis Vuitton to life.
You are probably right in thinking that Kim Jones is one of, if not the most influential designers in fashion. His career has seen him work with heritage labels such as Alfred Dunhill as well as brands like Nike and Umbro. Having started graduated from Central St Martins, Jones comes from the same school as designers like Alexander McQueen, who he was also close friends with. He also happens to be a huge sneakerhead.
As the Air Dior madness finally winds down, we thought we'd take a closer look at some of Kim Jones best sneaker moments. From creating history at Louis Vuitton and Dior to rocking unreleased Jordan samples, Jones sneaker collection is crazy. Without further delay, let's take a closer look at Kim Jones's best sneakers.
Air Dior Meets OG Air Jordan 1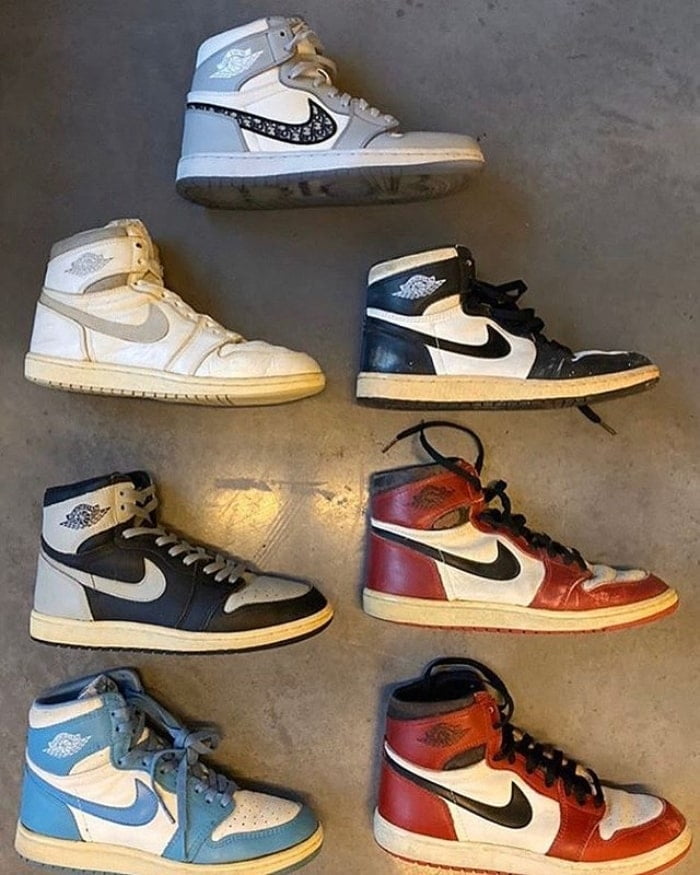 Kicking this list off we have a photo shared by Kim Jones ahead of the NBA All-Star Weekend in Chicago earlier this year. Showcasing his vast collection of original 1985 Air Jordan 1s, Jones laid the Air Dior Highs above them. The historic moment showed just how deeply rooted the Air Jordan 1 is with Jones own personal love of sneakers. It is also easy to see just why Jones chose to recreate the Jordan 1 with the Dior touch.
Finding one OG Air Jordan in good condition is tough, but recreating the original set is something completely different. Jones has everything from the UNC to the Chicago, as well as the Silver Metallic. If you ever needed proof that Kim Jones is a sneakerhead, then you really need to look no further than this.
fragment design x Air Jordan III Sample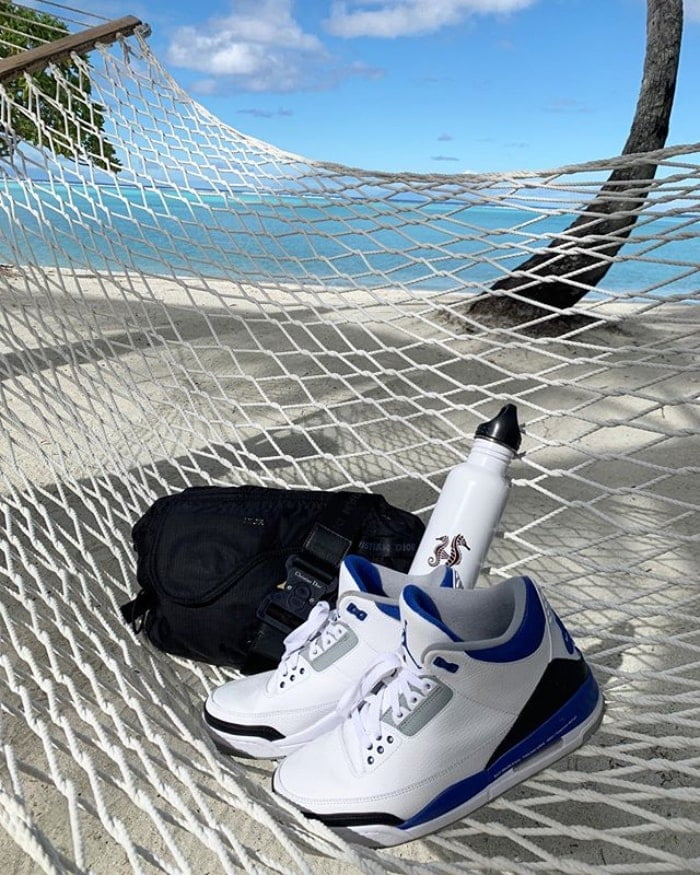 Being one of the most widely respected designers in fashion certainly has its perks. For Kim Jones, that means being very close friends with peers such as Virgil Abloh and Hiroshi Fujiwara. Back in August 2019, Jones posted a picture on his Instagram with the unreleased fragment design x Air Jordan 3 collaboration. To say that the sneaker community was jealous is an understatement.
The subtle take on the classic Air Jordan 3 silhouette features a white leather base as well as blue and black accents. Simple fragment design branding also features on the heel as well as the midsole. There is not really a lot of information on how many of these are in existence, but you can expect it to be a very low number. Sample Air Jordan 3s don't come much rarer than this.
Nike Air Force 1 "Snakeskin"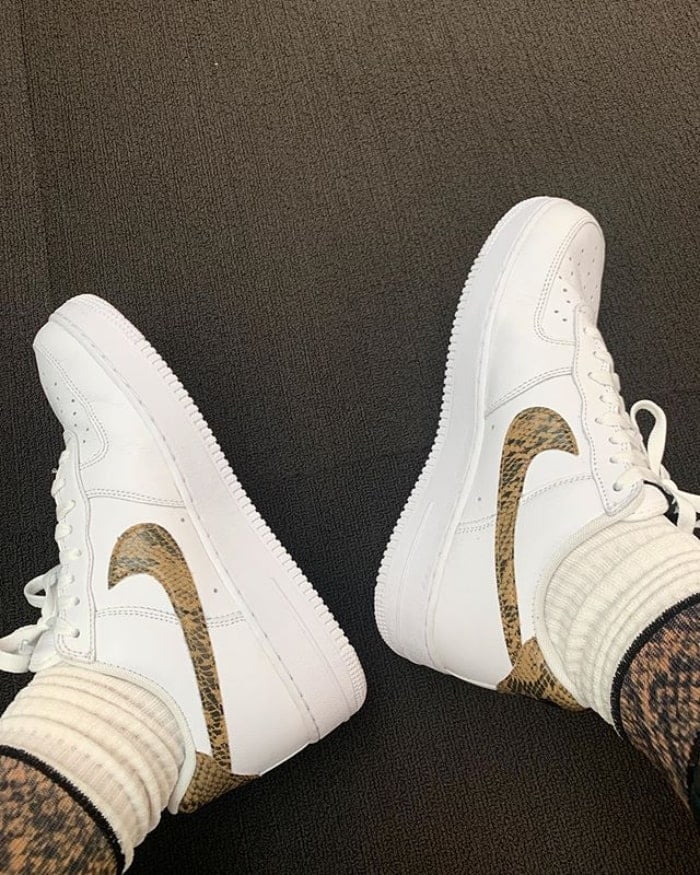 It really is tough to beat a pair of Nike Air Force 1s, no matter who you are. For Kim Jones, the Air Force 1 is a sneaker that will always be intertwined with his youth. Last year, the designer took to Instagram to show off the classic "Snakeskin" iteration. A simple combination of white leather is accented by faux snakeskin on the Swoosh and heel tab, making this a deadly combination. Labelled with the caption "when in Portland my favourite airforce ever" the influence of the AF1 is undeniable.
Off-White™ x Nike Air Presto "White"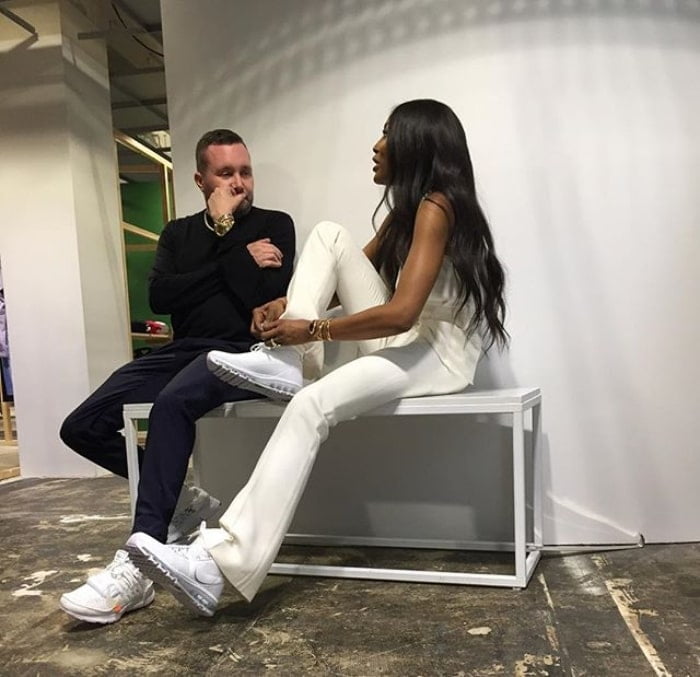 As one of Virgil Abloh's fashion role models, Kim Jones was always going to get his hands on the latest Off-White™ x Nike sneakers. Spotted on the Dior designers feet in 2018, Jones can be seen wearing the Off-White™ x Nike Air Presto in the clean-cut "White" colourway. Sitting next to his close friend Naomi Campbell, who happens to be wearing the Kim Jones x Nike Air Max collaboration, this shows just how hyped Jones' sneaker closet is.
Dior B23 High Top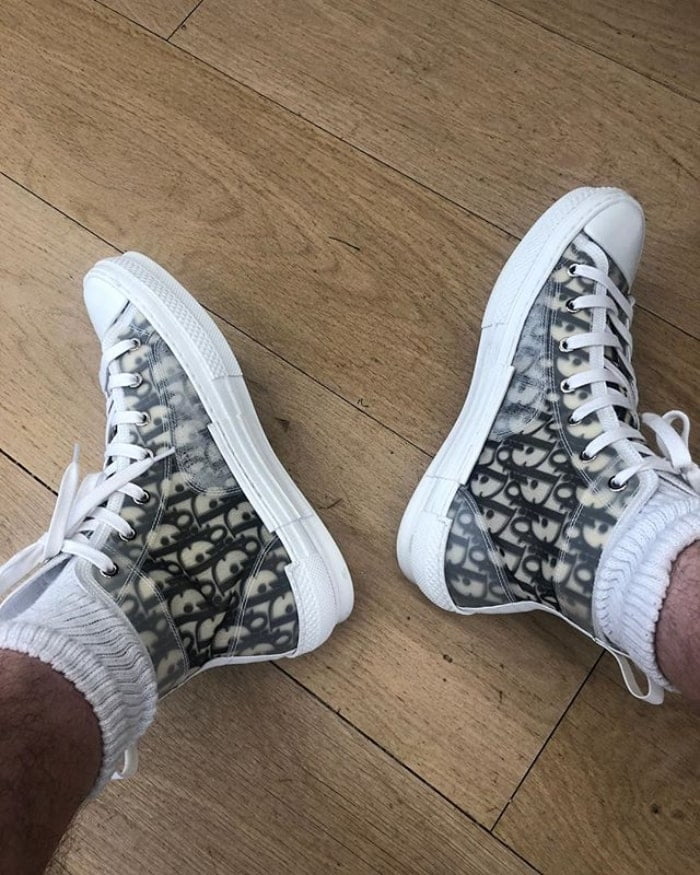 In 2018, Kim Jones showed his first debut show for Dior Homme. To say it was a resounding success would be an understatement. Working within the house's long traditions, Jones reinterpreted classic designs, covering everything from tailoring to footwear. However, one item, in particular, caught the attention of sneakerheads.
Dubbed the Dior B23 High Top, the sneaker is a luxury take on a classic sneaker. The Dior Oblique motif wraps around the entire upper, with translucent detailing showing off the pattern nicely. Subtle additions include a "DIOR" badge on the midsole, just in case, the branding was too subtle for you. These are a still a classic sneaker and one of the best in Dior's history.
Union LA x Air Jordan 1 "Black Toe"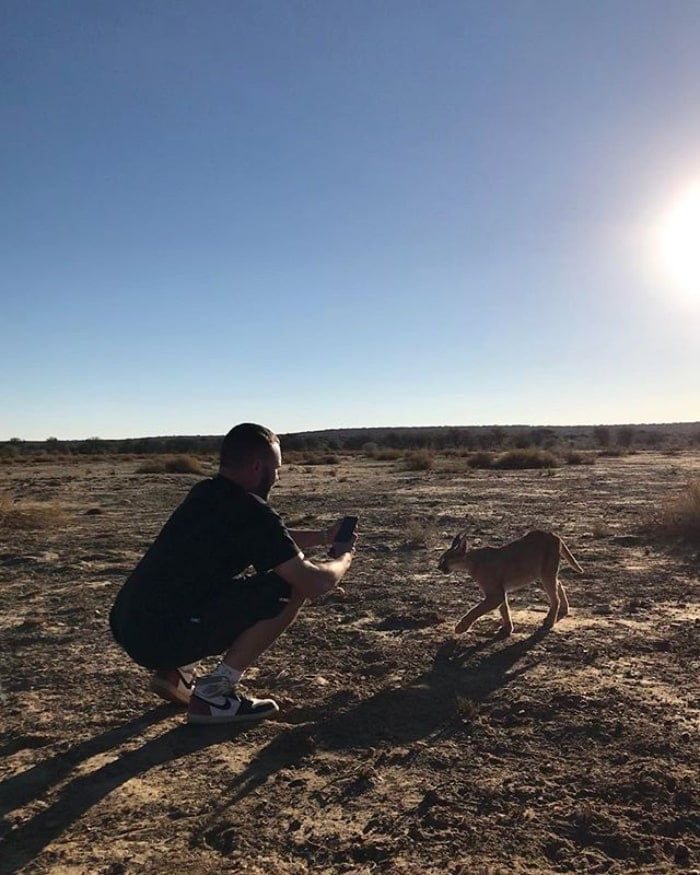 As you have probably already seen, Kim Jones has a bit of a thing for Air Jordans. With the Air Jordan 1 being one of his favourite sneakers, it would make sense that he would get some of the most hyped pairs on the planet. Whilst you may cringe at the sight of Jones getting the Union LA x Air Jordan 1 "Black Toe" dusty on safari, it just shows how sneakerheads should be wearing their kicks. Chances are he also has a few pairs unworn so we are sure he's not worried!
Off-White™ x Nike "The Ten"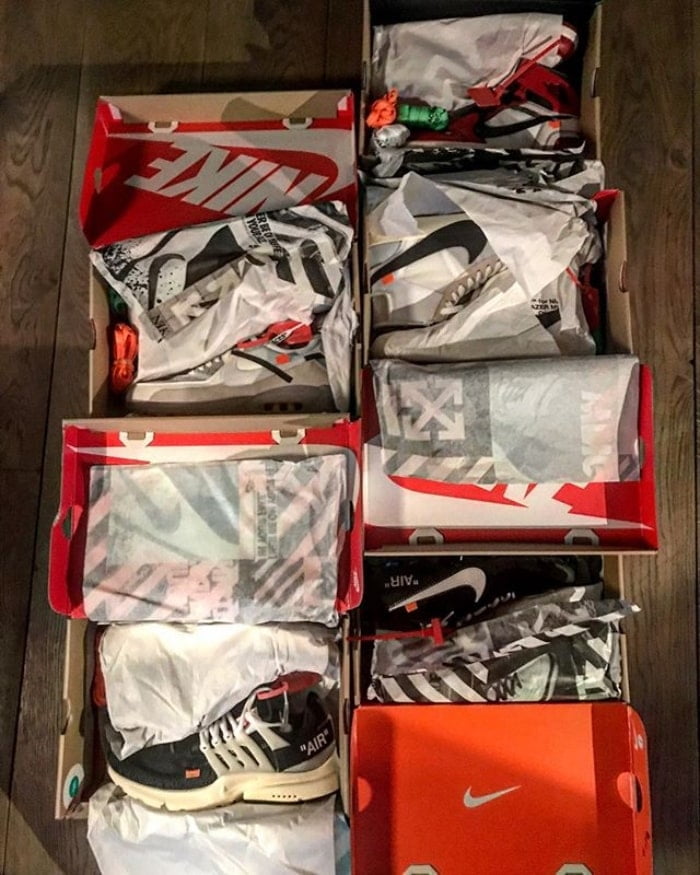 When you're close friends with Virgil Abloh, getting his latest sneakers is never going to be a problem. In 2017, at the peak of the Off-White™ x Nike madness, Kim Jones was fortunate enough to be sent five pairs of The Ten by Abloh for his birthday. Amongst the pairs received, Jones was given the Air Jordan 1, Air Max 90, Blazer, Vapormax and Air Presto. We're not sure about you, but we can barely get an IG post on our birthday, let alone five pairs of Off-White™ sneakers.
fragment design x Air Jordan 1s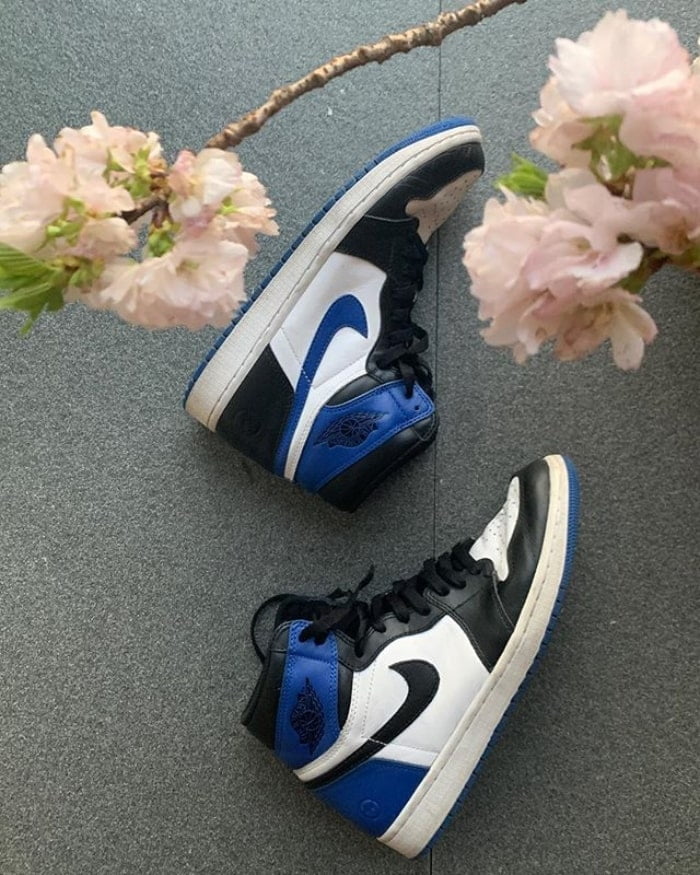 As you have probably already seen, Kim Jones has got some friends in some very high places. His kinship with Hiroshi Fujiwara is well documented, with the two often exchanging sneaker collaborations. Pictured above are two fragment design x Air Jordan 1s, but you will notice that there are some differences. The pair at the top is a sample pair!
You can see that the differences are very minor, but they make the value of this sneaker over three times that of the retail release. Described by Jones as "his favourite sneaker of all time", the fragment design x Jordan 1 is always in his rotation. According to Jones, he has around seven pairs unworn, wearing each into the ground before breaking out a new pair. Easy for some, huh?
Off-White™ x Air Jordan 1 NRG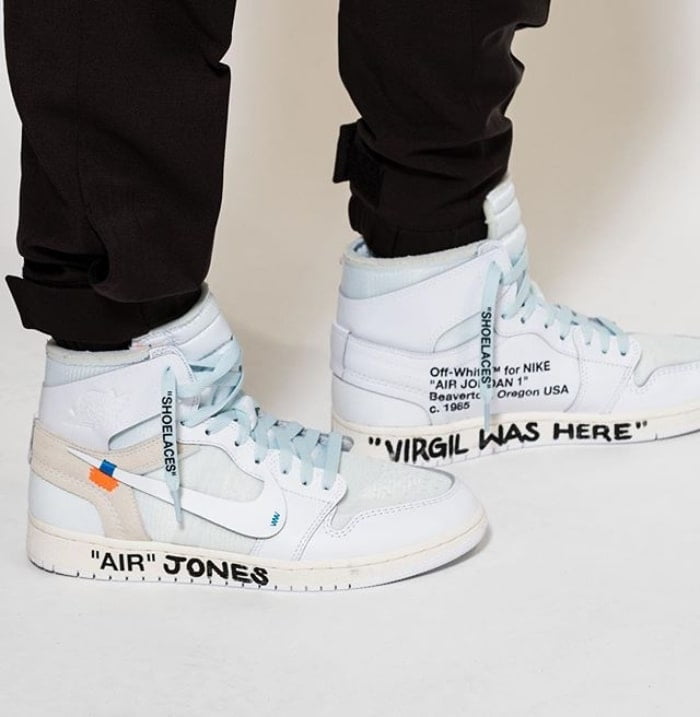 When rumours began circulating that Virgil Abloh and Nike were teaming up for more sneakers after The Ten, people got excited. Whilst there was no images online, reports suggested that another Air Jordan 1 was on the way. Unveiled during the Off-White™ Paris Fashion Week show, the simple white take was a subtle update to the hyped sneaker. As you can imagine, Kim Jones was one of the first people on the planet to get a pair.
Taking to Instagram in January 2018, Jones showed off the Jordan 1 silhouette in all its glory. His personalised pair features the words "AIR JONES" on the right foot, as well as "VIRGIL WAS HERE" on the left. When your friends with big designers, getting exclusive pairs is no challenge. We wish we had a sneaker plug like this, that's for sure.
Air Dior Jordan 1 Low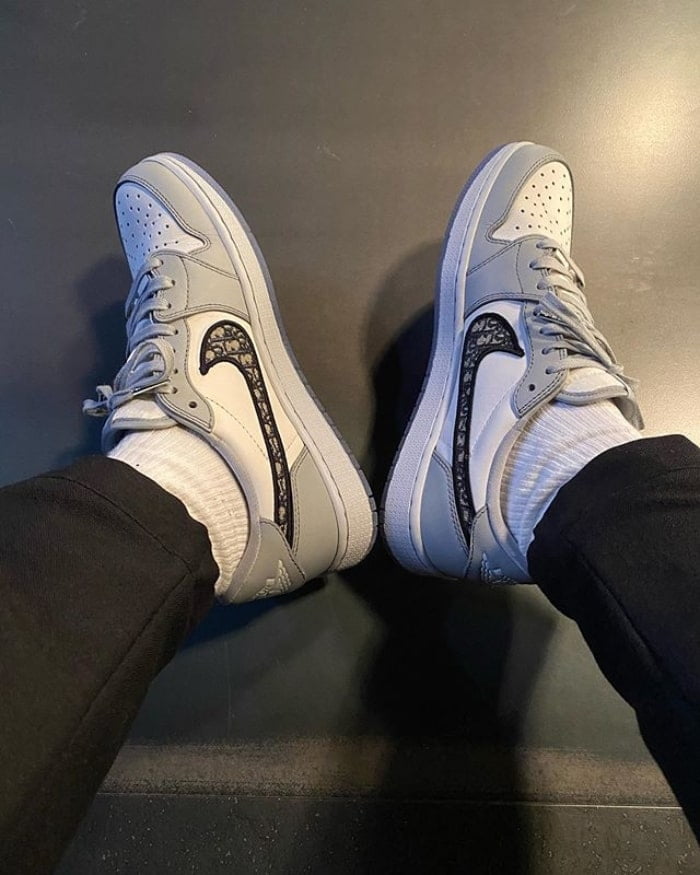 Rounding off this list we have the Air Dior Jordan 1 Low. The Air Dior collaboration is arguably one of the most important moments in sneaker history. First conceptualised by Kim Jones in 2018, Dior and Jordan Brand was able to keep the collab secret until the very last minute. This is simply put one of the greatest shoe creations of all time, purely for its historical value.
Dropping both an Air Jordan 1 High and Low, the latter of which is pictured on Jones's feet, Air Dior is symbolic. Taking Nike's classic design and bringing it into the 21st Century with premium materials is a monumental achievement. Subtle touches like the Dior Oblique motif on the Swoosh and tongue only add to this sneakers desire. Now selling for crazy prices, you can expect Jones to have a few pairs of these on ice for the future.
Of course, you could enter the KLEKT raffle to win a pair of Air Diors instead of paying for them!
Final Thoughts
If you ever had any doubts that Kim Jones is a sneakerhead, then we hope we've put them to bed. As one of the leading figures in fashion, Jones love of footwear is unparalleled. His desire to create, shock and even elevate iconic silhouettes is what makes him a true sneakerhead. With rumours circulating that a Kim Jones x Nike Air Max 95 is on the way, we personally can't wait to see what's in store. Of course, if you're looking to cop any of the sneakers on this list, head to KLEKT!
We have nearly all of the sneakers mentioned above just ready for you to buy. Whether it's Off-White™ Nikes or fragment Air Jordan 1s, we've got you covered. Head over to the KLEKT store now and pick up your next pair of sneakers!