It's the sneaker/movie event of the year! For something a little different here on KLEKTIVE, we're going to be talking about the new movie Air. Directed by Ben Affleck, this boardroom drama tells the story of how Nike's struggling basketball division signed Michael Jordan, spawning one of the biggest sneakers of all time.
Air opens on a montage of gaudy 80s adverts set to the tune of Dire Straits' Money for Nothing, establishing the feel of corporate excess. However, the film makes an effort to make the Nike offices seem relatively humble, not exactly Wolf of Wall Street. The opening also establishes the relatively minor stakes, showing that Nike only has 17% of the basketball market compared to the larger percentages held by adidas and Converse. The real question this movie poses is not "will the scrappy underdog succeed?" it's "will they dominate the running market and basketball?"
Of course, we all know how the story turns out, the main appeal of the film is seeing how we get there. Matt Damon plays Sonny Vacarro, Nike's uninspired and directionless basketball talent scout. He and the put-upon marketing guru Rob Strasser (Jason Bateman) are faced with the imminent closure of their basketball division. That is until Sonny gets his big idea: instead of signing a handfull of athletes, build a whole line around one rising star player, Michael Jordan.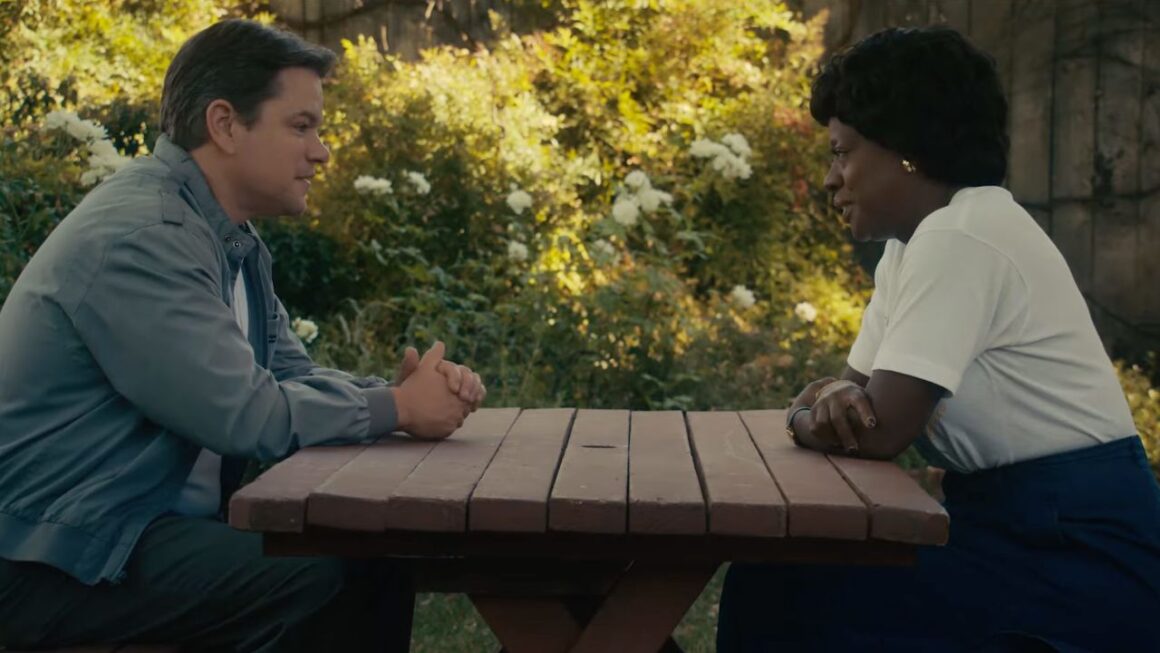 Michael Jordan himself made two casting recommendations to Ben Affleck. The first is Chris Tucker, who steals much of the show as the man who would later be VP of Jordan Brand, Howard 'H' White. His second pick was Viola Davis as his mother Deloris. Davis adds some genuine human weight to these business dealings, serving as a guiding presence to the largely absent MJ.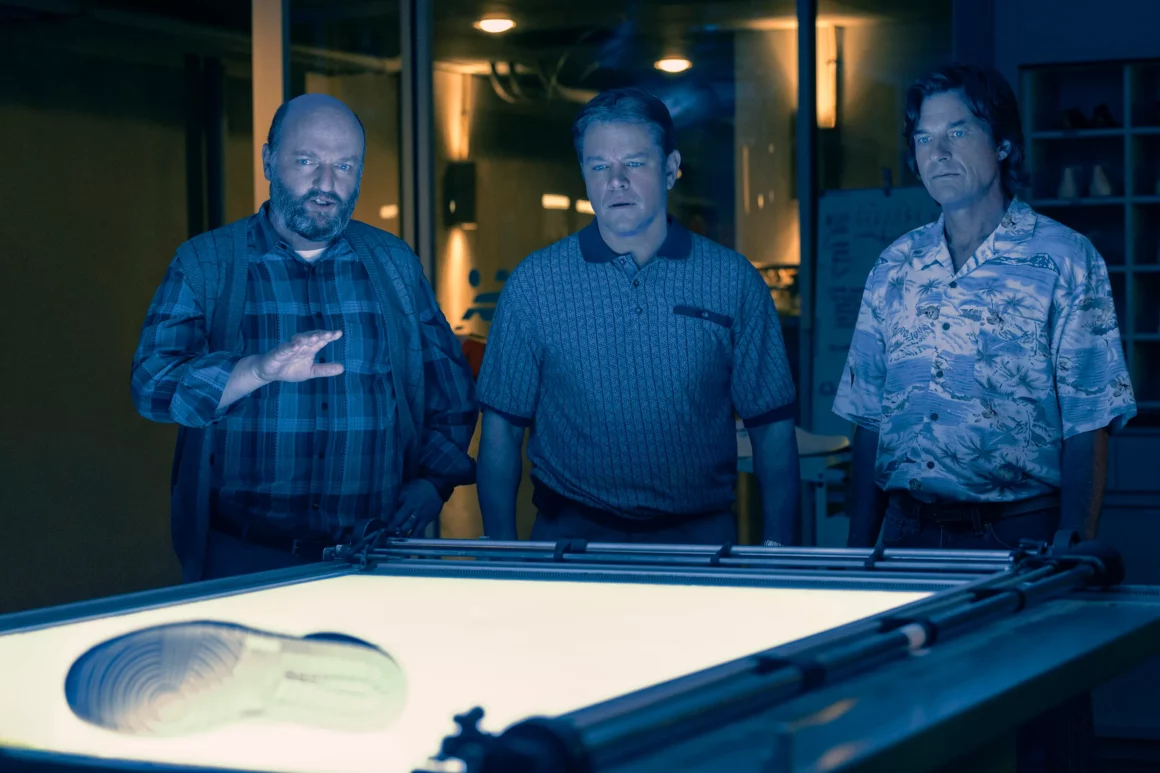 Other larger-than-life characters include Affleck himself as the CEO, Phil Knight, sporting a perm, tracksuits, and a purple Porsche. Facing pressure from shareholders to shutter basketball, Phil is forced to begrudgingly go along with Sonny's gamble. Phil spends much of the film getting his groove back, sighing and throwing in a few Buddhist affirmations along the way. 
Another key figure sneakerheads will look forward to seeing is of course the designer of the shoe, the late great Peter Moore, played by Matthew Maher. Moore is introduced as an eccentric savant toiling away in Nike's basement, but once Vacarro's plan is set in motion he is eventually called upon by Vacarro create "the greatest basketball shoe of all time". And let's not forget Chris Messina as David Falk, whose over-the-phone tirades make for some of the films funniest moments. The duo of Damon and Bateman also form a solid emotional core, two schmucks courting greatness under pressure.
Air's story is one we all know the ending of, and some may quibble with how accurately it tells it. With that said, sneakerheads are sure to get a kick out of seeing this massive event put to film, especially with such a stacked cast.