This week we sat down with Iker Bujeda, aka @fashionhoarder247, for the latest instalment in our 5Qs and 5As series. After moving to Copenhagen, his interests in the sneaker scene really took off. As one of Spain's up and coming YouTube influencers, Iker has been producing sneaker and streetwear content for a number of years now. His content is designed to help educate his subscribers on how to cop limited sneakers for a small price.
You can probably imagine, this has made him something of a figure in Spain's sneaker community. His commitment to good content has gained him nearly 50,000 subscribers in just a short time. This weeks' conversation is one of our favourites so far so make sure you check it out. Take a look at Iker's YouTube and get yourself educated on the latest sneaker news! Also, keep your eyes peeled on Iker's Instagram where he'll have a special code for his followers…
Hi, it's great to have you here. Can you please introduce yourself?
Thanks for having me. My name is Iker, I am 27 years old, and a regular guy from Spain who started Fashion Hoarder. I come from a pretty humble family so I got into the sneaker game quite late. When I was younger, I didn't have the chance because sneakers always seemed so expensive to me.
In a way, I guess you could say I have been into streetwear since I was around 12. I was very into skating at that time, so I wore a lot of Globe and DC rather than usual sneaker brands. However, I was always painting graffiti or even rapping, so I got more interested in urban culture from a young age. Streetwear is important to me because it's more about regular people and their style.
How did your passion for sneakers start?
As I mentioned before, I wasn't really interested in traditional brands and exclusive sneakers, I just wanted to dress like a regular skate guy. Around five years ago I moved to Copenhagen and that's really where my passion all start. To be honest, I should probably thank my girlfriend for getting me into it all.
I used to spend a lot of money on dumb things so I would never have a lot of nice clothes or sneakers. In fact, I think I had about two pairs but they were just really beat up. My girlfriend suggested that I start spending the money on sneakers, streetwear and accessories. Pretty soon after that, I got heavily involved in buying Moschino and then in 2017 I really discovered the sneaker community thanks to a friend.
After that, I started watching YouTube videos and then fell down the rabbit hole. I'm sure that most sneakerheads can relate to!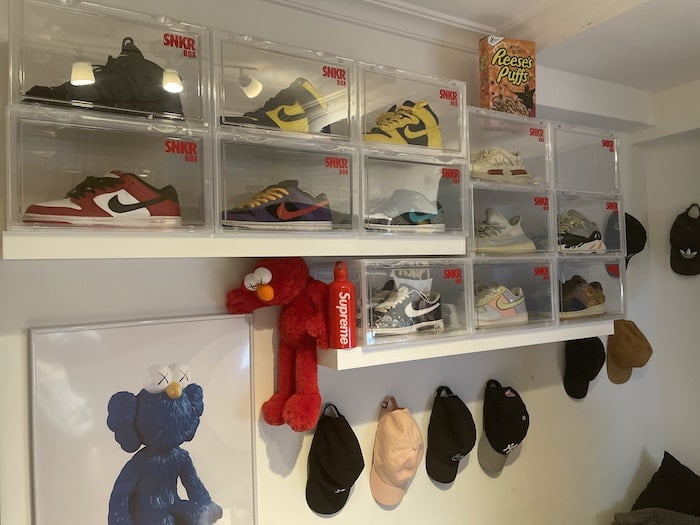 What are your sneaker prediction for 2021?
Based on what I have seen in the Spanish community it looks like things are changing. It seems as though people are now more interested in vintage sneakers and clothes. I've seen so many pages starting to sell older sneakers or second-hand sneakers so I think that's where things are going this year.
In my opinion, high fashion is far too elitist and only accounts for 1% of people. Not many people can afford to shop for luxury fashion so it's important they understand there is more to life than just designer brands: it's you who has to wear the clothes and sneakers, not the other way around. I hope that the sneaker industry goes back to its roots rather than towards high fashion.
For me, I love the fact that people get into sneaker culture through mainstream culture. It's exciting to see that people find sneakers through something else. With that in mind, it's also great to see people wearing more affordable sneakers like the Nike Dunk or Nike Air Force 1. The Dunk is one of my favourite silhouettes and when copped at retail, it's a bargain.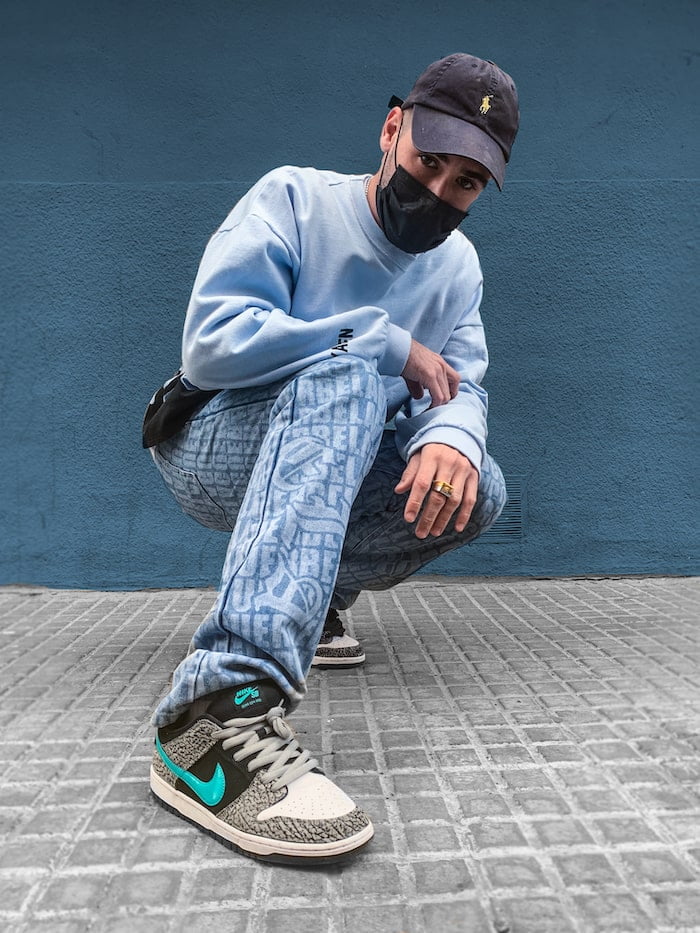 How would you describe the Spanish sneaker culture?
I think that the sneaker and streetwear culture has had a real boom in Spain over the last two or three years. Although people have always been interested in sneakers, it only really took off recently. If I had to pick one city that represented most of Spain's fashion and sneaker culture it would have to be Barcelona. As the most international city in Spain, Barcelona has a big influence in terms of how people wear sneakers throughout Spain.
It's funny really, but I've had people message me before telling me that if they were to style sneakers in a certain way then they would most likely get hate for it. Fortunately, though things seem to be changing thanks in part to the increased popularity of sneakers as a whole. Events like SCRAPWORLD have certainly helped to bring the community together and that's spilt over into Facebook, WhatsApp and Discord groups related to the sneaker community. Things are really beginning to look up in Spain's sneaker network.
You run a YouTube account with nearly 50k subs. Could you let us know a little bit more about your content and what people can expect from it?
My main content is all about sneakers or clothes. I like to do hauls of my purchases and a small review on each one but I also enjoy making VLOGs too. I visited SneakerCon London for two years and documented my whole time there. On top of that, I also give sneaker resell and investment predictions too. The main purpose of my content is to educate people about how to make some money from sneakers so that they can buy some more expensive pairs that they want.
I realised early on that if I started spending a lot of money on sneakers then I was going to go broke. Having seen how other people made money by selling hyped shoes, I began learning how to get my hands on more limited pairs. Now I own a cook group where we help people to get limited sneakers for retail so they can resell them to get the pairs they want. I'm just a normal guy who likes to help people with the same hobbies as me as well as producing some interesting content along the way.
Check out Iker's social channels: YouTube, Instagram