When it came to picking 10 of the best All-Star Weekend sneakers, the list got pretty long. For over 70 years, the All-Star Weekend has been an important weekend on the basketball calendar. Inaugurated in 1951, the exhibition game between the finest players of the East and West Conference has given us some truly breathtaking moments. Thankfully, the world of basketball sneakers got significantly better from the 1980s onwards, meaning there was a lot of ASW shoes to choose from.
With All-Star Weekend now nearly upon us, we thought we'd round up some of the best All-Star Weekend sneakers to release. As any true sneakerhead will know, ASW sneakers tend to cause an absolute craze on drop day. We've seen everything from campouts to riots over the latest ASW shoes, showing just how hyped they really are. There is no doubt that the ASW happens to bring out a tonne of heat. Although the 2021 celebrations may be a little different, that's not stopped brands from doing their part.
Today, we'll be choosing the best ASW sneakers to release in history, with a pretty good selection if we say so ourselves. We'll be covering everything from Jordans to New Balance and Yeezy to adidas, picking out some of our favourites along the way. Without further delay, let's take a closer look at the best NBA All-Star Weekend sneakers.
Off-White™ x Air Jordan 5 "Muslin" (2020)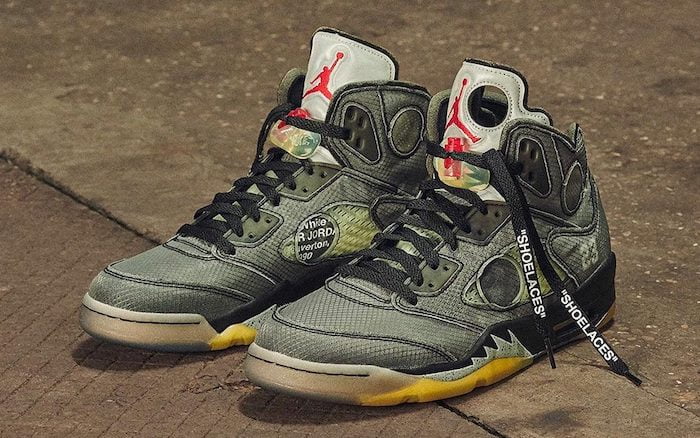 When rumours began circulating that an Off-White™ x Air Jordan 5 "Muslin" was on the way back in 2019, the sneaker community took notice. Virgil Abloh's work with Nike had made him one of the most important figures in the fashion world, so when the All-Star Weekend was scheduled to take place in his home town of Chicago, the release had to be on point. Thankfully, the Off-White™ and Louis Vuitton head honcho didn't fail.
Inspired by the OG "Black Metallic" Air Jordan 5, Abloh dropped one of the year's hottest sneakers of the year in February 2020. Launched during All-Star Weekend, the designer completely transformed the look of the classic silhouette. A faded black nylon upper feature holes placed throughout, linking to the concept of "Nike Air". Subtle details like the "23" on the heel and the aged vintage midsole were nods to Michael Jordan and his time on the court. Selling out instantly, these are one of the best ASW sneakers we've seen.
Air Jordan 3 "Black Cement" (2018)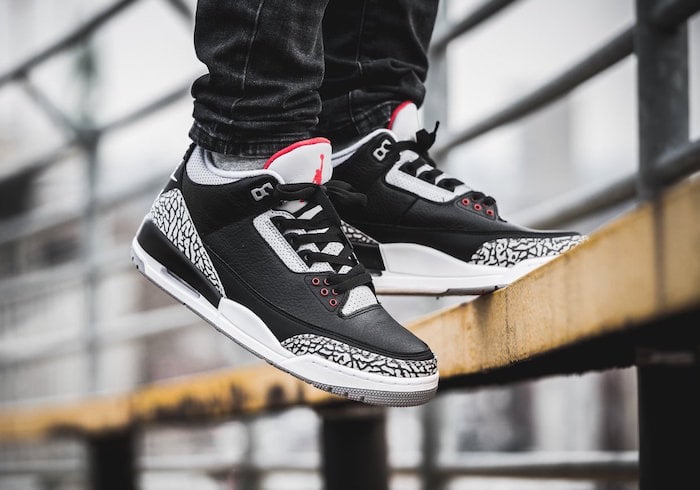 Back in 1988, Michael Jordan was still relatively new to the NBA scene. After injuring himself early into his second season, MJ had a lot to prove when coming back to the ASW game. Still considered a rookie by some, many questioned if His Airness was really all that good. Although the GOAT would wear the Air Jordan 3 "White Cement" for one of the most memorable dunks in history, today we're talking about its counterpart: the "Black Cement".
During the 2018 All-Star Weekend, the Air Jordan 3 "Black Cement" was brought back. Tinker Hatfield's design graced sneaker shelves once more, much to the delight of the sneaker community. Premium black tumbled leather was accented with the iconic elephant print throughout the upper. A crimson Jumpman on the tongue also came standard, but it was the OG "Nike Air" on the heel that was the best part. These are some of the best sneakers of all time, let alone one of the best ASW shoes.
Joe Freshgoods x New Balance 992 (2020)
Although New Balance has been a formidable force in basketball for a while, it wasn't until Kawhi Leonard joined that things started getting really interested. For the All-Star Weekend last year, New Balance teamed up with local creative Joe Freshgoods. The collaboration was dubbed "No Emotions Are Emotions", offering both a lifestyle and performance sneaker. Whilst the OMN1S have been long since forgotten, the 992 has not.
Merging together premium materials such as pigskin suede and familiar mesh, Joe Freshgoods nailed this New Balance 992 collab. Contrasting shades of red, pink and beige made this shoe as eye-catching as it was well made. A monochromatic midsole helped to break the colour up whilst not detracting from the shoes aesthetic. Subtle "DBM" branding can be spotted on the tongue, a knowing nod to this shoe creator. Released exclusively during ASW, these sold out instantly. These had to be one of the best ASW sneakers!
Air Jordan 6 "Infrared" (2019)
When the Air Jordan 6 "Infrared" first released back in 1991, it was one of the biggest sneakers of the year. From a historic point of view, it was the first sneaker that Michael Jordan won an NBA Championship ring in, making it a classic pair. Over the past 30 years, the AJ6 "Infrared" has re-released a number of times, selling out almost instantly every time. In 2019, the pair made a return for All-Star Weekend, much to the delight of sneakerheads.
Staying close to the OG model, the pair utilised a black nubuck upper throughout, giving it a sleek look. Infrared accents on the Jumpman and sole were brighter than the original, bringing this design straight into the future. For the first time ever though, "Nike Air" was placed on the heel, making it one that sneakerheads old and new both wanted. Sitting atop an icy sole unit, this Jordan 6 didn't take long to sell out on ASW. This just had to be on our list of ASW shoes.
Air Jordan 1 High 85 "Varsity Red" (2020)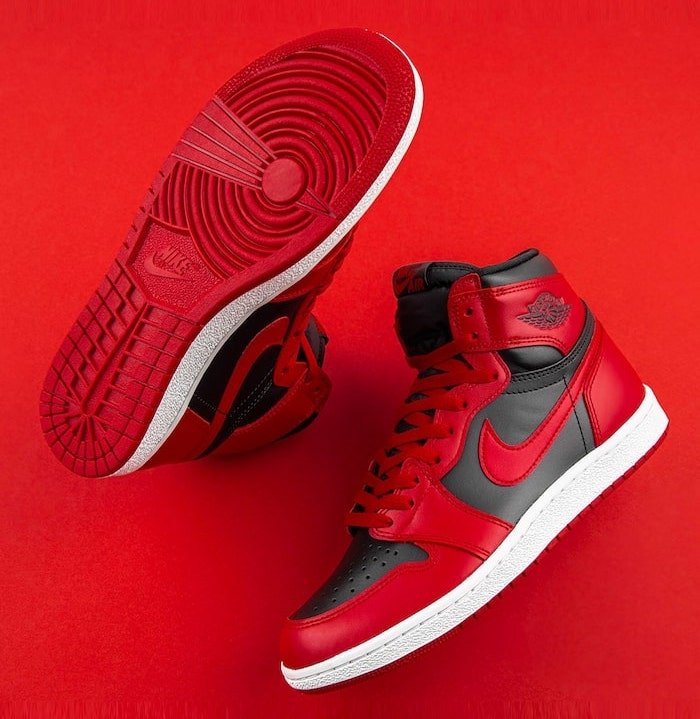 Air Jordans are synonymous with All-Star Weekend. Whenever MJ was playing an ASW game, people checked what sneakers he was wearing. If anything, it was one of the most important parts of the weekend. Although his playing days are long since over, ASW Jordans play a big role in Jordan Brand's release calendar. With the 2020 ASW taking place in Chicago, it was only a special Air Jordan 1 Retro Hi '85 "Varsity Red" was prepped for the occasion.
Taking the classic Air Jordan 1 shape, the sneaker was an updated take on the familiar "Bred" colourway. Premium leather was dressed in a simple black and red colour scheme, a big hit for any sneakerhead. What made these Jordan 1s so special, however, was the quantities produced. Limited to just 23,000 pairs, each came with a dust bag featuring the limited number on. As you can imagine, it didn't take long for sneakerheads to get their hands on these AJ1s.
adidas Yeezy QNTM (2020)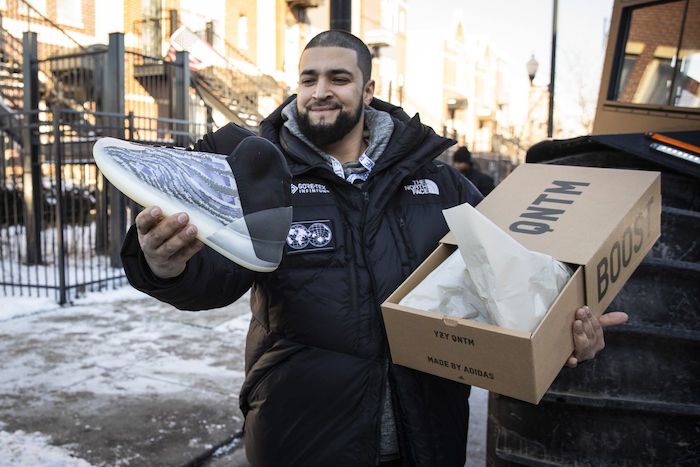 Kanye West joining adidas in 2014 was a monumental moment for the sneaker world. Although Kanye had been a member of the Nike family, he broke away after falling out with Mark Parker. Soon after, he expanded his brand with adidas, creating a number of high profile releases along the way. However, Kanye had big plans. After being previewed in 2017, the first-ever adidas Yeezy performance sneaker dropped in 2020 throughout All-Star Weekend.
As the original colourway of Kanye's first foray into athletic footwear, the QNTM drew insane hype. Comprised of a white and silver Primeknit upper, the sneaker boasted a subtle cage overlay to provide support. A light suede toe balanced with a milky Boost midsole to provided comfort and agility, two things that are essential in basketball. The black neoprene sockliner and tongue provided a lightweight option, with a 3M reflective heel cage bringing this Yeezy to a close.
However, what makes this one of the best All-Star Weekend sneakers is the release. Instead of having kids line up or enter raffles, Kanye and adidas drove through the streets of Chicago giving the sneaker away. For that reason alone, this had to be included on the list.
Air Jordan 1 Retro High OG "University Blue" (2021)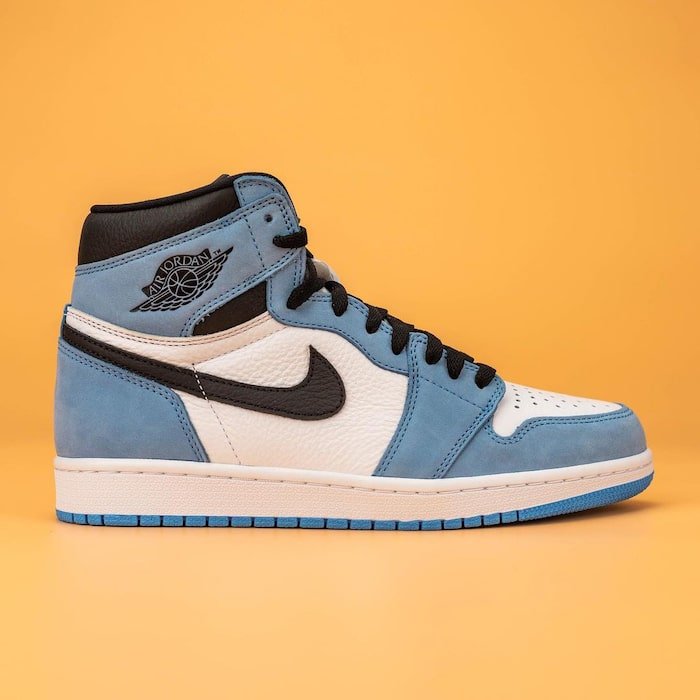 Ok, ok, so this might be a little early to call, but in our opinion, these are going to be future classics. After being revealed as part of the Spring 2021 release line up from Jordan Brand, the Air Jordan 1 "University Blue" was a standout pair. Taking the traditional UNC Tar Heels colour blocking, Jordan Brand has kept things very traditional on this sneaker. Constructed in premium tumbled leather and soft suede, this Jordan 1 is already a hit in our eyes.
A perfect combination of white and black leather is partnered with powder blue accents throughout, ensuring that both OG and new school make a perfect match. A debossed Wings logo on the collar also adds to the allure of this shoe. However, it's the white midsole and blue outsole of this Jordan 1 that are arguably our favourite features. Although this pair of Air Jordan 1s has yet to release, we're already certain these will be one of the best All-Star Weekend sneakers of all time.
Nike Air Foamposite One "Galaxy" (2011)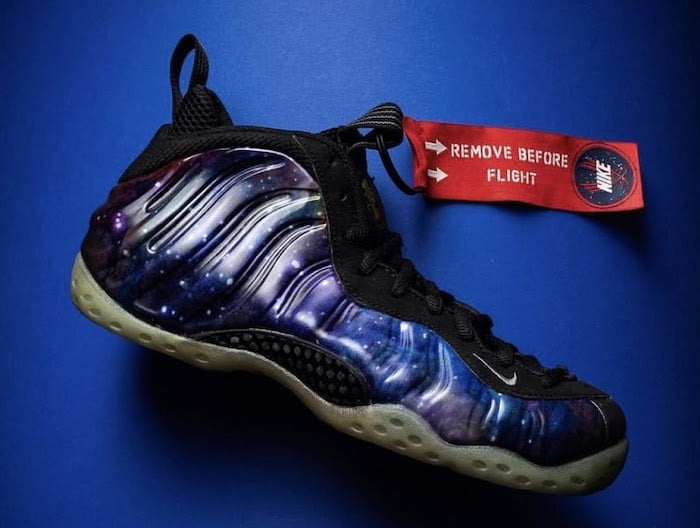 One of the earliest sneakers to create a considerable level of divide was the Nike Air Foamposite. The Foamposite, in itself, is a feat of technology for Nike. Initially debuted in 1997 by Mike Bibby who was playing for the Arizona Wildcats, the Foamposite's story is one that we could talk about for hours. However, we are here to talk about one instantly recognisable colourway that caused quite a stir in the sneaker community almost a decade ago.
In 2012, during All-Star Weekend, Nike unveiled an Air Foamposite One colourway that was simply out of this world. The "Galaxy" Foamposites were one of the biggest sneaker drops of the year and featured a unique paint job, depicting the cosmos. A tag on the tongue that reads "Remove Before Flight." Queues began to form around the world, with people camping out overnight to get their hands on a pair. The hype around this Foamposite didn't stop there, however.
One guy on Reddit was even willing to swap his car for a pair of "Galaxy" Foamposites in a size 10.5 (yep, you read that right). We want to know if someone was willing to take him up on the deal or if he's still waiting to cop.
Air Jordan "New Beginnings" Pack (2020)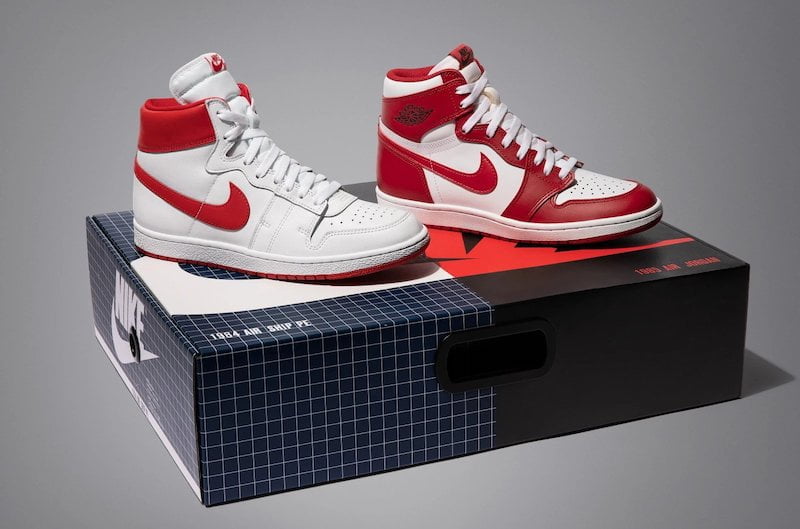 Jordan Brand knows how to do a good sneaker pack. Over the past 36 years, we've seen some pretty crazy pairs come as a two-part pack. From Defining Moments to Golden Moments, Jordan Brand knows how to do things properly. To celebrate the All-Star Weekend returning to Chicago, Jordan Brand had some exciting things planned. Off-White™ collabs, Quickstrike releases and pop-ups all took place. However, there was one Jordan pack that everyone wanted.
Called the "New Beginnings" pack, this was a collector's piece. Comprised of the Nike Air Ship and Air Jordan 1, the pack was an ode to Michael Jordan's career on the court. As any sneakerhead will tell you, the Nike Air Ship was the shoe that MJ wore before his signature model. Inspired by the city of Chicago, this pack was destined for great things. Simple red and white leather worked together to create a distinctive yet not overbearing look. Released in limited quantities, with custom packaging, these were always going to be a big hit. It's no wonder they made it as one of the best All-Star Weekend sneakers of all time.
Nike LeBron VII "All-Star" (2010)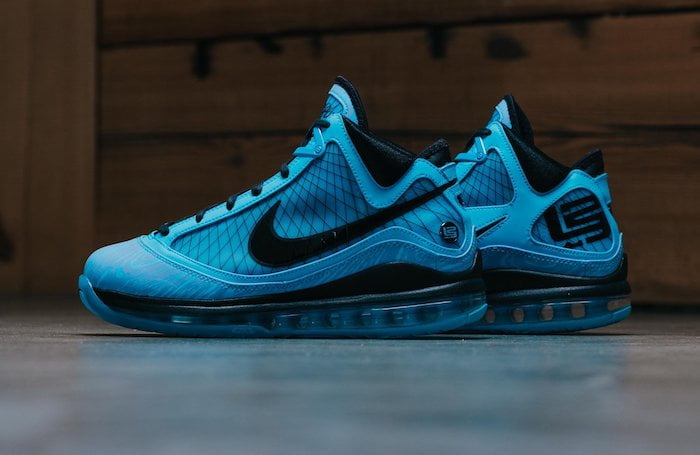 Since LeBron James burst onto the professional basketball scene in 2003, he's had a number of iconic sporting moments. He is the only player in NBA history to win a championship with three different teams, something that defines his character and ability. During that time, he's worn some very memorable sneakers too. Whether it's PEs, customs or even limited pairs, LeBron James knows how to get the sneaker community excited. In 2010, he and Nike cooked up one of his most memorable signature shoes.
Called the Nike LeBron VII All-Star Weekend "Chlorine Blue", the shoe was an instant hit with footwear fans. The light blue base featured contrasting black detailing to create an eye-catching pair of Nike LeBrons. After the game things went relatively quiet. That was until last year when Nike decided to bring the sneaker back for the 10th anniversary, as well as LeBron captaining the Western Conference. It's easy to see why this was one of the best All-Star Weekend sneakers.
Final Thoughts
So, that concludes our list of 10 of the best All-Star Weekend sneakers! We hope you enjoyed this piece and learned something new. Whilst this ASW may be different from what we're used to, we're sure that the game will be a big one. Taking place in Atlanta, check out the coverage from Friday. Of course, you can shop all the ASW shoes on KLEKT now!