In just 10 years Ronnie Fieg has gone from working in his uncle's sneaker store to collaborating with the likes of Coca-Cola and Versace. The native New Yorker is now one of the most influential men in streetwear and it's easy to see why. Not only has Fieg ensured that his brand Kith can stand alongside global labels, but he's also constantly pushed Kith's own label to join labels like Supreme and BAPE. Now, in 2020, there are no signs of slowing down any time soon.
At age 37, Ronnie Fieg's influence can be seen throughout streetwear. In the US, he is the man responsible for bringing back the ASICS Gel-Lyte III to the forefront of sneaker culture. Fieg has also helped to create a space for Kith in one of the most competitive industries on the planet. There really is nothing that the man can't do. With all that in mind, we though it was about time to round up 10 of Ronnie Fieg's best collaborations.
We'll be taking a closer look at 10 of the best Ronnie Fieg and Kith collabs. Although Kith may only be nine years old, it has already worked with huge brands at such a young age. So, without further delay, here are the top 10 Ronnie Fieg collaborations.
Disclaimer: this list is in no particular order!
Kith x The Godfather (2020)
If there was ever a collaboration that could sum up New York, it is this one. Earlier this year, Kith announced that it would be working with The Godfather on a limited-edition capsule collection. As a resident of the Big Apple, Fieg knows only too well the importance of Mafia culture within the city streets. Growing up watching the film saga, the collaboration between Kith and The Godfather simply made sense.
Staying true to the film's iconic black and white posters, the Kith x The Godfather collection was a perfect example of less is more. Artwork featured the iconic Don Corleone on a hoodie as well as a Kith box logo T-shirt. However, the combination of the puppet hand and "Kith" underneath was arguably the real winner of the collaboration. After quickly selling out on release day, this has remained one of Kith, and Ronnie Fieg's, greatest collabs.
Ronnie Fieg x ASICS Gel-Lyte III "Salmon Toe" (2011)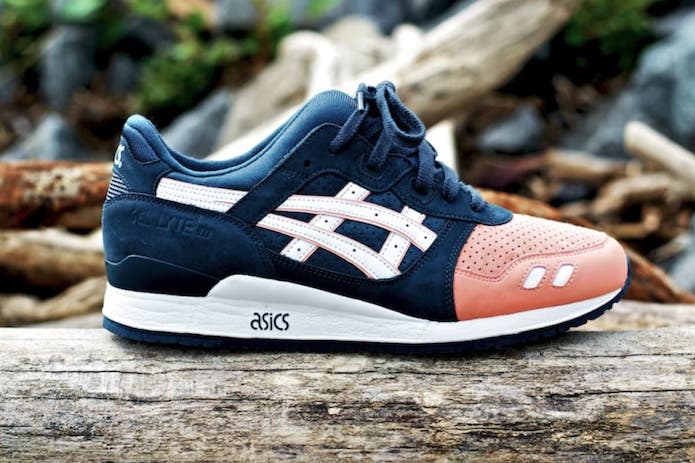 When it comes to ASICS Gel-Lyte III collaborations, few people do it better than Ronnie Fieg. After working at David Z, his uncle's sneaker store, Fieg had brought about sneaker collaborations with ASICS in 2007. Having made a name for himself with both ASICS and the sneakerheads of New Tork, Ronnie Fieg was quick to capitalise on the opportunity. When the Kith designer eventually decided to launch Kith's first store, he spoke to ASICS about creating a commemorative Gel-Lyte III.
Nicknamed the "Salmon Toe", the Ronnie Fieg x ASICS Gel-Lyte III was an instant hit. A simple combination of navy leather, as well as pink suede and leather overlays, the Salmon Toe Gel-Lyte IIIs was one of the years most sought after drops. Of course, the unique details did not just stop at the sneaker. Of the 72 pairs released, 40 came complete with a wooden box which featured laser etching of the edition number, a T-shirt and a set of dog tags.
Rare ASICS Gel-Lyte IIIs don't come much rarer than this. In 2015, Fieg gave sneakerheads the chance to cop and updated version, which also quickly sold out.
Kith x Coca-Cola (2016)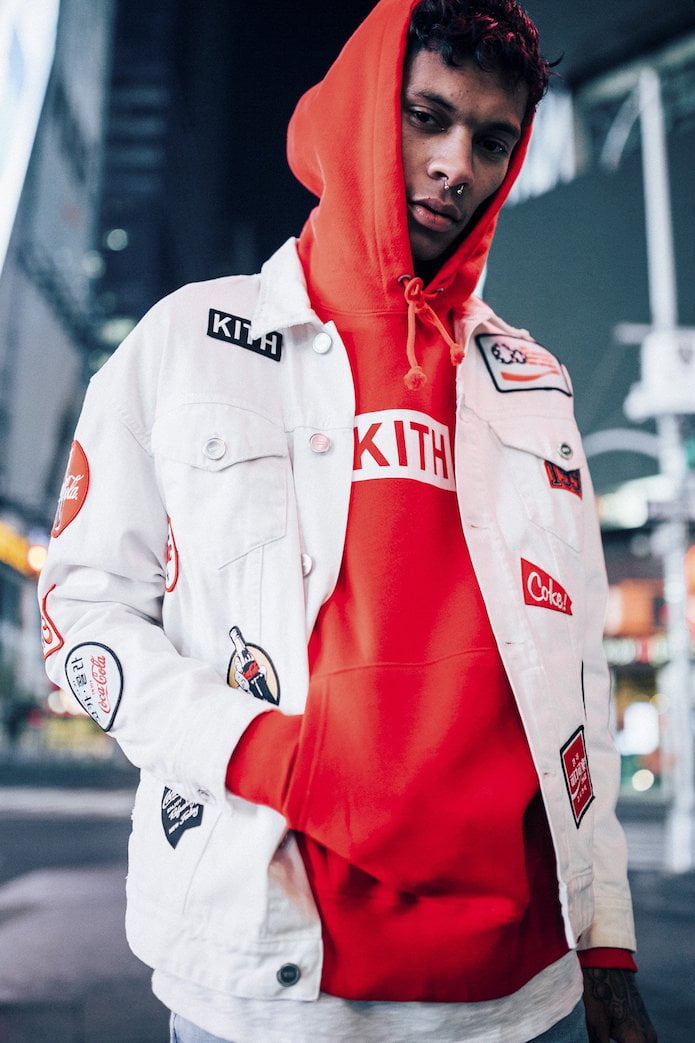 In 2016, Kith was celebrating its fifth birthday. To celebrate, Ronnie Fieg had continued to unveil exciting collaborations throughout the year. This included the likes of Rugrats, Colette and adidas. However, arguably the most iconic of the year came in the form of Kith x Coca-Cola. For Kith, this marked a huge achievement. As a label still relatively in its infancy, working with one of the world's most instantly recognisable brands showed how influential Kith truly was.
Taking a number of classic Coca-Cola logos and designs, Kith seamlessly added its edge to T-shirt, hoodies, denim jackets and accessories. The biggest achievement of them all, though? A custom Kith x Coca-Cola bottle. Available at select locations around the world, the Kith x Coca-Cola collaboration has remained one of Ronnie Fieg's greatest achievements. Given the success of the inaugural collection, it is no wonder that the two have since worked together three more times.
Ronnie Fieg x New Balance 1600 "Daytona" (2013)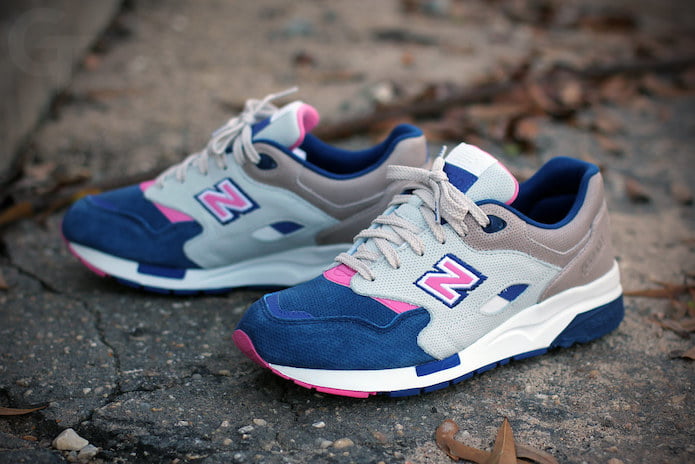 Ronnie Fieg has always been credited for giving brands like New Balance and ASICS a brand new look. In 2013, Fieg unveiled that a collaboration between himself and New Balance was on the way. Not taking an obvious choice of silhouette, Fieg opted for something a little bit more obscure: the New Balance 1600. The result helped to completely reinvent New Balance as a brand in the USA and for good reason.
Ronnie Fieg created the "Daytona" NB1600 and it has since become a blueprint on how to do a sneaker collaboration. Contrasting canvas, suede and leather all worked together in varying colours. Rich blues were contrasted with light greys, with pink and white accents bringing the whole sneaker together. Selling out record time, these Ronnie Fieg New Balance 1600s may not be the rarest of his sneakers, but they are certainly one of his best.
Ronnie Fieg x BAPE "Fiegsta" (2016)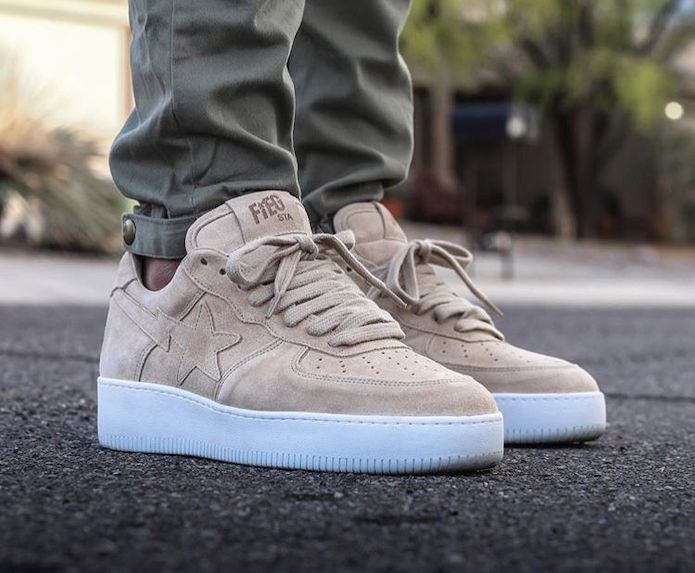 By 2016, Ronnie Fieg had become a well-respected name in the sneaker industry. His collaborations with the likes of ASICS and New Balance had been enough to put his name on the map. As time had shown, Fieg's work within the sneaker industry was enough to see him as one of the most revered designers on the planet. With Kith now celebrating its fifth birthday, it was time for Fieg to work with one of streetwear's most recognised brands: BAPE.
Taking the cult classic BAPESTA, Ronnie Fieg dressed two sneakers in contrasting materials. A classic white leather option launched alongside a tan suede version; the latter of which is our favourite. Fieg added subtle details like "Fiegsta" on the tongue as well as subtle branding throughout. This was also the first time that a BAPESTA was made in Portugal, adding to the premium nature of the well thought out collaboration.
A tan leather version was also given to friends and family, but we think that this retail pair just edges them.
Kith x Tommy Hilfiger (2018)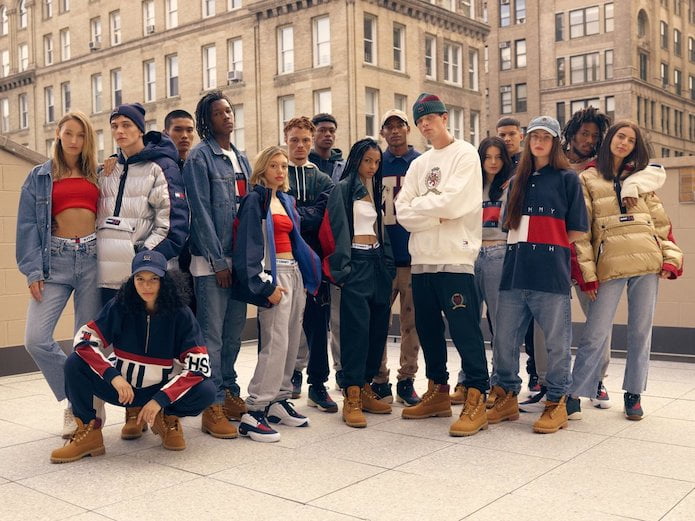 2018 marked a monumental achievement for Kith, but more so for Ronnie Fieg. On August 23rd, 2018, Fieg took to Instagram to reveal that a collaboration between Kith and Tommy Hilfiger was officially in the works. In a handwritten letter to Tommy Hilfiger himself, Fieg explained to him that: "Growing up you identify people or brands that shape the way you see things. Tommy Hilfiger opened my eyes to seeing a brand for more than apparel."
Unveiled at the Kith FW18 show, Kith x Tommy Hilfiger was a transformative experience for Fieg. It showed just how his label could bridge the gap between traditional fashion companies. Moreover, it also reinstated the importance of Tommy Hilfiger in the streetwear industry. In Fieg's own words: "This is for the 15-year old me. This is for my friends and I wearing Tommy in 1996 thinking we had no worries in life." A dream come true.
Kith x adidas Consortium Ultra Boost Mid "Aspen" (2016)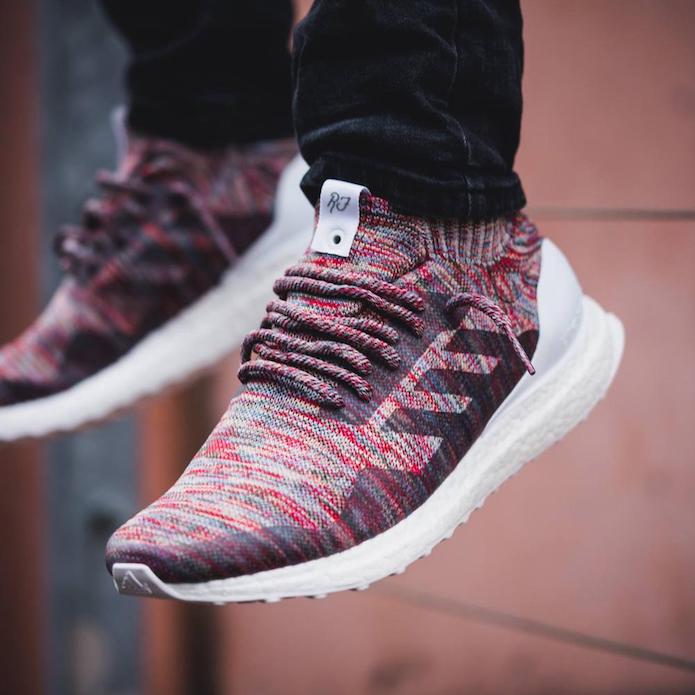 In 2016, Kith began to explore other avenues in the sneaker industry. With its fifth birthday celebrations well underway, it was time for a new challenge for Ronnie Fieg. After months of silently working in the dark, Fieg took to Instagram to reveal that a collaboration was in the works. Working with the adidas Consortium line, Kith created the first-ever Ultra Boost Mid, inspired by the unlikely apparel in the Kith Aspen collection.
Featuring a multi-coloured Primeknit upper, the Kith x adidas Ultra Boost utilised minimal three stripe branding on the side. A crisp white Boost midsole, complete with a Continental outsole, allowed the colourful upper to take precedent. Subtle branding was used on the tongue, as well as on the insole, complete with a simple "RF." This was the first time that Kith and adidas worked together and it was certainly not going to be the last.
Ronnie Fieg x Nike Air Force 1 "F&F" (2019)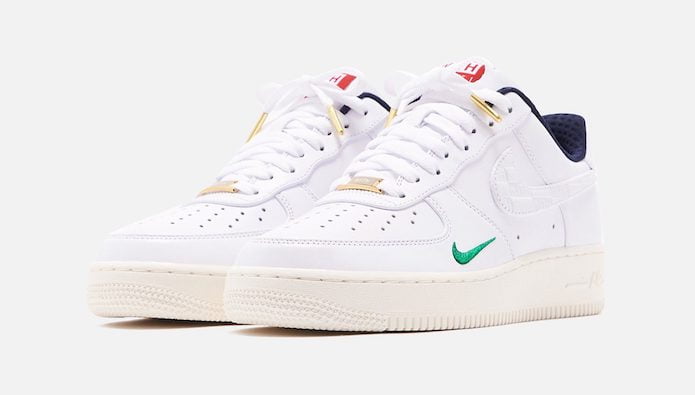 Ronnie Fieg is no stranger to the world of exclusive sneakers. The Kith fashion designer has been given some of the most exclusive sneakers on the planet. Of course, he has also given his close friends and family some rare pairs too. Although Fieg had worked with Nike in 2017, he had never been given the chance to work on a real classic model. That was until 2019 when Fieg unveiled an exclusive Kith x Nike Air Force 1.
Limited to just 100 pairs, the sneaker was one of the most talked-about moments of the year. The Air Force 1 features subtle Kith branding on the Swoosh, as well as gold accents on the lace dubrae and lace tips. Other notable additions were a miniature green Swoosh on the mudguard, as well as a blue mesh sockliner. Earlier this year, Fieg raffled off pairs to help combat the COVID-19 effort, giving five lucky winners a serious grail.
Ronnie Fieg x ASICS Gel-Lyte III "Homage" (2015)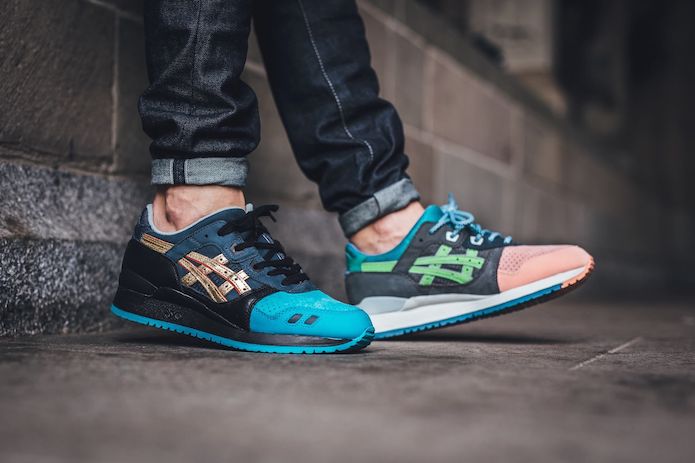 In 2015, the ASICS Gel-Lyte III was celebrating its 25th birthday. As one of the most revolutionary sneakers in the world, the Gel-Lyte III had always been overlooked in the USA. That was until Fieg made it one of the most popular sneakers in the country. It's safe to say that Ronnie Fieg and ASICS have a pretty good relationship. As a fitting tribute to the 25 years and 25 editions of the Gel-Lyte III Fieg had created, the two launched a "Homage" pair.
Taking aspects from 13 of the previous Ronnie Fieg ASICS, the collaboration used various colours, patterns and materials throughout. Contrasting colours, as well as the rather bold sneaker, meant that the shoe was allowed to shine in its own right. Finer details included the use of 13 pins on the packaging as well as 13 commemorative Stance Socks. The hype around the Ronnie Fieg x ASICS Gel-Lyte III "Homage" was, and still is, nothing short of crazy.
Kith x Versace (2018)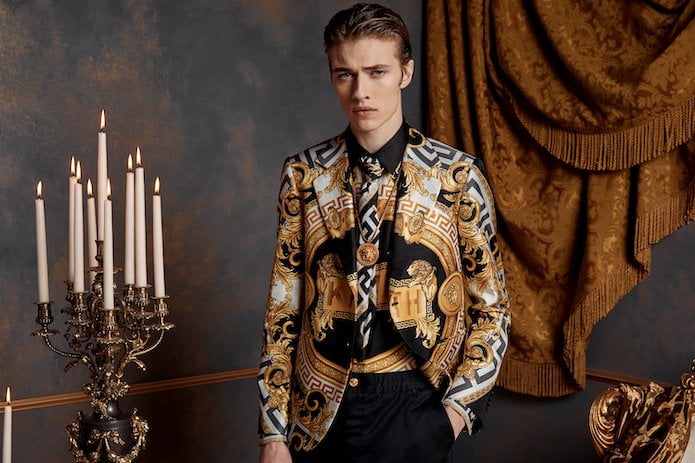 This is arguably the most iconic collaboration in Kith's history. Unveiled by Ronnie Fieg in 2018, Kith x Versace shocked the fashion world to its core, and for good reason. No brand in the history of Versace had been able to remix Gianni Versace's Medusa Head until Ronnie Fieg did so. Not only was the collection well thought out, but it was also a testament to the fact that Kith could work alongside well-established fashion brands and bring its own flare.
When the Kith x Versace collection rolled down the runway, it was met with critical acclaim. A well-balanced collection covered everything from tailoring to coats and sunglasses to jewellery. Moreover, the collaborative partnership also showed how Fieg could work with Donatella Versace, one of the most well-respected names in the industry. Models included Bella and Gigi Hadid, as well as attendees such as Justin Bieber and LeBron James.
If Kith x Tommy Hilfiger set the bar, Kith x Versace leapt well over it. Since then, fans have been patiently waiting to see more of Kith's work with high fashion brands. Though 2020 may have delayed the process, we are optimistic that 2021 will show us some more.
Final Thoughts
As you can see, Ronnie Fieg has had some pretty monumental collaborations in such a short space of time. The 37-year-old Kith designer has been able to seamlessly merge his label with the likes of Versace, Nike, adidas and Coca-Cola. Not only that but the work rate Fieg has is simply flawless. Meticulous detailing, well-thought-out materials and subtle designs have allowed Ronnie Fieg to make a name for himself as one of the most creative men in streetwear.
If you're looking to cop any of Ronnie Fieg's collaborations, why not head over to KLEKT? Whether it's ASICS Gel-Lyte IIIs or simply Coca-Cola Converse, we've got you covered. Head over to the KLEKT store now and cop some Kith fashion and Kith clothes!