Spring has finally sprung. It's been a pretty strange start to 2021 for many of us, but there's finally some things to look forward to. Lighter days and nights, warm weather on the horizon and hopefully a host of new cops are definitely on the agenda. Arguably the best season to dress for, spring offers a host of options when it comes to your outfit choices. As we start to prepare for spring, we thought we'd give you a complete guide on what to wear.
Below you'll find some of the years biggest sneaker releases alongside some stellar outfits. We've scoured the internet to bring you a perfect spring style guide, making it easier for you to get some inspiration, a fresh perspective on a pair you were undecided on and, ultimately, some new sneakers for spring. From Nike Dunks to Air Jordan 1s, there's something for everyone in KLEKT's Spring Style Edit. Without further delay, let's get started.
Nike Dunk Low "Black/White" Women's Outfit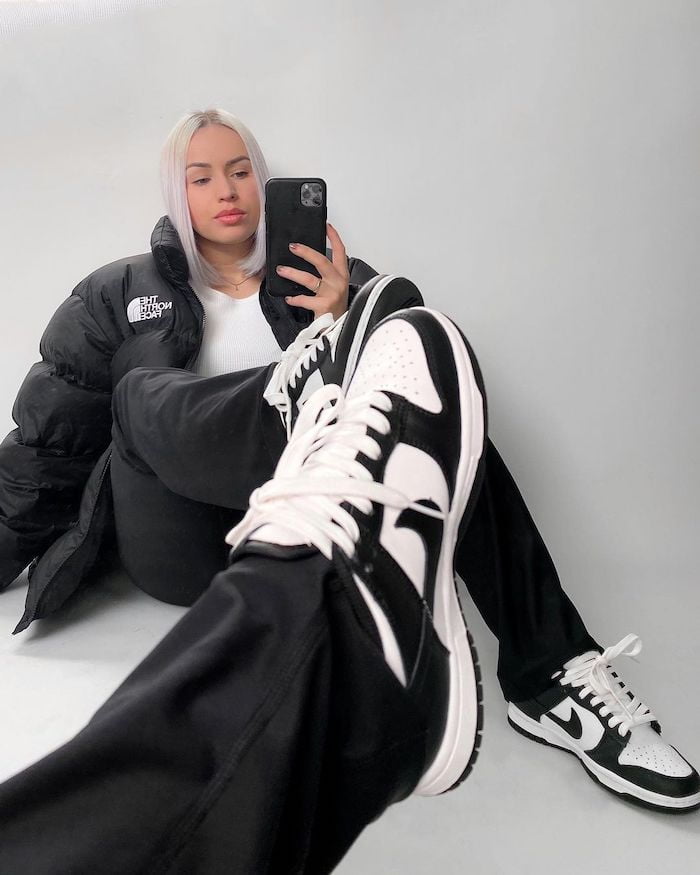 Sometimes less really is more. When the Nike Dunk Low "Black/White" dropped back in January, it quickly became one of the hottest pairs of the year. The simple monochromatic construction allows it to be worn with almost any outfit. Pictured above, you'll see Team KLEKT's @evitanicola showing you how you can complete an outfit with your sneakers. Donning a classic The North Face Nuptse, a plain white T-shirt and black pants, the above outfit is minimalism at its finest.
Nike Dunk Low "Black/White" Men's Outfit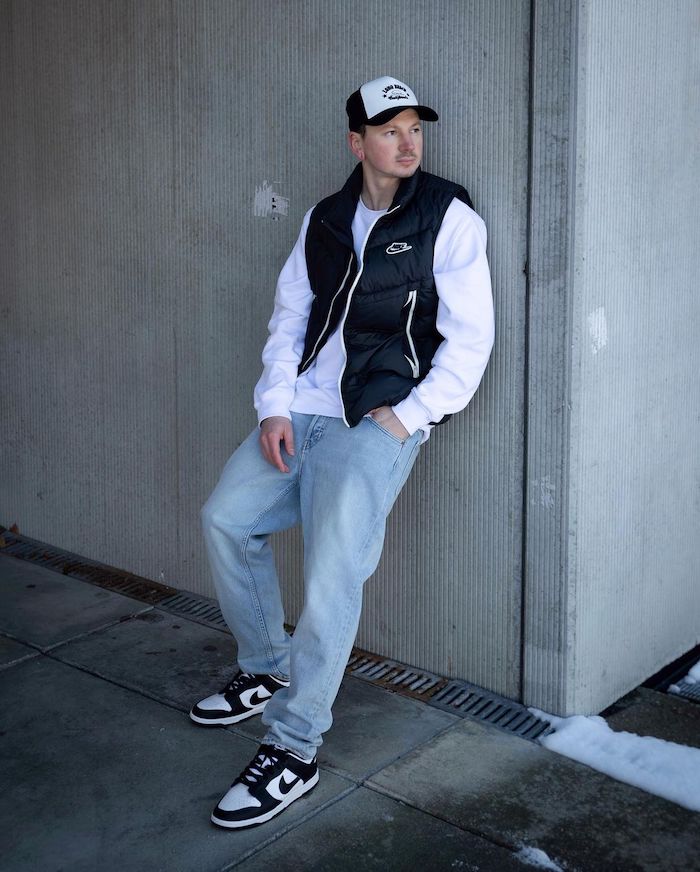 As previously mentioned, black and white sneakers give you a whole host of options when it comes to outfits. With very few colours used, it means that they slot nicely into your look without feeling forced. Pictured above, you can see a well-layered outfit from @tommeeblvck. A long-sleeve white T-shirt, paired with a black gilet is the perfect base for the Nike Dunk Low "Black/White". Light blue jeans also add a splash of colour without feeling too forced, whilst a simple baseball cap brings it all together.
Air Jordan 1 Retro High "University Blue" Women's Outfit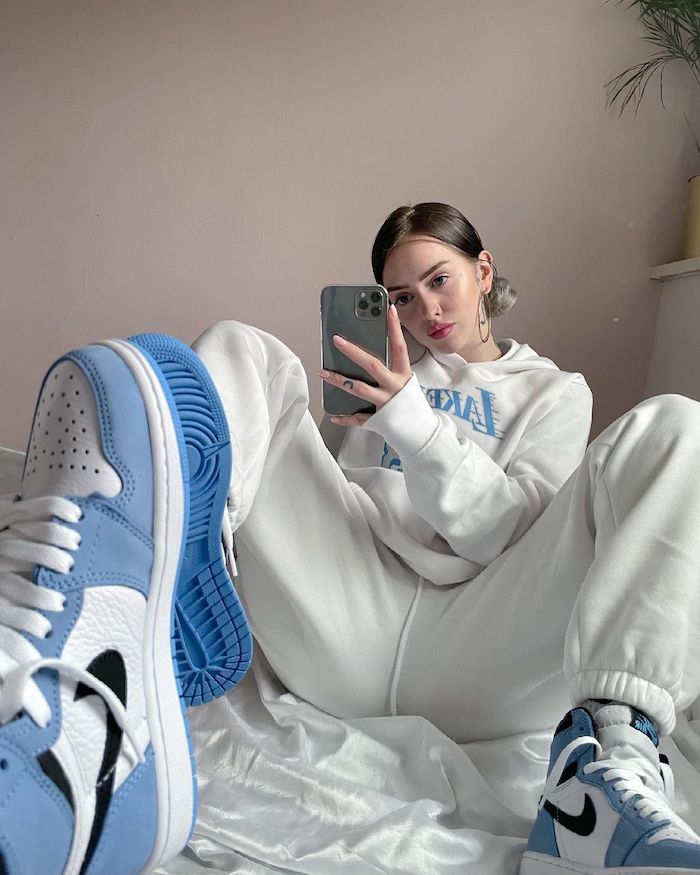 Let's face it, we've all been spending a lot more time in tracksuits recently. With the whole world on lockdown right now, there's not an awful lot to get dressed for. That being said, it doesn't mean you can't start flexing on your shopping trips or daily exercises. One of the best ways to dress up any Air Jordan 1 is really to dress it down. Casual outfits with minimal pieces will really let the shoe take pride of place, as you can see from @lindahelder's ensemble above. A vintage-style sports tracksuit and this "University Blue" Air Jordan 1 is the perfect balance of comfort and style.
Air Jordan 1 Retro High "University Blue" Men's Outfit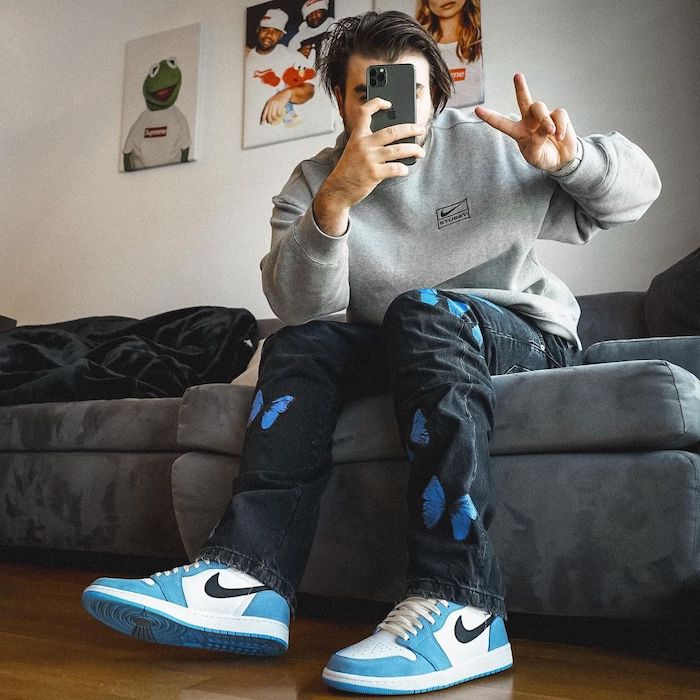 The great thing about Air Jordan 1s is the versatility when it comes to dressing them, as you'll have no doubt seen in our How to Style the Air Jordan 1 post. Since releasing in March, the Air Jordan 1 "University Blue" has been one of the most popular pairs this year. Premium materials, a great colour scheme and a soft colour palette mean the AJ1 "University Blue" can be dressed up or down. Above, you'll see Team KLEKT's @c__k_ showing us how it's done. A simple grey sweatshirt paired with black graphic jeans and this killer AJ1, what's not to like?
Nike Dunk Low PRM "Medium Curry" Women's Outfit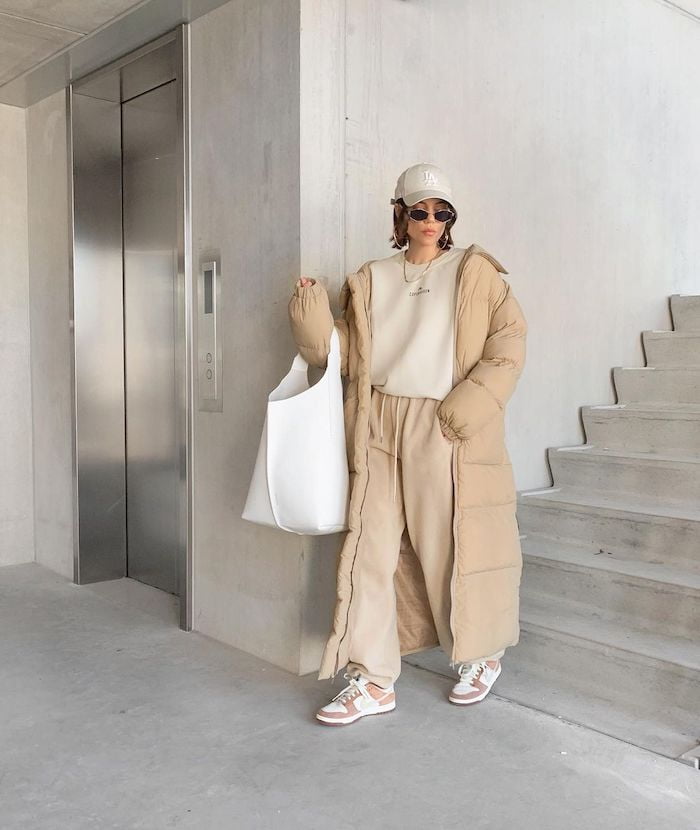 As you'll no doubt have seen this year, the Nike Dunk has been the hottest silhouette in sneakers. From SB to OG and High to Low, the Dunk is definitely back. One of our favourite colourways was the "Medium Curry"; a pair that's literally made for spring. Seen above on the feet of @nadiaidder, the "Medium Curry" Dunk is a tonal masterclass. Oversized layers in a complimentary cream and tan create a perfect contrast with the natural hues placed on this Nike Dunk. If there's ever any cold days in spring, you know just what look to go for.
Nike Dunk Low PRM "Medium Curry" Men's Outfit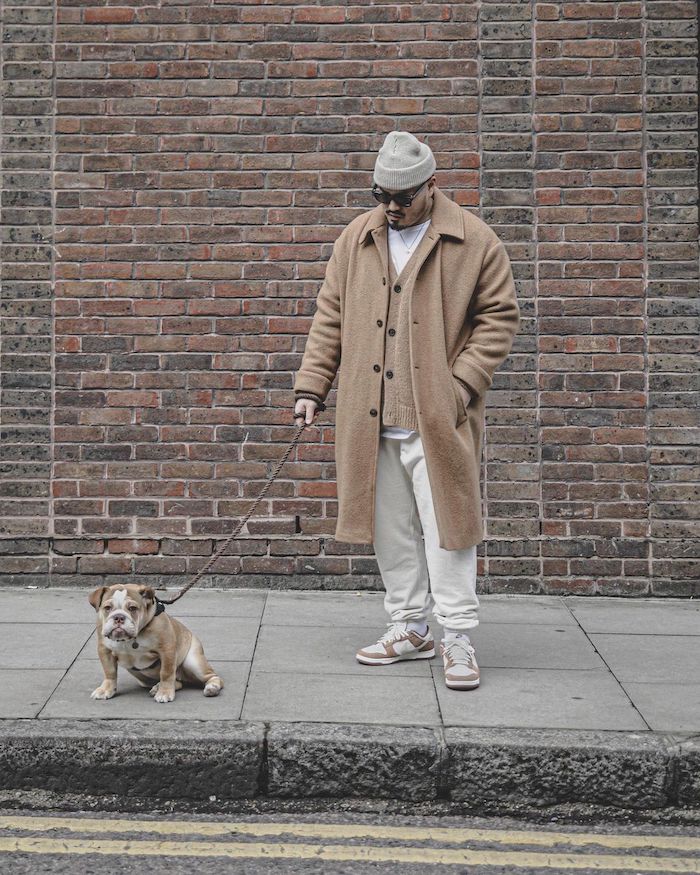 The above outfit from @t.mcfly is another great example of layering in spring. Known for having unpredictable weather, it's better to be prepared when it comes to the changes in the season. As previously mentioned, the Nike Dunk Low PRM "Medium Curry" really is a sneaker that lends itself to tonal dressing. By pairing a tan cardigan, traditional wool overcoat and oat sweatpants, this outfit can be easily replicated throughout the whole of spring. Unfortunately, Nala, the British Bulldog, doesn't come as an accessory, but we're sure you'll think of an alternative.
adidas Yeezy Boost 700 V2 "Cream" Women's Outfit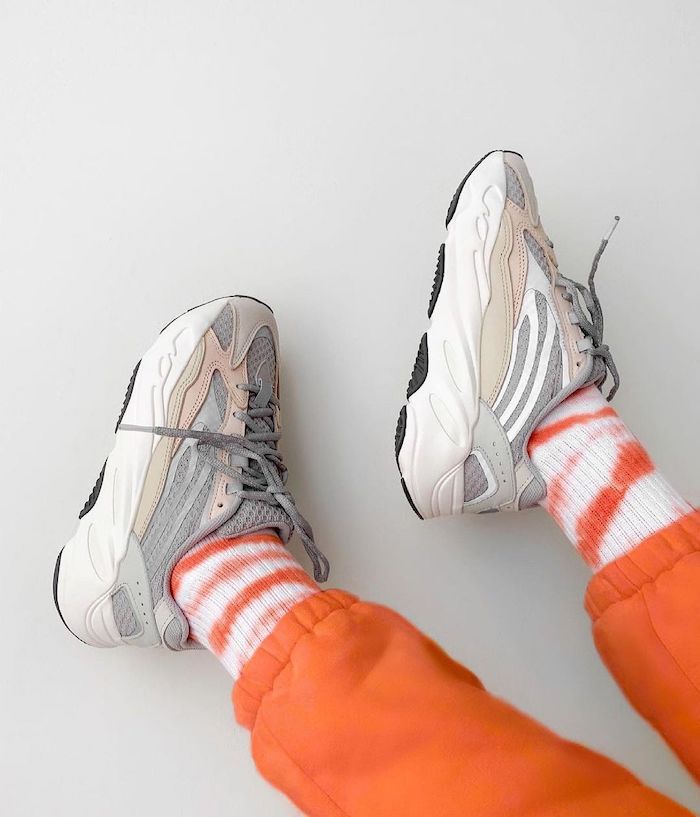 Yeezy Season may have been slow to start in 2021, but things have definitely started getting better since March. We've seen a whole host of 350 V2s, QNTMs and 700 V3s, but arguably our favourite Yeezy to release so far this year was the 700 V2 "Cream". The updated take on the "Static" uses tones that lend themselves perfectly to a spring palette, as seen here on @nadiaidder. Bright orange sweatpants, tie-dye socks and this pair of Yeezys? They are a match made in heaven.
adidas Yeezy Boost 700 V2 "Cream" Men's Outfit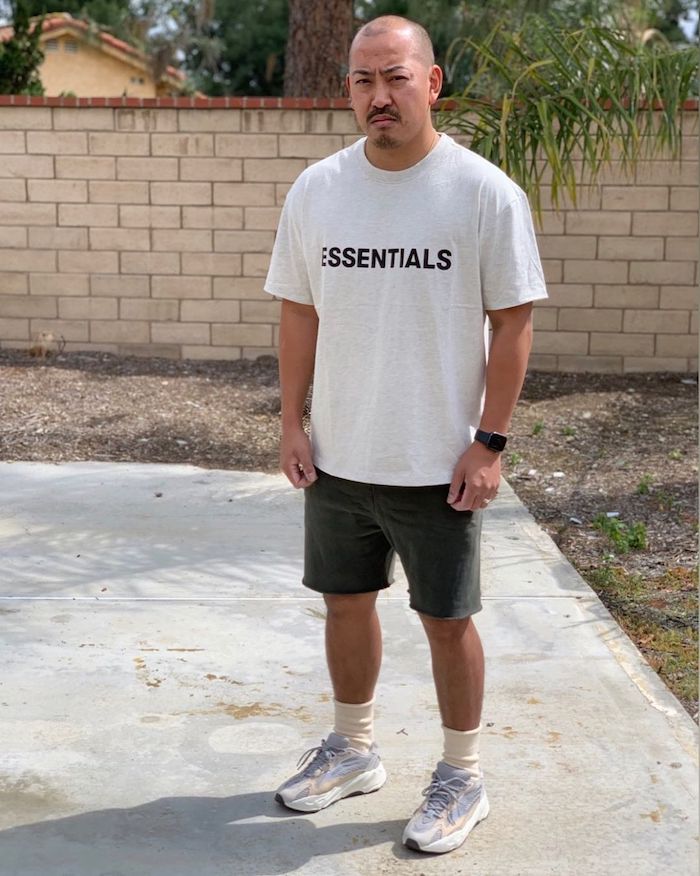 Spring can be unpredictable at times, but that doesn't mean that there aren't some surprisingly warm days. As mentioned earlier, the recent adidas Yeezy Boost 700 V2 "Cream" is a sneaker that's ideal for the entire season. The premium materials, complimentary palette and sleek silhouette make it an ideal runner, whatever the weather. Pictured above by @perceps, you can see just what we mean. A plain white Fear of God ESSENTIALS T-shirt, basic shorts, tonal socks and a pair of the Yeezy 700 V2 "Cream" make this a great outfit.
Nike Dunk High "Syracuse" Women's Outfit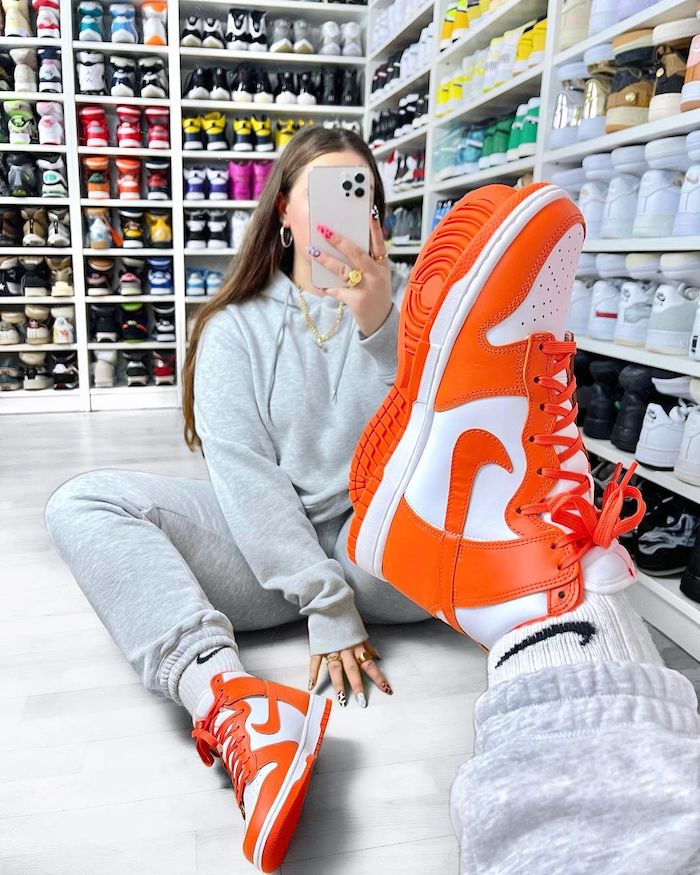 When the Nike Dunk High "Syracuse" was rumoured to be returning in 2021, sneakerheads everywhere rejoiced. Originally released in 1985 as part of Nike's "Be True To Your School" campaign, the "Syracuse" has remained an iconic pair in sneaker history. Wearing a shoe this bright can be tough when it comes to creating an entire outfit. Thankfully, the versatility of the plain grey tracksuit ensures that the "Syracuse" Dunk can really do all the talking. Pictured above on the feet of Team KLEKT's @rebeccahyldahl, the simple outfits are often the best.
Nike Dunk High "Syracuse" Men's Outfit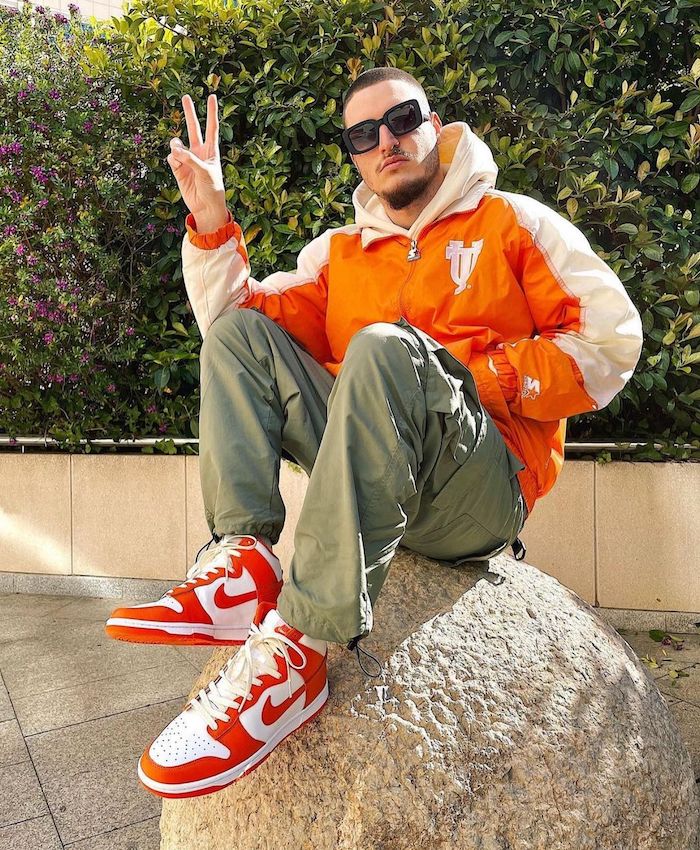 Nike Dunks have transitioned from an on-court basketball shoe to one of the most practical pairs for many subcultures. From skaters to basketball players and models to musicians, the Dunk is a design that can be worn by anyone. If you are looking for an outfit on the more practical side, then Team KLEKT's @vctorfdez has got you covered. The vintage track top in accompanying tones is a nice link allowing the "Syracuse" Dunks to shine, whilst a pair of khaki cargos creates a bridge between the upper and lower half.
Final Thoughts
That concludes the KLEKT Spring Style Edit! We hope you enjoyed this piece and got some new inspiration, tips and outfit ideas for this season. As we edge ever closer to finally getting some warm weather, it's important to be prepared when it comes to your outfit choices. Of course, if you're looking to cop any of the items featured in this piece, then head over to KLEKT! Make sure you follow the outfit inspiration too for more sneaker and streetwear content we know you'll love.