En las últimas semanas, ha habido una creciente cantidad de zumbido que rodea The Last Dance. El documental que sigue la carrera de Michael Jordan ha dado a los fans la oportunidad de presenciar lo grande que era un jugador. Por supuesto, eso ha significado volver a través del extenso archivo de las zapatillas de autor de His Airness, para el deleite de las zapatillas. Con el episodio de esta semana que muestra el regreso de Jordan al juego, echamos un vistazo más de cerca a la zapatilla que llevaba.
Después de su breve paso como jugador profesional de béisbol, Jordan regresó al juego a través de uno de los comunicados de prensa más icónicos de todos los tiempos. Después de haber dejado el baloncesto después de la muerte de su padre, MJ emitió una simple declaración de dos palabras: "Estoy de vuelta". El regreso de uno de los juegos más icónicos fue tan comentado en 1995 como lo es hoy, 25 años después. Con eso en mente, pensamos que ya era hora de que redondear algunos de los mejores Air Jordan 10 después de su regreso.
Vamos a profundizar en todos los colores de Air Jordan 10, eligiendo nuestros favoritos, cubriendo todo, desde el paquete de la ciudad de Jordan 10 hasta el OVO 10s a lo largo del camino. Sin más demora, echemos un vistazo a los mejores colores de Air Jordan 10 de todos los tiempos.
Air Jordan X "Chicago" PE (1995)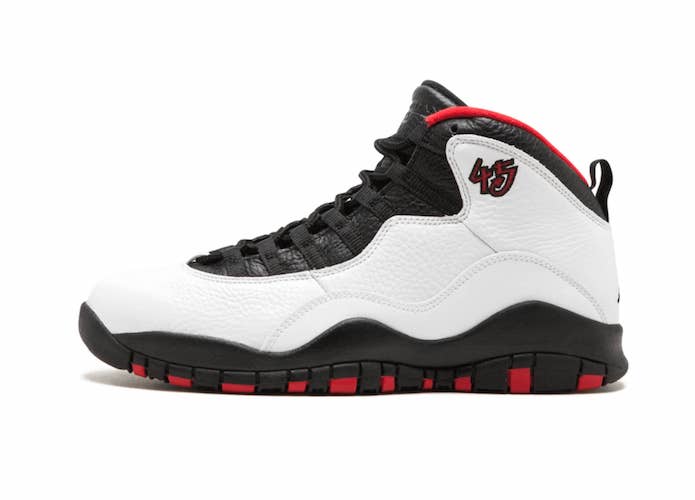 Después de su regreso triunfal al juego, Michael Jordan sabía que tenía que hacer una gran impresión. Vistiendo el número 45, muchos comentaron que no era el mismo Jordan el que había dejado el juego dos años antes. Sin embargo, eso no parecía afectar su capacidad para intimidar a sus oponentes en la cancha. Con Jordan fuera, se dejó a Tinker Hatfield para mantener la línea Air Jordan en marcha. Sin MJ que le dijera lo contrario, Hatfield se propuso diseñar el Air Jordan 10.
Mientras que estos habían caído como parte de la serie City, MJs PE tenía un número 45 cosido en el lado. En su primer partido de vuelta, MJ cayó 55 puntos en la ciudad de Nueva York el 18 de marzo de 1995. El infame juego de "doble níquel" llevó a una versión en 2015 de este color con "45" cosido en el lado del zapato.
Air Jordan X "Doernbecher" (2013)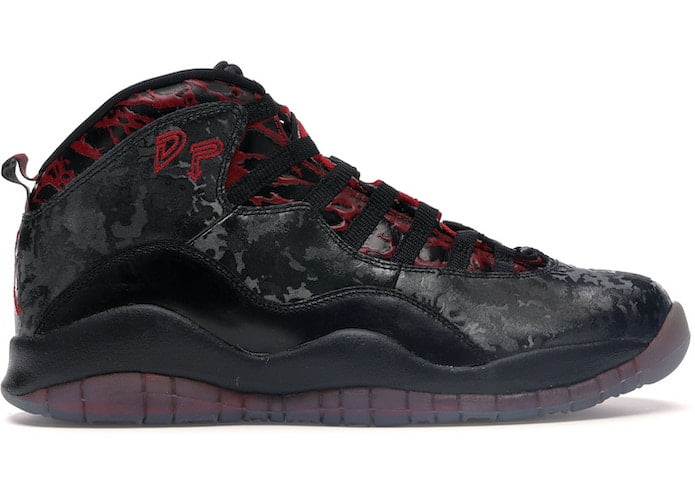 La relación de Nike con el Doernbecher Children's Hospital en Oregón es increíble. A los niños enfermos se les da la oportunidad de diseñar su propia zapatilla, con los zapatos a la venta recaudando dinero para el hospital. En los últimos 16 años, Nike ha recaudado millones de dólares por la causa. Aunque todas las zapatillas Nike Doernbecher son geniales, de vez en cuando aparece un par que roba el espectáculo.
In 2013, Daniel Pena was given the chance to put his twist on the Air Jordan 10. The predominantly black leather sneaker features a digi camo pattern on the top, as well as a unique pattern underneath. On the side are the initials "DP" in a custom font, whilst a red and blue outsole finishes the shoe off. This is a great sneaker for a great cause.
Air Jordan X "Linen" (2005)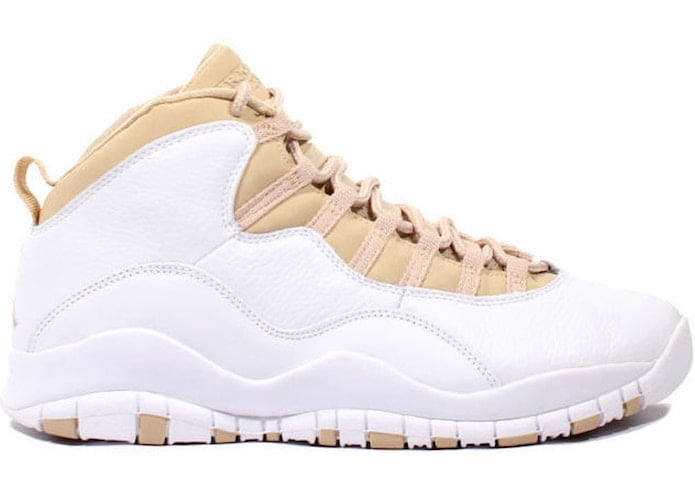 Although some of the best Jordan 10 colourways are the classics, a new version certainly helps. 2005 marked the 10 year anniversary of the Air Jordan 10. To celebrate, Jordan Brand began to create new colourways. This Linen Air Jordan 10 was and still is one of the most memorable Jordan 10s to ever release.
The combination of white tumbled leather contrasted by tan suede made the Jordan 10 Linen a clear favourite. Tan laces and a tan tongue also helped the shoe to stand out. Of course, the sole was the most memorable part. Combining the white and tan perfectly, the Linen 10s are one of the most desirable Air Jordan 10s of all time.
Air Jordan X "City Pack" (1995)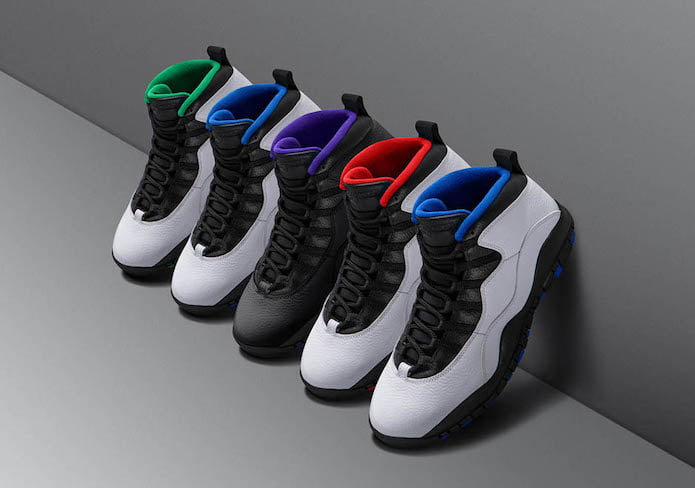 Ok so technically this is cheating, but we couldn't just put five sneakers on this list. Hear us out, OK? In early 1995, Michael Jordan was absent from the game. With no muse to work with, Nike decided that it was time to showcase five NBA cities in one pack, with rising stars from each team debuting the shoe on the court.
The five cities that make up the Jordan 10 city series were Chicago, New York, Orlando, Sacramento and Seattle. Each shoe featured the relevant city's colour scheme and was an instant hit. Whilst four out of the five shoes used white tumbled leather, Sacramento featured black tumbled leather, making for a nice change. These are classics, are for good reason.
Air Jordan X "Wings" (2020)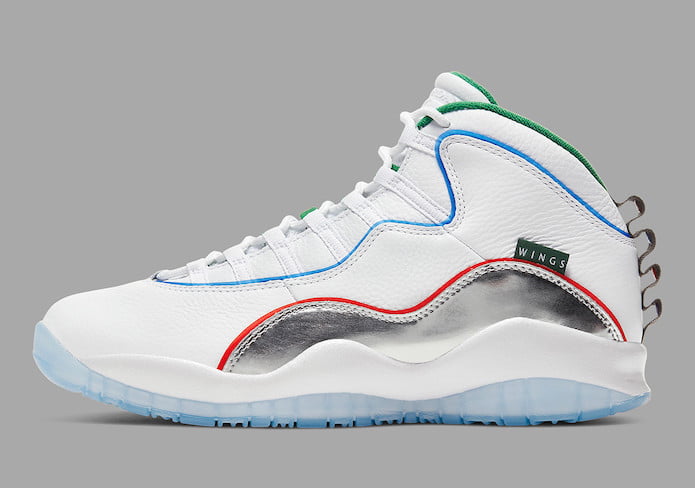 It's not often that a new Air Jordan 10 colourway makes the list but this one's an exception. Earlier this year, Jordan Brand was celebrating NBA All-Star Weekend being in Chicago. The shoe takes inspiration from the Windy City's Chicago Transit Authority (CTA) which can be seen throughout the colourway.
The multi-coloured colouring against the white tumbled leather is reminiscent of the CTAs map. Train lines and bus lines are highlighted through varying colours, whilst the metallic panels on the side add another splash of colour. On the upper, shades of pink, purple, blue and orange can be see split on each shoe representing each line on the Chicago Transport Authority map.
Air Jordan X "OVO" (2016)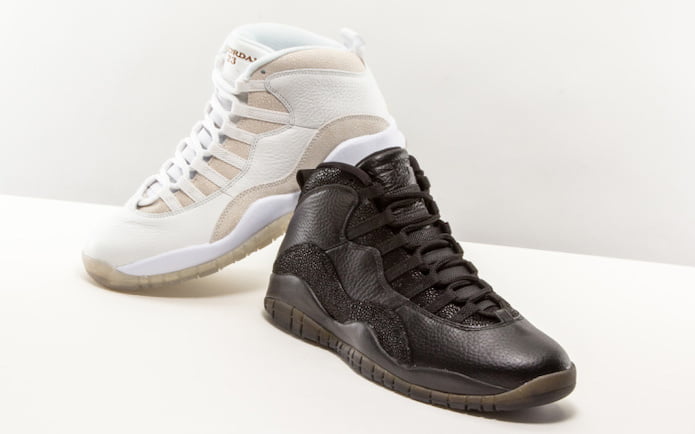 When you're one of the biggest rappers on the planet, chances are you're going to get your share of exclusive sneakers. In 2015, Drake was given the chance to create a friends and family pair of Air Jordan 10s. The design was originally just for him and the OVO crew, though many sneakerheads were left pining for a pair of their own. In 2016, Jordan Brand gave the people what they wanted.
The two sneakers both featured premium stingray effect leather gave this shoe an added edge. On the sole, the "OVO" branding can be seen, with the rapper's owl motif on the insole. Whilst these may have been eclipsed by the OVO Air Jordan 12, they're still classics. Released in extremely limited numbers, the OVO Jordan 10s have remained a serious collectors pair.
Air Jordan X "Steel Grey" (1995)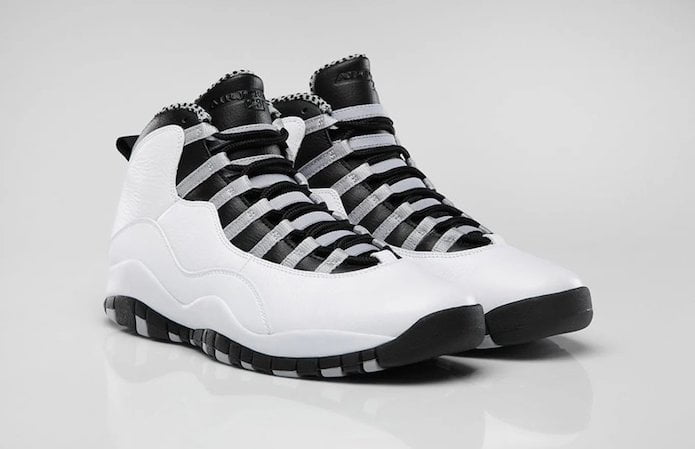 With Michael Jordan absent from the game, Tinker Hatfield didn't have to worry about making the latest Air Jordan model Chicago themed. In 1995, before MJ returned, Hatfield began to experiment. Instead of the bold black, red and white used on previous sneakers, he opted for something else. The first AJ10 to release was called the "Steel Grey", for obvious reasons.
White tumbled leather was accented by black and grey throughout. The sneaker was a first. It also inspired Hatfield to include 10 of MJs accolades on the sole. For many, it was the first sneaker that they had not seen Jordan ever wear. Having returned to the game in late 1995, Jordan was not a fan of the "Steel Grey." In fact, there is a sample version which has a toe, which MJ outright said he despised.
Air Jordan X "House of Hoops" (2018)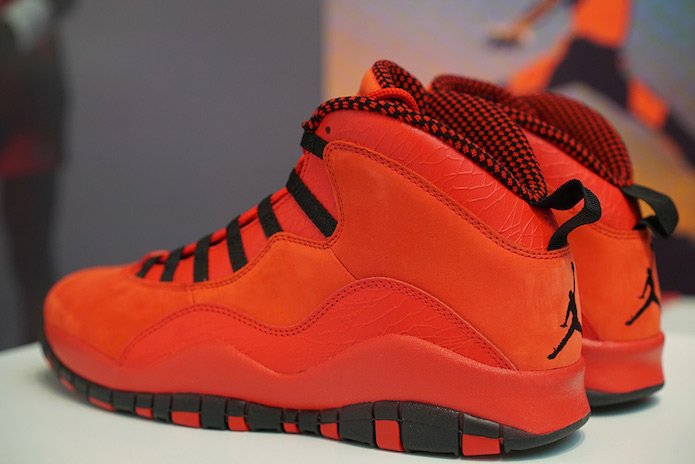 Collaborative Air Jordans tend to be divisive. However, when they look this good, there are no complaints. In 2018, Foot Locker teamed up with Canadian tattoo artist Steve Wiebe on an exclusive House of Hoops Air Jordan collection. Wiebe, who has names like Kevin Durant and DeAndre Jordan on his client list, gave the people an Air Jordan 10 to remember.
Referencing the Chicago Bulls colourways, Wiebe elevated this AJ10 in simple ways. Textured leather was used throughout the sneaker. A checkerboard lining was also used, whilst not detracting from the bold red colouring. The custom insoles featured a drawing of Michael Jordan during his Dunk Contest in 1988 too. Released exclusively at House of Hoops in Harlem, this sneaker sold out instantly.
Air Jordan X "Ice Blue" (2005)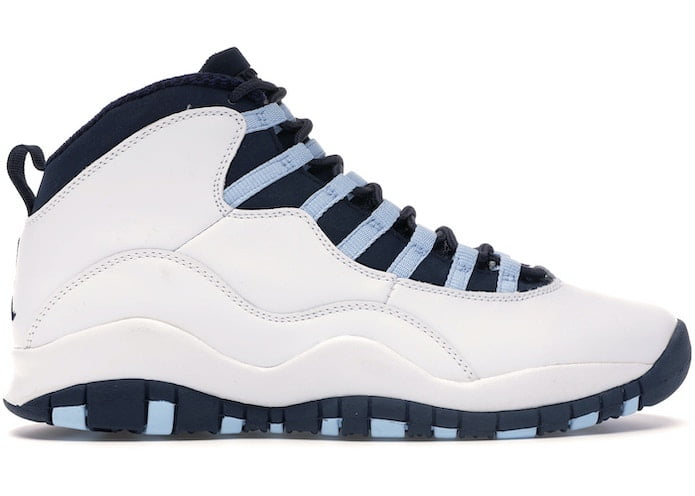 2005 marked the 10th anniversary of the Jordan 10. Jordan Brand experimented with the colouring and its creations gave the sneaker community some unique colourways in the process. Notable colourways like the "Linen" we mentioned earlier stole the show. However, one simple colourway that resonated with many of the sneaker community was the "Ice Blue."
Very similar to the "Obsidian" colourways of late, the Air Jordan 10 "Ice Blue" featured a white cow leather base and was accented by the navy and light blue. The use of cow leather was very unusual given this period of Jordans. This sneaker was a favourite of many college basketball players. During the 2005 season, the UNC Tar Heels debuted the sneaker leaving many wanting a pair. Released in extremely limited numbers, this is a classic pair of Air Jordan 10s.
Air Jordan X "Powder Blue" (1994)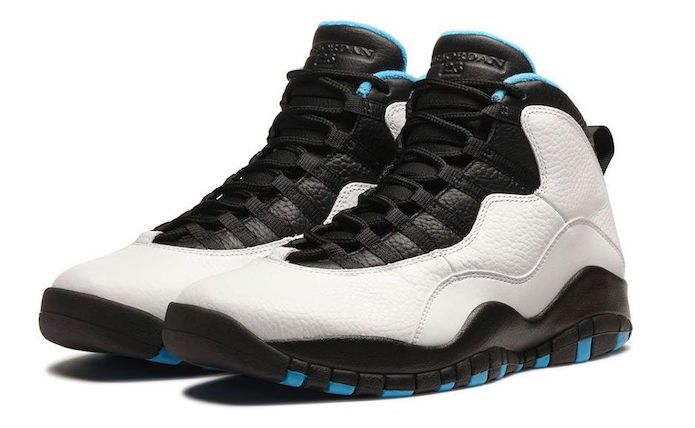 This is one of the simplest yet most effective colourways of the Air Jordan 10. In 1994, the "Powder Blue" Air Jordan 10, one of the first Jordan sneakers that weren't decorated in Chicago colours. For many, it marked the start of a new era in the world of sneakers. With no MJ on the court, Hatfield could almost do what he wanted with the brand (almost).
A simple combination of white and black tumbled leather, accented by light blue on the sole and liner made this a desirable sneaker. The sneaker was also a favourite of MJs alma mater the UNC Tar Heels, being worn for most of '94 season. Now, over 26 years later, the Jordan 10 Powder Blue is still a classic.
Final Thoughts
We hope you enjoyed our selection of the best Air Jordan 10 colourways of all time. Of course, all Jordan 10 colourways are great, but there are some clear winners. If you're looking to cop your own Jordan 10s, then head over to the KLEKT store. We've got every Jordan 10 colourway you could possibly want so make sure you check it out!