Since 1993, BAPE has been one of the most influential brands in streetwear. Founded by Nigo at the very beginning of the Japanese streetwear movement, BAPE has remained a staple in the industry for almost 30 years. During that time it has gone from a hyped brand to bankruptcy and back again, overcoming all the odds to remain alive, let alone thrive. As well as that, BAPE has also cooked up a number of pretty slick collaborations.
Of course, over the past 27 years, BAPE has worked with almost every major brand on the planet. During that time, we've seen a number of high profile collaborations. In recent years, we have seen just how diverse BAPE collabs are. Whether it's Dragon Ball Z or Coca-Cola, every BAPE collab has been two things: playful and hyped. With that in mind, we thought it was about time to round up the top 10 BAPE collaborations in history.
As you would expect, there have been an enormous amount of BAPE collabs. Whilst we may not have included all BAPE collabs, we have chosen a comprehensive list of BAPE collaborations. Take a look below and check out every BAPE collab that made the list!
Disclaimer: these are not in order!
Supreme x BAPE (2002)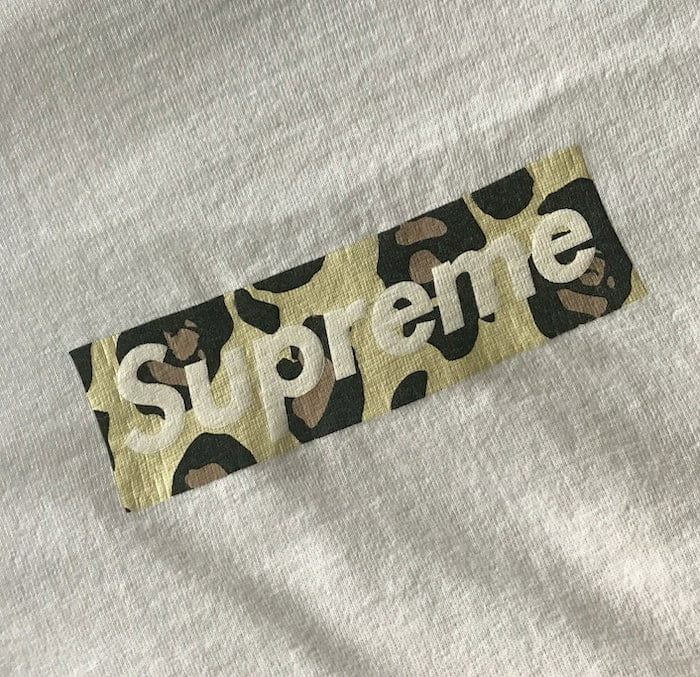 Back in 2002, Supreme was just eight years old. James Jebbia's independent skate store was thriving, becoming a go-to spot for many skaters in New York City. In 2002, Supreme teamed up with BAPE, the hot new Japanese streetwear brand founded by Nigo, for a number of box logos. In total, 15 different variations of the Supreme x BAPE box logo were created, using unique colours and patterns.
Using BAPE's signature camouflage pattern, the box logo featured small apes and was adorned with a white Supreme logo across the front. Of the 15 colourways that released, there were a few standout versions. From the multicoloured to the traditional BAPE camo, Supreme and BAPE nailed its first collaboration together.
The Simpsons x BAPE (2013)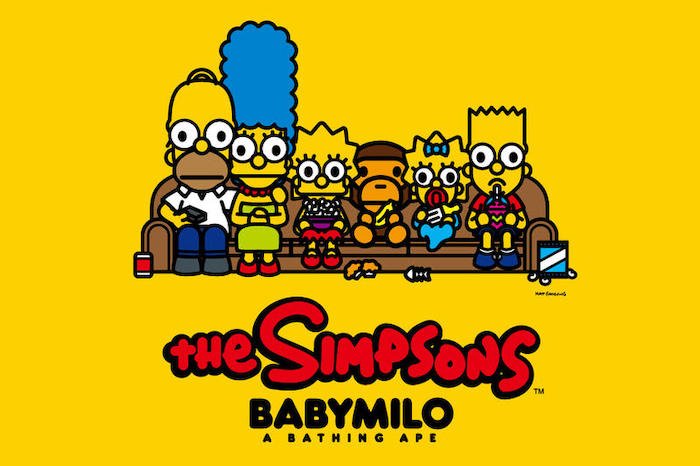 It is hard to imagine what the world of cartoons would look like if it were not for The Simpsons. As America's longest-running TV sitcom, the show has run for 31 seasons and an incredible 684 episodes. IN that time, it has also released a movie, had countless celebrity guests and become a key part of popular culture. Back in 2013, BAPE and The Simpsons teamed up to create one of the most playful crossover collaborations in history.
Taking the iconic yellow family, BAPE applied its cartoon-style across a number of its famous pieces. From BAPE hoodies to BAPE T-shirts, there really was nothing that they didn't cover. Of all the pieces, however, there were some clear winners. The Bart Simpson x BAPE Baby Milo T-shirt was arguably the most sought after, quickly selling out on release day. Seven years later and BAPE x The Simpsons is still one of the best collabs we've seen.
Pepsi x BAPE (2001)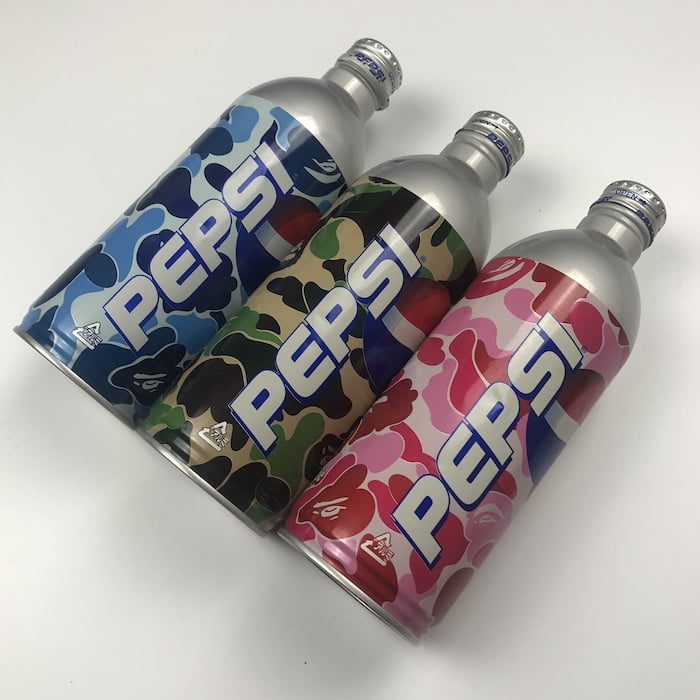 BAPE is known for its outside the box collaborations, but this is definitely one of its greatest hits. In 2001, Nigo approached Pepsi to work on a collaborative collection of bottles sold exclusively in Japan. As one of the world's biggest soft drink manufacturers, Pepsi could have quite easily said no. However, realising just big a part of pop culture BAPE was in Japan, they agreed. The results are still a highly collectable piece for any BAPE fan.
Three aluminium bottles were produced, each plastered in BAPEs "ABC Camo" featuring green, pink and blue. The bottles were distributed in select locations in Japan, with the results working out pretty successfully for BAPE and Pepsi. Dropping alongside the Pepsi bottles was exclusive BAPE merch, including T-shirts, hoodies and a coach jacket. You have to admit, these would look pretty good sat in your fridge (or shelf).
COMME des GARÇONS x BAPE (2012)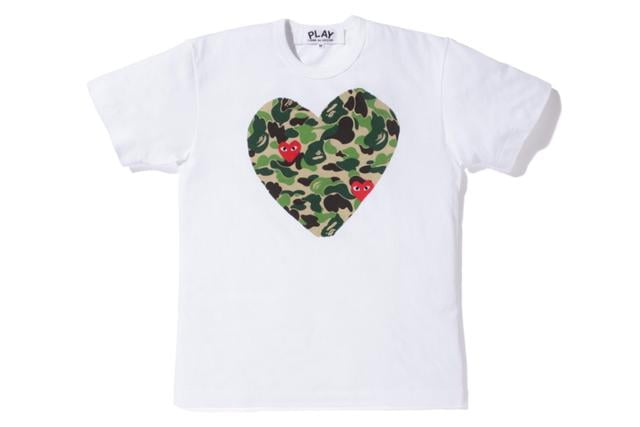 There is no denying just how influential Rei Kawakubo's COMME des GARÇONS label has been in the world of fashion. Founded in 1973, the brand grew outside of its humble Tokyo beginnings to become one of the most powerful brands in the industry. Known for its HEART emblem, as well as a love of black, CDG is a huge hit in its home country as well as oversees. In 2012, BAPE unveiled a COMME des GARÇONS collaboration, much to the delight of people around the world.
Taking BAPE's instantly recognisable APE CAMO, and CDG's hearts combined to create a perfect streetwear collab. The CDG x BAPE drop was an instant hit, becoming one of the key fashion collabs of the year. As you can probably imagine, this sold out pretty quickly, hitting the resell market almost immediately. The limited release, as well as the fusion of two powerhouse Japanese brands, makes this a big winner for us.
Kanye West x BAPE (2007)
Back in the late 2000s, Kanye West was often spotted wearing BAPE. The outspoken rapper had burst onto the scene just three years earlier, quickly becoming a name in both music and fashion. At that time, his favourite sneakers just happened to be the BAPESTA. You can find images of him online trying almost every pair on in the BAPE store! As Nigo learned of this, he quickly became friends with Kanye. In 2007, Kanye West secured his first official sneaker collab.
Kanye's collaboration with Nigo's A BATHING APE put him on the map of the sneaker community. In 2007, Kanye West was given the chance to create his own BAPESTA sneaker, sparking a global phenomenon. Referencing the rapper's now forgotten about Bear motif, the Kanye West BAPESTA has since become one of the most sought after sneakers on the planet. Pairs rarely come up but when they do, they fetch a very high price tag.
Kaws x BAPE (2005)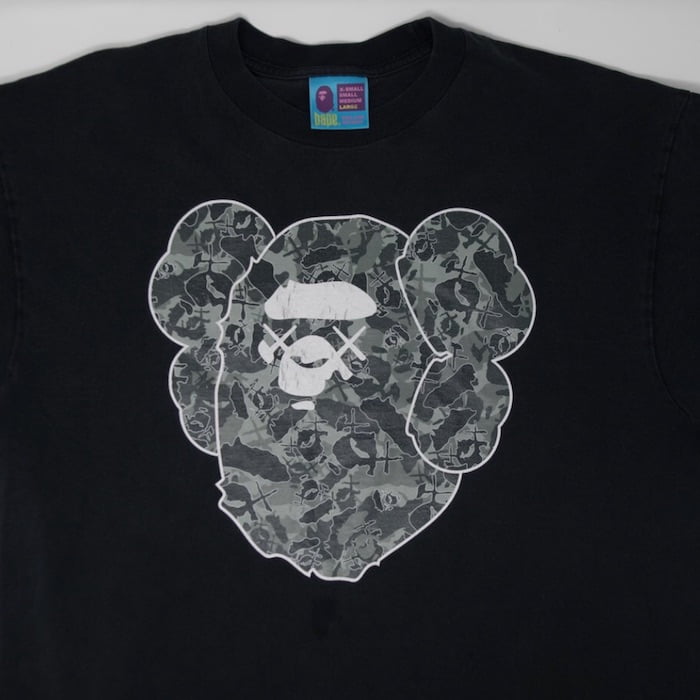 In the art world, few people are more widely respected than Kaws. Real name Brian Donnelly, Kaws has worked with some of the biggest brands on the planet. After starting out in New York City, Kaws' art quickly picked up conventional acclaim, giving him the opportunity to start selling his art legitimately and working with major brands. Back in 2005, Kaws and BAPE teamed up for one of the most sought after capsule collections in streetwear history.
As two of the most famous brands in streetwear, the Kaws x BAPE collaboration was a match made in heaven. Subtle Kaws sketches were paired with the APE CAMO to create a subtle elevation of BAPE's classic pieces. "XX" branding adorned everything from hats to hoodies and T-shirts to BAPESTAS. It is no secret that Nigo is a big fan of Kaws and this is a real full-circle moment for him. Definitely one of the best BAPE collabs in history.
Nintendo x BAPE (2008)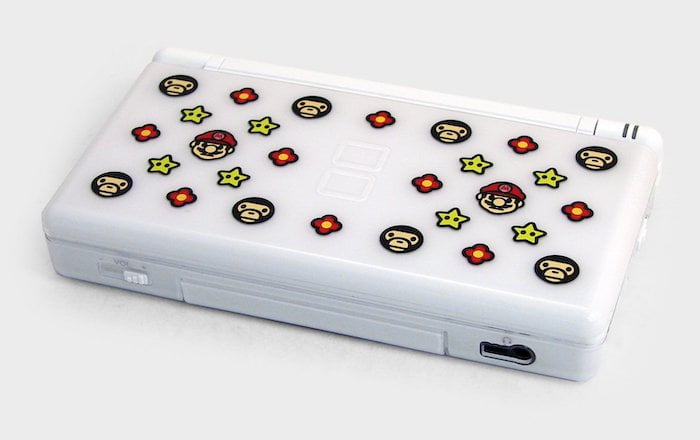 When it comes to games consoles, few brands on the planet do it better than Nintendo. Though the Japanese manufacturer has been around since 1889, it wasn't until almost 100 years later that it would become a household name. When the Nintendo DS was announced in 2004, it was a remarkable piece of technology for the time. By 2008, every child had one, leading BAPE to create their own special version that very same year.
Dropped as part of the BAPE x Nintendo collaboration, this BAPE Nintendo DS is one of the simplest collabs on this list. Taking the familiar Nintendo DS, subtle BAPE logos have been printed onto the top of the device. Small BABY MILOS work with emblems from Mario Kart, with BABY MILO and Mario on the packaging. As you can probably imagine, this was an instant hit with gamers and streetwear fans alike. It's easy to see why.
Disney x BAPE (2006)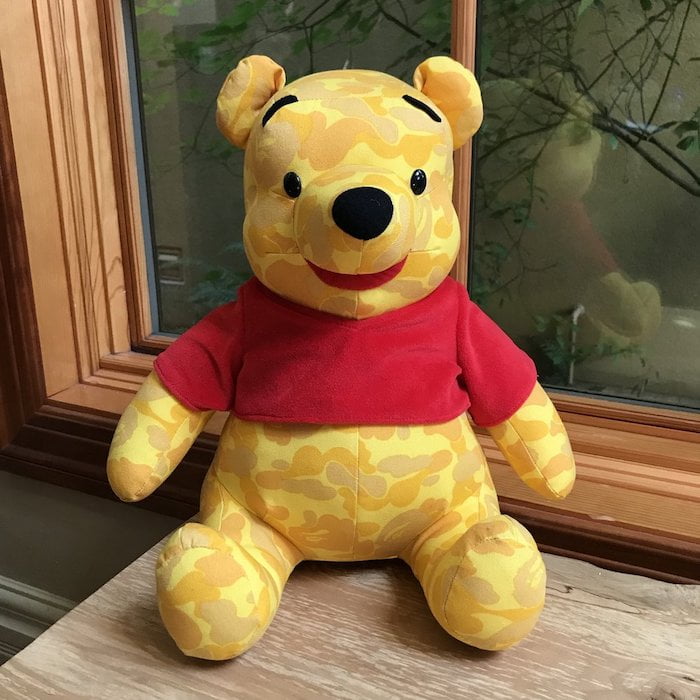 Few brands on the planet hold as much power as Disney. Since 1923, Disney has produced some of the world's most instantly recognisable characters. From Tinkerbell to Aladdin, Walt Disney's humble cartoon studio has grown into a $130 billion production behemoth. However, it has always kept its work true to the heart of Disney's imagination. Back in 2006, BAPE teamed up with Disney to create an Asian exclusive drop consisting of four familiar faces.
Taking Winnie the Pooh, Mickey Mouse, Minnie Mouse and Donald Duck, BAPE applied its signature APE CAMO across the four toys. The distinctive features of each character were still present, with barely noticeable APE heads throughout. Of the four stuffed toys, the BAPE x Winnie the Pooh is the rarest, selling well into the thousands. This is arguably the most playful BAPE collaboration in the brand's history, consisting of no clothing at all.
The Godfather x BAPE (2008)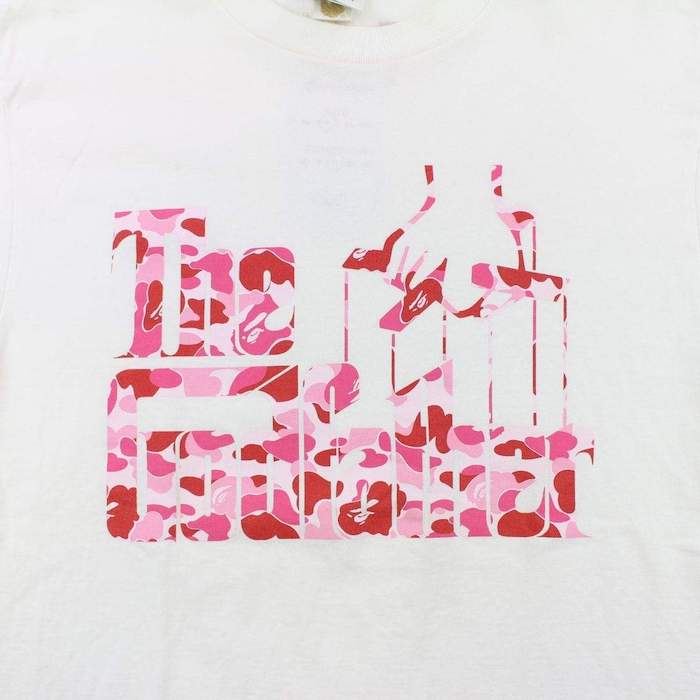 Few films are as revered as The Godfather. Mario Puzo's Mafia books were made into a set of films in 1972, gracing the big screens the following year. The story of the Corleone family is one of the greatest cinematic trilogies in film history. Of course, it is easy to see why. The films are considered some of the best ever and constantly referenced in pop culture. Back in 2008, BAPE teamed up with The Godfather to create a 21st-century take on the logo.
The instantly recognisable puppet hand logo was brought to life in APE CAMO in a number of colourways. Upon its launch, the BAPE x The Godfather collaboration was a real moment in fashion. Few brands had ever received official licensing from Paramount Pictures, making this one of the best BAPE collabs of all time. Still considered a collector's piece amongst BAPE fans, these are easy to find but come with a high price tag.
adidas x BAPE (2003)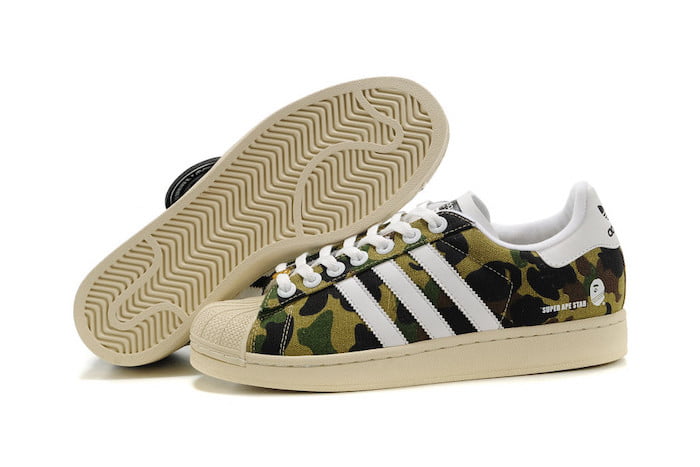 By 2003, BAPE had become one of the most famous brands on the planet. With Nigo at the helm, it seemed there was nothing that the brand couldn't turn its hand to. After launching its own official BAPESTA line, BAPE was already a name in the sneaker community. However, it was yet to receive an official sneaker collaboration. That was until adidas and BAPE teamed up to create the "Super Ape Star" that very same year.
BAPE put its signature spin on the adidas Superstar. As one of the most globally worn shoes on the planet, the Superstar is just as big a part of street culture as BAPE, if not more so. Draped in the famous APE CAMO, the sneaker features white stripes as APE head laces. The tongue uses an APE head with three stripes across it, whilst the heel bears the message "The Respect Is Mutual," BAPE's slogan around the same era. 17 years later and things between BAPE x adidas haven't changed.
Final Thoughts
So, guys, there you have it! That concludes our round-up of the top 10 BAPE collaborations of all time. As you can probably imagine, there was a lot of BAPE collabs that we had to take out. Of course, we feel that we picked a pretty all-encompassing list that you'd agree with. If you're looking to cop any BAPE, then why not head to the KLEKT store? We've got some of the rarest BAPE on the planet just waiting for you. Go and check it out!