There are few brands on the planet who have kept up with Kith so far this year. The New York-based label has released some amazing pieces, as well as sell-out collaborations with The Godfather and New Balance. In keeping with this high momentum, Kith has now revealed it will be working with Casio on a high-end G-Shock watch.
Although the phrase "high-end G-shock watch" may seem farfetched, believe us when we say this watch is nothing like any G-Shock you've seen before. For starters, Kith has introduced metal to the classic electronic timepiece, created by Kikuo Ibe in 1983. This is the first time that metal has ever been used on a G-Shock; a testament to Ronnie Fieg's belief of striving for innovation.
Encased in rose gold and copper, the Kith G-Shock features a subtle Kith logo placed at the bottom of the watch and on the back. Familiar details such as the electronic screen and Casio dials have remained on the watch. The usual light-up screen features Kith's "Just Us" slogan, a nice touch from the designers.
What sets this apart from traditional G-Shock watches, however, is the detachable bands. Both a black and white band come as standard, giving wearers the option to customise their watch how they choose. Even the watch strap and buckle feature a Kith branding just for good measure. Coming in a heavily Kith branded box, the collaborative G-Shock is housed in the usual wooden box with velvet inserts.
If you're looking for a statement timepiece that won't break the bank, this is for you.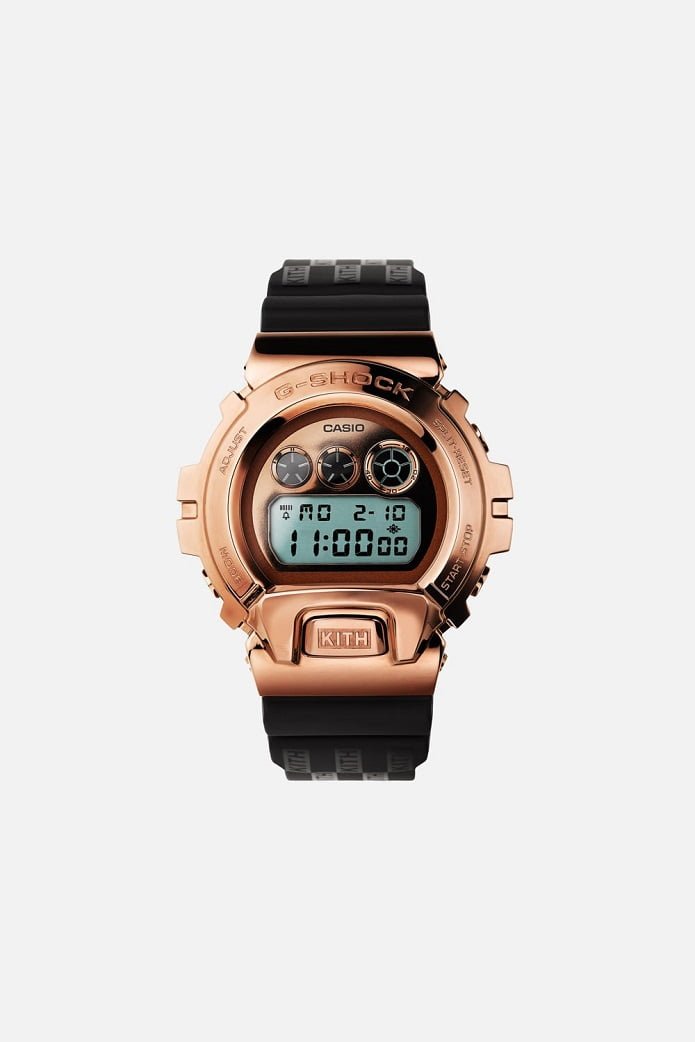 Image Source: Kith